City of London Freemen's School is an independent day and boarding school for boys and girls aged 7–18 in Ashtead, Surrey. It was founded in Brixton, London in 1854 as one of the country's oldest co-educational independent schools, before moving to Ashtead in the early 20th century. Freemen's is owned by the City of London Corporation, along with the boys-only City of London School and City of London School for Girls. The school's associations with Livery Companies, Guilds and The City are particularly beneficial to its pupils, who have access to careers guidance and high-profile events in the City of London.
Pupils applying to City of London Freemen's School join either the junior school (Years 3-8), senior school (Years 9–11) or sixth form (Years 12–13). All three schools are located on the same 54-acre site, which is a blend of traditional 17th-century buildings, space and green fields and contemporary facilities. An ambitious development plan is currently in place, with an award-winning swimming pool and a new sixth form centre soon to be added to the school site.
There is a huge range of co-curricular and enrichment activities on offer at Freemen's (150 different activities each week), including music, drama, sports and leadership opportunities. A unique programme of study called 'Free Minds' (highly regarded by universities and employers) exists for sixth form students, allowing students to explore interests beyond the curriculum. Some of the many options include graphic novels, electronics, satire and climate change.
Exam results are consistently strong at Freemen's. In 2022, 90% of A level grades were A*, A or B and 86% of GCSE grades were A*/A/9/8/7. Popular university destinations include Bath, Nottingham, Birmingham and UCL.
Directory of private schools in Surrey
---
Key information for City of London Freemen's School
Head: Mr Roland Martin

Address: City of London Freemen's School, Ashtead Park, Ashtead, Surrey, KT21 1ET

County: Surrey

Admissions contact: [email protected], 01372 822423s

Age range and gender: 7–18, co-educational

Number of pupils: 905

Open day date: Friday 24th March 2023 – book online

Overview of selection procedure: entrance exam, group activities, individual interview and school report

Registration closes: 8th October in the year before entry

Assessment date: November
City of London Freemen's School fees and financial assistance
The current fees at City of London Freemen's School are £6,051 per term for pupils in Years 7 and 8, and £7,313 per term for day pupils in Years 9–11. Boarding fees for pupils in Year 9 and above start at £11,592 per term for weekly boarders. Lunch is an additional fee for day pupils and costs £288 per term.
Freemen's is able to offer a number of bursaries each year to assist parents who might not otherwise be able to consider the school for their children. Bursaries are means-tested and can cover up to 100% of the fees. If you think your child may be eligible for a bursary, you will need to indicate this on your application form. This needs to be submitted by 8th October in the year before entry.
Scholarships are also available at Freemen's, but these are of limited financial value. Academic and music scholarships are available for 11 plus candidates and provide up to a maximum of 5% discount on school fees.
City of London Freemen's School term dates
The term dates at City of London Freemen's School for 2022–23 are:
Autumn term: 1st September – 13th December 2022

Half term: 15th–30th October 2022

Spring term: 5th January – 28th March 2023

Half term: 11th–19th February 2023

Summer term: 17th April – 7th July 2023

Half term: 27th May – 4th June 2023
The term dates at City of London Freemen's School for 2023–24 are:
Autumn term: 4th September – 13th December 2023

Half term: 14th–29th October 2023

Spring term: 4th January – 27th March 2024

Half term: 10th–18th February 2024

Summer term: 15th April – 5th July 2024

Half term: 25th May – 2nd June 2024
Admissions process for Year 7 entry to City of London Freemen's School
Year 7 entry to City of London Freemen's School is into the junior school, with about 30 places available for external candidates. If you would like to register your child for entry in 2024 or beyond, you will need to complete the online registration form and pay the £200 registration fee. The deadline for completing this is 8th October when your child is in Year 6.
All children will be invited to an assessment day in November. This will include written tests, a carousel of assessed group activities and an individual interview. The interview allows the school to find out more about your child, their hobbies, interests, views and opinions. The school will also request a report from your child's current school to get a wider picture of their academic and non-academic abilities and interests.
Following the 11 plus entrance exam and interview, a small selection of candidates will be invited to take the Freemen's academic scholarship exam later in November. Music exhibitions and scholarships are by separate application and are available for applicants playing at Grade 3 standard. Candidates will be invited to an audition and interview with the director of music in November, where they will perform two contrasting known pieces, a short unseen piece, undergo aural tests and have a short informal conversation about their musical experiences and interests.
City of London Freemen's School sends its decision letters to families before the Christmas break when your child is in Year 6. You will receive one of three decisions: an unconditional offer, a place on the waiting list, or a decline. If you have received an unconditional offer, you will have until 6th March to make your decision.
The 11 plus exam at City of London Freemen's School
The 11 plus exam at City of London Freemen's School consists of three written tests. Specimen papers are not available, but these are likely to be similar to other 11 plus entrance exams:
English: children may be presented with tasks in reading comprehension and/or creative writing. They will be assessed on their understanding of the Key Stage 2 English curriculum, including SPaG (spelling, punctuation and grammar).

Maths: children will likely be presented with a non-calculator maths paper which will assess their knowledge and application of Key Stage 2 maths. This includes the main topics of number, measurement, geometry, statistics and algebra.

Non-verbal reasoning: non-verbal reasoning is a common 11 plus test, but it is not taught in school. Children will be assessed on their maths skills, logic and problem-solving, spatial awareness, ability to identify patterns and rules, and overall general intelligence.
How to prepare for entry to City of London Freemen's School
Build foundational knowledge
If your child is applying for Year 7 entry to City of London Freemen's School, they will be assessed on their knowledge of the Key Stage 2 national curriculum for English and maths, in addition to non-verbal reasoning – which is not taught at school.
Your child can consolidate everything they need to know with Atom Nucleus. They'll have access to over 90,000 interactive teacher-created questions and learning resources spanning English, maths, science and reasoning.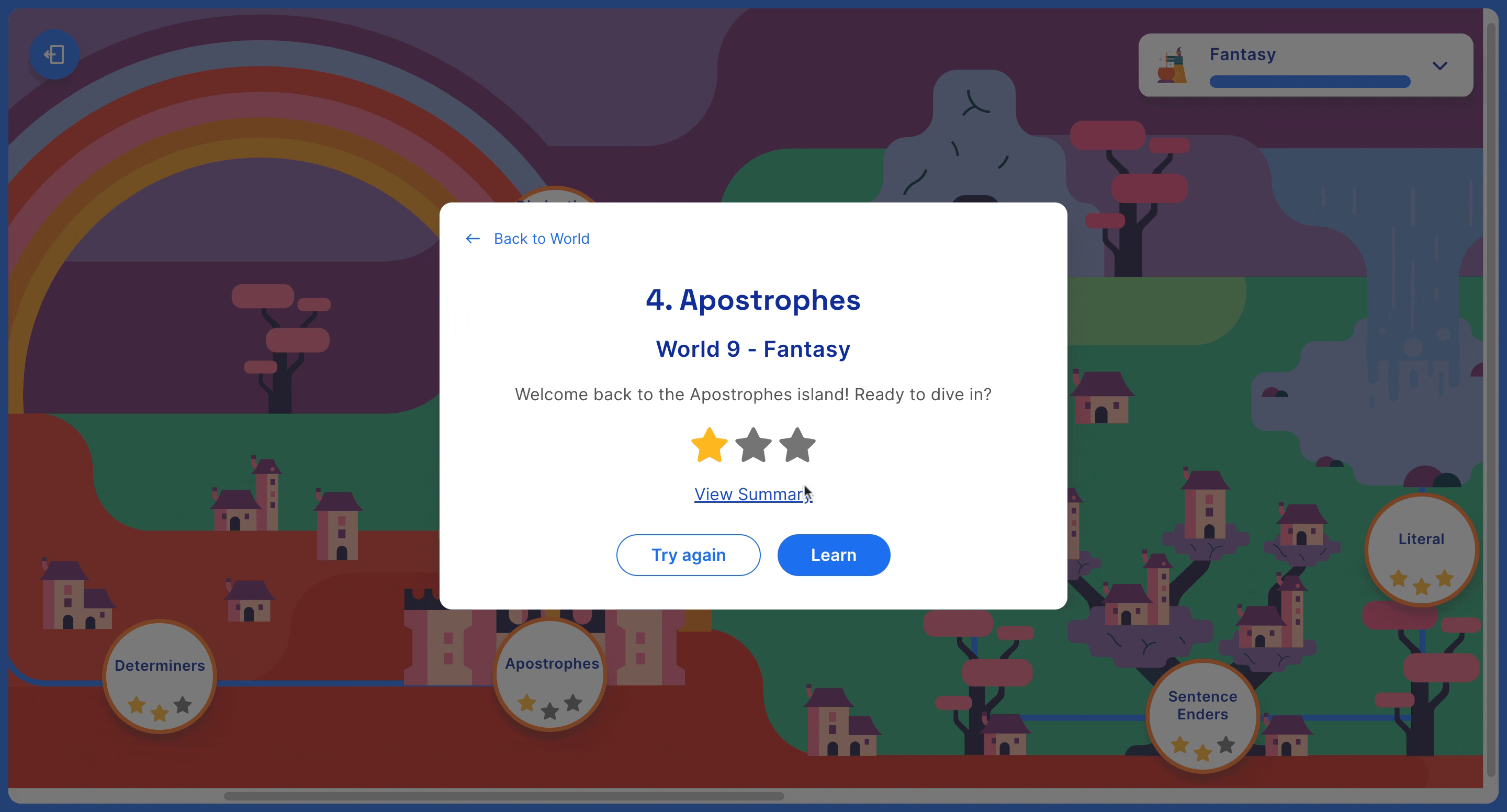 Preparation is key
Familiarisation with the question formats and known styles ahead of the exam is essential to help your child build exam confidence.
An exam preparation subscription with Atom Nucleus enables your child to access quality, unlimited practice material with full score breakdowns to help your child feel confident by the time the exam day comes around.
Your child can take mock tests for English, maths and non-verbal reasoning entrance exams as many times as they like without repeatedly seeing the same questions. Meanwhile, you'll be able to see their results instantly, including their performance compared to peers and suggested areas for improvement.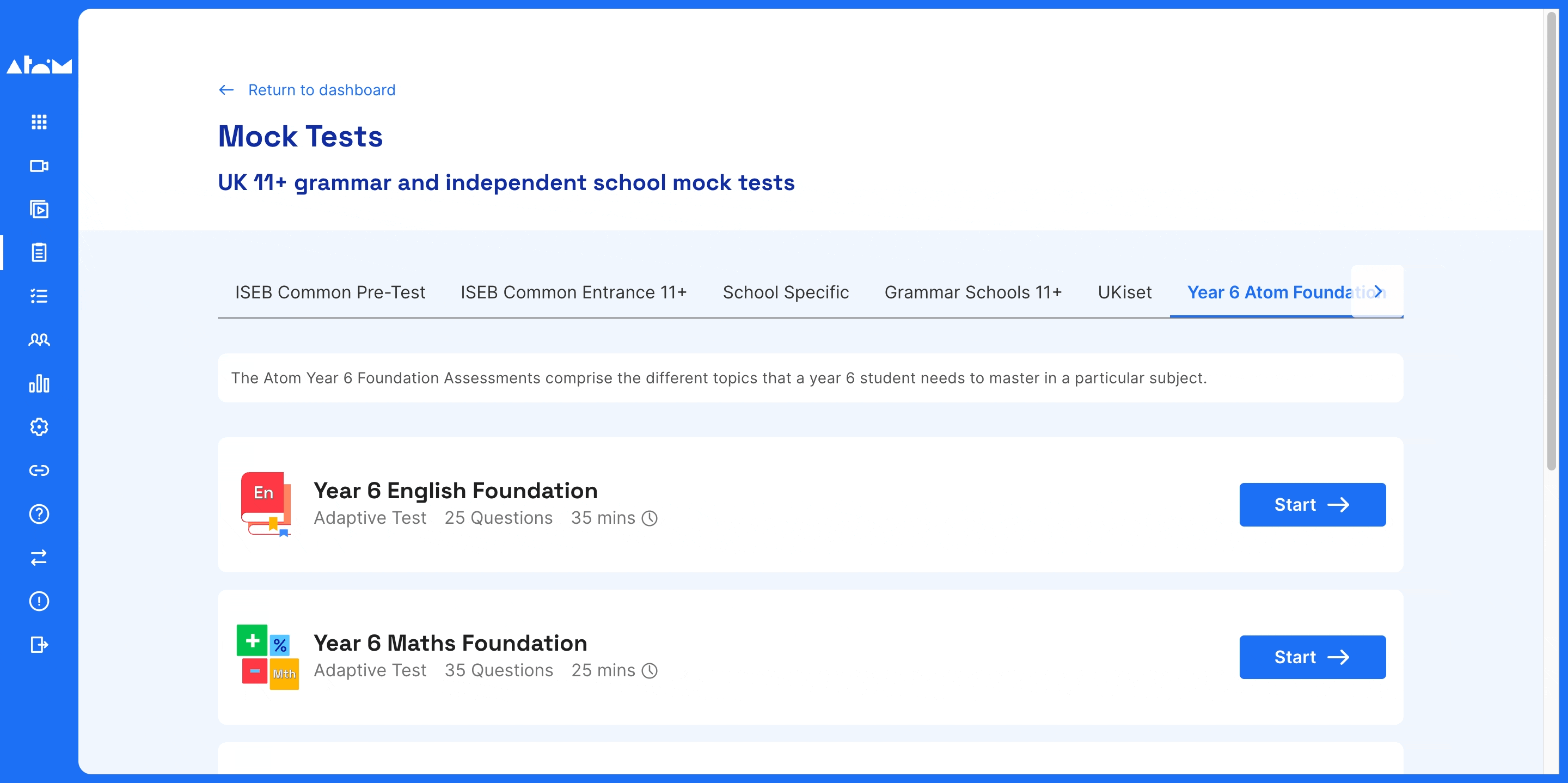 When working through challenging topics, your child will need immediate clarity with any misconceptions so that they feel truly secure in every topic. Atom Nucleus includes video tutorials, help sheets and examples with every question to help your child build confidence and competence across all the areas assessed.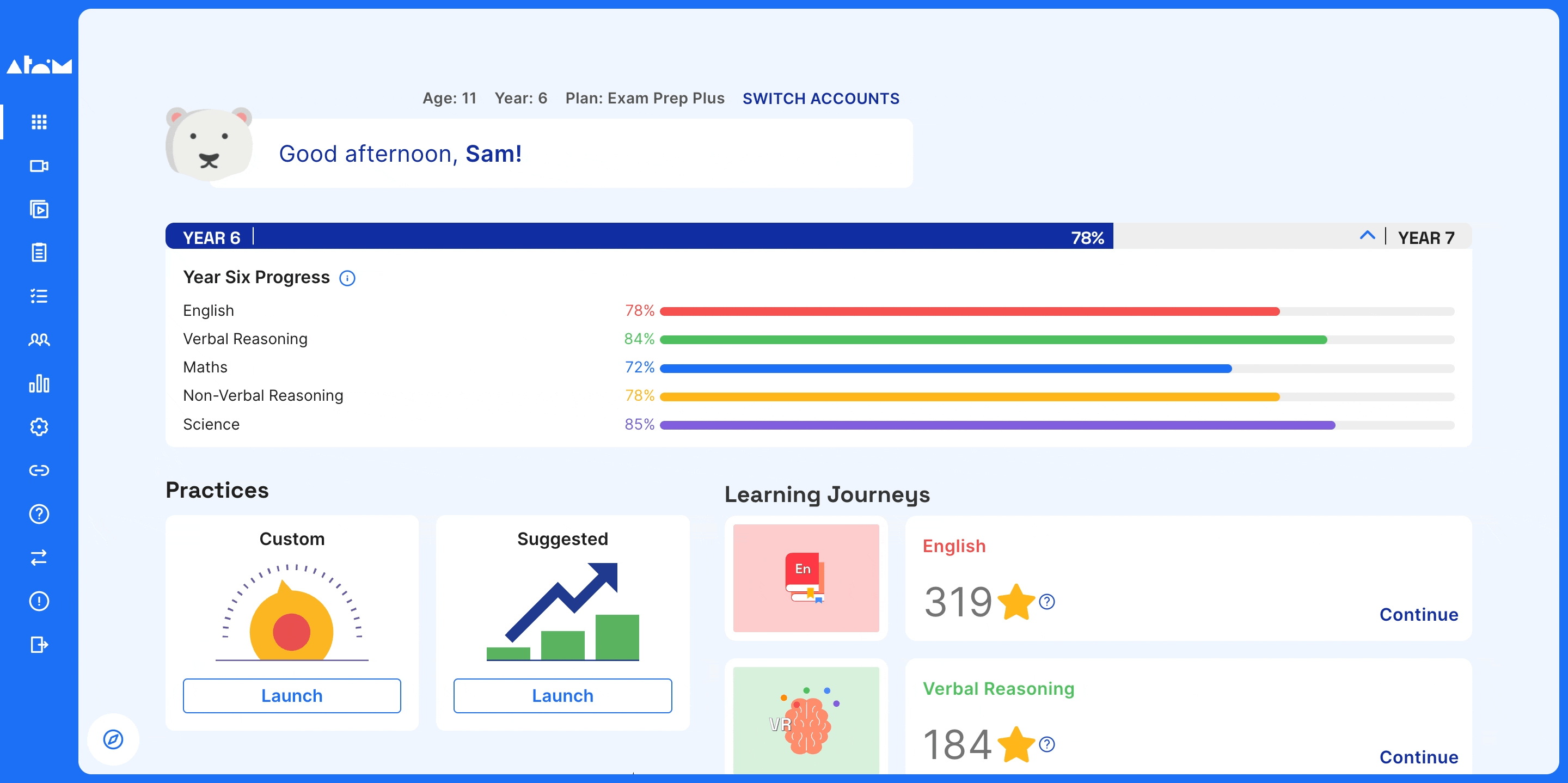 Engage with their progress
Celebrate your child's improvement in areas of challenge together. An accurate and ongoing assessment of their areas of strength and development is helpful.
As an Atom subscriber, you'll have a parent dashboard which offers data-driven insights into your child's progress. You can use this effectively to help your child set targets, see a detailed breakdown of their progress by subtopic and set custom practices to target those they find most challenging.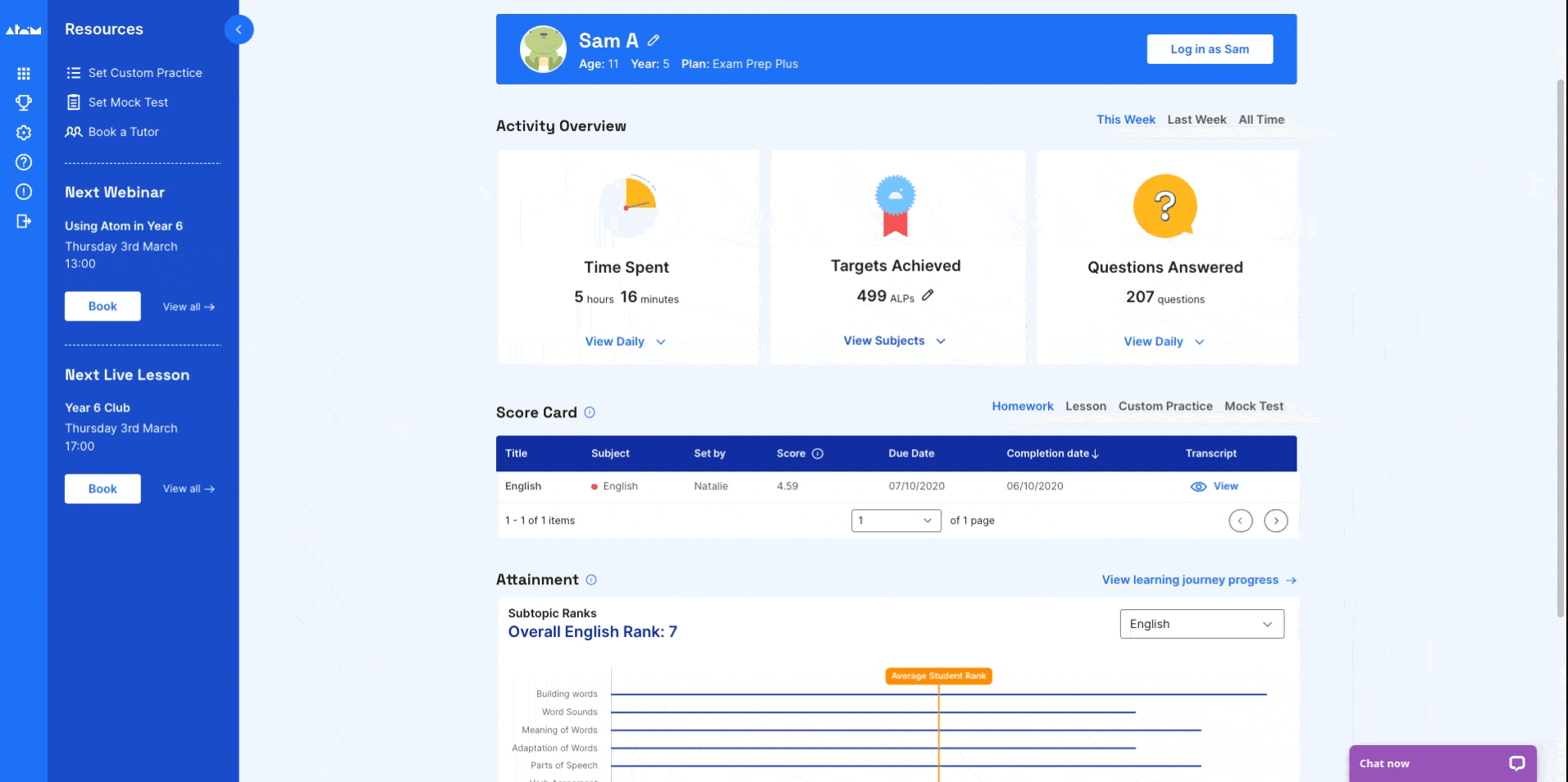 ---
Get started with Atom Learning
It's our mission to help your child feel prepared and confident before the exam day. Begin your free 5-day free trial of Nucleus today to help your child succeed.
We know how crucial this time is, so our team is on hand to support you and your family every step of the way. You can book a call with one of our Education Experts to ask any questions you might have about 11 plus entry to City of London Freemen's School:
If you're looking for exclusive tips and resources to help your child master key subjects, excel in exams and build academic confidence, join Atom's email list: