Magdalen College School is an independent day school for boys ages 7–18 and girls ages 16–18 in the city of Oxford. The school was originally founded in 1480 by William Waynflete – bishop of Winchester and Lord Chancellor of England – to give others the opportunity to learn, serve and prosper. Magdalen College School continues to offer a transformative education in the 21st century, benefitting from its world-class connections with the University of Oxford.
The school describes itself as 'unashamedly academic'. Pupils with potential thrive on the challenge and have the opportunity to develop skills and knowledge across a wide range of subjects, including computer science, theology, four modern languages and 'Lilium' – the school's own name for PSHCE. Pupils' exam results put the school among the top 10 private schools in the country; in 2021, over 95% of grades were A*/A/9/8/7 at GCSE and over 96% of A level grades were A*–B.
Beyond the classroom, boys at Magdalen College School are encouraged to enjoy a broad range of pursuits. All pupils are involved in musical activities during their time at school and there are exciting partnerships with the Oxford Playhouse and Pegasus Theatre for young thespians. Meanwhile, there is a sporting option for everyone, with five 'focus sports' (rugby, hockey, cricket, tennis and netball) and a further 11 sports as part of the games options.
Miss Helen Pike, the school's headmaster (known traditionally at Magdalen College School as 'the Master') is the first female appointed in the school's 542-year history. The school has been named 'Independent School of the Year' twice by The Sunday Times.
Key information for Magdalen College School
Master: Miss Helen Pike

Address: Magdalen College School, Cowley Place, Oxford, Oxfordshire OX4 1DZ

County: Oxfordshire

Admissions contact: Mrs A Green – [email protected], 01865 242191

Age range and gender: 7–18 (boys), 16–18 (girls)

Number of pupils: 964

Number of places in Year 7: Undisclosed

Ratio of applicants to places: Undisclosed (competitive)

Open day date: Saturday 17th September 2022 – book online

Overview of selection procedure: School's own test, interview and reference

Registration opens: Currently open – apply online

Registration closes: 31st October 2022

Assessment date: January 2023

Scholarship assessment date: No application required – candidates are considered based on performance in the 11 plus entrance exam
Magdalen College School fees and financial assistance
From September 2022, the termly fees at Magdalen College School will be £6,848 (£20,544 per annum). School lunches are additional and are priced at £5.19 per day.
Magdalen College School is committed to ensuring that its education is open to the brightest pupils, regardless of personal circumstances. Help with fees (bursaries) are available to families, offering a reduction from 10% to 100% of the school fees. In 2019-20, 1 in 10 pupils at Magdalen College School were on a bursary. All pupils who meet the academic standard of entry and where there is a genuine need for financial assistance are eligible.
Magdalen College School offers the following scholarships at 11 plus entry:
Academic Scholarships: £200 per annum

All-Rounder Awards: £200 per annum

Academic Exhibitions: £150 per annum

Governors' Presentation Awards: £300 reduction in the first year of fees
More information about these is available on the Magdalen College School website.
Magdalen College School term dates
The term dates at Magdalen College School for 2022–23 are:
Autumn term (Michaelmas): 6th September – 14th December 2022

Half term: 15th – 30th October 2022

Spring term (Hilary): 9th January – 24th March 2023

Half term: 11th–19th February 2023

Summer term (Trinity): 17th April – 8th July 2023

Half term: 27th May – 4th June 2023
Admissions process for Year 7 entry to Magdalen College School
If you would like to register your son for Year 7 entry to Magdalen College School in 2023, you will need to complete the online registration form and make an online payment of the registration fee (£100 for UK applicants) by 31st October 2022. In the weeks leading up to the 11 plus assessment, Magdalen College School will be in touch with you to ask for more information about your son's hobbies and interests, in addition to asking your son's current school for a reference.
If you would like to apply for a bursary at Magdalen College School, you will need to register your child by the same date and complete the online bursary application form (link supplied by the school) by 7th November 2022.
All boys will be invited to take the 11 plus entrance tests at Magdalen College School in January 2023, consisting of three written papers and a break filled with activities (which are not assessed) between the tests. Candidates who perform well in these tests will be invited back to the school for a 30-minute interview with a member of school staff. They will be asked to read and comment on a short passage and bring in an object to discuss. There may additionally be some short maths questions.
Boys who have done exceptionally well in their entrance test, or show particular promise, will be considered for an Academic Scholarship/Exhibition, an All-Rounder Award or a Governors' Presentation Award. No application is necessary for these – all candidates are automatically considered.
Magdalen College School will write to parents with the outcome of their son's application in early February 2023.
Magdalen College School 11 plus exam
All candidates for 11 plus entry to Magdalen College School will take three written papers in January 2023:
English: A one-hour written paper. Children will be asked to complete two composition questions – one fiction and one non-fiction – with choices to choose from. They will be assessed on their spelling, punctuation, handwriting as well as the content of their responses, their ability to write effectively and their creativity. You may find our parents' guide to creative writing in the 11 plus helpful.

Maths: A one-hour non-calculator written paper. The content is based on Level 5 of the national curriculum and assesses candidates' knowledge and aptitude in number and place value, addition and subtraction, multiplication and division, fractions (including decimals and percentages), measurement, properties of shapes, position and direction of shapes and simple statistics. Take a look at our Key Stage 2 maths checklist.

Verbal reasoning: A 45-minute written paper. There are no multiple-choice questions, but there are sample questions at the start of the test which boys can discuss with a member of staff. For more support, take a look at our complete guide to 11 plus verbal reasoning questions.
Magdalen College School has sample papers available in both English and maths on its website.
How to help your child prepare for the selection process at Magdalen College School
Build foundational knowledge
The 11 plus exam at Magdalen College School assesses candidates' knowledge and understanding of Key Stage 2 English and maths – as well as verbal reasoning, which is not taught in school. Your child can consolidate everything they know with Atom Nucleus, with over 90,000 teacher-created questions and helpful learning resources for English, maths and verbal reasoning.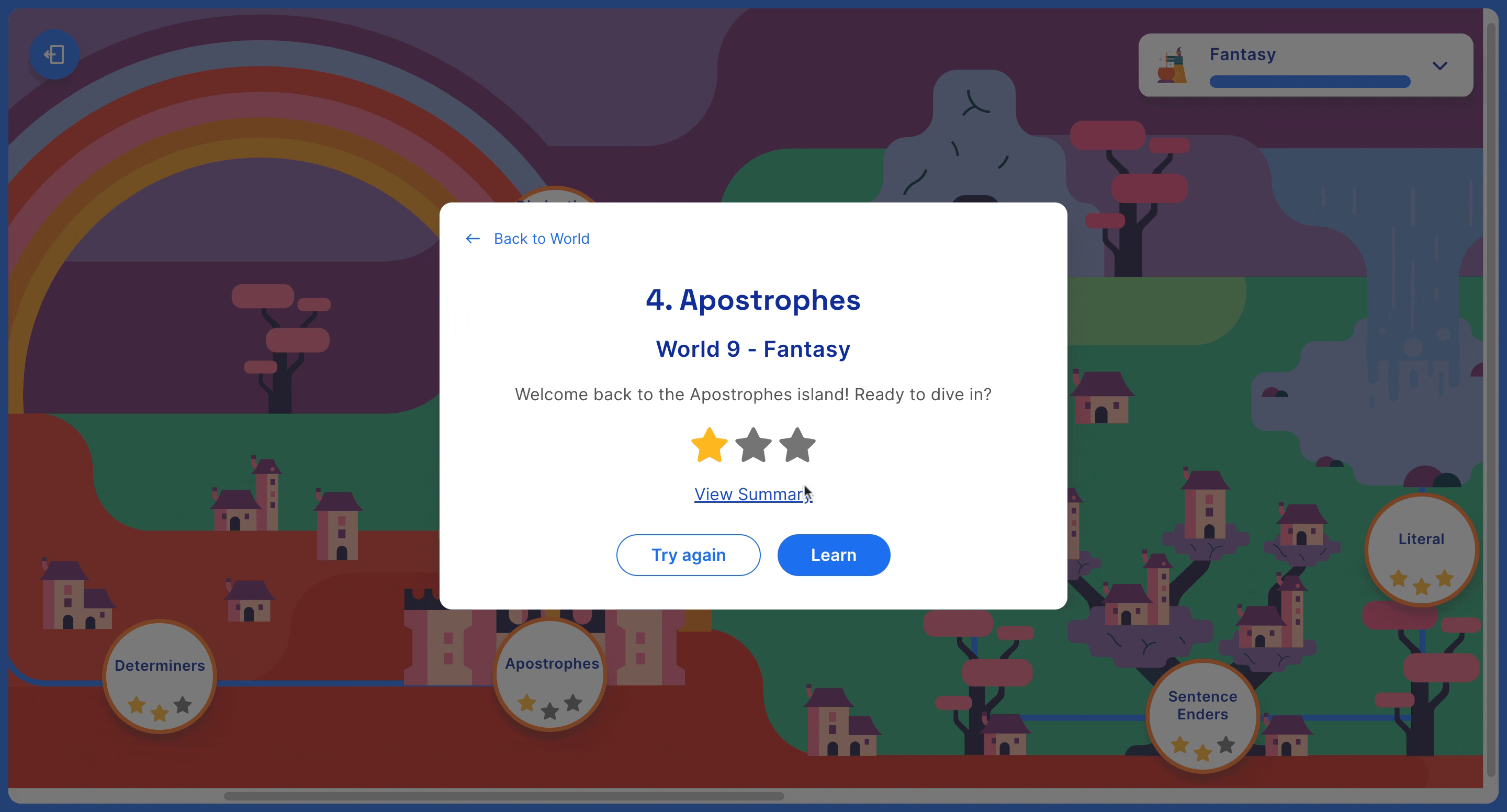 Preparation is key
Familiarisation with the question formats and known styles ahead of the exam is essential to help your child build exam confidence. An exam preparation subscription with Atom Nucleus enables your child to access quality, unlimited practice material – including in verbal reasoning – with full score breakdowns to help your child feel confident by the time the exam day comes around.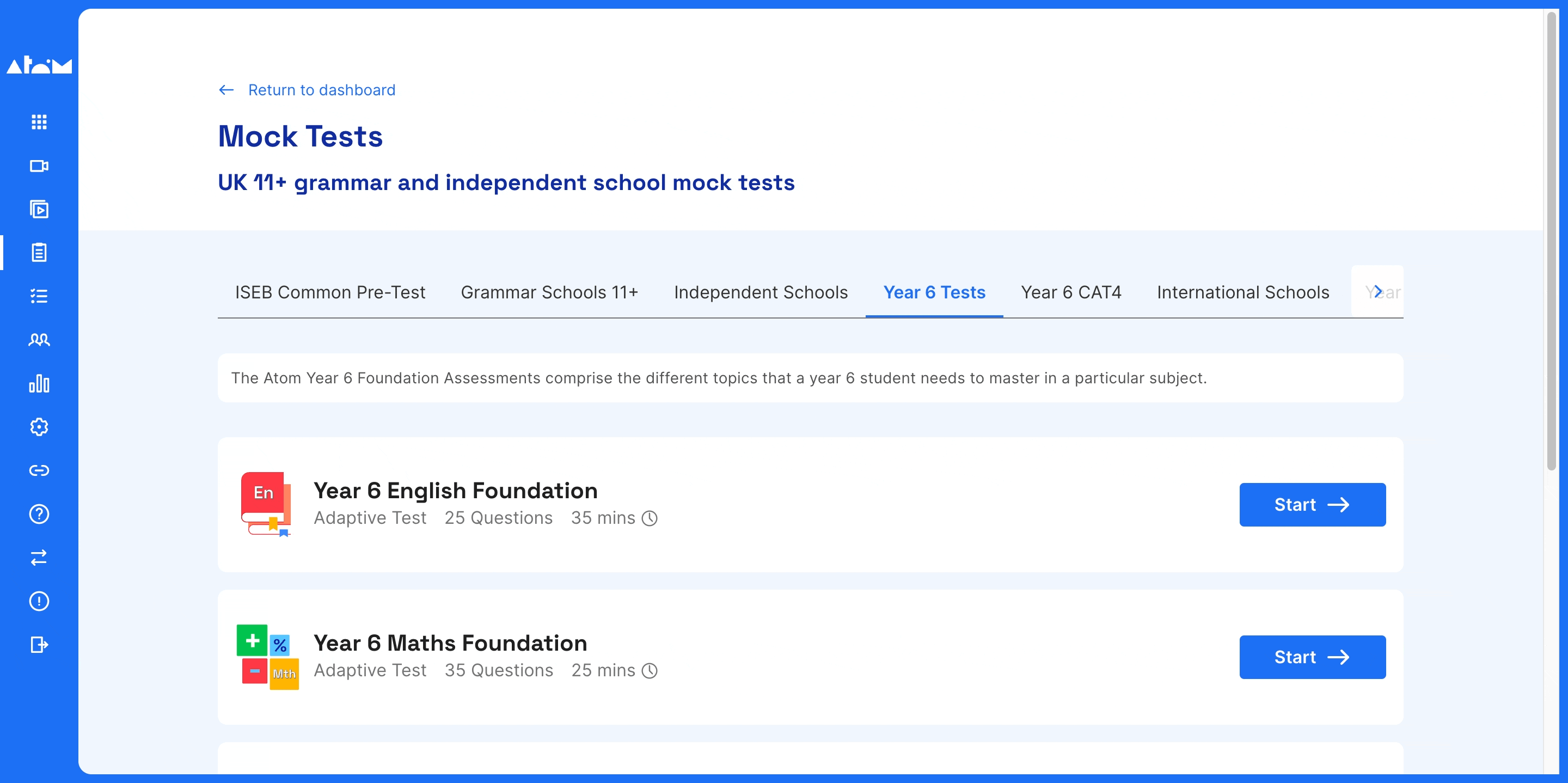 When working through challenging topics, your child will need immediate clarity with any misconceptions so that they feel truly secure in every topic. Atom Nucleus includes video tutorials, help sheets and examples with every question to help your child build confidence and competence across all the areas assessed.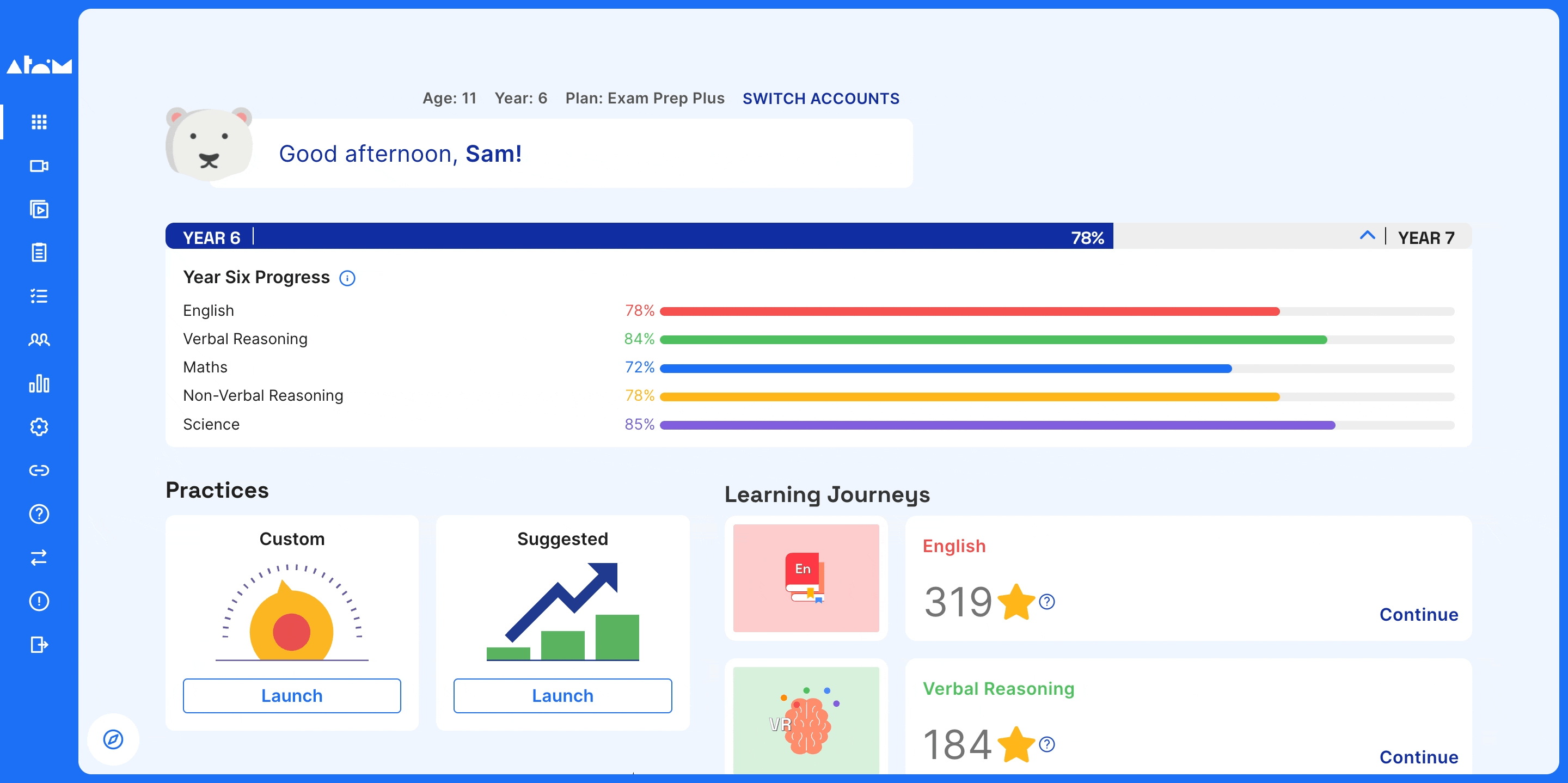 Engage with their progress
Celebrate your child's improvement in areas of challenge together. An accurate and ongoing assessment of their areas of strength and development is helpful.
As an Atom subscriber, you'll have a parent dashboard which offers data-driven insights into your child's progress. You can use this effectively to help your child set targets, see a detailed breakdown of their progress by subtopic and set custom practices to target those they find most challenging.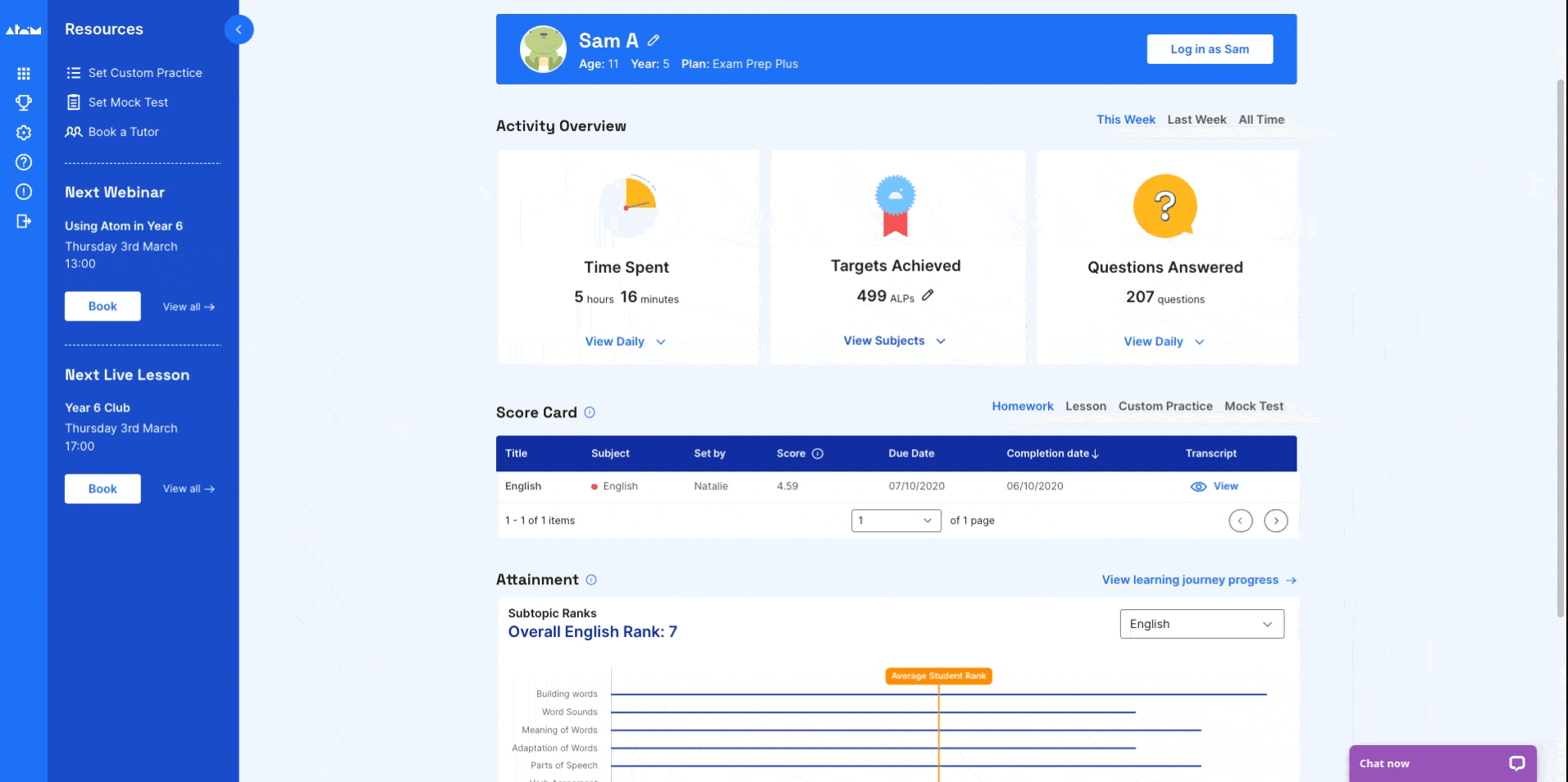 ---
Get started with Atom Learning
It's our mission to help your child feel prepared and confident before the exam day. Begin your free 5-day free trial of Nucleus today to help your child succeed in the 11 plus exam.
We know how crucial this time is, so our team is on hand to support you and your family every step of the way. You can book a call with one of our Education Experts to ask any questions you might have about 11 plus entry to Magdalen College School:
button[Book a call]{href="https://calendly.com/atom-learning-cs/education-expert-call?month=2022-02" target="_blank"}
If you're looking for exclusive tips and resources to help your child master key subjects, excel in exams and build academic confidence, join Atom's email list: