Eaton Square Senior School is an independent day school for boys and girls aged 11–18 in Mayfair, London. The main school (ages 11–16) is located within a Grade I listed building, directly opposite Green Park, while the new sixth form (opening in September 2022) has its own site in Belgravia. The school's uniquely prestigious location and high teaching standards, combined with small class sizes, create a 'warm environment where children develop the confidence to learn, grow and achieve'.
Eaton Square Senior School is Mayfair's only senior school and provides a British foundation with a modern and international outlook. There are 10 modern languages available to study at GCSE, with non-compulsory options including astronomy, psychology, business and computer science. In 2021, 55% of GCSE grades were 9–7 (A*/A equivalent).
There are a broad range of opportunities beyond the classroom at Eaton Square Senior School. Pupils have four dedicated co-curricular sessions within the weekly timetable and over 35 activities to get involved in, including politics and current affairs, community outreach and a mindfulness club. Promoting positive mental health and providing pastoral care is entrenched in the education provided by the school, with weekly wellbeing lessons covering a range of issues including safe use of technology, positive body image and managing anxiety.
Key information for Eaton Square Senior School
Head Teacher: Mrs Caroline Townshend

Address: Eaton Square Senior School, 106 Piccadilly, Mayfair, London W1J 7NL

London Borough: City of Westminster

Admissions contact: [email protected], 020 7491 7412

Age range and gender: 11–18, co-educational

Number of pupils: 300+

Number of places in Year 7: Undisclosed

Ratio of applicants to places: Undisclosed

Open day date: Saturday 1st October and Thursday 17th November 2022. Book through the school's homepage.

Overview of selection procedure: Online exam, interview, reference and school report

Registration opens: Currently open – apply online

Registration closes: 23rd November 2022

Assessment date: January 2023

Scholarship assessment date: TBC
Eaton Square Senior School fees and financial assistance
The fees at Eaton Square Senior School from September 2022 will be £8,720 per term.
The school is able to offer bursary support (means-tested financial assistance) to families who could not otherwise afford the full fees. Bursary assessments are carried out independently of the admissions process, and all candidates must meet the school's entry criteria.
Eaton Square Senior School also offers the following scholarships at 11 plus entry:
Academic Scholarships: 10% fee-remission

Art Scholarships: 10% fee-remission

Drama Scholarships: 10% fee-remission

Music Scholarships: 10% fee-remission

Sport Scholarships: 10% fee-remission

All-rounder Scholarships: 10% fee-remission (assessed in two of the above disciplines, and/or public speaking/debating)
Eaton Square Senior School term dates
The term dates at Eaton Square Senior School for 2022–23 are:
Autumn term: 6th September – 14th December 2022

Half term: 17th–28th October 2022

Spring term: 5th January – 30th March 2023

Half term: 13th–17th February 2023

Summer term: 20th April –6th July 2023

Half term: 29th May – 2nd June 2023
Admissions process for Year 7 entry to Eaton Square Senior School
If you would like to register your child for Year 7 entry to Eaton Square Senior School in 2023, you will need to complete the online application form and pay the non-refundable registration fee of £150 before the deadline on 23rd November 2022. If you wish your child to be considered for a scholarship, you will need to complete a scholarship application form by the same deadline. This carries a registration fee of £50 per scholarship.
All candidates will need to complete an online Cognitive Abilities Test (CAT4) or the ISEB (Independent Schools Examination Board – 11+ only). Your child's school may already have this data; alternatively, your child will be invited to sit a CAT4 assessment when attending the interview.
All children will be interviewed by a member of Eaton Square Senior School's senior team in January 2023 (or via Zoom for international applicants. This is an opportunity for the school to find out more about your child's interests and areas of strength.
If your child has applied for a scholarship, there will be additional steps in the admissions process:
Academic Scholarships: Submission of an extended piece of academic work from a choice of topics, an interview with the deputy head (academic) and an academic assessment

Art Scholarships: Submission of a digital portfolio and a written paragraph about the child's work, artistic interests and exhibitions. Shortlisted candidates will be invited for a drawing assessment and interview.

Drama Scholarships: Audition (a two-minute monologue) and an interview with the head of drama.

Music Scholarships: Interview with the head of music and a musical audition of two short pieces on one/two instruments. Candidates should be at a minimum of Grade 4 on their principal instrument, or Grade 3 if auditioning with two different instruments.

Sports Scholarships: Submission of a portfolio of the child's sporting credentials and a Sports Scholarship assessment day. Candidates should show outstanding potential in at least one of the following sports: football, netball, rugby, hockey, swimming, cricket or athletics.

All Rounder Scholarships: Assessment in two of the following disciplines: art, design, music, drama, academic, public speaking/debating, and sport.
Eaton Square Senior School will get in touch with your child's current school to request a confidential reference from the headteacher and a copy of your child's school report. These, combined with your child's test scores and the performance at the interview, will be combined to determine successful candidates.
Eaton Square Senior School will email families with the outcome of their child's assessment process at the end of January 2023. The deadline for acceptance of offers is Friday 3rd March 2023.
Eaton Square Senior School 11 plus exam
Candidates for Year 7 entry to Eaton Square Senior School do not necessarily need to sit an entrance exam. If your child's school has already held the CAT4 (Cognitive Abilities Test) or ISEB, Eaton Square Senior School will request your child's results from one of these tests.
However, if your child has not taken one of the two tests before, they will be invited to take the CAT4 test at Eaton Square Senior School on the same day as the interview.
The CAT4 test is an online timed assessment of 72 minutes with multiple-choice questions. Children are assessed in four subjects, each of which is split into two topics:
1. Verbal reasoning
Verbal reasoning is a measure of how a student thinks and solves problems using words. There are two sections: verbal classification (8 minutes) and verbal analogies (8 minutes).
2. Non-verbal reasoning
Non-verbal reasoning is a critical-thinking skill that involves solving problems and identifying patterns using shapes and diagrams. The two sections assessed are figure classification (10 minutes) and figure matrices (10 minutes).
3. Quantitative reasoning
Quantitative reasoning is a numerical skill that measures how a student thinks and solves problems using numbers. The sections assessed are number analogies (10 minutes) and number series (8 minutes).
4. Spatial ability
In the final section of the test, children are assessed on their ability to transform visual images in their mind. The two topics are figure analysis (9 minutes) and figure recognition (9 minutes).
Find out more about the CAT4 test
How to help your child prepare for the selection process at Eaton Square Senior School
Preparation is key
Build foundational knowledge
For entry to Eaton Square Senior School, candidates are tested in their verbal, non-verbal and numerical abilities in the CAT4 test (or English, maths, verbal reasoning and non-verbal reasoning in the ISEB test).
Atom Nucleus can help your child consolidate everything they know from the Key Stage 2 curriculum. With over 90,000 teacher-created questions and helpful learning resources across English, maths, verbal reasoning and non-verbal reasoning, one Atom subscription will give your child all the materials needed to get to grips with the curriculum before the exam day.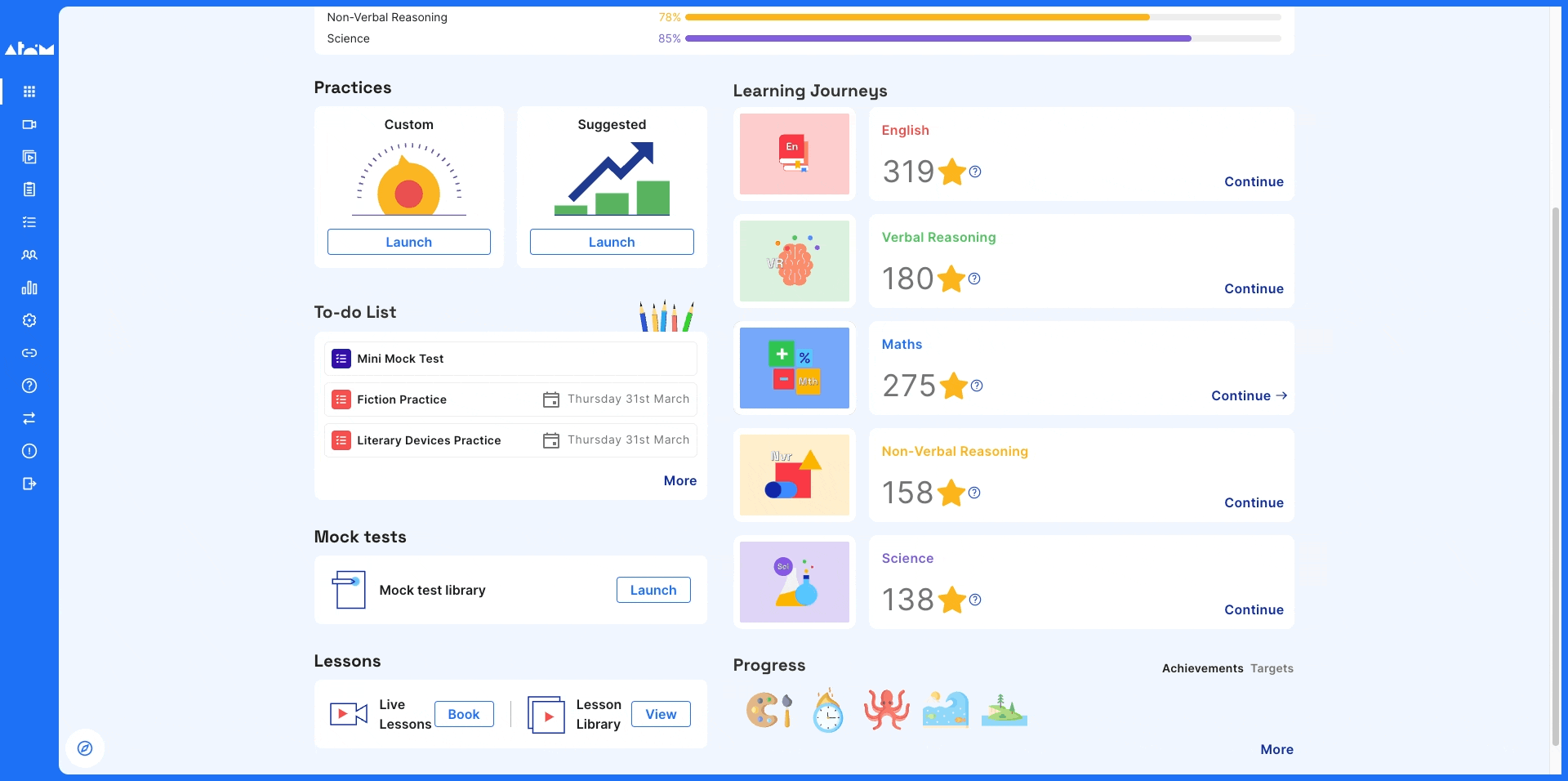 Preparation is key
Familiarisation with the question formats and known styles ahead of the exam is essential to help your child build exam confidence.
An exam preparation subscription with Atom Nucleus enables your child to access quality, unlimited practice material with full score breakdowns to help your child feel confident by the time the exam day comes around. Best of all, your child can take unlimited practice tests – including the CAT4 test – for one monthly cost.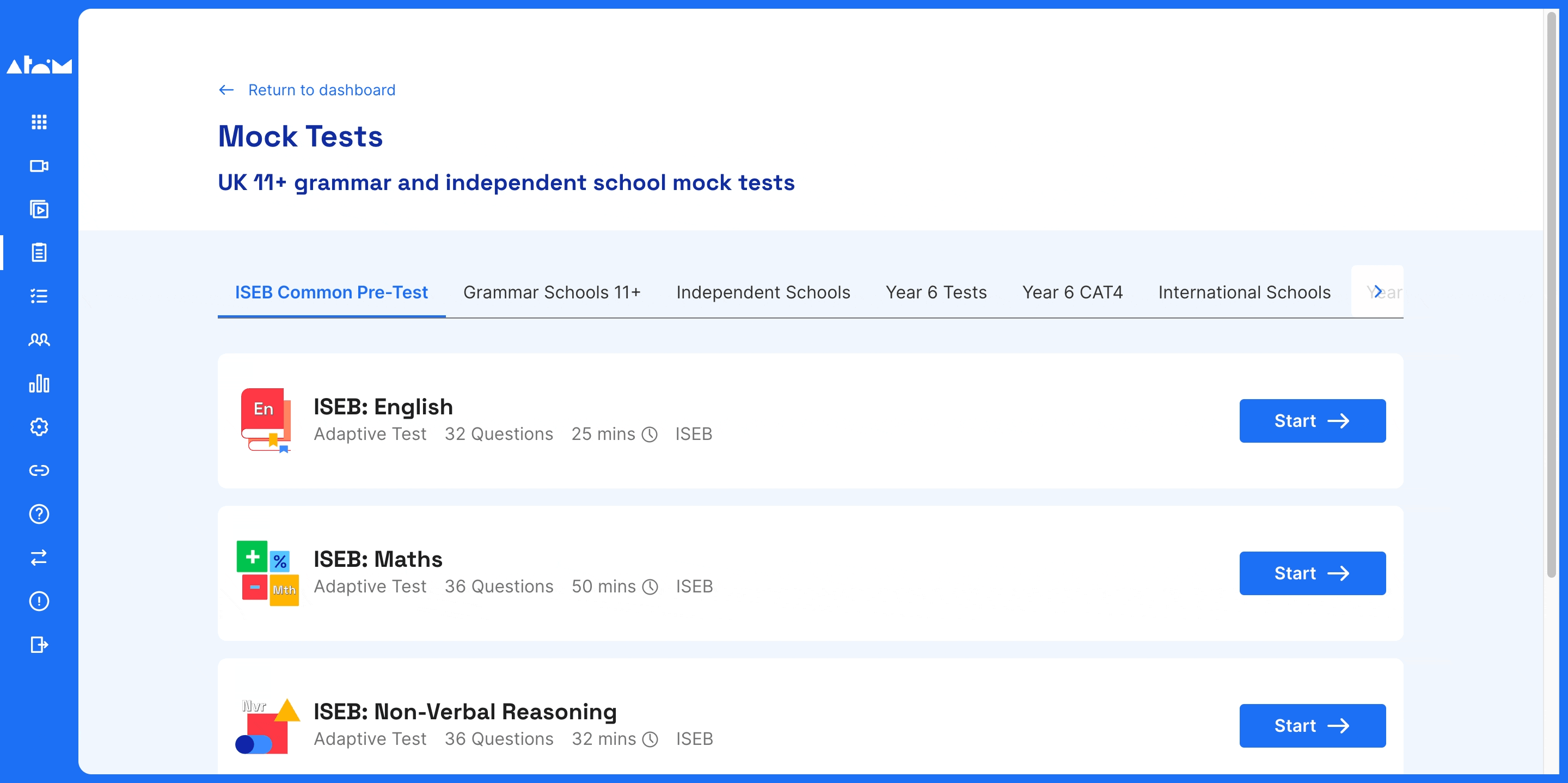 When working through challenging topics, your child will need immediate clarity with any misconceptions so that they feel truly secure in the exam.
Atom Nucleus includes video tutorials, help sheets and examples with every question to help your child build confidence and competence across all the areas assessed.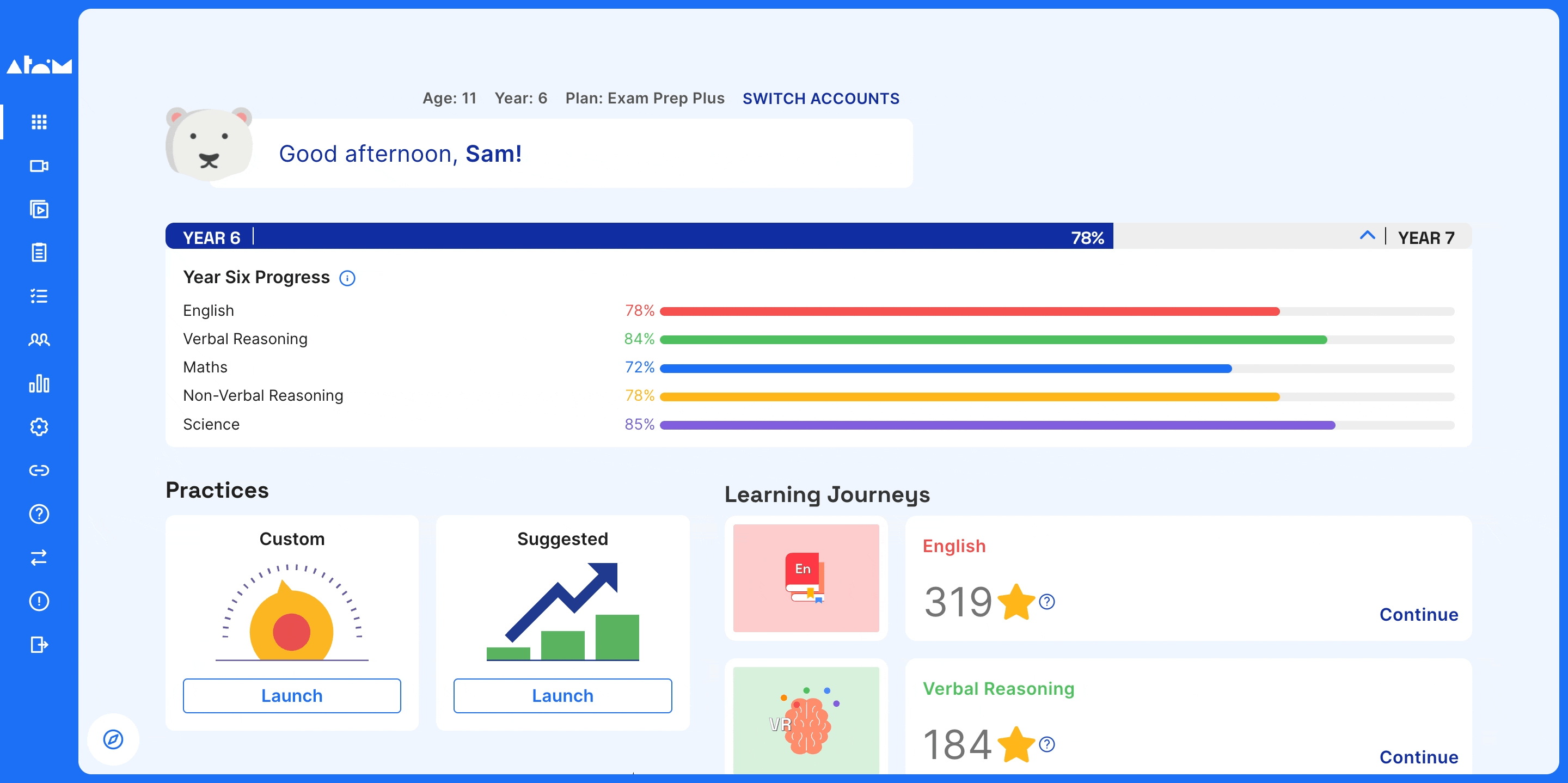 Engage with their progress
Celebrate your child's improvement in areas of challenge together. An accurate and ongoing assessment of their areas of strength and development is helpful.
As an Atom subscriber, you'll have a parent dashboard which offers data-driven insights into your child's progress. You can use this effectively to help your child set targets, see a detailed breakdown of their progress by subtopic and set custom practices to target those they find most challenging.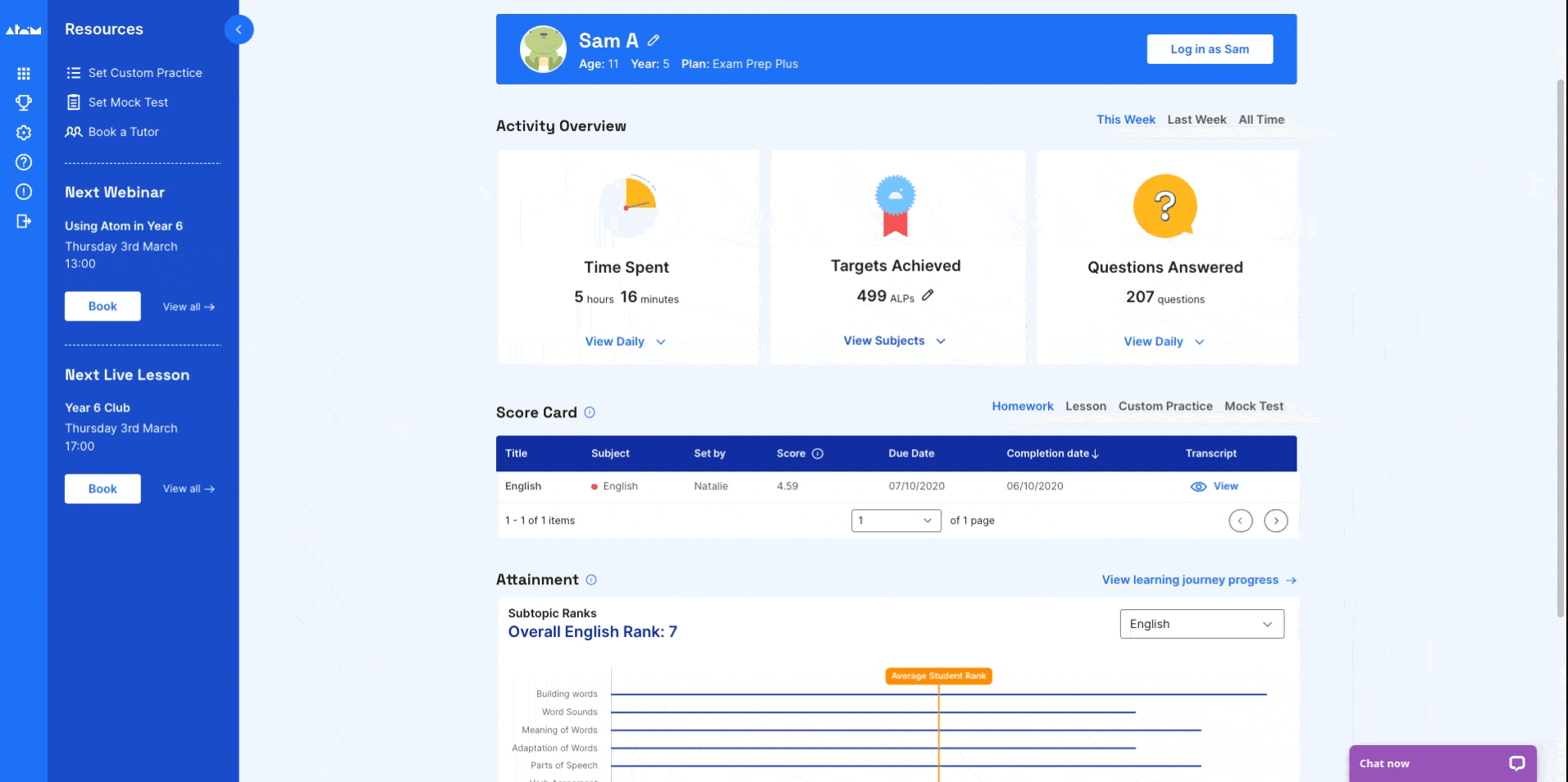 ---
Get started with Atom Learning
It's our mission to help your child feel prepared and confident before the exam day. Begin your free 5-day free trial of Nucleus today to help your child succeed.
We know how crucial this time is, so our team is on hand to support you and your family every step of the way. You can book a call with one of our Education Experts to ask any questions you might have about 11 plus entry to Eaton Square Senior School:
If you're looking for exclusive tips and resources to help your child master key subjects, excel in exams and build academic confidence, join Atom's email list: