The subjects in detail
Maths (20 minutes)
The maths questions cover the range of topics as set out in the Key Stage 2 national curriculum up to the end of Year 5. Students are tested on arithmetic, mathematical reasoning and problem-solving. Nothing from the Year 6 curriculum is tested – this is to make things fair, as primary schools teach the Year 6 curriculum in different orders.
The maths section is designed to stretch and challenge your child through both the style and depth of the questions. The questions adapt depending on your child's performance.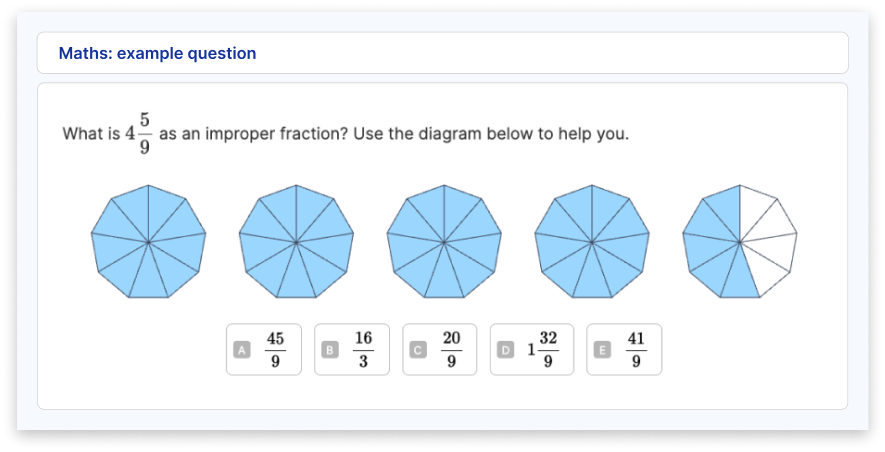 Non-verbal reasoning (10 minutes)
Non-verbal reasoning assesses your child's ability to identify patterns and think logically. This section is also adaptive, so the questions will get harder as your child answers them correctly.
Non-verbal reasoning questions can seem strange to children who are unfamiliar with them, so we recommend that you share the familiarisation materials with your child ahead of the assessment.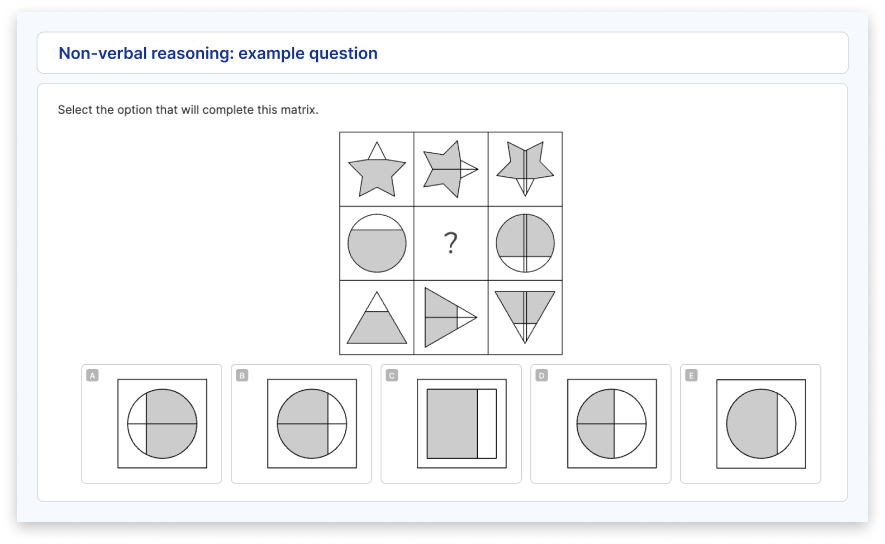 English (20 minutes)
The English section includes a comprehension exercise where your child will engage with an unseen text. They will be asked to answer adaptive questions about it. No extended writing is required.
Unfamiliar vocabulary should not be a problem here as the comprehension test aims to assess your child's ability to infer meaning from context. Reading widely will help your child to build these skills organically.
There are also spelling, punctuation and grammar (SPaG) questions which assess your child's ability to identify the correct use of standard English in context.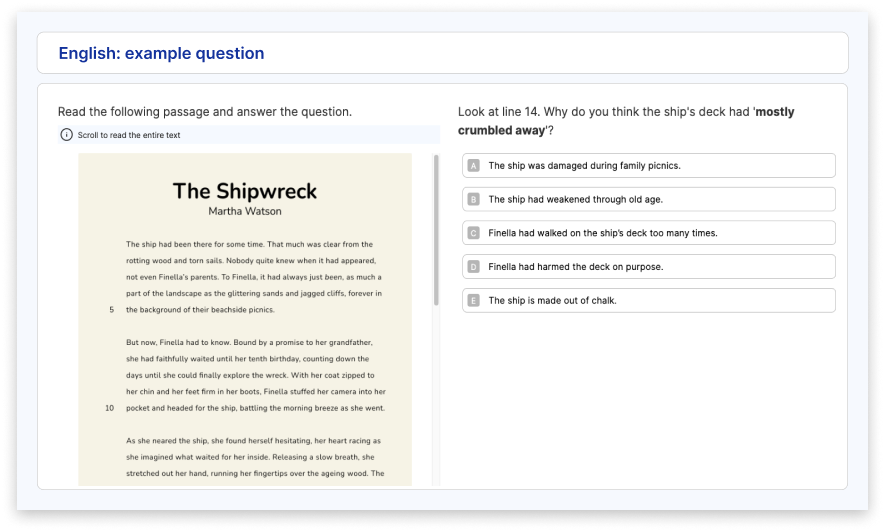 Verbal reasoning (10 minutes)
Verbal reasoning assesses your child's ability to reason and solve problems with written information, testing their reading fluency, vocabulary, logic and attention to detail. Children who read widely will be well-prepared for this section.

Puzzles and problem-solving (15 minutes)
This section tests your child's ability to problem-solve and reason through a series of interactive puzzles. The section is non-adaptive, so all candidates will see the same questions regardless of their ability.
Creative comprehension (25 minutes)
In this section, your child will need to use information from a variety of different sources to answer questions. The information will be given to them in a range of formats. They may have to look at several different sources at the same time to answer questions.
The context is likely to be unfamiliar to all children taking the test. However, if a child is familiar with the context, they will not have any advantage in answering the questions. This section is also non-adaptive.
To make sure there's no advantage to sitting the test on a later date, the English comprehension passage and the non-adaptive sections of the test are different for each of the three assessment dates. The questions have been carefully pitched to make sure the three sittings are of equal difficulty. After the assessments are marked, the scores are standardised to make sure there is parity across the three sittings.