When preparing for entrance exams, it's natural to wonder: what score does my child need to pass the 11 plus?
A good 11 plus score depends on various factors, including:
The results of the previous year

The exam board administering the test

The requirements of your target school
This article will explain how examiners calculate 11 plus scores, and how to know if your child is on track for a high score.
What is a standardised age score?
Whether your child is sitting a GL Assessment, CEM, or ISEB test paper, their overall results will be expressed as a standardised age score (or standard age score/SAS).
It is likely their marks will be converted into an SAS whether they are taking the 11 plus for grammar school or independent school entry.
Standardisation removes variables from test scores to give a fairer comparison of results. The process takes into account your child's age in years and full months (e.g. 10 years and 9 months). Raw test scores are converted into SAS to indicate how a child has performed against a representative sample of pupils the same age.

How is a standardised age score calculated?
The first step in calculating a SAS is to produce an attainment estimate. This takes into account the number of questions answered correctly or incorrectly across the different papers, giving equal weighting to each. On an adaptive test such as the ISEB, the difficulty level of the questions answered is taken into account.
The attainment estimate also considers the time allocation for the test. This ensures that, for example, a verbal reasoning test with 80 questions in 50 minutes is not directly compared to a maths test with 50 questions in 50 minutes.
Next, these scores are adjusted based on the child's age at the time they sit the exam. Someone born in September at the start of the school year may be almost 12 months older than someone born in August when they sit the exam, which gives the older child a significant advantage.
To combat this, younger pupils are 'awarded' extra marks to make up for their age. For example, a child born in September and a child born the following August achieve the same 'raw score'. The older child may end up with a standardised score of 118 and the younger child with a standardised score of 121.
But don't worry – it's not true that older pupils will have marks deducted. While younger pupils may gain more marks to even their chances, older pupils will never lose marks.
Pupils' scores are measured on a stanine, which represents a scale of 1 (low) to 9 (high) and gives a broad overview of performance.
What is a good SAS on the 11 plus?
The standardised age result of each child is mapped onto a normal distribution curve.
An SAS of 100 represents an average score for the child's year group

An SAS of 120 or above would be in the top 10% of pupils in that year group

An SAS of 80 or below would be in the bottom 10% of the year group

The highest score a pupil can achieve is usually 142, placing them in the top 1% of children taking the test
There is not necessarily a specific SAS required to get an offer of a school place. Selective schools usually rank the SAS of every child who took the test that year from highest to lowest. They will then offer places to a set number of the highest scoring pupils (e.g. the top 200 scorers). Other admissions criteria such as distance from the school will also be taken into account.
Some schools do cite a pass mark, but achieving the pass mark does not guarantee an offer of a place. Often, it simply means that you can list the school on your application form. These schools will usually still rank all scores above the pass mark, and offer places to a set number of the highest scorers.
So what does this mean in real life? For most selective schools, most years, this will mean children need an SAS of at least 110, and some as high as 124 and beyond.
What score should my child aim for on practice papers?
By the time your child is ready to sit the 11 plus they should be achieving an SAS of at least 115. Practice papers are useful for gauging how your child is likely to perform on the real exam at their current level of knowledge.
Your child's SAS is a helpful indicator of their progress, as it is the same scoring system used in the real exam. Keeping an eye on how it develops will give you insights into how quickly they are improving, as well as highlighting subtopics that need more practice.
Atom's Exam Prep Plus package includes access to practice papers that replicate each of England's 11 plus exams. They are automatically marked, giving you their SAS, stanine result, and a breakdown of their ability across subtopics.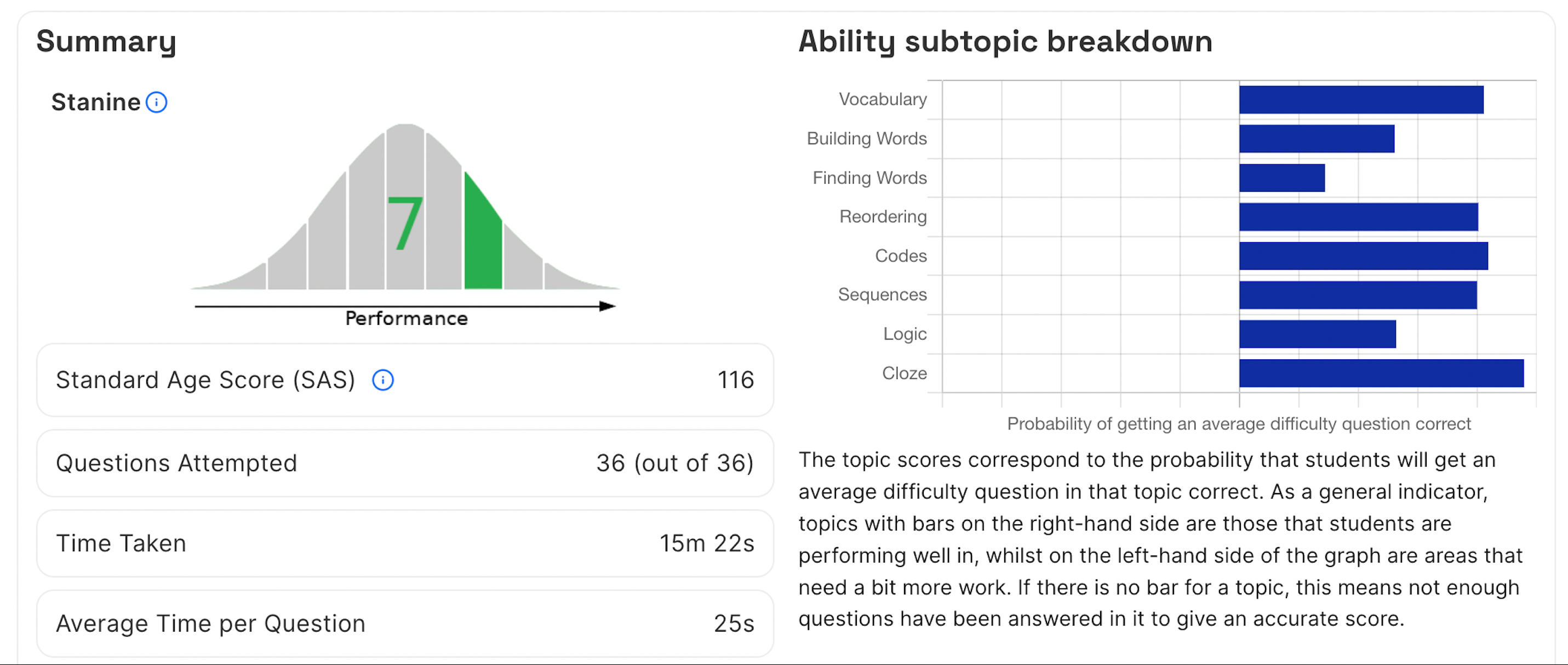 Learn how to use mock test transcripts.
How Atom can help your child achieve a good 11 plus score
Atom Nucleus supports 11 plus preparation by combining cutting-edge technology with the expertise of experienced teachers. We've built over 90,000 Key Stage 2 practice questions, live prep courses, video tutorials and unlimited mock tests in the style and format of all known 11 plus exam boards.
Atom's adaptive learning algorithm tailors the ideal learning journey for your child to keep them engaged and challenged – while giving you data-driven insights into where they need to focus next.
Start your 5-day free trial of Nucleus today to help your child feel fully prepared for success in the 11 plus and beyond.

Parent WhatsApp groups
Preparing for entrance exams in 2023? Why not join our Exam Preparation group on WhatsApp? Get access to free resources and advice, and ask our Education Experts any questions you have about the admissions process and your child's upcoming exams.