The 11 plus forum is here to answer all the questions you may have about grammar school entrance exams. Get advice and resources to help your child prepare for, apply to, and secure a place at their secondary school of choice.
Visit the glossary for definitions of key terms relating to the 11 plus test, grammar and independent school entry and applications.
---
When do 11 plus results come out in 2022?
For most grammar schools, the 11+ results for 2022 will come out in mid-October. This can vary depending on your region and target school(s). Find the 11 plus results date for your area here.
For example, the Kent Test 11 plus results day is Tuesday 18th October 2022, whereas Birmingham and CSSE results day is Friday 21st October.
How will I get my child's 11 plus results?
Different consortiums and local authorities provide the 11 plus results in different ways. You should receive information about this process when you register your child for the 11 plus.
If you gave an email address when you registered your child, you may receive results by email. Some consortiums also have an online portal where you will be able to check results.
11 plus results may also be posted to you by first class mail, although this will take an extra day or two to arrive. Otherwise, your child's primary school may be able to inform you of their score from the day after results day.
What happens next?
After you get your child's 11 plus results, you will then have a couple of weeks to submit a Common Application Form (CAF) via your local authority website. The national deadline for CAFs is 31st October 2022. Find your local authority's admissions site at gov.uk.
On the CAF you can list between three and six state secondary schools in order of preference. By the time you fill this form in you should have received your child's 11 plus results, which will help you decide which schools to list.
You will find out whether your child has been allocated a place at their chosen school on National Offer Day, 1st March 2023.
---
What is the 11 plus exam?
The 11 plus is an entrance exam (usually taken in September of Year 6) for state-funded grammar schools and independent schools. There are over 160 grammar schools in England, as well as a number of other schools that use 11 plus examinations to select students for a Year 7 intake.
These exams aim to test your child's attainment in core subjects and identify their academic ability and potential. Learn more about the eleven plus in Atom's full 11 plus preparation guide.
Who administers the 11 plus exam?
CEM (Centre for Evaluation and Monitoring) and GL Assessment (Granada Learning) are the two leading providers of eleven plus exams in grammar schools in England.
CEM and GL are based on the same curriculum but differ in the exam format and the timing of the papers. Learn about the key features and differences of CEM and GL, as well as which grammar school regions use each:
Another major provider for independent school entrance exams is ISEB. Find answers to your ISEB preparation questions here.
How do I know which 11 plus provider the school will use?
Independent schools and grammar schools will usually say on their website which exam provider they use. If this information isn't on the school website, it's worth checking their admission policy as this sometimes contains exam board information. Some schools also share familiarisation papers to give your child an idea of what to expect.
A quick and easy way to find out which 11 plus test your target schools will administer is to check our guides to CEM and GL. You will see a list of which counties use each exam board. Check if your local grammar school belongs to a consortium and you will be able to find out which 11 plus test your consortium or region uses.
---
Applying for the 11 plus – parent questions answered
How do I register my child for the 11 plus?
The registration process for the 11 plus depends on your local area and the secondary schools you are applying to. Atom's region guides will walk you through the application process for your area.
Many grammar schools form a consortium with other schools in the local area. This means that children only have to go through one application process and 11 plus exam to apply for all schools in the area.
Generally, you will need to register your child for the 11 plus exam either on your local consortium website, or on the individual websites of your target schools. Registration usually opens in the spring of Year 5, and stays open until the end of the summer term or the start of the autumn term. The exam is then sat in September of Year 6.
It's important to confirm the registration deadlines with your target schools as this can vary by school.
In some areas, children are automatically registered for the 11 plus exam if they attend a local authority primary school. This does not mean the exam is compulsory – it's entirely up to you and your child if you want to apply to grammar school.
How do I register my child for a particular school?
As well as registering to take the 11 plus test, you will also need to apply for a place at your target schools. To apply for a secondary school place in England and Wales, parents must apply through a Common Application Form (CAF). This is done through your local authority (council) website and requires you to list between three and six schools in order of preference. Find your local authority's admissions site on gov.uk.
Should my child take the 11 plus?
It's up to you and your child. Schools generally suggest that children who are within the top 25% in their year group and who are 'working at Greater Depth' in the core subjects (seen in their school report) are good candidates for 11 plus entry.
Does it cost anything to take the 11 plus?
No, the 11 plus is completely free. Some schools will hold a practice test which may incur a charge, but your child does not have to sit the practice test.
When will my child sit the 11 plus?
Your child will sit their exam in September of Year 6. Most of the exams take place in the first two weeks of September but this is not always the case, so it's best to check the dates with each individual school you're applying to.
When do I get my child's 11 plus results?
You will usually get your child's 11 plus results in mid to late October of Year 6. Exam results may be delivered by post, email or via an online portal, depending on your region or consortium.
How is the 11 plus marked?
Your child's exam papers will be marked by the exam board. Some types of paper are marked by computer. Your child's raw score will be converted into a Standardised Age Score (SAS), which allows for an equal comparison of all children taking the test. The SAS takes into consideration:
The age of your child in years and months

The difficulty of the paper

The differences between test papers
Your child's SAS is ranked against children of the same age in the country. The national average is around 100 and a high score ranges from 110-140.
Learn more about 11 plus scores and how they are calculated.
What is the 11 plus pass mark?
There isn't a single 11 plus pass mark – it varies depending on the region and how many children take the exam that year. Selective schools tend to take the top 5-15% of children who sit the exam. In regions with more grammar schools such as Kent and Birmingham (and therefore more Year 7 places available), the pass rate might be lower than in areas with fewer grammar schools like Greater London.
We recommend that children aim for an SAS of at least 115 in Atom's adaptive mock tests. Most selective schools have a pass mark of at least 110, and some as high as 124 and beyond. Find more information on your target school's website or in Atom's school guides.
Can my child retake the 11 plus?
No, children cannot resit the 11 plus. However, if your child is applying to multiple schools that do not belong to one consortium, then they may have to sit several different exams.
What is the appeals process?
Parents of children who do not gain an offer at their first choice of grammar school may wish to lodge an appeal. According to the Department for Education Appeals Code, parents have at least 20 school days to prepare an appeal.
We recommend you confirm the specific appeals process and deadline with your target school via their admissions team. Depending on your area, appeals may be heard by your local authority or the school itself.
---
Preparing for the 11 plus – all the information you need
When should my child start preparing for the 11 plus?
When applying to a selective school, the sooner you start preparing the better. Your child will have the best chance of achieving a grammar school place if they have built their English and maths subject mastery and reasoning ability over a long period of time.
Starting early and slowly building up with long-term learning will help keep stress to a minimum, and ensure your child feels calm and confident in the exam. It's also a great way to instil habits for lifelong learning!
Learn more about the best time to start eleven plus exam prep and how to structure the preparation.
What is on the 11 plus?
The four subjects that are assessed on 11 plus exams are:
English

Maths

Verbal reasoning

Non-verbal reasoning
The English and maths content reflects the Key Stage 2 national curriculum. Although the format and timing of the papers varies between regions and exam provider, they all cover the same curriculum. For example, GL Assessment 11 plus does not include an 'English' paper, but it does reflect the Key Stage 2 English national curriculum across the reading comprehension and verbal reasoning papers.

What is verbal reasoning?
11 plus verbal reasoning tests your child's ability to reason and solve problems with written information. Verbal reasoning assesses:
Reading fluency and comprehension

Vocabulary knowledge

Phonological awareness

Logic and problem-solving

Ability to discover and apply rules

Attention to detail
An example verbal reasoning question: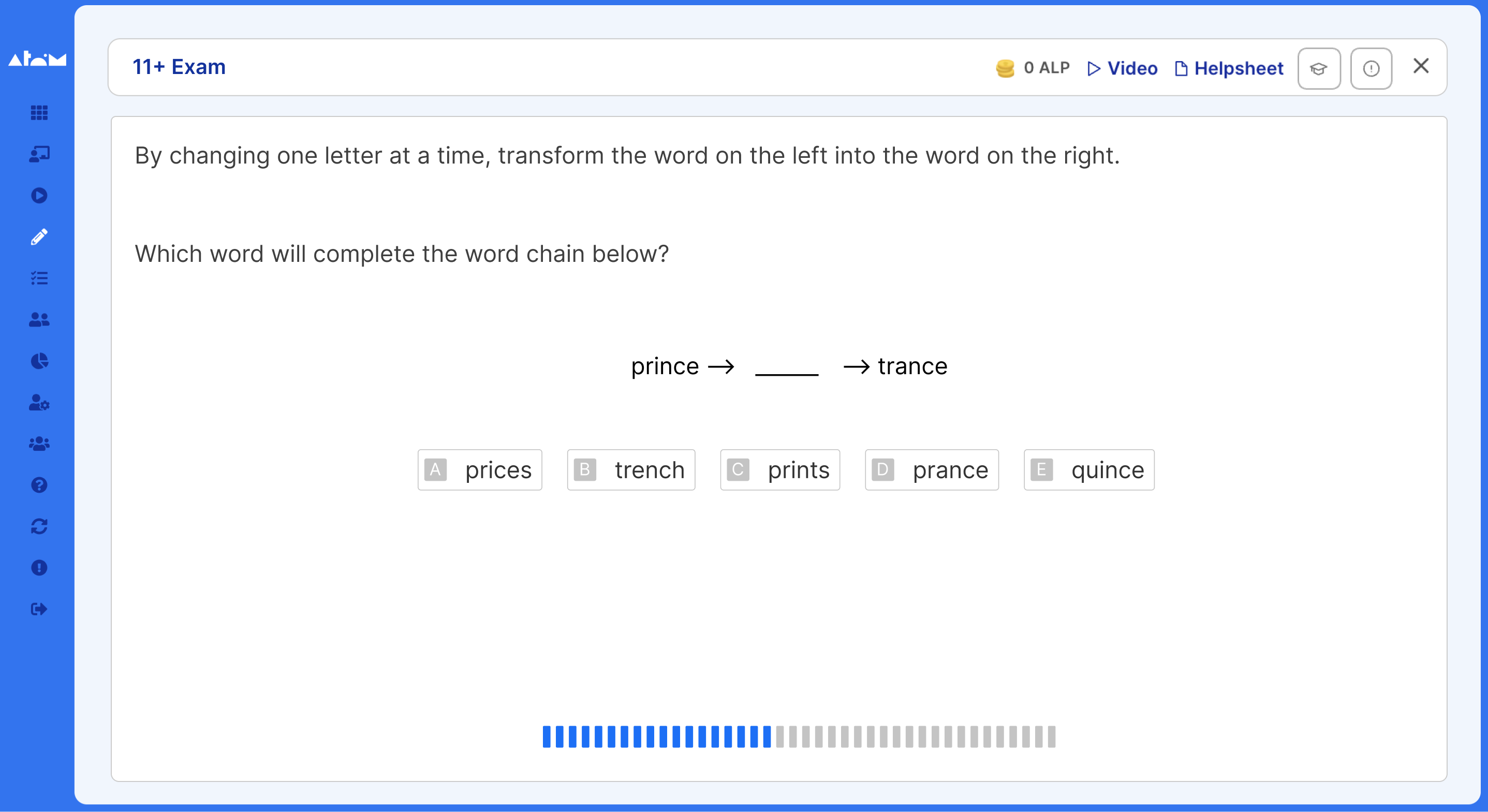 Learn more about preparing for verbal reasoning questions here.
What is non verbal-reasoning?
Non-verbal reasoning is a form of visual problem-solving using shapes, diagrams and pictures rather than words.
The non-verbal reasoning section of the 11 plus will assess your child's:
Maths skills

Logic and problem-solving

Spatial awareness

Ability to identify patterns and rules
An example non verbal reasoning question:
Find non verbal reasoning questions and answers, as well as top tips for preparation here.
How can my child prepare for the 11 plus?
You should aim for your child to spend 1.5–2 hours on exam practice each week. For the best focus and retention of knowledge, study time should be broken down into 20–30 minutes a day. A good approach is to practise a different subject each day of the week.
Every child is different, and will have strengths in different subtopics. Your child needs a stable understanding of the whole curriculum before mastering the most challenging content, so resist the temptation to jump straight to their areas of difficulty.
Once your child has covered the breadth of the curriculum, you can identify the subtopics that need further revision and set custom practices to target those areas. Mock tests are a great resource at this stage to help your child build confidence and hone their exam technique.
For free preparation resources and advice, check out:
Where can I find past papers?
There are no officially published eleven plus past papers but there are many companies that provide practice papers and resources, often for a fee. The accuracy of these practice papers to the real exam varies and can be hard to verify.
Accurate practice papers are a powerful tool to empower your child to know exactly what to expect on exam day. Atom Nucleus provides unlimited 11 plus mock tests that are aligned to the format, content and structure of each grammar school region. We have mirrored the real thing down to the colours of the text and the style of the images.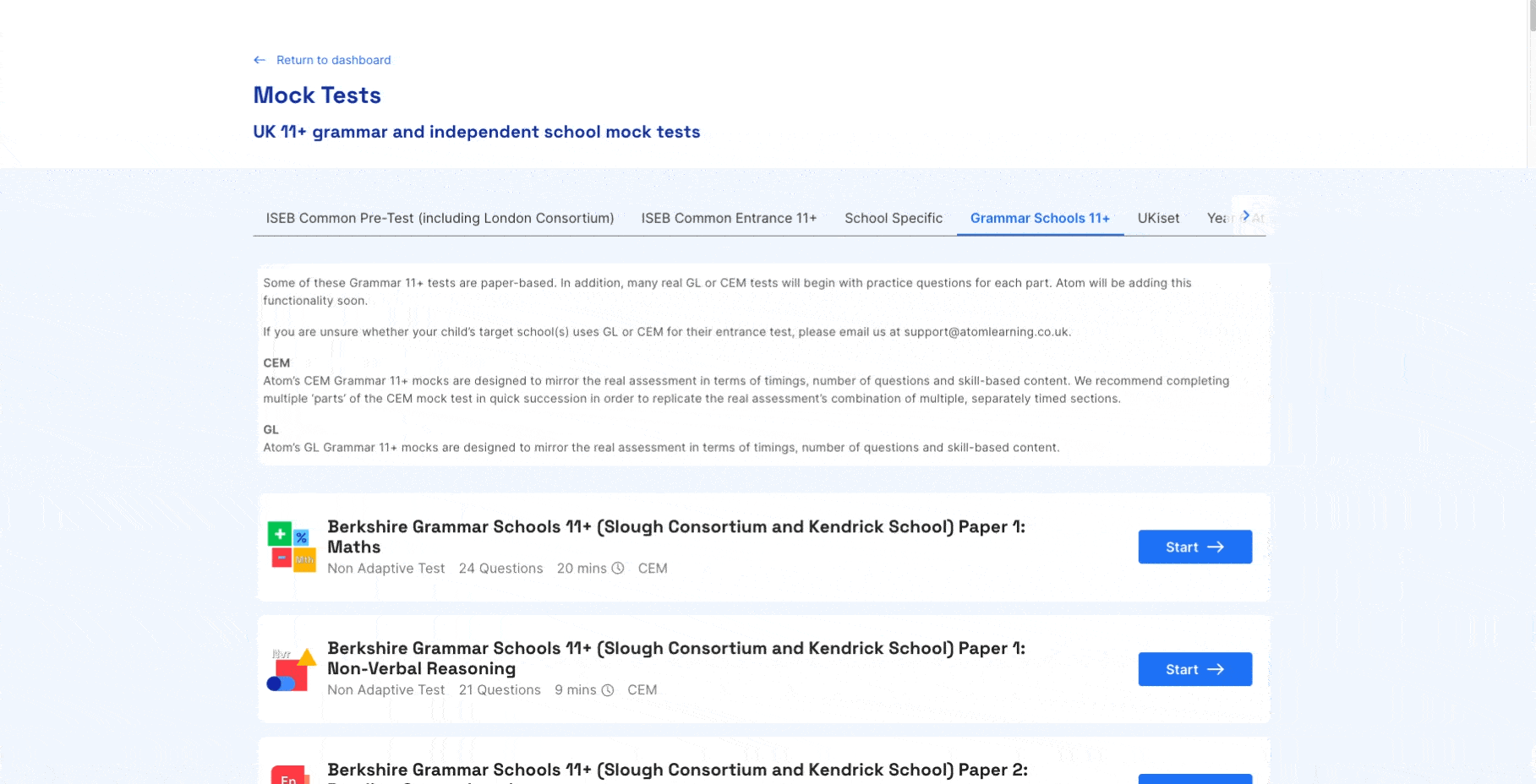 Does my child need a tutor for the 11 plus?
Some children do score highly on the 11 plus exam without any support, but tutoring is very prevalent and children without support can be at a disadvantage. It is highly recommended that children who plan to sit the eleven plus have some form of academic support.
However, this does not have to be traditional in-person tutoring. On-demand, online adaptive learning is a more affordable and convenient option for families, and can personalise a child's learning more accurately than a private tutor.
Learn more about tuition for the 11 plus.
How much do private tutors cost?
Atom Tuition starts from £39.99 per month (when billed annually) for 11 plus tuition. Beyond Atom, the price for independent tuition can vary between £20 and £80 per hour, depending on the tutor's experience and location – while tutors in large cities often charge a premium.
---
Got a question that's not yet answered in the 11 plus forum? Our Education Experts are on hand to help with any advice or guidance you may need about exams or school applications.
Fill in the form below to ask us anything:
We'll update this page with new questions from Atom's parent community.