Applying to grammar schools/registering for the 11 plus
How do I register my child for the 11 plus?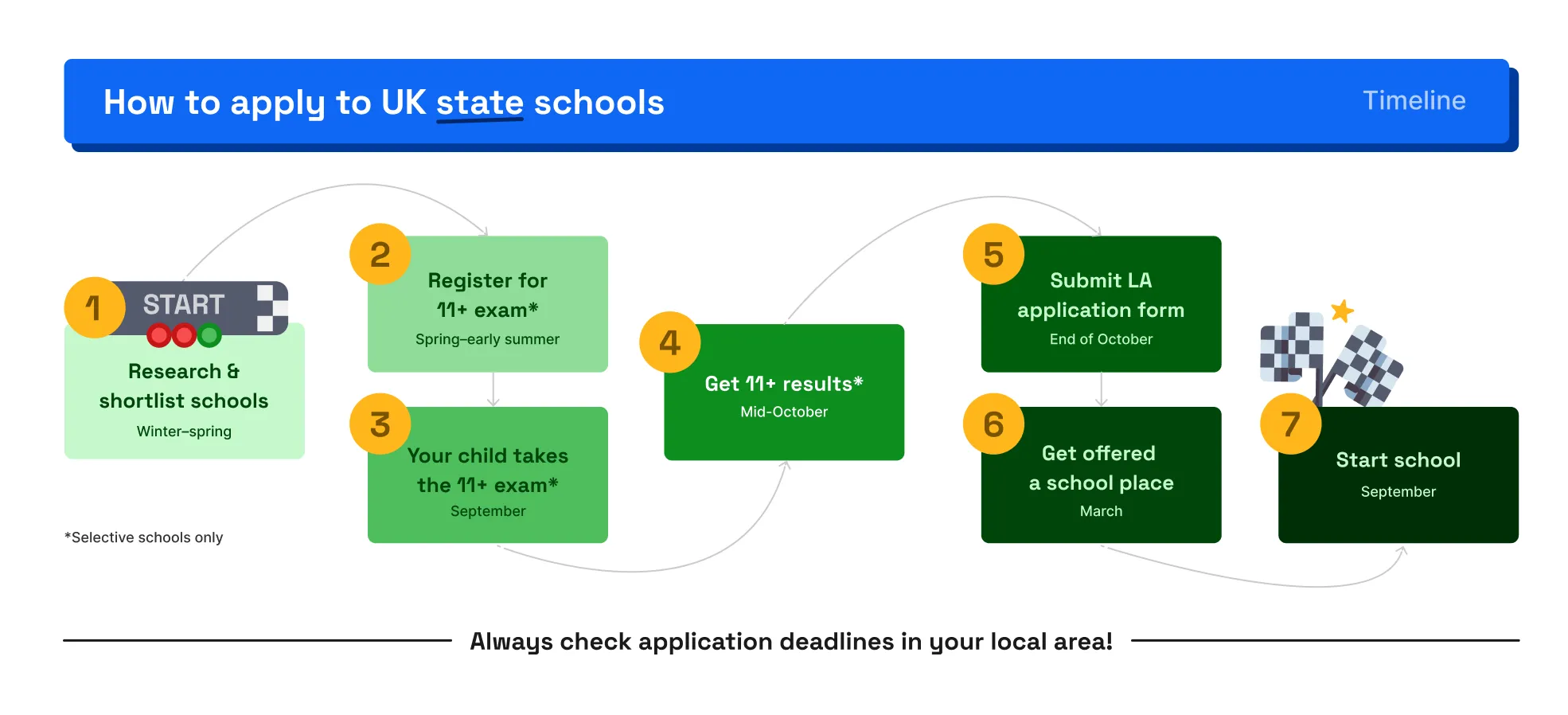 How to apply to UK state schools – click to download PDF version
The registration process for the 11 plus depends on your local area and the secondary schools you are applying to. Our local area guides will walk you through the application process for your area.
Many grammar schools form a consortium with other schools in the local area. This means that children only have to go through one application process to apply for all schools in the area.
Generally, you will need to register your child for the 11 plus exam either on your local consortium website, or on the individual websites of your target schools. Registration usually opens in the spring of Year 5, and stays open until the end of the summer term or the start of the autumn term. The exam is then sat in September of Year 6.
Always confirm registration deadlines with your target schools as dates can vary by school.
In some areas, children are automatically registered for the 11 plus exam if they attend a local authority primary school. This does not mean the exam is compulsory – it's up to you and your child if you want to apply to grammar school.
How do I register my child for a particular school?
As well as registering to take the 11 plus test, you will also need to apply for a place at your target schools. To apply for a secondary school place in England and Wales, parents must apply through a Common Application Form (CAF). This is done through your local authority (council) website and requires you to list between three and six schools in order of preference. Find your local authority's admissions site on gov.uk.
Should my child take the 11 plus?
It's up to you and your child. Schools generally suggest that children who are within the top 25% in their year group and who are 'working at Greater Depth' in the core subjects (seen in their school report) are good candidates for 11 plus entry.
Does it cost anything to take the 11 plus?
No, the 11 plus is completely free. Some schools will hold a practice test which may incur a charge, but your child does not have to sit the practice test.
When will my child sit the 11 plus?
Your child will sit their exam in September of Year 6. Most of the exams take place in the first two weeks of September but this is not always the case, so it's best to check the dates with each individual school you're applying to.
How is the 11 plus marked?
Your child's exam papers will be marked by the exam board. Some types of paper are marked by computer. Your child's raw score will be converted into a Standardised Age Score (SAS), which allows for an equal comparison of all children taking the test. The SAS takes into consideration:
The age of your child in years and months

The difficulty of the paper

The differences between test papers
Your child's SAS is ranked against children of the same age in the country. The national average is around 100 and a high score ranges from 110-140.
Learn more about 11 plus scores and how they are calculated.
What is the 11 plus pass mark?
There isn't a single 11 plus pass mark – it varies depending on the region and how many children take the exam that year. Selective schools tend to take the top 5-15% of children who sit the exam. In regions with more grammar schools such as Kent and Birmingham (and therefore more Year 7 places available), the pass rate might be lower than in areas with fewer grammar schools like Greater London.
We recommend that children aim for an SAS of at least 115 in 11 plus test papers on Atom Nucleus. Most selective schools have a pass mark of at least 110, and some as high as 124 and beyond. Find more information on your target school's website or in our school guides.
Can my child retake the 11 plus?
No, children cannot resit the 11 plus. However, if your child is applying to multiple grammar schools that do not belong to one consortium or local authority, they may have to sit several different exams.
What is the appeals process?
Parents of children who do not gain an offer at their first choice of grammar school may wish to lodge an appeal. According to the Department for Education Appeals Code, parents have at least 20 school days to prepare an appeal.
We recommend you confirm the specific appeals process and deadline with your target school via their admissions team. Depending on your area, appeals may be heard by your local authority or the school itself.