Verbal reasoning is a key test involved in the 11 plus exams. It's used by most selective schools as an entry requirement.
In this article, we unpack what verbal reasoning really means, the types of questions your child can expect, and share advice for helping your child feel truly prepared for the 11 plus verbal reasoning exam.
What is verbal reasoning?
11 plus verbal reasoning tests your child's ability to reason and solve problems with written information. Verbal reasoning assesses:
Reading fluency and comprehension

Vocabulary knowledge

Phonological awareness

Logic and problem-solving

Ability to discover and apply rules

Attention to detail

Don't be fooled by the use of the word 'verbal', as the exam does not only include the manipulation of words and letters. Your child will come across numbers and symbols too. However, as most questions will require an understanding of the meaning of words and the relationship between certain words, a wide vocabulary is essential.
The tests vary with each exam board, so it is worth checking which one your child will be taking. For instance, there are typically 21 different types of verbal reasoning questions determined by GL Assessment, with the paper taking between 50 minutes and an hour.
Questions can also vary in length, with some containing a few sentences and others containing only a few words. They are often accompanied by an example question. Some questions are designed to take longer than others, so if your child becomes stuck on one of these, it is best for them to guess the answer and come back to it later if they can.
Verbal reasoning question types
Verbal reasoning covers five key areas: vocabulary, finding words, building words, codes and sequences and logic.
Vocabulary
Question types:
Finding words
Question types:
Jumbled words/sentences

Hidden words

Anagrams
Building words
Question types:
Join the words

Morph the word

Transfer a letter

Missing letters
Codes and sequences
Question types:
Solve the code (using letters, numbers or symbols)

Sequences (using letters, numbers or symbols)
Logic
Question types:
Statement Logic

Deductions
Watch this video to see some of these common verbal reasoning question types explained: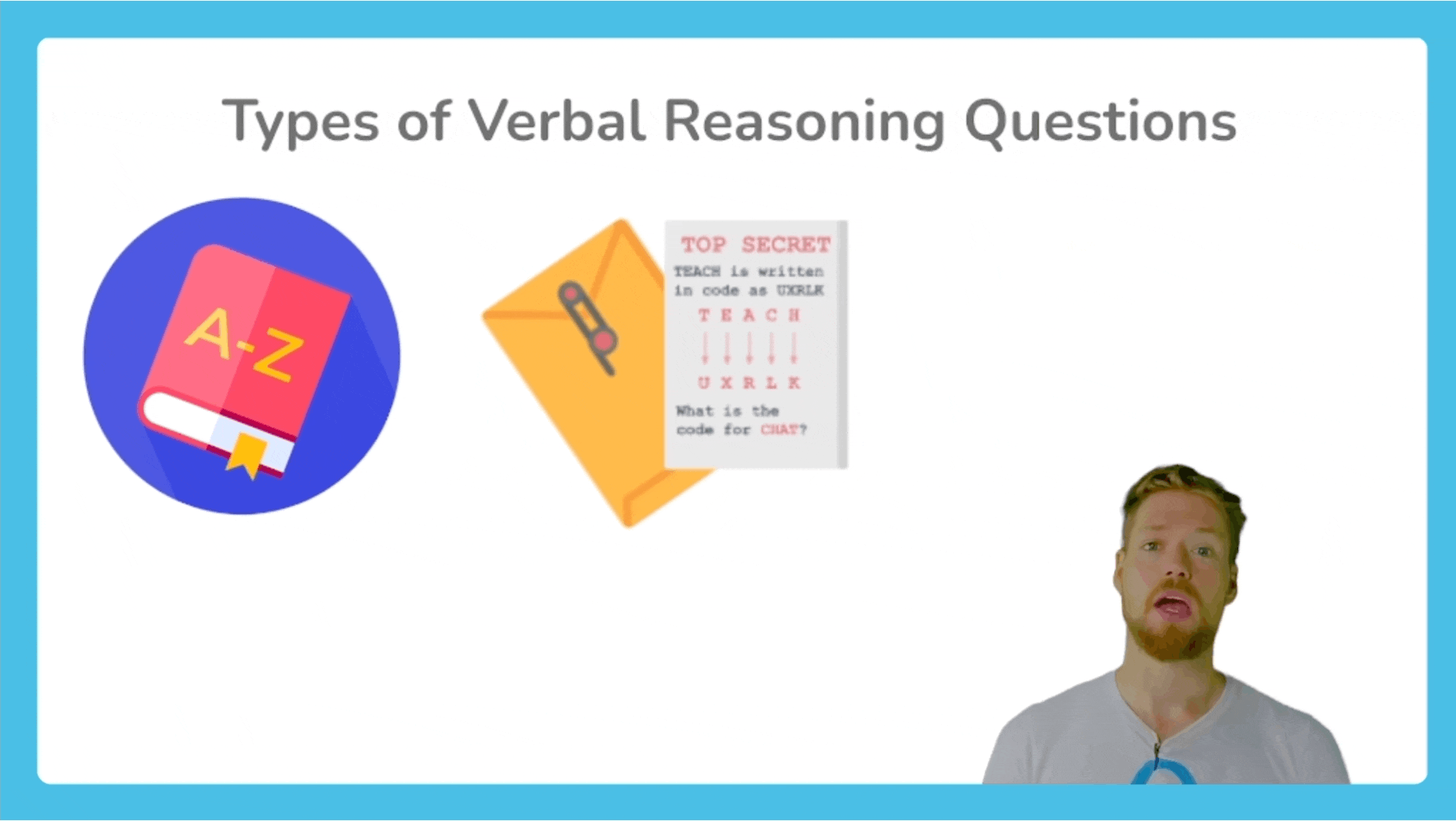 Verbal reasoning example questions
Have a go at these examples of common verbal reasoning questions with your child:
Scrambled words example
In 'scrambled/jumbled word' questions, your child will need to identify which of the options is the word once unscrambled.

Tip: Use the clue (which is a synonym of the unscrambled word), and note any letters in the options that do not match the letters in the scrambled word. For instance, option E can immediately be eliminated as there is no 'i' in the scrambled word.
Synonyms example
Your child will need to select two words from the options provided that are closest in meaning - one from the group before the line, and one from the group after the line.

Tip: Work through each of the options in the first group, matching them up with the second group. Does 'greedy' align with 'stubborn', 'obtuse' or 'jealous'? If not, proceed to 'obstinate' and follow the same procedure.

Join the words example
A new word can be formed from one word in each bracket set. You will need to select two options from the list provided that, when put together, create a new word.

Tip: Use the same logic as the previous example. Take 'bare': are any of 'barering', 'baretrust' or 'baremate' words? Move onto the second word 'stale' and use the same process.
Statement logic example
Your child will see a short passage of text and will need to select the correct statement based on their comprehension of the text.
Tip: Work through each statement at a time. Look at Statement A: does the text explicitly say that hawks and robins can swim? If there's nothing in the text to explicitly say this is the case, mark this as incorrect and move onto the next statement. Note that there is only one correct answer.
Solve the code example
In these questions, letters, numbers or symbols will represent a certain code that needs to be solved.

Tip: On spare paper (or in the space around the question), solve each letter at a time. Take BELL as an example: the code for this is !>££. Therefore, we know that B = ! and E = > and L = £. Get your child to solve each letter, which will help them to form the code for the new word.
For more example verbal reasoning questions, download your free sample 11 plus question packs below:
How can I help my child prepare for the 11 plus verbal reasoning test?
Here are Atom's top tips for tackling verbal reasoning questions!
1. Read more challenging material
When it comes to the 11 plus verbal reasoning test, there is always a tendency for parents to push their children to complete as many mock tests as possible. Whilst doing mock tests is by no means a bad strategy, it should not be the only way your child prepares for the exam.
The most guaranteed way of improving your child's reading skills – which are central to mastering verbal reasoning – is to encourage your child to read more challenging books. Classic novels are a great place to start, as they are likely to contain a lot of vocabulary your child has never come across before.
If your child isn't a natural reader, check out our 5 ways to engage your child with reading.
Reading regularly will increase the speed at which your child recognises words, helping them to manage their time more effectively in the 11 plus verbal reasoning exam.
2. Improve vocabulary
Improving your child's vocabulary is a sure way to make them more confident sitting the verbal reasoning exam and will give them an advantage over other candidates. The process of learning vocabulary is proactive, meaning that time is needed to cement new vocabulary into long-term memory.
Try getting your child to start a word journal, recording each new word they learn with its definition. Then go through this journal every few days and test your child on these words.
Why not learn some vocabulary while getting some quality family time? Word-based board games, such as Scrabble, Bananagrams or Articulate, are super engaging ways of involving the whole family in the learning process!
3. Enhance memory
Learning vocabulary is dependent on a good memory. The better your child's memory, the more words they will identify in the exam and the more likely they are to perform well. Why not spend some time playing memory games with your child?
There are hundreds of free memory games online and many learning apps that you could download too. Encouraging your child to play these games could make their screen time both fun and productive!
4. Mock tests
Completing mock tests will help your child learn how to answer verbal reasoning questions accurately and efficiently. Using mock tests will allow your child to become familiar with the types of questions and help them develop a sustainable exam technique.
It's important to start preparing well in advance of the exam so your child can slowly build their vocabulary and confidence, helping them to get to grips with these types of questions with minimal stress.
---
Master verbal reasoning with Atom Nucleus
Atom Nucleus is your all-in-one online preparation platform for 11 plus exams. Atom's adaptive technology creates your child's personalised learning journey to fully prepare them in every subtopic they will need for the 11 plus
For £59.99 per month, you'll get:
Unlimited 11 plus online practice papers for your child's target schools, all automatically marked

Over 90,000 interactive practice questions for Key Stage 2 English, maths, verbal and non-verbal reasoning

Automatic data on your child's progress and areas for improvement

Ongoing support for you and your child, including parent webinars, live lessons and revision programmes
Start your 5-day free trial today and see the difference it makes to your child's learning.

Get in touch
We know how crucial this time is, so our team is on hand to support you and your family every step of the way.
You can book a call with one of our Education Experts to ask any questions you may have about verbal reasoning, the 11 plus, or getting into your target school:
Parent WhatsApp groups
Preparing for entrance exams in 2023 and beyond? Join our Exam Preparation group on WhatsApp – get access to free resources and advice, and ask our Education Experts any questions you have about the admissions process and your child's upcoming exams.