Whether you've got a particular grammar school in mind, or you're just starting your research on possible secondary school options, Atom's team of experts have put together a definitive guide to the 11 plus exam to help you and your family confidently navigate grammar school admissions.
Our team have helped tens of thousands of parents and students prepare for the 11 plus and have collated their knowledge so that you can help your child prepare for the next chapter in their learning journey.
What is the 11 plus exam?
The 11 plus is a selective entrance exam (usually taken in September of Year 6) for state-funded grammar schools and independent schools. There are over 160 grammar schools in England, as well as a number of other schools that use 11 plus examinations to select students for a Year 7 intake. The exam aims to test your child's attainment in core subjects and identify their academic potential.
What will your child be tested on?
There are four elements to the 11 plus exam, regardless of which exam board your county uses. These are:
English & maths
The questions in the maths and English sections are all based on the Key Stage 2 National Curriculum. They are not designed to trip your child up - however, they do assess Year 6 level content, so some of the concepts may not have yet been introduced to your child in the classroom.
Verbal & non-verbal reasoning
The verbal and non-verbal reasoning sections test a child's academic potential. They are not often taught in primary school as verbal and non-verbal reasoning are not National Curriculum subjects. These two tests are designed to test your child's cognitive ability, or in other words, their ability to think critically or abstractly to decipher patterns, codes and problem-solving.
Because these types of questions will be unfamiliar to your child, it is these exams that often need the most practice and preparation. Students who are familiar with verbal and non-verbal reasoning question styles and topics are at a distinct advantage in the exam.
Though some claim these exams cannot be prepared for, this is incorrect. A confident understanding of how to approach certain reasoning topics and the method that needs to be used allows your child to focus on answering the questions, rather than working out how to approach them.
CEM and GL – What is the difference?
The two exam boards that provide the 11 plus exams for the majority of the selective schools are CEM (Centre for Evaluation & Monitoring) and GL (Grenada Learning) and where you live and the school you have chosen will dictate which exam board your child will sit a test from. Some schools even use a combination of both. GL assesses English, Maths, Verbal Reasoning and Non-Verbal Reasoning as separate tests, normally 45-50 minutes long, whereas CEM changes the format of its exams each year to minimise 'teaching to the test'. They normally group English and verbal reasoning together, and maths and non-verbal reasoning together.
The GL tests have a format that they repeat each year. While there are different questions, the question type is broadly the same, making revision and practice of past papers a key to success. The CEM exams change format each year and are designed so that rote learning of the question types is not possible. Instead, students should have a secure working knowledge of every aspect of the Key Stage 2 English and maths curriculum content and be comfortable and confident in problem-solving and lateral thinking.
It is important that your child grows familiar with the exact structure and breakdown of the test they will be sitting. If you're using Atom and your child is sitting a GL or CEM exam, make sure they are regularly sitting our GL-replica and CEM-specific mock tests throughout Year 5.
Find out more about the main differences between CEM vs GL.
What is the pass mark for the 11 plus?
There isn't necessarily a set pass mark. It's all down to how many people take the exam in a particular year and how they score. Selective schools tend to take the top 5–15% scoring applicants (depending on region).
If your child is regularly achieving an 80% pass mark in their mock tests then they stand a good chance of being considered for the grammar school of their choice. In some regions with more grammar schools such as Kent and Birmingham the pass rate might be lower than in areas with fewer grammar schools like Greater London. Rather than just adding up the totals, a statistical process is applied to give each paper equal weight before the total score is calculated. Most scores for GL and CEM will be expressed as a standardised score. You can read more about standardised scores here.
How many children fail the 11 plus?
The 11 plus is designed to identify the most able pupils and unfortunately, this means that around 85% of pupils sitting the exam will not be offered a place at a selective school. There is no predetermined pass or failure mark, it is all related to the scores of other students.
Should my child sit the 11 plus?
The short answer is: it's entirely up to you. The 11 plus is designed to help schools select the most academically able students. Before deciding whether you want your child to sit this exam, it might be helpful to consider these points:
Does your child regularly attain 'exceeding expectations' on their school reports?

Are your child's results in English and Maths or SATs above average?

Consider the amount of tutoring your child will need to pass the exam. If this is vast, will they be able to keep up with the academic demands and expectations of their target school?

Talk to your child's teacher. Do they think your child is likely to pass the 11 plus? They will have a clear idea of whether passing is achievable, and where your child's strengths and challenges lie. This information will help you with a revision schedule should you decide to enter your child for a selective school.
When should you start 11 plus preparation?
Watch the webinar below where Gemma, Atom's Head of Customer Success will take you through when and how to begin 11 plus preparation and also how prep should change throughout Key Stage 2.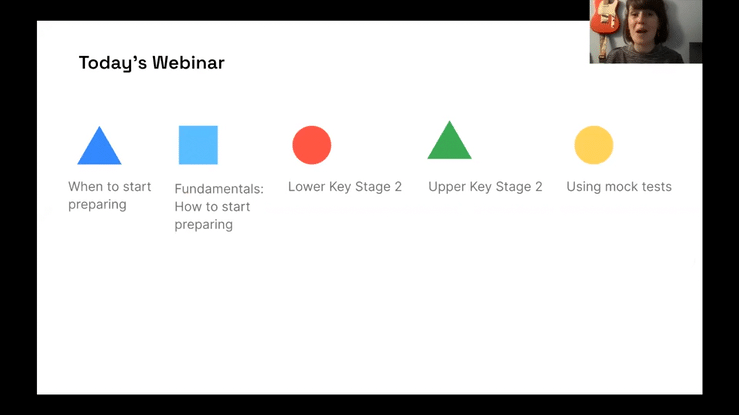 You can also find more information about 11 plus prep here.

The exams in detail
English
The 11 plus English exam tests your child's language skills in a variety of ways. It is primarily a reading exam. Students will complete a comprehension where a short extract is provided, followed by questions about the text. Some of the questions will test literal understanding, while others will assess your child's ability to infer implied meaning within a text. Learn how to develop your child's reading comprehension exam skills.
In addition to a reading comprehension section, there will be questions that focus on word meaning, grammar, punctuation, spelling and vocabulary, depending on the exam provider. There may be cloze questions, whereby students have to pick the correct word out of a bank of words to help a sentence or passage make sense.
Depending on the examination board, students may then have to work through written tasks (e.g. write a story or speech), which is a chance for your child to showcase their writing skills. It is important to note that this written section is not always marked but may be used in the event of an appeal, so it's important that your child is prepared for it. Learn about creative writing in the 11 plus here.
Maths
The maths 11 plus exam, just like English, largely tests the KS2 national curriculum content. The challenge is the type of questions presented will require far more deduction and numerical reasoning than straightforward arithmetic. 'Practice makes perfect' certainly applies, but be aware the questions are designed to test your child's ability to reason and apply their maths knowledge accurately. Students will need to have excellent number fluency if they are to pass the maths section of the 11 plus.
This means:
Knowing their multiplication tables and related division facts;

Being able to confidently calculate mentally, using the four number operations (+ - x ÷ )

Having a strong understanding of place value when working with larger numbers up to a million and with decimals
As well as strong number fluency, your child will need to understand the key concepts in all other areas of maths: understanding fractions, measurement, geometry and data handling.
With Atom Nucleus, your child has access to hundreds of videos and helpsheets to aid their learning as well as access to unlimited practice questions and mock tests to help them feel confident going into their exams. Check out an example at the bottom of this page!
It might be helpful to work through the checklist below to see which skills your child feels confident in understanding and applying and the ones they feel less sure of, to form the basis for your 11 plus preparation plan.
Free 11 plus maths resources:
Verbal reasoning
As it's not directly taught in schools, it is highly unlikely that your child will ever have come across these types of questions before. This is where home practice really comes to the fore as your child should be familiar with these types of questions in advance of the exam. Although this section of the exam is designed to test your child's cognitive ability regular practice can build familiarity and train the brain to identify patterns and solve problems quickly.
The 11 plus verbal reasoning exam assesses children's problem-solving skills and tests how effectively they can process verbal information. The test will require them to:
Apply logical thinking and problem-solving skills

Find and follow patterns and rules

Determine word meaning

Spell accurately

Apply core maths skills

Work systematically
Having a wide vocabulary is also essential for this part of the exam as many of the questions are based around synonyms, antonyms, and word matching problems. Below are some of the question types which frequently appear in the 11 plus exam:
Finding words
Jumbled words

Anagrams

Hidden words
Vocabulary
Synonyms

Antonyms

Odd ones out

Spot the connection

Homonyms
Building words
Join the words

Transfer a letter

Morph the word

Missing letters
Logic
Statement logic

Deductions
Codes and sequences
Letter, number and symbol codes

Letter and number sequences
Discover more about verbal reasoning preparation here.
Non-verbal reasoning
Though some claim that you cannot revise for non-verbal reasoning exams because they do not require any prior knowledge, there are still crucial strategies that your child needs to learn if they are to comfortably excel in this part of the 11 plus. There are certain exercises and methods that can be used to develop the required skills and abilities which will enable your child to succeed.
The questions in a non-verbal reasoning exam are very similar to what you would see in an IQ test with lots of shapes and patterns that need to be completed, continued or grouped. The test is designed to determine a child's natural intelligence, spatial skills, aptitude and their ability to think logically and recognise patterns.
The key to success is to familiarise your child with these types of questions and practise regularly before the exam so that they are not surprised and confused when they see them in the exam hall. Here are some of the question types that are likely to appear:
Interpreting shapes
Odd one out

Matching groups

Matrices

Find a code
Manipulating shapes
The most important thing when trying to crack the code or pattern in a non-verbal reasoning test is to pay attention to every image and shape provided. Placement of dots, angles, lines, shading, rotation: everything is significant when solving non-verbal reasoning problems.
Don't be disheartened if the first few times your child attempts non-verbal reasoning questions they don't understand it or they take a long time deciphering it. These are new skills they will be learning, which is why it is important to start the preparation 12 months ahead of the exam. This way, you can slowly build up your child's confidence and skills in solving these problems quickly and correctly.
Discover more top tips for success in non-verbal reasoning here.
Looking for a free pdf of 11 plus mock test papers? Download the full set of free worksheets:
11 plus preparation timeline
Year 4
It might seem early, but now is the time to start researching the secondary schools in your area and decide whether you would like your child to sit the 11 plus for a grammar or independent school. Making this decision in Year 4 allows you and your child to prepare for the exam steadily, spreading the planning and practise over the next two years, rather than intensively cramming in the few months before the tests. In Year 4, you should focus on ensuring that your child is exceeding expectations in the core subjects of maths and English. We would recommend introducing your child to verbal and non-verbal reasoning practise no later than the summer term of Year 4.
Visit some of the schools you have shortlisted with your child on their open days. This will give you both a really good indication of what a day in the life of the school is like to see if it will be a good fit for your child. Often we become so focused on whether our child is good enough for a school, we forget that the opposite also needs to be true: Is the school a place where your child will be happy and reach their full potential?
Summer
If you do decide on a school that requires an 11 plus exam, now is the time to create a 12-month revision plan. Start by having your child sit a baseline mock test online, or with a tutor, to see where their strengths and the gaps in their knowledge might be. You should ensure that all topic areas and question types are revised thoroughly throughout the year, but you will want to invest more time in your child's areas of difficulty.
Year 5
September
This is where Mock Tests come into play. Your child should sit practice papers in English, Maths, Verbal Reasoning and Non Verbal reasoning online to work out exactly which areas they feel confident in, and which areas need more revision time.
October–December
Review the feedback/test results and identify improvement areas. Find exercises/worksheets to practice these areas until an 80% score is consistently being achieved. Make sure you build up the time steadily; a 9-year-old is unlikely to be able to concentrate for a full 50-minute test straight away, so start off in 10-20 minute increments and build up the practice time gradually.
Work through the subject checklists, ticking off terms and techniques when you feel that your child is happy and confident with each. It is important that they don't just understand what each technique/ topic is, but also how to apply and use it themselves.
January–September
Almost there! Use the guide below to ensure you're maximising the rest of the year.
Year 6
Exam time! Most 11 plus exams are taken in September/ October. You should receive the results later in October, and should complete the Common Application Form (CAF) by the 31st October, listing your schools in order of preference (this varies between four and six depending on your local authority). The CAF can be completed through your local authority's website.
It is important to note that some schools also require you to fill out their own school admissions form, so make sure that you are up to speed with the specific requirements for each school you put down on the CAF. You will know on National Offers Day at the start of March which school your child has been accepted into. If your child has not been given their first choice then you can go through an appeals procedure.
Transitioning from Year 6 to Year 7
The transition from Year 6 to Year 7 is a rite of passage and can be an exciting opportunity to make new resolutions and get cracking with some new skills. Check out our top tips for you and your child to get ahead and start preparing for Year 7.
---
Get in touch
We know how crucial this time is, so our team is on hand to support you and your family every step of the way. You can book a call with one of our Education Experts to ask any other questions you may have about the 11 plus:
Parent WhatsApp groups
Preparing for entrance exams in 2023? Why not join our Exam Preparation group on WhatsApp? Get access to free resources and advice, and ask our Education Experts any questions you have about the admissions process and your child's upcoming exams.
---