Non-verbal reasoning is often one of the least understood 11 plus entrance exam topics. In this article, Atom's Education Experts will de-mystify non-verbal reasoning and share tips to help your child fully prepare for the 11 plus non-verbal reasoning test.
What is non-verbal reasoning?
Non-verbal reasoning involves analysing visual information and solving problems using shapes, diagrams and pictures, rather than words (as you would find in verbal reasoning).
11 plus non-verbal reasoning tests are designed to assess your child's:
maths skills,

logic and problem-solving,

spatial awareness,

ability to identify patterns and rules,

and overall general intelligence.
These skills may come more naturally to some than others, but this doesn't have to be a disadvantage.
It is sometimes said that there's no need to prepare for non-verbal reasoning exams, as it is based on logic and patterns which do not need any prior knowledge. This is not true! It is absolutely possible to prepare effectively for non-verbal reasoning tests.
Non-verbal reasoning questions can be very confusing to those who have never come across them before. Getting familiar with the question types and practising the basic rules of problem-solving will increase your child's ability to tackle these kinds of problems successfully.
Non-verbal reasoning question types
Non-verbal reasoning questions fall into two main categories: interpreting shapes and manipulating shapes.
See descriptions of the types of non-verbal reasoning questions within each category in the table below: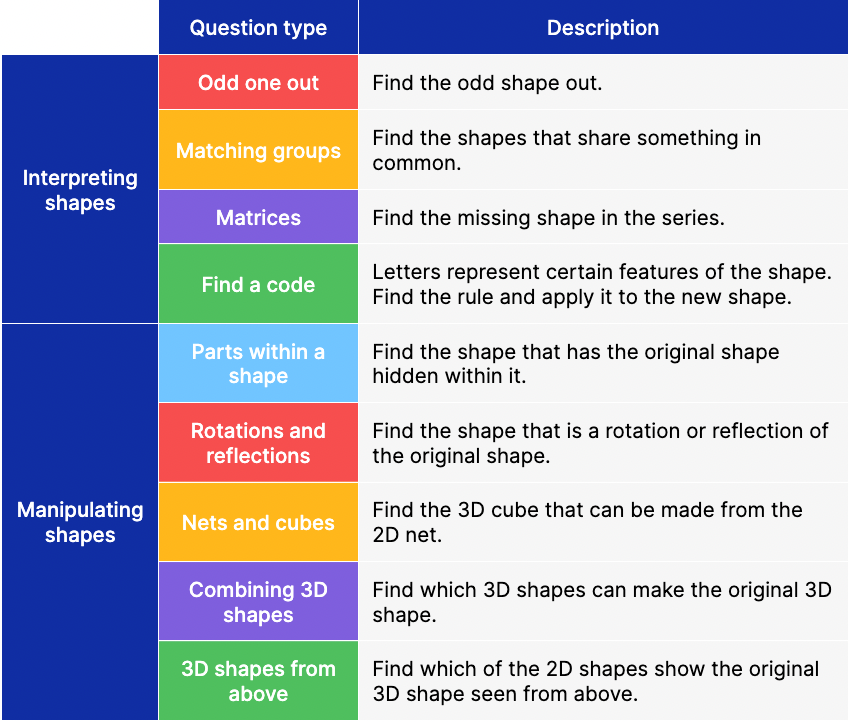 Interpreting shapes
Question types:
Odd one out

Matching groups

Matrices

Find a code
Manipulating shapes
Question types:
Watch this video to see some of these common non-verbal reasoning question types explained:
Non-verbal reasoning example questions
Here are some examples of common non-verbal reasoning question formats. You can use these together with your child as practice questions.
Odd one out example
In 'odd one out' questions, your child will have to identify the shape that is least like the others.

Tip: pay careful attention to every image and shape provided. Placement of dots, angles, lines, shading, rotation: everything is significant when solving non-verbal reasoning problems.
Following folds example
Following folds are a common area of difficulty on non-verbal reasoning tests. This type of question requires your child to visualise how some shapes will look when they are reflected.
Nets and cubes example
Nets and cubes are another challenging question type in 11 plus non-verbal reasoning. Your child will be asked to translate a 2D net into a 3D cube.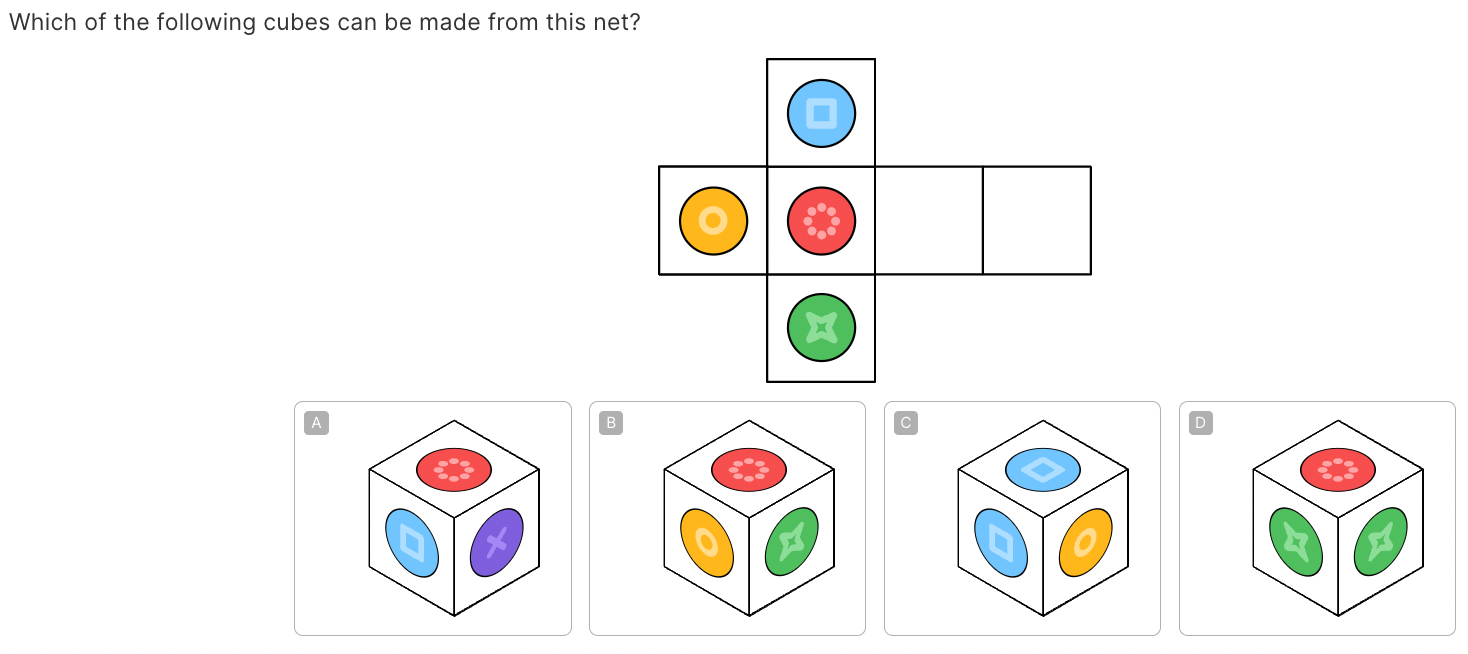 Tip: helping your child begin to visualise the nets and cubes as real-world entities will aid tremendously in their ability to answer the questions. You may wish to give your child a real-life object like a dice or Rubik's Cube to support this visualisation.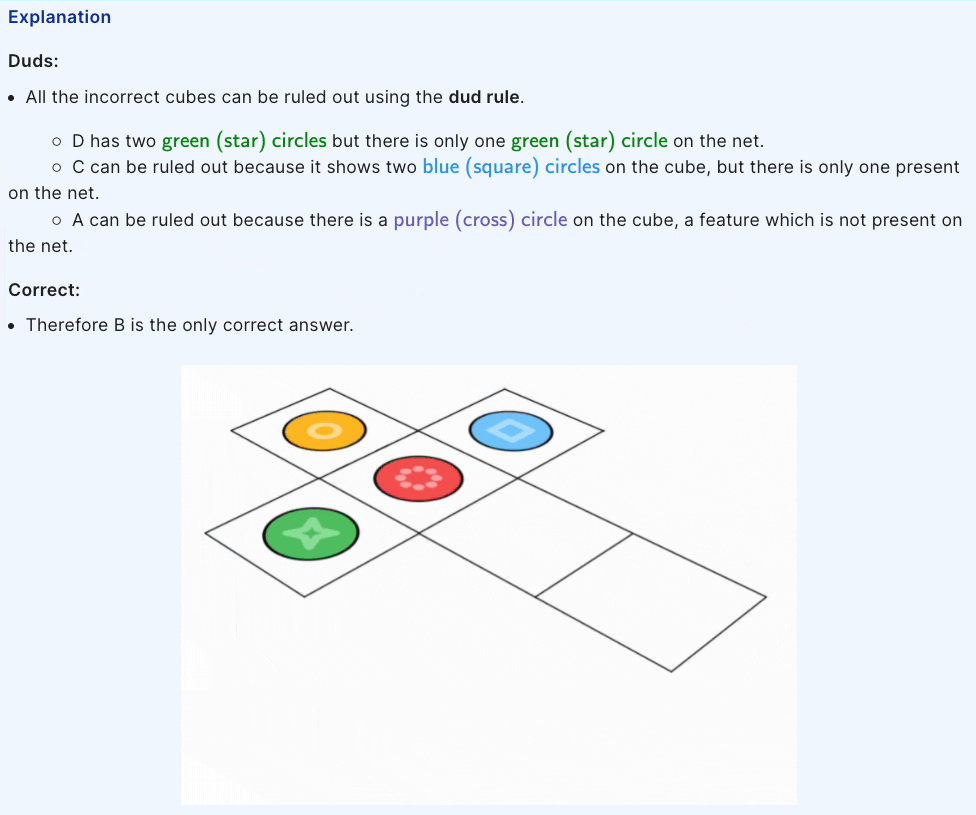 The practice questions on Atom Nucleus have visualisations to help your child gain a solid understanding of how the 2D nets translate to 3D cubes.
For more example non-verbal reasoning questions, download your free sample 11 plus question packs below:
Top tips for non-verbal reasoning
Here are Atom's top tips for tackling non-verbal reasoning questions!
Know the process
To tackle most non-verbal reasoning questions you can follow this process:
Type: What type of question is it?

Analyse: Look at the shapes in the question. What are the most obvious qualities (e.g. shape, colour, pattern) of the shapes and patterns?

Similarities/differences: Find similarities and differences between the shapes and patterns. Remember this also includes patterns and changes in frequency when looking at a series of shapes!

Rule: Find a rule from these obvious qualities.

Eliminate: Eliminate those that don't fall into this rule.
Drawing
Drawing can simplify everything. When we try to picture many shapes in our heads, these images can become jumbled and it's easy to get confused. Encourage your child to draw the shapes out as this can help them visualise the answer more clearly.
Practise, practise, practise!
Encourage your child to practise different types of non-verbal reasoning questions. Has your child attempted all of the question types in the table above?
Identify which types they find most difficult, and spend more time working on these. Like most things in life, practice makes perfect and the more questions your child completes, the faster they will be in the test, allowing them to work confidently within time limits. Increasing their general answering speed is important as it can give them more time to focus on the questions they struggle with.
Make it fun and play a game
Find fun and interactive ways to improve your child's non-verbal reasoning skills by playing games such as Sudoku, which improve logic and attention to detail. Playing Lego is also a great way for children to practise shape building and visualisation, standing them in good stead for these types of test.
Consistency and repetition
Consistency is crucial for non-verbal reasoning. A little bit every day will go a long way, as repetition will make these exercises second nature to your child. This is also much easier than trying to cram all this learning into long last-minute sessions, which can lead to frustration for everyone involved!
Study breaks and rewards
Taking a break every 30 minutes will improve the productivity of your child's study sessions. Your child is more likely to come back feeling refreshed and ready to be challenged.
After you finish a study session, why not reward your child for their hard work (e.g. a bit of time playing their favourite game)?
Did you know? Atom's Parent Portal makes it easy to see your child's progress at the click of a button, so you can celebrate progress and reward them with something they love!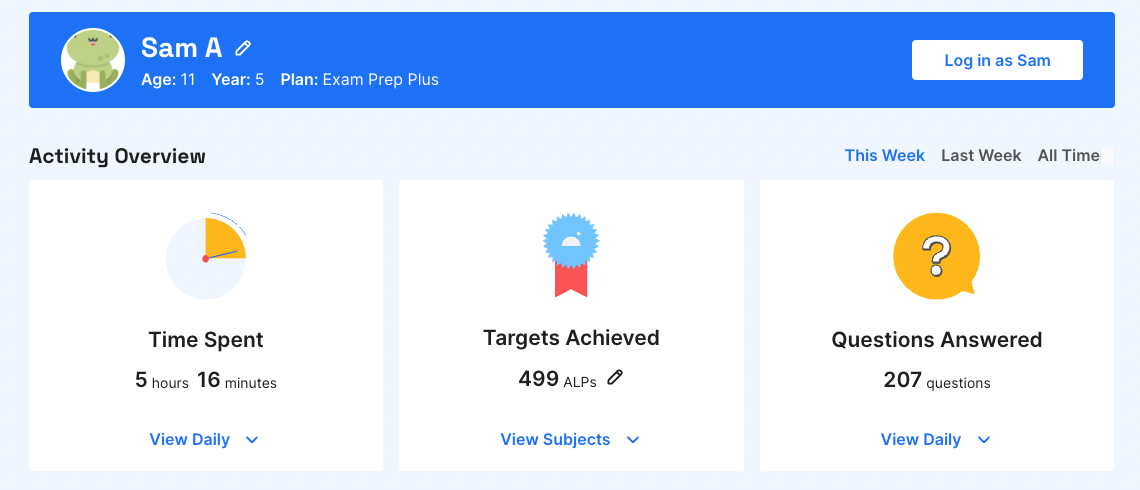 Don't be disheartened if it takes your child a long time to get to grips with non-verbal reasoning. Non-verbal reasoning is not taught as part of the national curriculum, so they'll be learning completely new skills.
It's important to start preparing well in advance of the exam so your child can steadily build up their confidence and understanding of these types of questions with minimal stress. With the right preparation, they will soon be able to tackle 11 plus tests including all kinds of non-verbal reasoning problems, quickly and accurately.
---
Master non-verbal reasoning with Atom Nucleus
Atom Nucleus is your all-in-one online preparation platform for 11 plus exams. Atom's adaptive technology creates your child's personalised learning journey to fully prepare them in every subtopic they will need for the 11 plus. You'll get:
Unlimited 11 plus online practice papers for your child's target schools, all automatically marked

Over 90,000 interactive practice questions for Key Stage 2 English, maths, verbal and non-verbal reasoning

Automatic data on your child's progress and areas for improvement

Ongoing support for you and your child, including parent webinars, live lessons and revision programmes
Start your 5-day free trial today and see the difference it makes to your child's learning.

Get in touch
We know how crucial this time is, so our team is on hand to support you and your family every step of the way.
Get in touch to ask any questions you may have about non-verbal reasoning, the 11 plus, or getting into your target school: [email protected].
Parent WhatsApp groups
Preparing for entrance exams in 2023 and beyond? Join our Exam Preparation group on WhatsApp – get access to free resources and advice, and ask our Education Experts any questions you have about the admissions process and your child's upcoming exams.