Strong reading comprehension skills are not only helpful for exams – they will also provide your child with advantages for secondary school education and beyond.
Read on to learn what to expect from the format of comprehension exams and how to help your child build the skills they'll need. You will also find free 11 plus comprehension worksheets, including a mock test papers pdf and a vocabulary checklist.
Which exams include reading comprehension?
Reading comprehension skills are assessed in almost all secondary school entrance exams, including CEM and GL 11 plus and the ISEB Common Pre-Test. They're also part of the Key Stage 2 SATs English paper.
What skills will my child be assessed on?
Comprehension exams assess your child's ability to analyse and interpret text. The core skills involved include:
Making inferences: making an interpretation that goes beyond the literal information given.

Deducing: an understanding based on the evidence given in the text.

Rephrasing: often presented as 'in your own words' questions.

Summarising: ability to explain an entire passage in just a few sentences.
In entrance exams, this is usually targeted to assess skills from the Key Stage 2 national curriculum taught up to the end of Year 5.
What types of reading comprehension questions are there?
Download your free mock test papers pdf to see examples of reading comprehension exam questions. This pack shows the styles of question your child will see in a comprehension exam, which include:
Vocabulary

Retrieval

Summary

Inference

Prediction

Structure

Authorial intent

Comparison

Parts of speech

Literary devices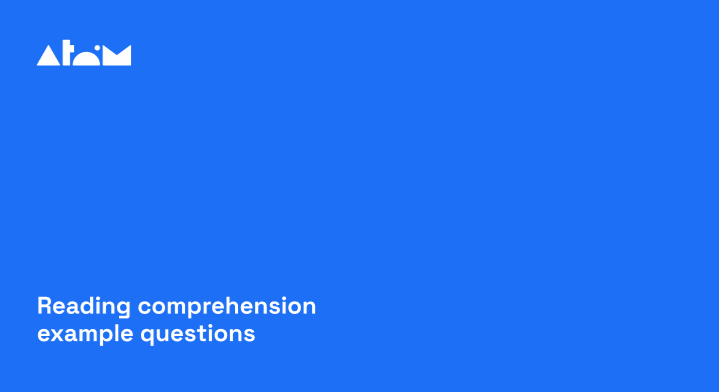 Building confidence in comprehension
Atom's Education Experts have shared some steps for children to build their confidence in comprehension. Download the poster below to share with your child, and read on for our tips for parents.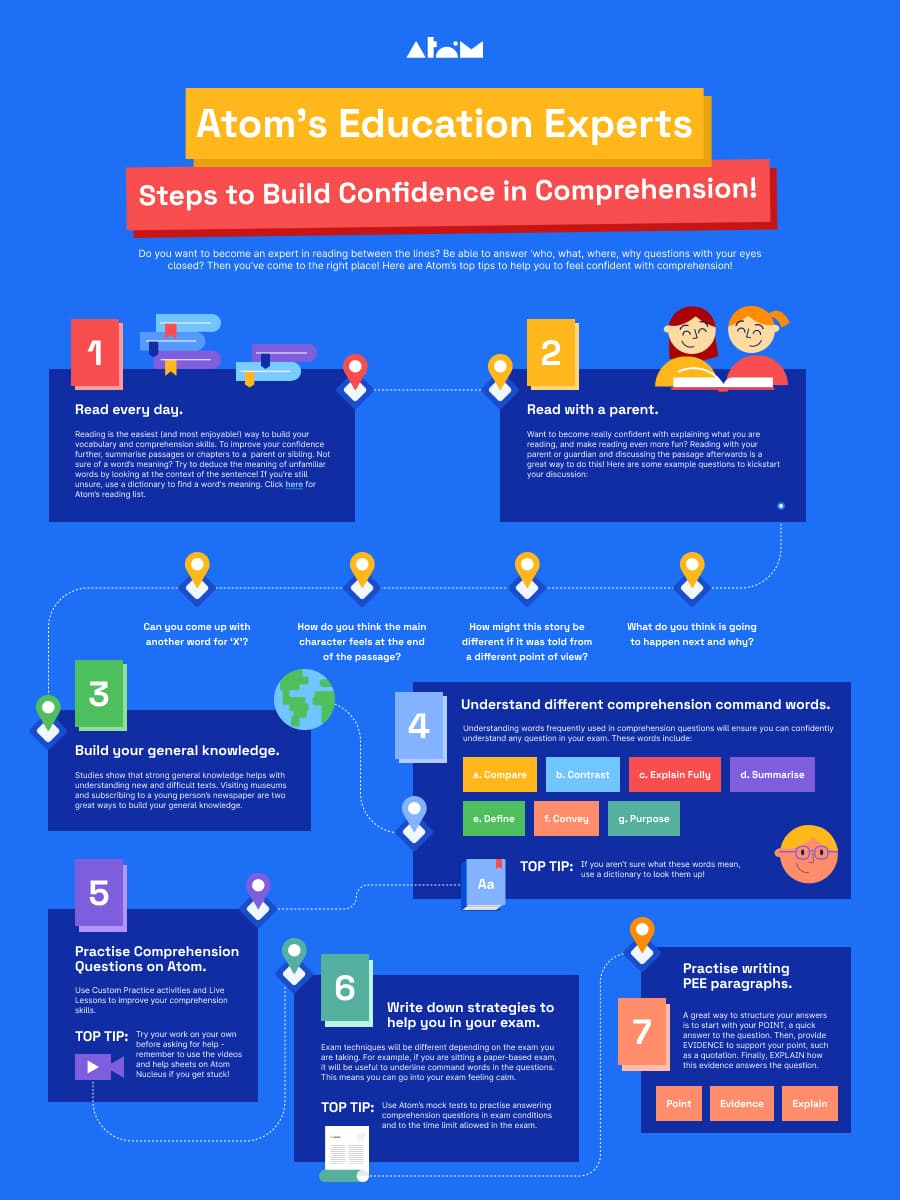 ---
How to develop your child's reading comprehension exam skills
1. Read together
Reading together is a great opportunity to support your child to develop reading strategies that will serve them well in the exam. Ask your child a variety of questions about the story, such as:
What do you think is going to happen?

How would you describe this character?

How might this story be different if it was told from another character's point of view?

Can you summarise what has happened in this chapter?
Find tips and resources for engaging your child with reading here.
2. Build subject knowledge
Online learning is a fun and engaging way for your child to build a stable foundation of knowledge in all reading comprehension topics. Atom Nucleus has 90,000+ teacher-written practice questions for your child to explore independently, as well as friendly video explanations and helpsheets to support their learning.
3. Practice responding to keywords
Reading comprehension questions are usually formed around one or more of these words. Work through this vocabulary worksheet pdf together and ensure your child is comfortable and familiar with each of these terms: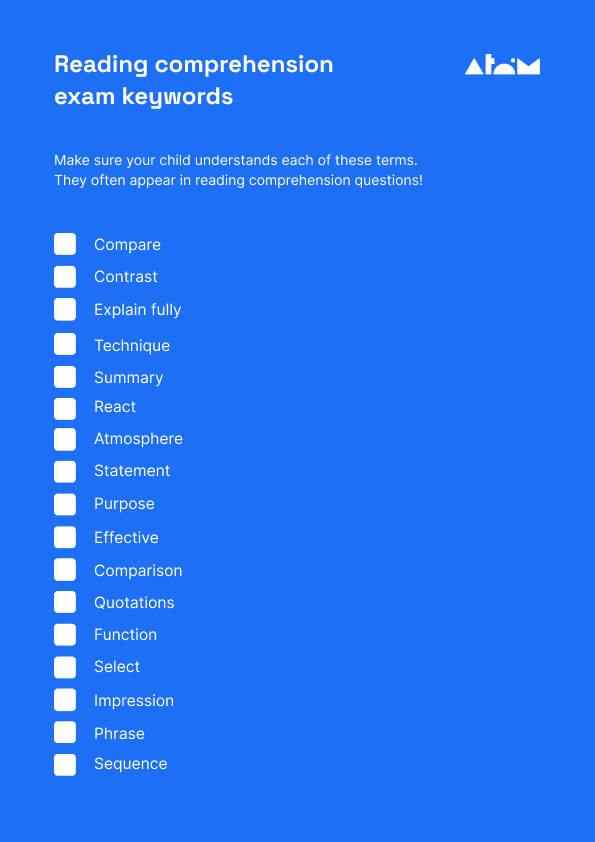 4. Watch free video lessons
Get a free taster selection of six creative writing and comprehension lessons! Simply join Atom's mailing list to unlock your free lessons.
You'll get:
Masterful Mysteries

Legendary Letters

Fantastic Fantasy

Traditional Tales

Science Fiction

11+ Past Paper
If you have an Atom Nucleus subscription, your child already has access to lots of fun and interactive lessons on a range of comprehension exam techniques. Check them out in your Lesson Library today.
5. Hone their exam technique
Developing a strong exam technique will empower your child to calmly tackle any challenges that come up on the paper. These tips are designed for you to share with your child: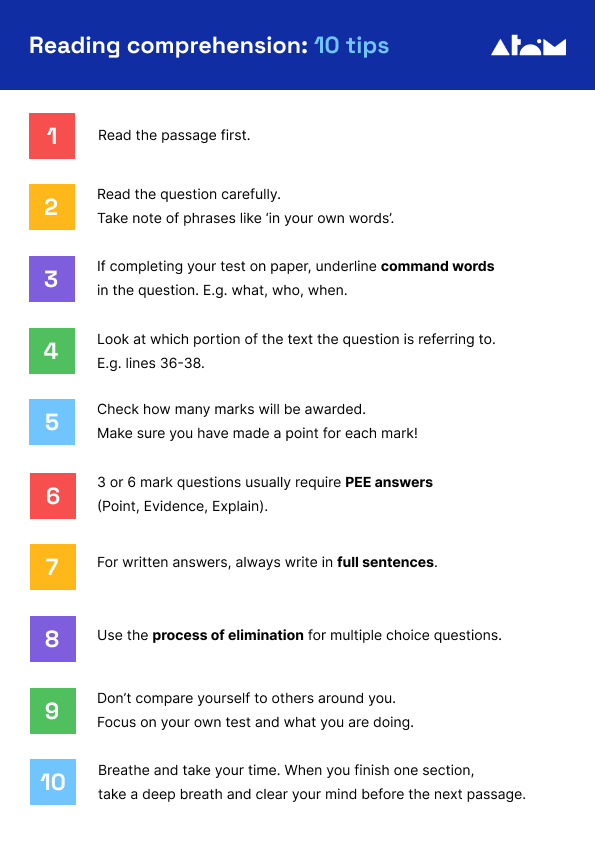 6. Make use of practice tests
Atom Nucleus has unlimited reading comprehension practice tests in the style of CEM, GL, and ISEB exams. Practicing interactive mock tests will help your child to become confident with all question types, so they know exactly what to expect on exam day.
---
What format are reading comprehension exams?
CEM 11 plus reading comprehension
CEM 11 plus exams include a separate reading comprehension paper. Your child will be given a single text extract with 10 to 20 questions about the text. The passage may be fiction, non-fiction, or a poetry piece, and may be traditional or contemporary. Familiarity with reading a range of genres is helpful here.
The format includes sample questions but no practice questions. Answers may be multiple choice, or what is known as 'standard format' which requires answers to be written in a small box. The answers are computer-marked and leave no margin for human interpretation, so your child should practise writing clearly on the answer sheet.
GL 11 plus reading comprehension
The GL English exam structure varies, but the most common arrangement is:
A reading comprehension text with 20 questions, followed by

Three spelling, punctuation and grammar sections with 12 questions each
Your child will see a text of around two sides of A4 in length, with questions about the text. As with GL, the passage may be fiction, non-fiction, or a poetry piece, and may be traditional or contemporary.
Depending on the format of answers chosen by your school, your child will be given multiple choice options (most common), or standard format answer boxes for written answers.
Find out if your target school uses CEM or GL here.
ISEB reading comprehension
On the ISEB Common Pre-Test, the English paper comprises 32 questions in 25 minutes. 16 of these questions are comprehension and the rest are spelling, punctuation and grammar.
Your child will be given a passage of fiction, non-fiction or poetry from a range of time periods and asked to answer questions about it. They will need to click through all the numbered buttons to read the whole text. The questions are all multiple choice.
Year 6 SATs reading comprehension
The Key Stage 2 SATs reading paper takes 60 minutes including reading time, with 50 marks available. The questions are linked closely to the national curriculum.
Your child will be given three texts to read, with questions to answer about each. Some questions will include a page reference so your child knows which page will contain the correct answer.
The three texts are likely to each be from different genres. Your child should read one text and answer the questions about it, before moving on to the next text. The space for the answer will provide clues as to what type of answer is needed.
---
Free parent webinar
Join Sam, from Atom's Customer Success team, to learn more about how to support your child's comprehension skills in preparation for entrance exams.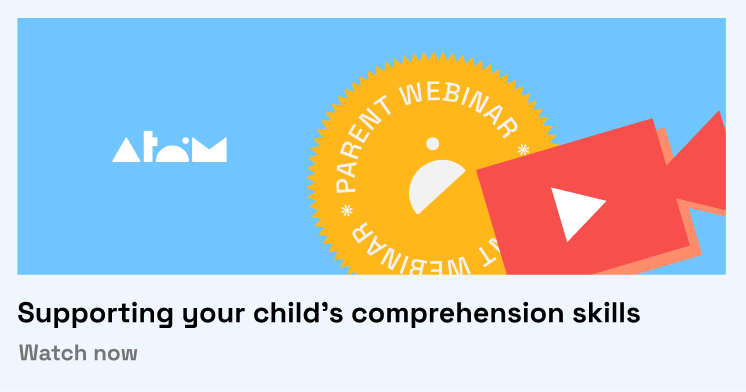 ---
We can help
We know how important this time is. If you have any questions about preparing for grammar or independent school entrance exams, our team of Education Experts is here to help. Get in touch at [email protected].