Looking for information on the 11 plus for grammar schools in the London Borough of Sutton? Atom's Education Experts have created an up-to-date guide to help you navigate through the 2022-23 test process, what to expect, and how best to prepare.
Sutton Grammar Schools 11 plus at a glance
Registration opens: Sunday 1st May 2022

Registration closes: Friday 5th August 2022 at midnight

Exam board: School-written material

Test dates: Tuesday 13th September (Stage One) and Saturday 1st October (Stage 2)

Results: October 2022

National School Allocation Day: 1st March 2023 (or next working day)

Appeals: contact the schools directly

Admissions information: individual school websites or Sutton Council's Secondary School Admissions Criteria
Which schools use the Sutton Grammar Schools 11 plus test?
There are five fully selective schools and one partially selective school in Sutton. The partially selective school, Greenshaw High School, has 60 selective places. The grammar schools in Sutton are academies or voluntary aided schools, meaning their admissions criteria and appeals process will be different from schools under the Local Authority. It is advised you familiarise yourself with the schools' admissions priority criterion.
What is the Sutton Grammar Schools 11 plus test?
Taken in September of Year 6, the 11 plus test is an exam that assesses children's academic potential and suitability for grammar schools. Your child must pass the 11 plus to get into selective grammar schools, although passing the test does not guarantee admission to a school.
How do I register my child for the test?
Most of the schools participate in the co-ordinated admissions process run by the Pan-London Co-ordinated Admissions Scheme and the London Borough of Sutton Co-ordinated Admissions. You must complete an online application form available on the Sutton Borough website. You have until midnight on 5th August 2022 to register your child to sit the 11 plus test for Sutton grammar schools. All of the Sutton grammar schools require submission of supplementary information, so it's important that you check each of your target schools' admission procedures ahead of any deadlines.
What is covered in the Sutton Grammar Schools 11 plus test?
The Sutton Selective Eligibility Test (SET) is made up of two papers, both consisting of multiple-choice questions:
English (40-50 minutes)

Maths (40-50 minutes)
These papers are based on the Key Stage 2 national curriculum and do not include verbal reasoning or non-verbal reasoning questions.
Greenshaw High School uses only this test to determine which 60 applicants will receive a place at the school.
Sutton Grammar School, Wilson's School and Wallington County Grammar School (the grammar schools for boys) have a second shared stage for the entry process. In the second stage test, candidates who achieved the qualifying mark in the SET will sit written English and maths tests. These questions are not multiple-choice.
Nonsuch High School and Wallington High School for Girls (the grammar schools for girls) hold a joint second-stage test known as the NWSSEE (Nonsuch and Wallington Second Stage Entrance Examination) for shortlisted candidates from the SET. This consists of two written papers in English and maths (no multiple-choice questions).
For more information about what is covered on the 11 plus and how to prepare, check out Atom's complete guide to the 11 plus here.
What is the pass mark for the Sutton Grammar Schools 11 plus?
These differ between the schools as they use their own written materials for the second stage of testing. Most of the schools give entrance to applicants who are the top scorers – Nonsuch and Wallington High give the top 85 scorers automatic entrance irrespective of their home address, for example.
Your child's raw scores are converted to a standardised score to allow for the age differences of children across the year group. The schools differ slightly with the weighting they give the different test stages, but most of the schools that have two testing stages give a heavier weighting to the test scores from the second stage.
How competitive is the Sutton Grammar Schools 11 plus test?
Out of the six schools, Sutton Grammar is the most competitive, with around 2,600 applicants for 150 places. In previous years, approximately 750 of these applicants have been eligible for a place.
From the rest of the schools, they have around 1,500 applicants each, for a varying number of places:
Nonsuch High School for Girls: 210 places

Sutton Grammar School: 135 places

Wallington County Grammar School: 150 places

Wallington High School for Girls: 210 places

Wilson's School: 186 places
Greenshaw High, which is co-educational, has 60 selective places and 254 non-selective places.

When should I begin preparing my child for the Sutton Grammar Schools 11 plus test?
Usually, the 11 plus preparation journey begins at the end of Year 4 or the beginning of Year 5. This relies on your child exceeding age-related expectations and being ready to begin exam preparation. As the 11 plus entrance exams for the Sutton Grammar Schools are aimed at the top 30% of each cohort, ensuring your child is secure with the curriculum content prior to progressing to exam preparation is suggested. If needed, core curriculum programmes will help to boost attainment and confidence before tackling exam preparations.
How can I help my child prepare for the Sutton Grammar Schools 11 plus?
Friendly familiarisation:. Help your child get confident with exam-style questions, so there are no surprises come exam day. With Atom's Exam Preparation Plus package, your child will gain access to unlimited Mock Tests in the format and style of the Sutton Grammar Schools 11 plus exams.

Read widely: expanding your child's vocabulary across traditional and contemporary texts will support their understanding of complex words and those not heard in everyday conversation. This will stand them in good stead for the English section of the test.
Free resources for engaging your child with reading.
Focus on their needs: tailoring exam practice to your child's needs is best to stay on track. Atom's adaptive learning algorithm personalises your child's optimal learning journey to master everything they need to achieve entry into their target school. Data-driven insights give you a window into your child's progress and where to focus next.
Overall progress and targets achieved: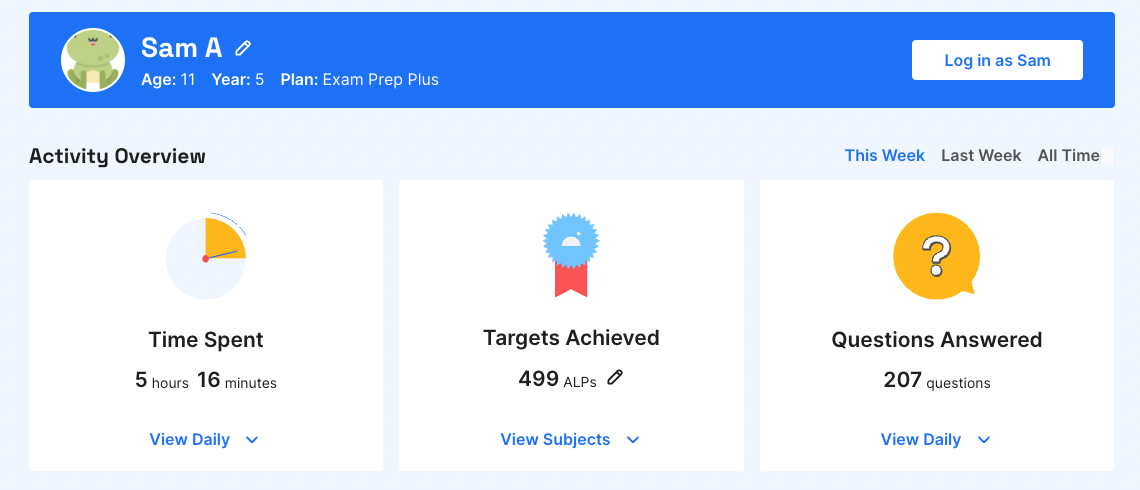 A detailed breakdown of progress by subtopic, compared to the average student in their year: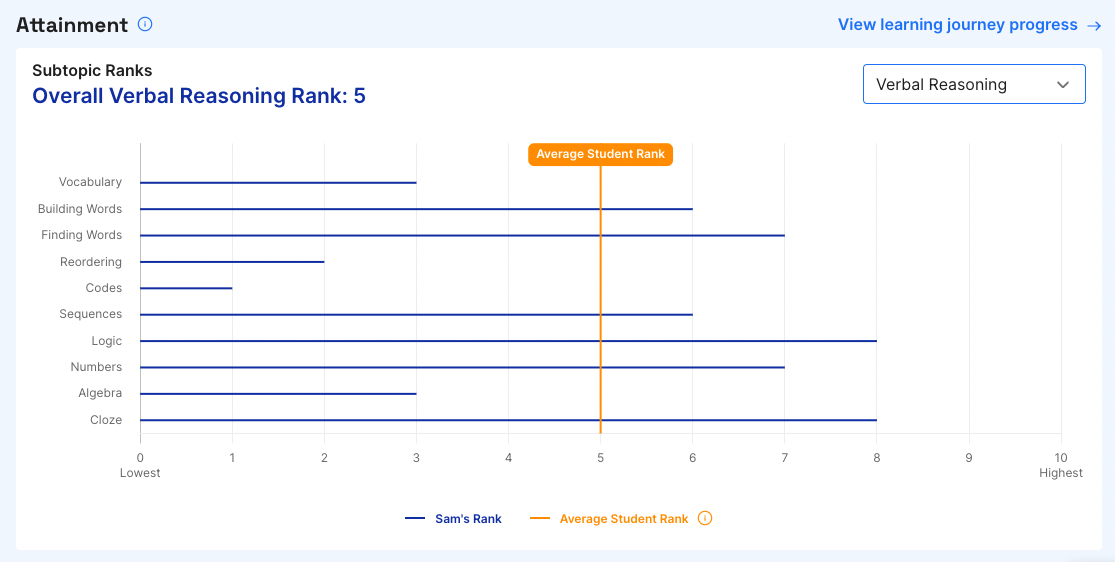 Set Custom Practices to target your child's most challenging subtopics, with functions to personalise timings and question types:
Start your free 5-day trial of Atom Nucleus today to learn more about how adaptive learning can empower your child to shine in the 11 plus.
---
We know how crucial this time is, so our team is on hand to support you and your family every step of the way. You can book a call with one of our Education Experts to ask any questions you may have about the Sutton Grammar Schools 11 plus: