The Consortium of Selective Schools in Essex (CSSE) 11 plus exam is used to decide whether a child will be granted admission to one of ten grammar schools in Essex.
Do you have questions on the CSSE 11 plus process for 2022-2023? In this article you will find:
Accurate, up-to-date breakdown of the test content for September 2022

Frequently asked questions, answered

Expert guidance on how best to prepare your child
We have everything you need to know here in one place to ensure you and your child are fully prepared!
The CSSE 11 plus Test 2022 at a glance
Registration opens: 17th May 2022

Reasonable adjustment deadline: June 2022

Registration closes: June 2022

Exam date: 17th September 2022 (Saturday)

Out-of-borough exam date: usually within a week of initial test date

Exam board type: CSSE own papers

Results: 21st October 2022

National school offer day: 1st March 2023 (or next working day)

Admissions information: Essex Council, 0845 603 2200, [email protected]

Consortium information: [email protected], 01245 348257.

Appeals: undertaken by an independent appeal panel established for that school
Which Essex grammar schools use the CSSE 11 plus test for admission?
What is the CSSE 11 plus test?
The CSSE 11 plus test is a paper-based exam sat by pupils in Year 6 who wish to attend one of the ten grammar schools in Essex listed above.
The CSSE was founded in 1993 as a voluntary association, combining 10 grammar schools' selective testing processes in the local Essex area, to avoid the need to take multiple exams for school selection. Places in these schools are highly sought after: passing the 11 plus alone does not guarantee admission.
What is covered in the CSSE 11 plus test?
Consisting of 2 papers, the CSSE 11 plus test assesses Key Stage 2 English and maths competency and skills. The CSSE exam is similar to independent school admissions tests. The papers are created by the consortium themselves and intend to challenge the depth and security of a student's knowledge.
Reading comprehension
Your child will have 10 minutes to read an extract and then will be required to answer questions on the text. These questions may ask them to:
Give/explain the meaning of words in context

Retrieve and record information/identify key details from fiction and non-fiction

Summarise main ideas from more than one paragraph

Make inferences from the text/explain and justify inferences with evidence from the text

Predict what might happen from details stated and implied

Identify/explain how narrative content is related and contributes to meaning as a whole

Explain how meaning is enhanced through the choice of words or phrases

Make comparisons within the text
The reading extract may be fiction, non-fiction, or poetry.
Learn more about building your child's reading comprehension exam skills here.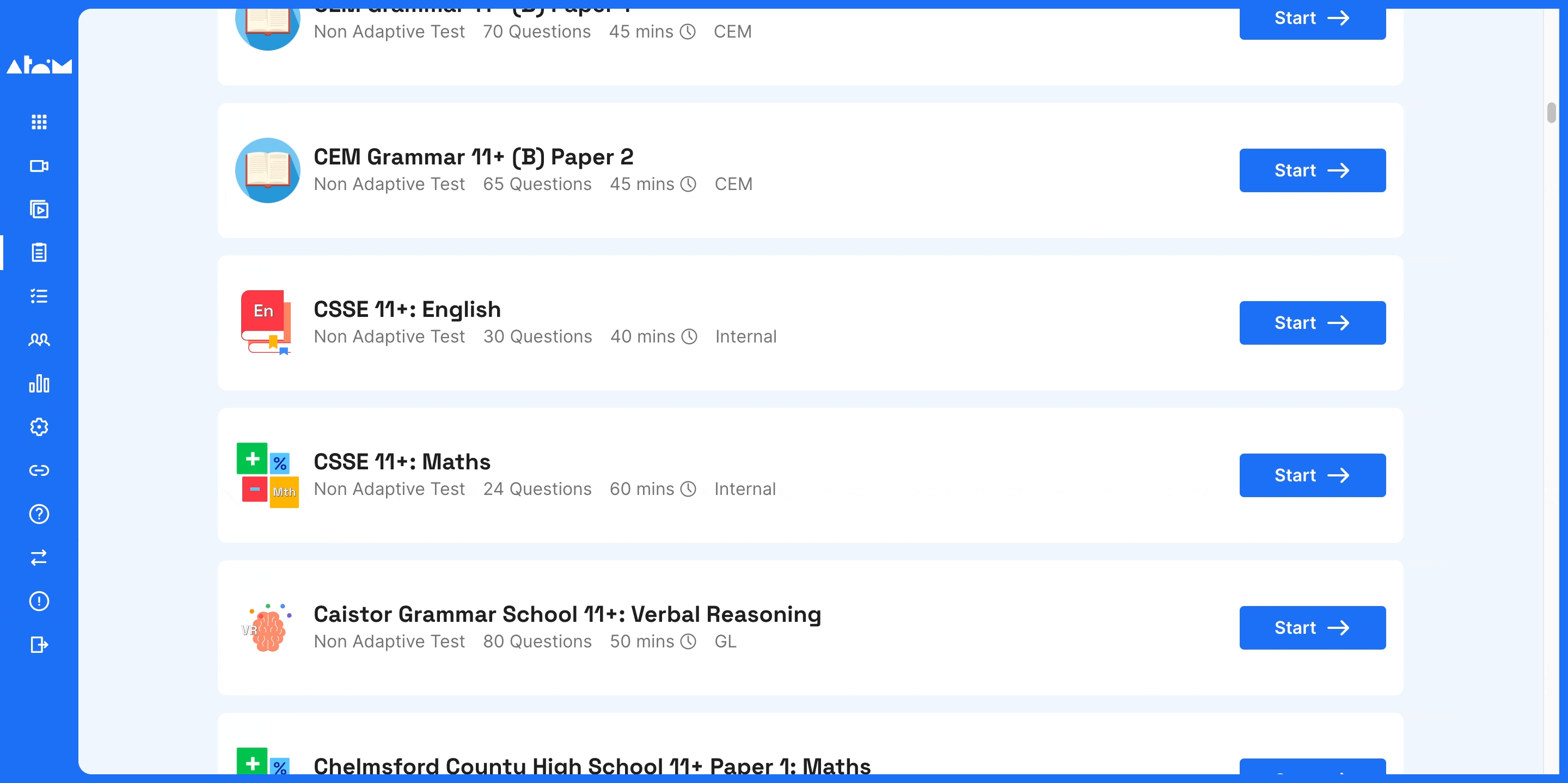 Atom Nucleus has unlimited practice papers that mirror the style and format of the CSSE 11 plus
Verbal reasoning
The second section of the English paper assesses verbal reasoning. Learn more about preparing for verbal reasoning exams here. If you're looking for a fun way for your child to build their verbal reasoning skills, Atom Nucleus has over 20,000 CSSE style verbal reasoning questions to practice.
Creative writing
In this section of the exam, your child can showcase their creativity and understanding of literary features for effect. They are commonly required to write 6–7 sentences about two given topics. This section is marked, with both writing pieces sharing an overall mark out of 15.
Previous examples have focused on:
Their favourite part of the school day and why

What superpower they would like and why

A time when they were looking forward to a day out, but it did not work out well

The person or animal they think of as their best friend
Features needed for a 'band 4' answer (ranked from band 4–1) includes:
Clear and original writing style

Abstract forms, philosophical ideas, and metaphors where appropriate

Ideas explored in depth using the limited number of sentences allowed

Ambitious vocabulary, with spellings correct for all basic vocabulary

Secure tenses throughout

Clear sense of direction and originality, moving the piece on with the choice of language

Connecting phrases and conjunctions

Paragraphs

Varied sentence structure and punctuation
Learn about preparing for creative writing exams here.
Maths
The maths test covers the national curriculum content for Key Stage 2 (including Year 6 knowledge and skills). The answers are not multiple-choice questions but similar to Year 6 SATs question styles. It is a 60 mark paper, with a mixture of questions to test arithmetic, reasoning, and problem-solving skills.
There have also been non-verbal reasoning questions in the maths paper. Learn more about non-verbal reasoning and the kinds of questions to expect.
The topics covered in the test are:
Number and place value (including rounding)

Addition, subtraction, multiplication, and division

Fractions (including decimals and percentages)

Ratio and proportion

Algebra

Measurement (including area)

Geometry – position and direction

Geometry – properties of shape (including angles)

Statistics
Learn how to prepare for 11 plus maths here.
What is the pass mark for the CSSE?
The pass mark may vary year on year depending on the success rate of the previous cohort. If a cohort finds the questions exceptionally challenging, the pass mark may be lower than it was the previous year.
The test is academically challenging; there has been a minimum 303 score for entry into all 10 schools. The suggested average standardised score for both papers is 300, highlighting the need to exceed the 'average' score. However, the school's individual admissions policy will need to be considered: schools are more likely to admit a lower-scoring pupil in their priority zones and criteria than a child who lives out of the area.
How competitive is the CSSE 11 plus test?
There is significant competition in Essex to attend one of the 10 grammar schools in the area. It is common practice to start preparation several years in advance of the exam: students should be confidently familiar with the format, questions styles, and timing pressures of the exam.
Those wanting to register for the test who live out of the area can do so.
There is an appeals process if unsuccessful in gaining a place at the school of choice, however, the success rate for turnover of decision is minimal.
When should I start preparing my child for the CSSE 11 plus test?
A common age for introduction to the 11 plus preparation process is summer term of Year 4 or early Autumn Year 5. As the test is designed to challenge and assess secure understanding of academic content and problem solving, working within or above age-related expectations is essential.
Your child should have mastery with age-appropriate curriculum before moving onto exam style formats and questions. The timing element can be a deciding factor in test-day success for many children: your aim should be for your child to be at ease and well-practised for the exam.
How can I help my child to prepare for the CSSE 11 plus test 2022?
Here are some top tips on how to best prepare your child for the 2022 exam.
Confidence is key: familiarisation with the question formats and known styles ahead of the exam is key. Access to quality practice materials ensures confidence when tackling the test. Atom Nucleus has unlimited CSSE 11 plus practice papers to empower your child to know exactly what to expect on exam day.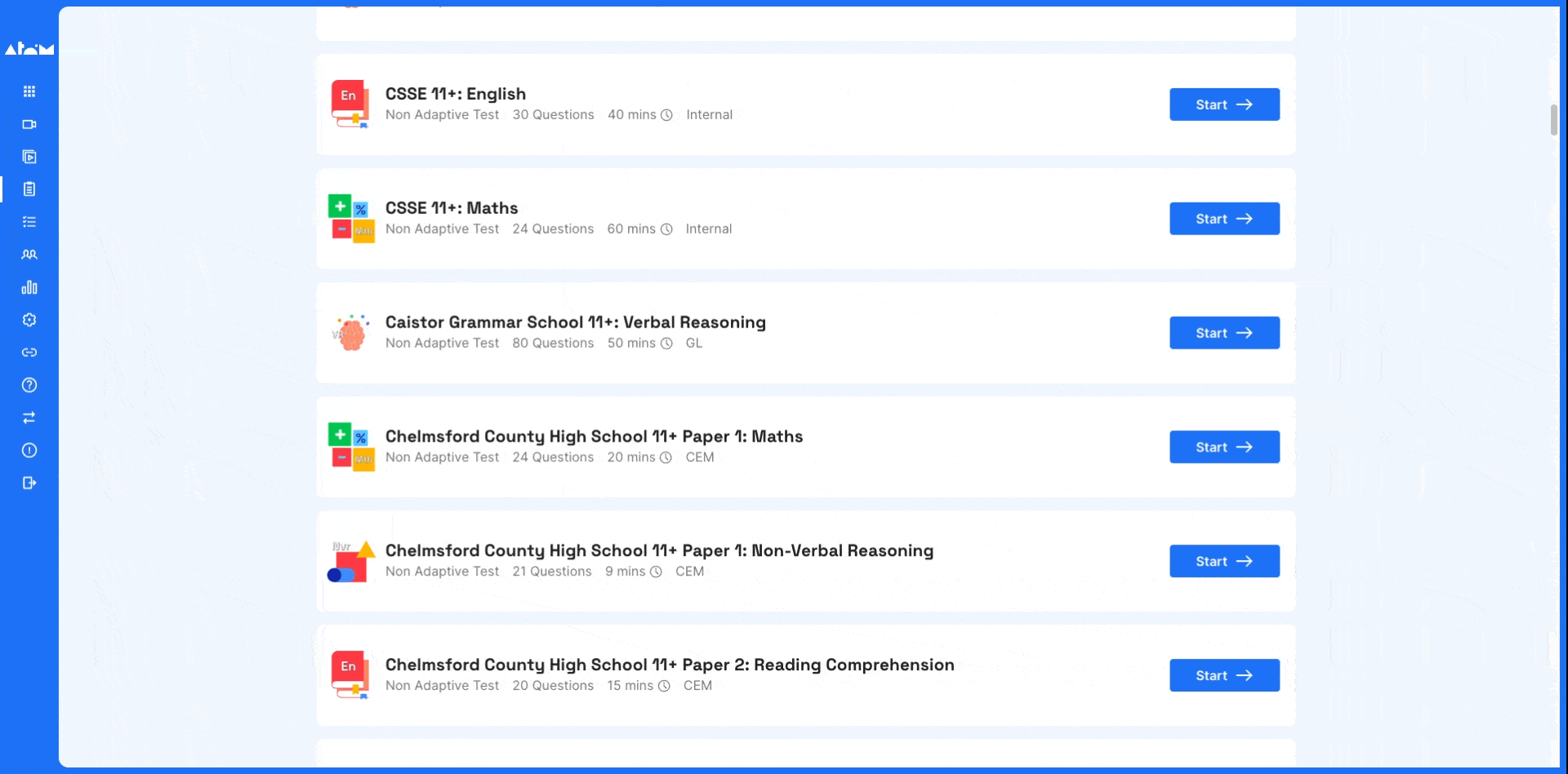 Vocabulary immersion: the reading comprehension element of the CSSE test has previously used classic texts, with complex era-specific language, familiarity of a range of genres old and new will be beneficial. Get free resources for engaging your child with reading here.
Achieve mastery quickly: the 11 plus test assesses a huge amount of content. Atom Nucleus creates your child's personalised learning journey, specific to your target school, with over 90,000 teacher-created practice questions.
Access to immediate support: when working through challenging topics, your child will need immediate clarity with any misconceptions to truly become secure in an area of study. Access to videos, help sheets and examples for each question builds confidence and competence in all areas covered in the exam.
Engage with their progress: celebrate their improvement in their areas of challenge together. To prepare effectively, an accurate and ongoing assessment of your child's areas of strength and development is helpful. Atom's Parent Portal gives you data-driven insights into your child's progress.
A detailed breakdown of progress by subtopic, compared to the average student in their year: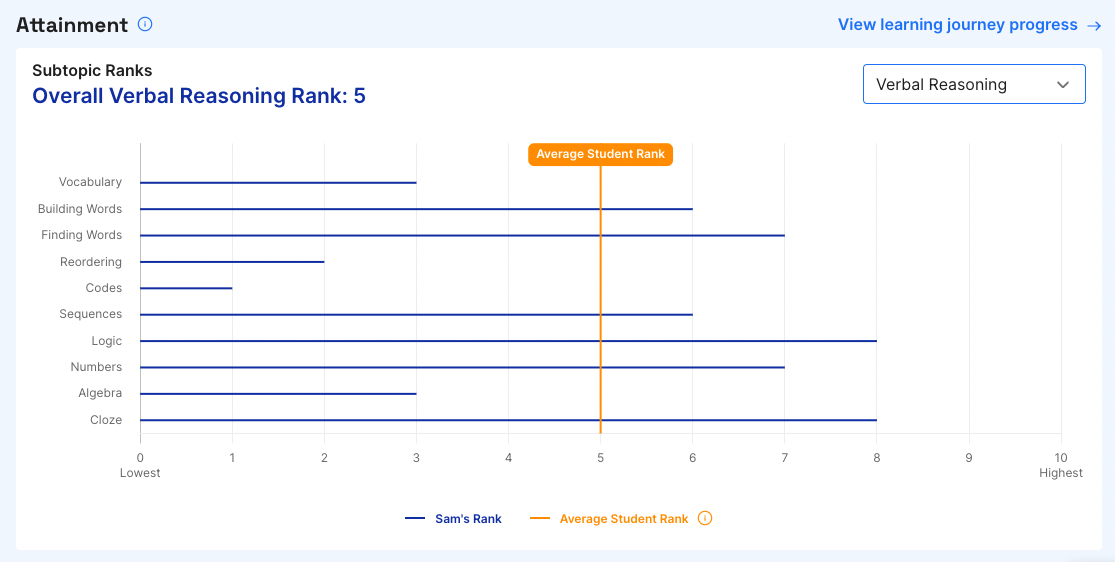 Set Custom Practices to target your child's most challenging subtopics, with functions to personalise timings and question types – or let Atom's algorithm do it for you.
Start your 5-day free trial of Atom Nucleus today and begin your child's fun, personalised 11 plus preparation journey.

---
We know how crucial this time is, so our team is on hand to support you and your family every step of the way.
You can email us any time on [email protected]. Chat with a member of our team by clicking the LiveChat icon in the bottom right of your screen. Or give us a call on 020 3973 9226.
You can also book a call with one of our Education Experts to ask any questions you may have about the CSSE 11 plus:
If you're looking for exclusive tips and resources to help your child master key subjects, excel in exams, and build academic confidence, join Atom's email list: