University College School, Hampstead (more commonly known as UCS) is an independent day school for boys aged 11–18 and for girls aged 16–18 in Hampstead, North West London. The school was founded in 1830 as part of University College London (UCL) but became a separate body in 1905. The UCS Foundation (which incorporates the pre-prep, junior school, senior school and sixth form) share a 20-acre campus which consists of historic listed buildings, a recently-refurbished sports centre, a 200-seater theatre and a biophilic, environmentally-friendly sixth form centre.
Education at UCS is defined by its founding principle of liberal scholarship, nurturing qualities including intuition, curiosity, confidence, entrepreneurism and creativity. The school has an academic enrichment programme which spans all year groups and takes various forms, including enrichment weeks, the Extended Project Qualification (EPQ) in the sixth form and the study of dialectics in Year 7 and philosophy, politics and economics (PPE) in Year 8.
The priority at UCS is the pupils' happiness and wellbeing – more emphasis is placed on this than academic success. There is a focus on developing life values described as the ABCDs (aspiration, bravery, compassion and decision-making, plus the 's' for self-reflection) with the Young Leader Award and the Headmaster's Award offering opportunities for character education and self-reflection.
Regardless, academic results at University College School Hampstead are exceptional. Pupils can choose from more than 22 subjects at both GCSE and A level, including five modern languages. In 2021, 96% of all GCSE grades were 9–7 (A*–A equivalent) while 98% of A level grades were A*–B.
Key information for UCS Hampstead
Headmaster: Mark Beard

Address: University College School, Senior Branch, Frognal, Hampstead, London NW3 6XH

London Borough: Camden

Admissions contact: [email protected], 020 7433 2117

Age range and gender: 11–18 (boys) and 16–18 (girls)

Number of pupils: 934

Number of places in Year 7: 55 external places, joined by the 60–65 boys who transfer from the UCS junior school

Ratio of applicants to places: Undisclosed

Open day date: Monday 12th September, Thursday 29th September and Thursday 3rd November 2022. Registration is not required.

Overview of selection procedure: Entrance exam, interview and academic reference

Registration opens: Currently open – apply online for UCS Hampstead

Registration closes: Monday 7th November 2022 at 5pm

Assessment date: Thursday 5th January 2023
UCS Hampstead fees and financial assistance
From September 2022, the termly fees for senior school entry (Year 7 onwards) to UCS Hampstead will be £7,793. These fees include lunch and personal accident insurance.
UCS Hampstead has a bursary programme in place, which demands that its education should not be restricted by factors such as family income and wealth. Approximately 60 pupils in the senior school are currently on bursaries (90% of these receiving a 100% reduction in fees) with plans to significantly raise this number by 2030. Fee assistance is assessed by income bands available to household incomes of up to £100,000 and is offered to candidates who have satisfied the school's entrance requirements.
Music Scholarships are also available at UCS Hampstead and entitle the holder to a reduction in the annual school fees of between 10% and 25% (or up to 50% in exceptional cases). Music Scholars are also entitled to free instrumental tuition at the school (including voice) at the discretion of the Director of Music.
UCS Hampstead term dates
The term dates at UCS Hampstead for 2022–23 are:
Autumn term: 2nd September – 14th December 2022

Half term: 17th – 28th October 2022

Spring term: 9th January – 31st March 2023

Half term: 13th – 17th February 2023

Summer term: 17th April – 30th June 2023

Half term: 29th May – 2nd June 2023
Admissions process for Year 7 entry to UCS Hampstead
If you would like to register your son for Year 7 at UCS Hampstead in 2023, you will need to complete the UCS Hampstead online application form and pay the registration fee, which costs £150. Once the application deadline has passed on Monday 7th November 2022, UCS Hampstead will request a confidential academic reference from your child's current school.
All candidates are invited to sit the 11 plus entrance exam at UCS Hampstead on Thursday 5th January 2023. The results of this exam are combined with the academic references to form a shortlist of candidates for interview.
Interviews take place in late January 2023 and consist of a mini-lesson and a one-to-one interview with a member of the teaching staff. Parents are invited and will have the opportunity to meet senior leaders and current UCS Hampstead pupils.
Boys who are applying for a Music Scholarship will undergo additional steps to the admissions process. Eligible applicants are those who can offer at least one orchestral instrument at Grade 5 or above. If you would like your son to be considered, you will need to complete the online Music Scholarship application form and submit this by Monday 7th November 2022. Candidates are only invited to the second stage if they are successful in the 11 plus entrance exam in January 2023, at which point UCS Hampstead will get in touch to ask for testimonials from your child's current head of music and instrumental teachers.
Boys who have been shortlisted for the Music Scholarship will be invited to an audition at UCS Hampstead on either Saturday 21st or Saturday 28th January 2023. They will be required to play or sing two contrasting pieces of their own choice with a time limit of 8 minutes in total. They will also have a general interview which will explore their musical interests and activities.
The school will write to pupils and their families with the outcome of their application in mid-February 2023.
UCS Hampstead 11 plus exam
There are two papers in the UCS Hampstead 11 plus entrance exam which take 2 hours and 30 minutes overall. The content of both matches the national curriculum requirements for the end of Key Stage 2:
11 plus English exam
This paper has a time limit of one hour and 15 minutes. It consists of two sections:
Reading comprehension (45 minutes)

Creative writing (30 minutes).
Take a look at our guide to developing your child's reading comprehension exam skills and 11 plus creative writing guides for parents and children.
11 plus maths exam
This paper has a time limit of one hour and 15 minutes. It consists of three sections:
Multiple choice

Core mathematics

Maths problems
Download our free Key Stage 2 maths checklist to help your child spot their strengths and areas to revise ahead of the 11 plus exam.
How to help your child prepare for the selection process at UCS Hampstead
Build foundational knowledge
The 11 plus exam at UCS Hampstead assesses candidates' knowledge and understanding of the Key Stage 2 national curriculum in English and maths. Your child can consolidate everything they know with Atom Nucleus, with over 90,000 teacher-created questions and helpful learning resources that span English and maths from Year 3 to Year 6.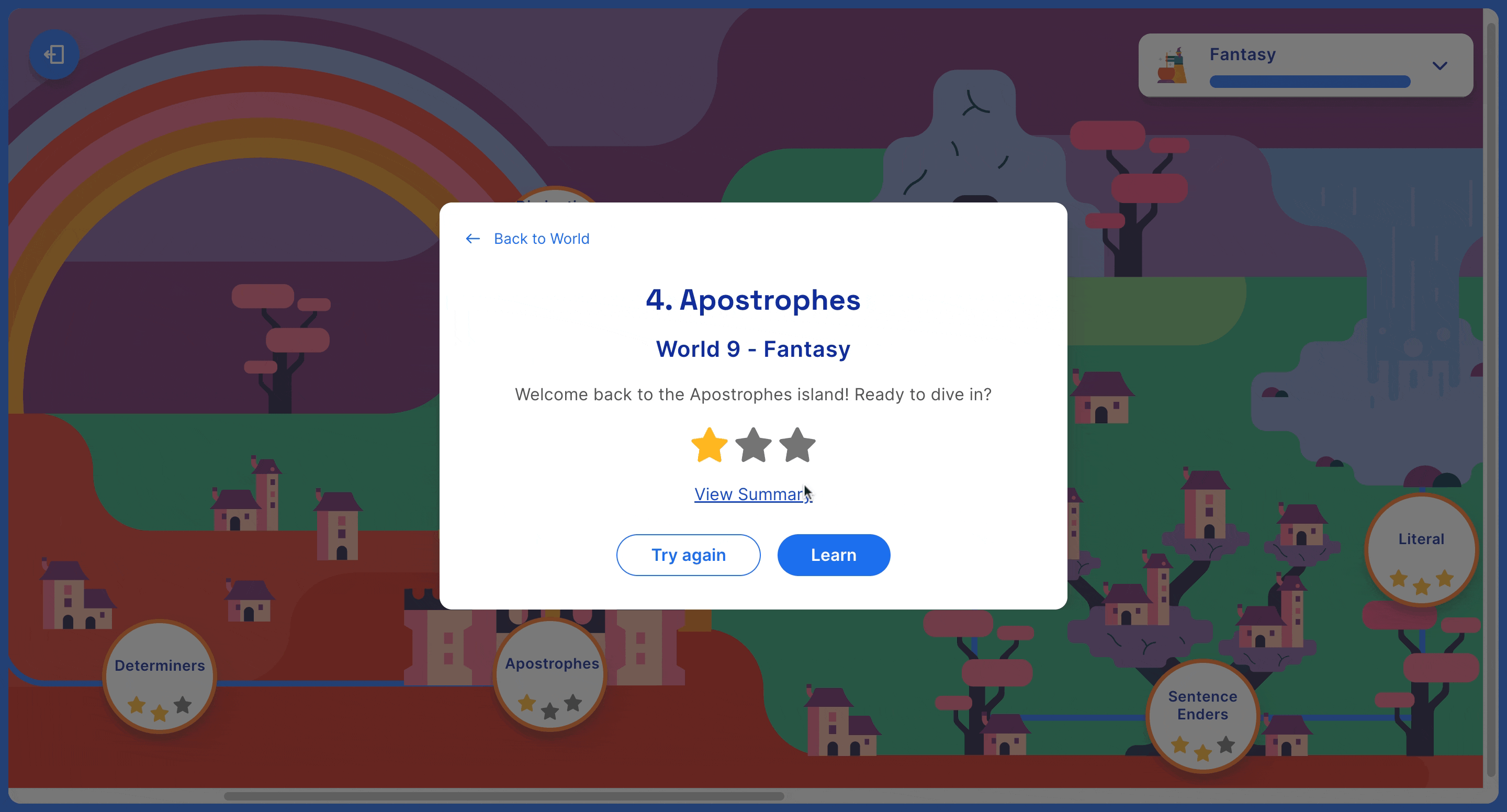 Preparation is key
Familiarisation with the question formats and known styles ahead of the exam is essential to help your child build exam confidence. An exam preparation subscription with Atom Nucleus enables your child to access quality, unlimited practice material with full score breakdowns to help your child feel confident by the time the exam day comes around.
When working through challenging topics, your child will need immediate clarity with any misconceptions so that they feel truly secure in every topic. Atom Nucleus includes video tutorials, help sheets and examples with every question to help your child build confidence and competence across all the areas assessed.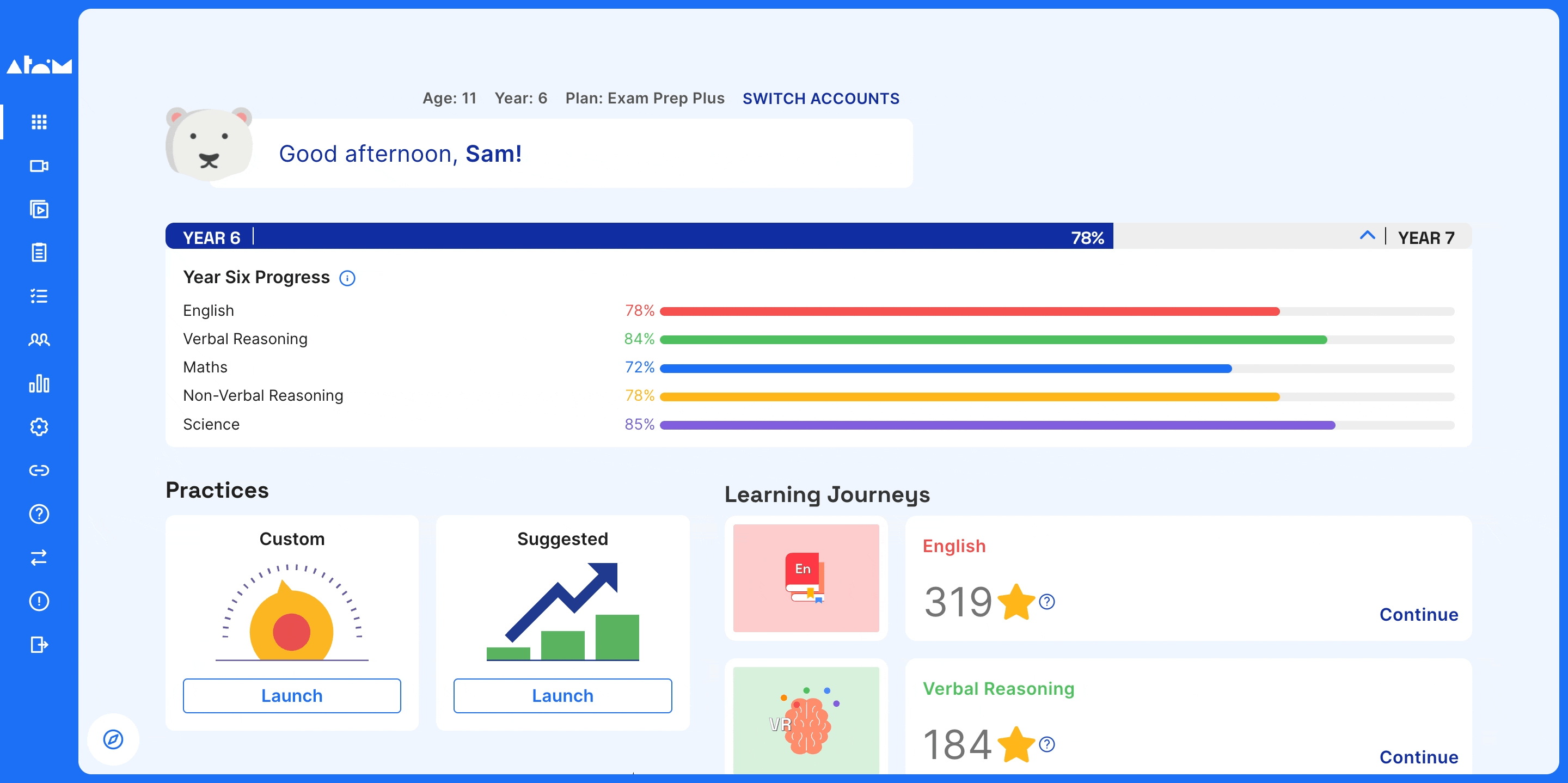 Engage with their progress
Celebrate your child's improvement in areas of challenge together. An accurate and ongoing assessment of their areas of strength and development is helpful.
As an Atom subscriber, you'll have a parent dashboard which offers data-driven insights into your child's progress. You can use this effectively to help your child set targets, see a detailed breakdown of their progress by subtopic and set custom practices to target those they find most challenging.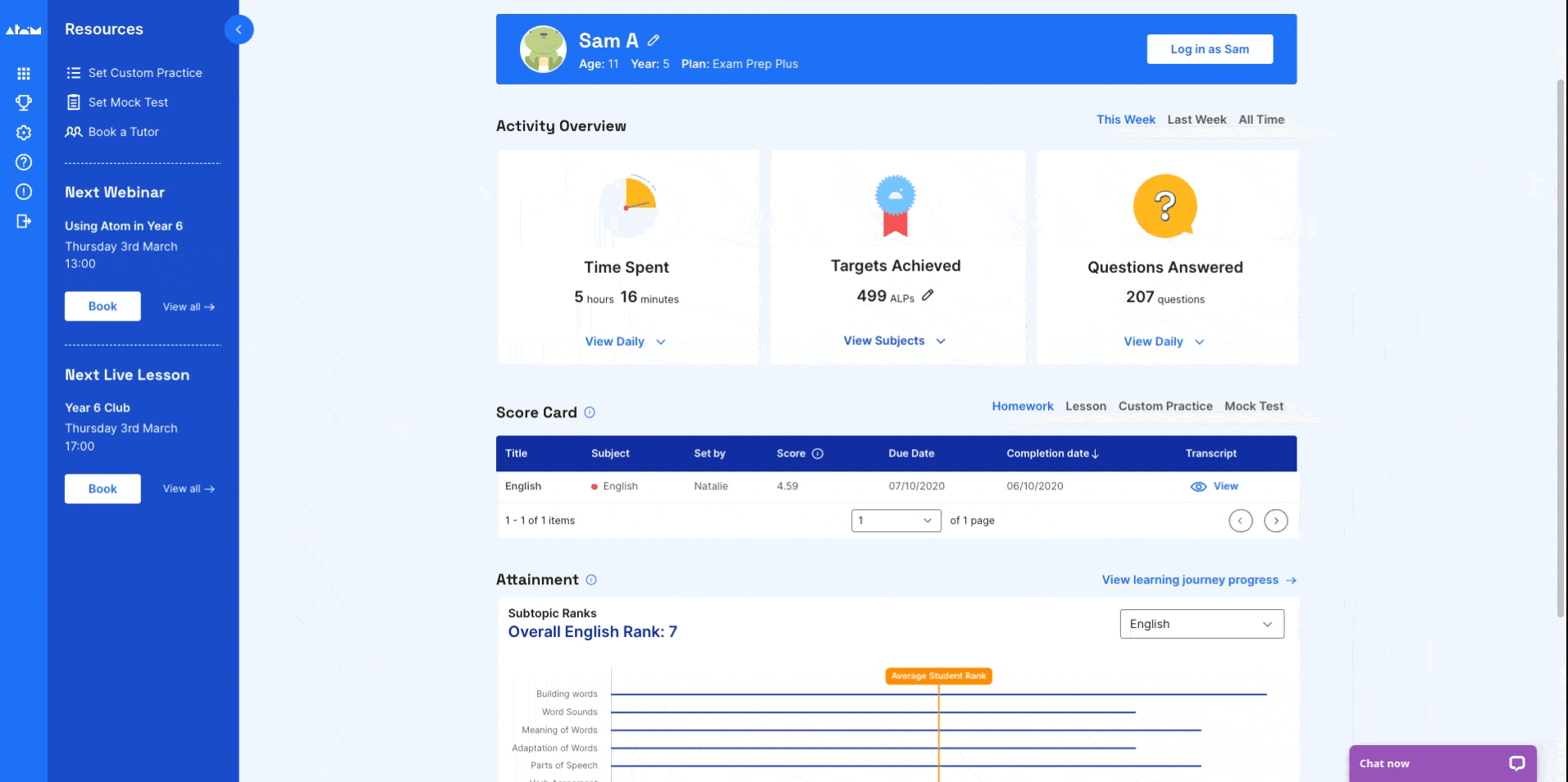 ---
Get started with Atom Learning
It's our mission to help your child feel prepared and confident before the exam day. Begin your free 5-day free trial of Nucleus today to help your child succeed.
We know how crucial this time is, so our team is on hand to support you and your family every step of the way. You can book a call with one of our Education Experts to ask any questions you might have about 11 plus entry to UCS Hampstead:
If you're looking for exclusive tips and resources to help your child master key subjects, excel in exams and build academic confidence, join Atom's email list: