Does it ever feel like a struggle to get your child engaged with certain topics? Meanwhile, they rarely need external motivation to spend time exploring new worlds through games. While your child's education is certainly no game, harnessing this natural curiosity and the thrill of exploration can be key to getting them excited about their learning. Picture this – no more reminding them to do their homework or revise as they're already driven to do it themselves!
Here are our top tips on how to make learning more exciting for your child.
1. Encourage independent learning
Independent learners are self-motivated learners. Building your child's independent learning skills can inspire a lifelong hunger for knowledge. But independent learning isn't a complete lack of guidance. These behaviours flourish when there is the right balance of a safe learning structure with autonomy.
Many children can find approaching a new topic on their own daunting, overwhelming or boring. They need a safe learning structure in place and access to support in case they get stuck. As a topic becomes more familiar, they then need enough freedom to explore, learn, and tackle problems their own way. They develop the confidence to make decisions and direct their own learning – and the motivation to accomplish things on their own.
(Advice on supporting your child to become an independent learner)
Atom's approach
To provide this safe learning structure, we've introduced Ato the monster. Ato is a friendly learning companion and expert teacher for children who use the online learning platform, Atom Nucleus.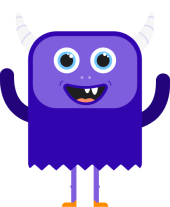 Ato asks interactive questions, checks for understanding, and provides explanations. They also offer help if a student is stuck, by signposting to relevant videos and helpsheets. But, children still have autonomy to explore the platform at the pace that is right for them, giving them space to develop confidence and self-motivation.
2. Reward the effort they put into learning
Intrinsic motivation – learning for learning's sake – is always to be strived for. But extrinsic motivation – learning for the sake of a reward – is a powerful encourager to pave the way into a difficult topic if motivation is otherwise lacking.
One important way to do this is to celebrate and reward the effort your child has put in rather than their results. Break down homework and revision sessions into small chunks of time and reward your child with breaks. Afterwards, they should be able to do something fun.
Atom's approach
We've harnessed the power of rewards by introducing a simple mechanism of coins. Children can earn coins by answering questions correctly and practising consistently.
Coins also guide student practice and keep children focused on the topics they need to focus on. For example, if Atom's algorithm knows a child is on track except for their knowledge of fractions, they'll be able to earn extra coins by completing fractions practices.
3. Set achievable but ambitious goals
Achievable goals are vital for keeping motivated. It makes sense – working towards something that feels out of reach is never going to be exciting for most people. Set reasonable learning goals together with your child, and break each step down into manageable chunks.
Being able to see our progress towards our goals is another huge motivating factor. When work is broken down into bitesize steps, it becomes all the easier to see and celebrate progress.
Atom's approach
To keep children motivated, we make sure each child's learning experience is the right balance of achievable and challenging. Our algorithm adjusts to each student's current performance level so they always answer ~85% of questions correctly.
This provides 'desirable difficulties' – the optimal level of stretch and challenge to accelerate progress while building confidence, resilience and independence.
4. Let them make it theirs
Allowing children to personalise their learning experience is a powerful motivation tool. Experiences become more exciting when we're given choice and autonomy, even over minor things.
When children are able to take responsibility for small elements of their own learning, they start to build the motivation to accomplish things on their own. This will also foster a sense of investment and pride in the work they've done.
Atom's approach
With Atom Nucleus, children's learning journeys are self-guided. Children can make decisions about how they progress, while ensuring they cover the entire curriculum.
Another simple way we make use of this principle is by giving children the option to personalise Ato. We all learn better from teachers we like. In making Ato theirs, students build a relationship with the expert teacher who is going to challenge them and get them learning.

5. Unlock new areas to explore
One of the reasons that games are so captivating is because they put children in the driving seat. They get to create their own path and explore at their own pace. In a similar way, you can put your child in the driving seat of their own learning!
A way to put this into action is to involve your child in defining their learning, homework and revision timetable together with you. Give them a say in what time of day and where they would most like to practise. Discuss how they would like to work and revisit this regularly – do they feel the current approach is working for them?
Atom's approach
We've carefully crafted our learning journeys to be intriguing and exciting. Children navigate beautiful and mysterious worlds while answering teacher-written questions to build their understanding of key topics. Every time 15 'islands' of questions are completed, as a reward, a new world is unlocked to explore.

6. Match your child's unique learning style
We all have a preferred learning style, and some of us prefer a combination of styles.
Visual learners are drawn to analysing pictures, diagrams, and charts. If your child doodles or makes lists while trying to process information, they may be a visual learner.

Auditory learners prefer information presented through sound, such as a lecture or discussion. Your child may be an auditory learner if they ask frequent questions, read aloud to themselves, or repeat things to help with retention.

Reading and writing learners thrive on the written word. Your child may tend towards this learning style if they take a lot of notes, or gravitate towards books and search engines to look up information.

Kinesthetic learners learn by doing. They prefer to take in information through interactive practice. If your child enjoys hands-on demonstrations and is keen to try working through problems for themselves as part of the learning process, they may be a kinesthetic learner.
Trying to take in lots of information in a style that clashes with our preference can be difficult, demoralising, and downright boring. Understanding your child's unique learning style will make their home learning more exciting – and more effective.
Atom's approach
Our materials are designed to support all learning styles to embed and reinforce knowledge.
Quick videos explain core concepts, brilliant for auditory and visual learners.

Interactive questions give children the opportunity to try activities for themselves, suiting kinesthetic learners.

Helpsheets summarise key learning points, ideal for visual and reading learners.

And lessons delivered by subject experts contain a bit of something for everyone.

Does it work?
When we first introduced Ato, the shop and coins, we wanted to test what impact (if any) they had on learning. For a limited time, we made these new features available to a small percentage of the 25,000+ families who use Atom Nucleus.
What we saw was astonishing! Students who had Ato and coins:
Logged in more often (double the number of students logged in each day)

Answered more questions (25% more questions were answered)

Took more care with their answers, answering more questions correctly
After that, we were delighted to roll out the new features to all families on the platform!
Would your child like to experience fun online learning?
Atom Nucleus is an all-in-one online learning platform designed to:
Boost your child's performance at school in Years 3–6

Help them excel in 11+ entrance exams for grammar and independent schools
Your child gets access to over 90,000 interactive questions in English, maths, science, verbal & non verbal reasoning. All material is created by teachers and grounded in the Key Stage 2 national curriculum and exam board content.
You can try all the features of Atom Nucleus free for 5 days, and cancel anytime.