While every child is different, having a routine is key to academic success. The average child has 2.5 hours of homework to complete each week on top of personal extra-curricular activities (although these will vary depending on the child and family). Making time to consolidate learning with a structured routine helps the brain to retain that important subject knowledge, as well as laying the foundation for good habits later in life.
As children grow, their attention span (and ability to process information into long-term memory) increases. Short but fully-focused bursts are best for learning; for an 8-year-old, this is no more than 24 minutes while a 10-year-old can stretch closer to 30 minutes.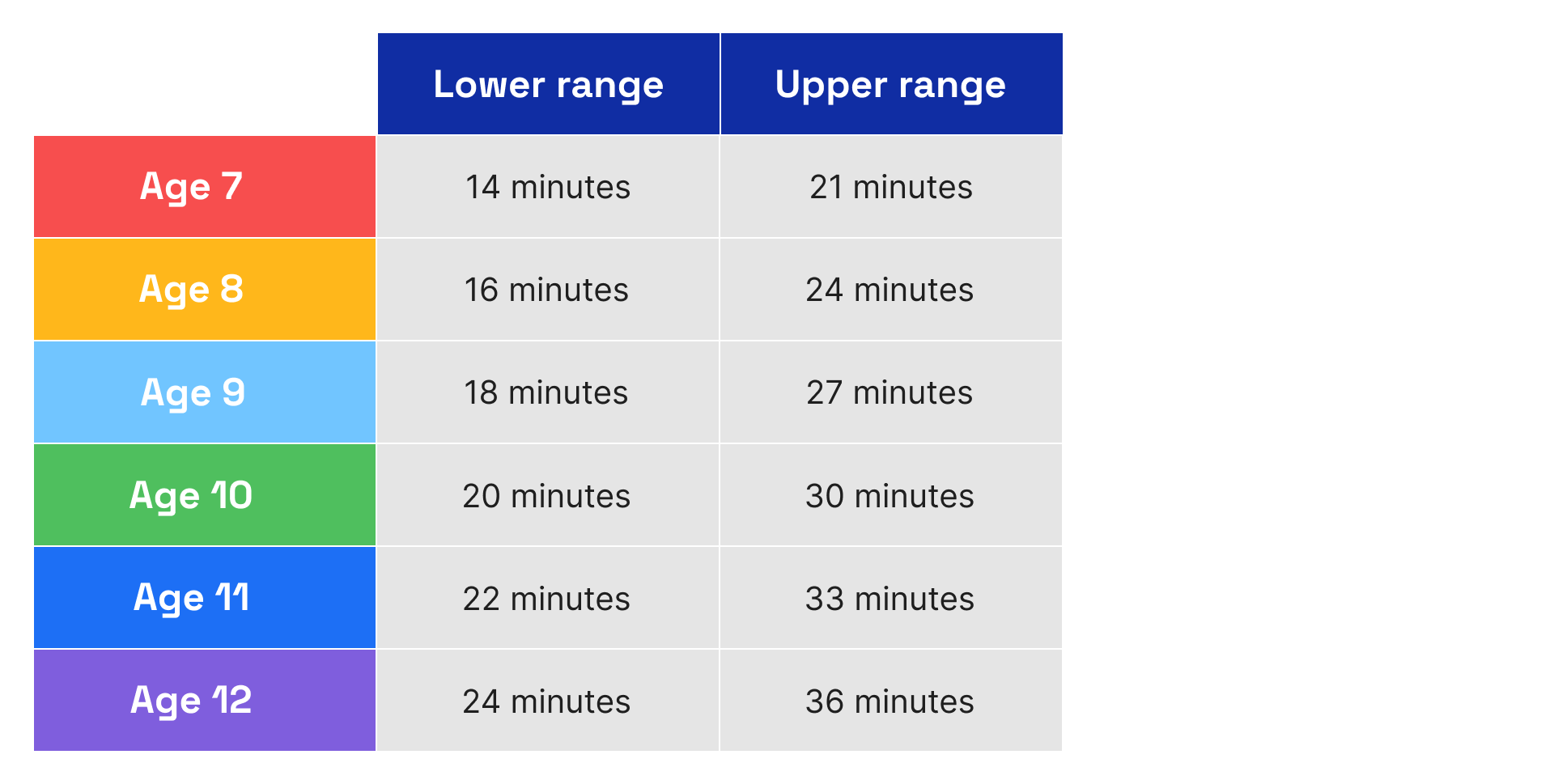 Atom Nucleus can easily be built into your child's routine due to its unique Learning Journeys. Below, our Education Experts outline an example of how bite-size chunks of Atom Learning can be incorporated into your child's day-to-day life. However, do note that this is just a guide – taking a day or two away from extra studying to relax is important, especially for growing children!
Atom Learning's suggested weekly routine
Monday
We suggest that your child kicks off their week of Atom Learning by spending up to 30 minutes (age-dependent) on the Learning Journeys. This is where we recommend that they should spend 90% of their Atom experience as they will be learning and revising the curriculum content. Make sure to spend at least 15 minutes on each subject (such as 15 minutes on English, followed by 15 minutes on Maths) to ensure retention of the content.
Tuesday
On Tuesdays, take a look at your child's progress and determine where they need a bit more revision. We suggest setting a Custom Practice in Tutor Mode and working through the content together. Tutor Mode will ensure that the results of the Custom Practice are excluded from your child's performance data.
For Atom Prime account holders, this can be a good day to take a look at what activities have been set by your child's school and have your child work through these.
Wednesday
Mid-week is a great time to break out and study in a different setting. Visit your Lesson Library to watch a pre-recorded lesson with over 400 lessons to choose from, covering a range of topics across English, maths, science, verbal and non-verbal reasoning. These interactive lessons, led by our expert teachers, are a great way to keep your child engaged with their learning.
Thursday
On Thursday, we would recommend that your child returns to the Learning Journey, focusing on different subjects than those studied on Monday. We suggest that your child commits to focused, distraction-free studying in a block of 20 to 30 minutes (age-dependent).
Friday
Fridays can be a good time to revise any content studied on Thursday that might need a little more consolidation. Why not set a Custom Practice in a specific area of focus using Test Mode? This will remove the learning resources (helpsheets, help videos and question explanations) and will help you to assess your child's performance in the specific topic.
For Atom Prime account holders, it might be a good idea to check in with the activities set by your child's school for the weekend.
Saturday
The weekend naturally brings more available time than the weekdays, so we would recommend that your child commits a slightly longer period of time to a Progress Test if you have an Exam Preparation Plus subscription. This can be used to identify your child's areas of improvement and can help you determine which topics to set Custom Practices for during the following week.
Sunday
Round off the week on Sunday and keep your child motivated for the following week by collecting any remaining coins. Coins are awarded based on correctly answered questions. Coin targets are designed to make sure your child is doing the optimal amount of work each week for their learning needs.
Meeting your child's personalised weekly coin target is the most efficient way to ensure their learning is on track, whether they are preparing for an exam or wanting to get ahead by the end of the academic year.
Resources
If your child is preparing for the SATs exams, gearing up for the 11 plus season or just looking to get ahead in English, maths and science, Atom Learning can help.
For more information about building a routine with Atom, check out the tips from our Education Experts in a recent parent webinar:
If you have a Core Curriculum subscription but are looking to expand the available features to include verbal reasoning, non-verbal reasoning and unlimited mock tests, why not upgrade to Exam Preparation Plus?
Simply log in to your Parent Portal, then click on the 'Upgrade' button in the top right of your screen. Here you can compare available plans and upgrade to the plan best suited for your child's educational needs.
Can you help us, help you?