Kew House School is an independent day school for boys and girls ages 11–18 in West London. The school is less than 10 years old (it was founded in 2013 by teachers Maria and Edward Gardener) and is one of four schools which form the Gardener Schools Group, consisting of two prep schools and Maida Vale School – a sister school to Kew House.
The school takes a modern approach to education; there are six hours of lessons per day (meaning that pupils have an extra day of teaching per week compared to most other senior schools) and Key Stage 3 ends after Year 8, rather than Year 9, giving pupils an additional year to study for their GCSEs. In Years 7–8, pupils study a wide range of subjects alongside traditional English, maths and science, including food preparation and nutrition, French, Latin and German.
Kew House School takes advantage of its location, using the city as a resource for extended learning. Guest speakers and visitors are regularly invited to speak to students and encourage them to link their subjects to life beyond school, with workshops and interactive sessions taking place during the day, after school during the holidays and at weekends. Sport is one of the central pillars of life at Kew House School and pupils have access to sporting facilities throughout West London, including Chiswick Cricket Club, the University of Westminster Sports Ground, Osterley Sports & Athletics Centre, Brentford Leisure Centre and Barn Elms Sports Trust.
The school's exam results are typically above average; in 2021, over 54% of GCSE grades were 9–7 (A*/A) and 64% of A level grades were A* or A. In the same year, the first Oxbridge offers were made to students at Kew House School, with two students earning offers from Oxford University to study Oriental Studies with Classics and Engineering respectively.
Key information for Kew House School
Headmaster: Mr Will Williams

Address: Kew House School, 6 Capital Interchange Way, Brentford, Middlesex TW8 0EX

London Borough: Hounslow

Admissions contact: Mrs Dawn Hassett – [email protected], 020 8742 2038

Age range and gender: 11–18, co-educational

Number of pupils: 578

Number of places in Year 7: 88

Ratio of applicants to places: 5:1

Open day date: Several dates throughout September to November – book a place online

Overview of selection procedure: ISEB Common Pre-Test, interview, school report and reference

Registration opens: Monday 8th March 2022 – apply online

Registration closes: Friday 9th December 2022 at midday

Assessment date: November 2022

Scholarship assessment date: January/February 2023
Kew House School fees and financial assistance
The school fees at Kew House for 2022 are £8,073 per term. This includes tuition, all standard textbooks, stationery and most after-school clubs. School lunch is an additional cost of £6.15 per day.
Bursaries (financial assistance) are not available at Kew House School, and the school does not offer sibling discounts.
Children applying for 11 plus entry may apply for a scholarship in the areas of academia, art and design & technology, music, drama or sports. These scholarships are honorary – they are awarded to recognise talent and potential, rather than to support families with school fees – and any fee remission is made at the discretion of the school's scholarship committee.
Kew House School term dates
The term dates at Kew House School for 2022–23 are:
Autumn term: 5th September – 9th December 2022

Half term: 20th–28th October 2022

Spring term: 5th January – 31st March 2023

Half term: 13th–17th February 2023

Summer term: 25th April – 7th July 2023

Half term: 29th May – 2nd June 2023
Admissions process for Year 7 entry to Kew House School
The ideal candidate for entry to Year 7 at Kew House School is inquisitive, intelligent and able to engage with and enjoy the curriculum on offer.
If you would like to register your child for a place in Year 7 for 2023, you will need to complete the online registration form and pay the non-refundable registration fee of £150 before midday on Friday 9th December 2022. After completing this form, you will need to send a copy of your child's latest school report to the admissions team – and if you wish to register your child for a scholarship, you will need to submit a separate scholarship application form.
All registered candidates are required to sit the ISEB Common Pre-Test to assess for entry. Children may sit this at their own school or at Kew House School. In addition to this, an enhanced confidential reference will be requested from your child's current school (together with internal assessment results and an example of their work).
All applicants will also be required to attend an informal interview with either the headmaster or a senior member of staff at Kew House School. They will need to prepare a 3-minute presentation on a topic of their choice, complete with a visual aid. Children are interviewed in groups (normally three pupils at once) to make the experience more relaxed.
Children will automatically be considered for an Academic Scholarship on the basis of the admissions process. If your child is applying for a scholarship in another subject, there will be additional steps:
Art and Design & Technology Scholarships: Candidates will need to submit a portfolio presentation of their own work and the name of a person who can provide a relevant reference. They will be invited to take a short, supervised practical task and will have an interview with the head of the department.

Drama Scholarships: Successful candidates should be able to demonstrate their contribution to school productions or out-of-school performances, either on stage or backstage. After submitting the Drama Scholarships application form, applicants will be invited to take part in a workshop that will seek to examine their chosen specialist area(s).

Music Scholarships: Successful candidates are normally those who have shown progression through ABRSM, Trinity, Rock School or other recognised assessment programmes and are currently working at or beyond Grade 4 in one instrument, coupled with proficiency in a second (or demonstrating a commitment to singing). After submitting the relevant application form, candidates will be invited to perform a short work of their choosing, undergo a short vocal exercise if appropriate, and have an interview with the head of the department.

Sports Scholarships: Sports Scholars will be able to demonstrate first-team school experience, in addition to county, regional or national representation in at least one sport. After submitting the Sports Scholarship application form, candidates will be invited to an individual and group physical activity and an interview with the head of the department.
Kew House School will send an email and a letter with the outcome of your child's application on or before Friday 10th February 2023. The deadline for acceptance of an offer is Monday 6th March 2023 at midday.
Kew House School entrance exam
All pupils applying to Kew House School for 11 plus entry will take the ISEB Common Pre-Test in November 2022. This will commonly be sat at your child's current school, but if this is not offered or possible, your child can take the test on-site at Kew House School.
The ISEB Common Pre-Test is an adaptive online exam which covers English, maths, verbal reasoning and non-verbal reasoning. The English and maths sections are based on the Key Stage 2 national curriculum taught up until the end of Year 5, while verbal reasoning and non-verbal reasoning assess children's logical thinking and problem-solving skills.
It takes about two and a half hours to sit all four sections of the ISEB Common Pre-Test:
English: questions test comprehension, spelling, punctuation and grammar.

Maths: questions assess the topics of number, measurement, data, algebra and geometry

Verbal reasoning: questions are split across six different topics. In 2021, the topics that appeared in the ISEB Common Pre-Test were letter codes, homographs, antonyms, join the words, transfer a letter and number codes.

Non-verbal reasoning: questions are split over three topics. In 2021, The topics featured in the ISEB Common Pre-Test were pairing shapes, matching to a pair and finding a code.
Take a look at our complete guide to the ISEB Common Pre-Test for more detailed information about what the test involves.
Atom's complete guide to the ISEB Common Pre-Test
How to help your child prepare for the selection process at Kew House School
Build foundational knowledge
For 11 plus entry to Kew House School, candidates are tested across the Key Stage 2 curriculum – and beyond – with questions on English, maths, verbal reasoning and non-verbal reasoning in the ISEB Common Pre-test.
Atom Nucleus can help your child consolidate everything they need to know for the exam. Your child can access over 90,000 interactive questions, complete with helpsheets and tutorial videos, to build the foundational knowledge necessary for exam success.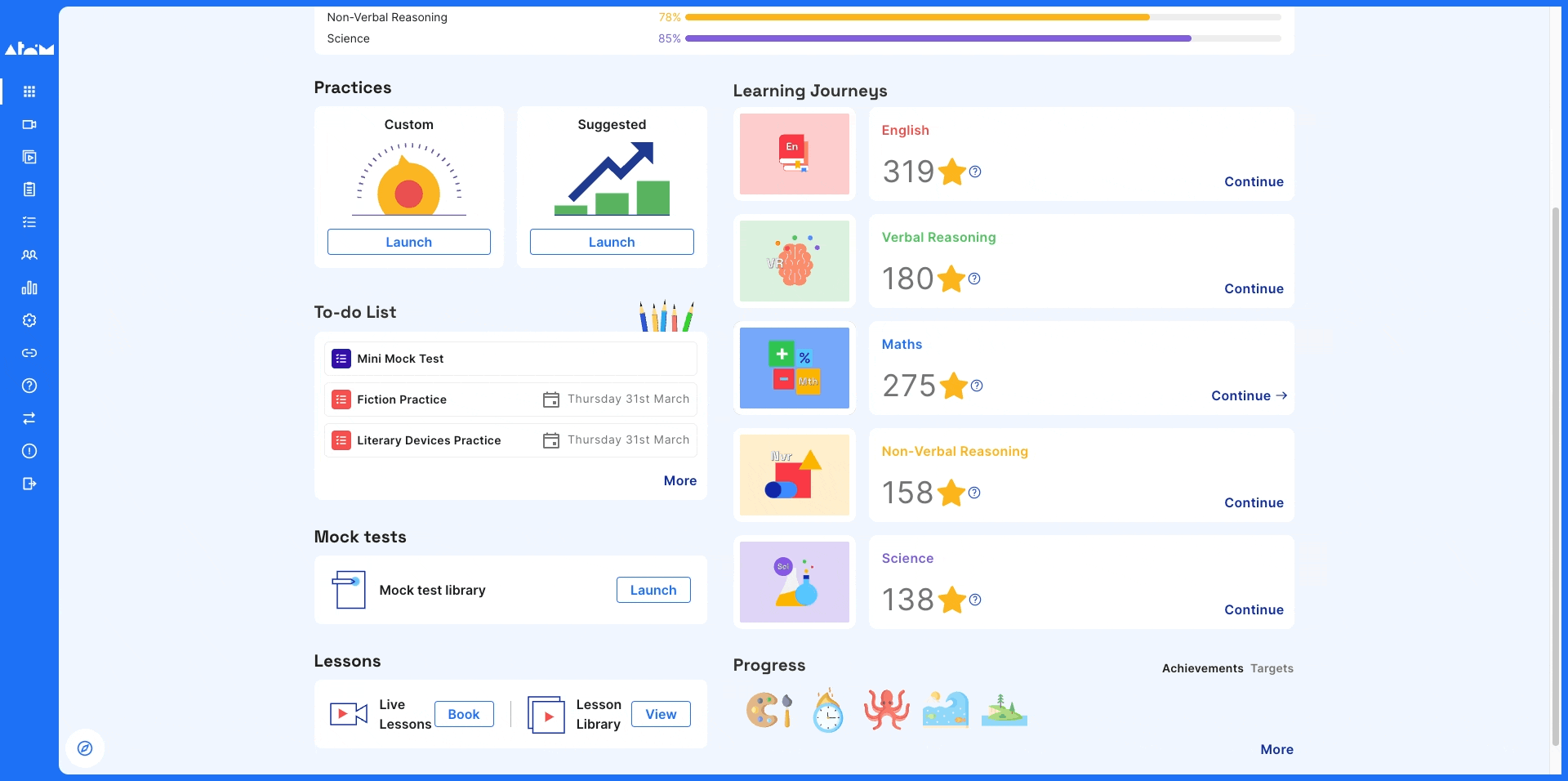 Preparation is key
Familiarisation with the question formats and known styles ahead of the exam is essential to help your child build exam confidence.
An exam preparation subscription with Atom Nucleus enables your child to access quality, unlimited practice material with full score breakdowns to help your child feel confident by the time the exam day comes around. Best of all, your child can take unlimited practice tests – including the ISEB Common Pre-Test – for one monthly cost.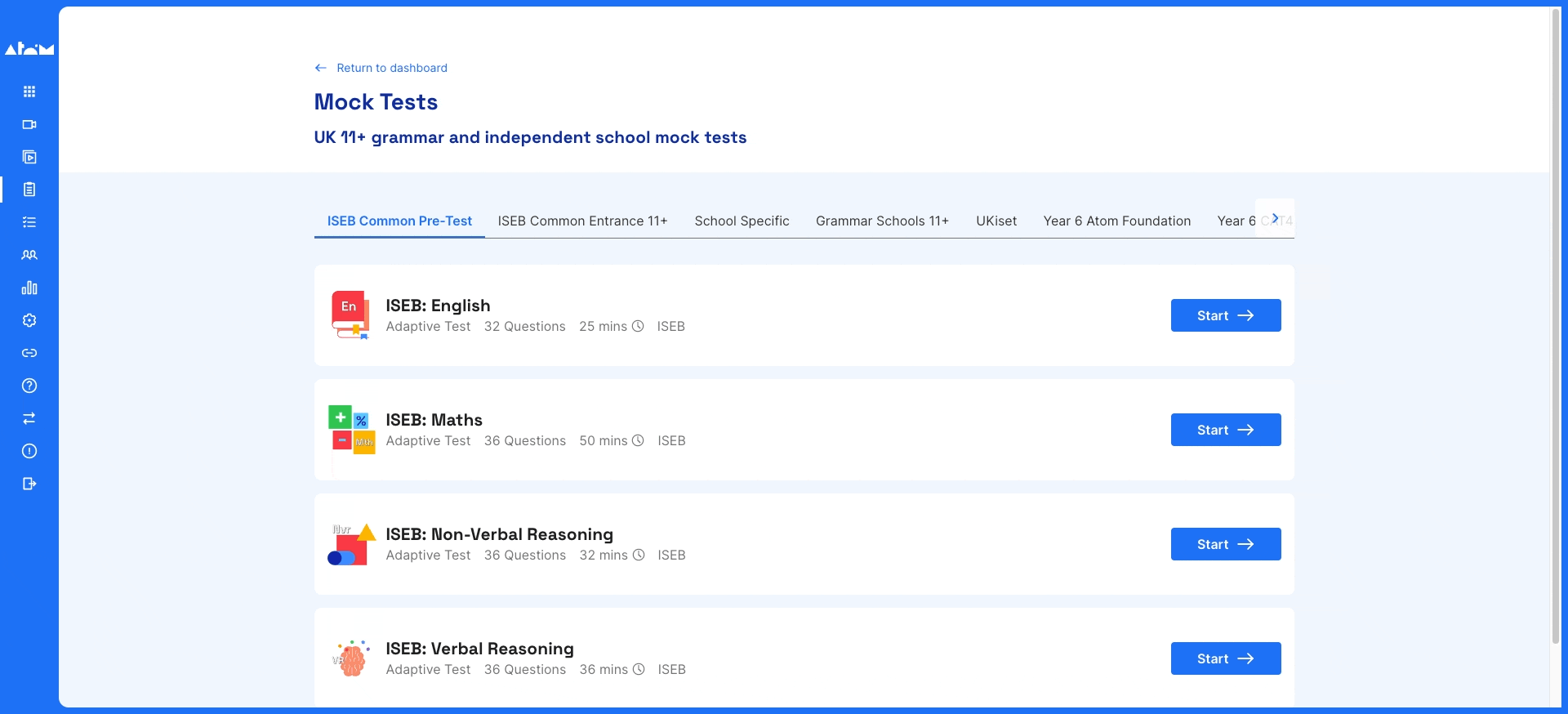 When working through challenging topics, your child will need immediate clarity with any misconceptions so that they feel truly secure in the exam.
Atom Nucleus includes video tutorials, help sheets and examples with every question to help your child build confidence and competence across all the areas assessed.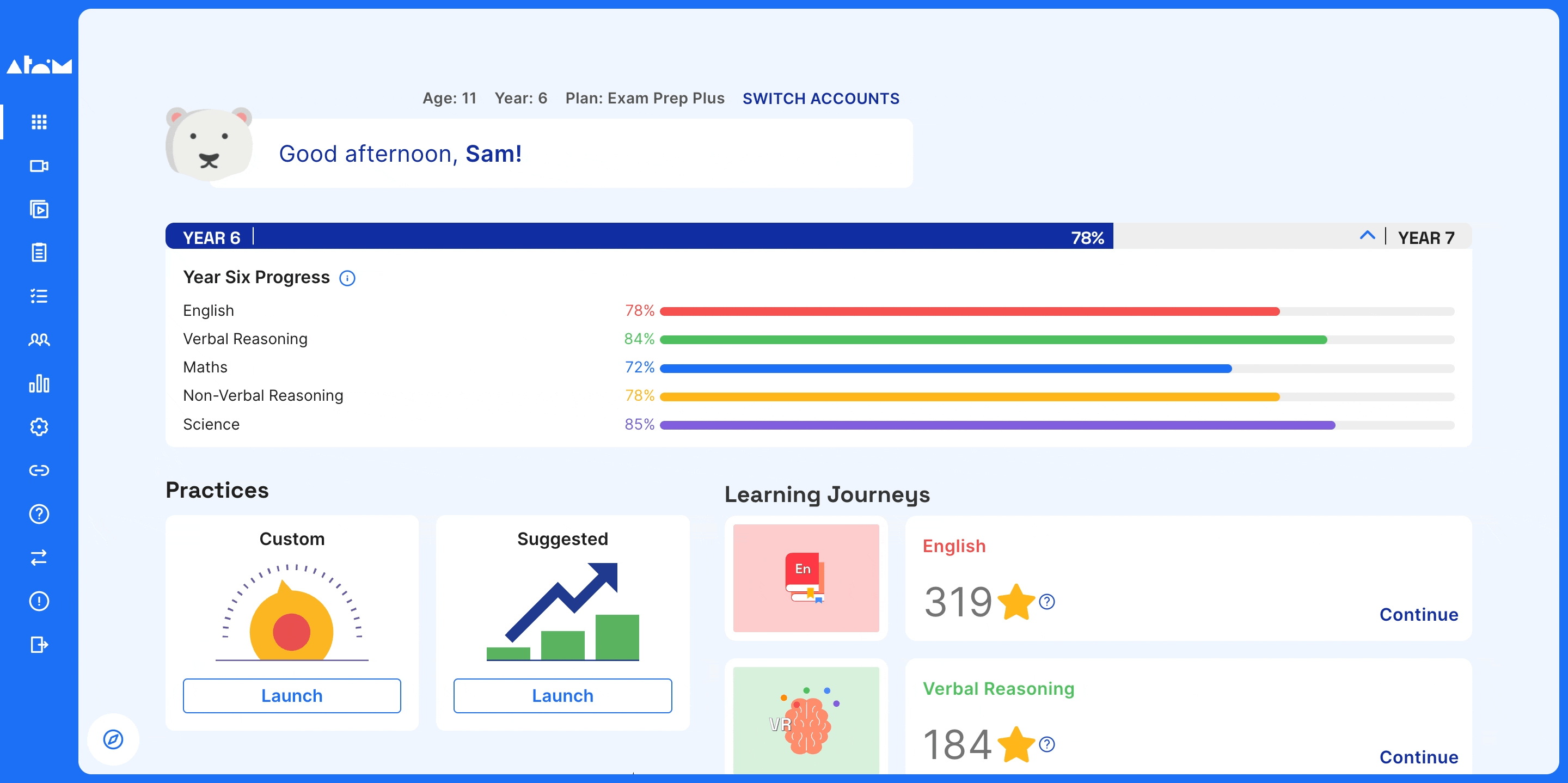 Engage with their progress
Celebrate your child's improvement in areas of challenge together. An accurate and ongoing assessment of their areas of strength and development is helpful.
As an Atom subscriber, you'll have a parent dashboard which offers data-driven insights into your child's progress. You can use this effectively to help your child set targets, see a detailed breakdown of their progress by subtopic and set custom practices to target those they find most challenging.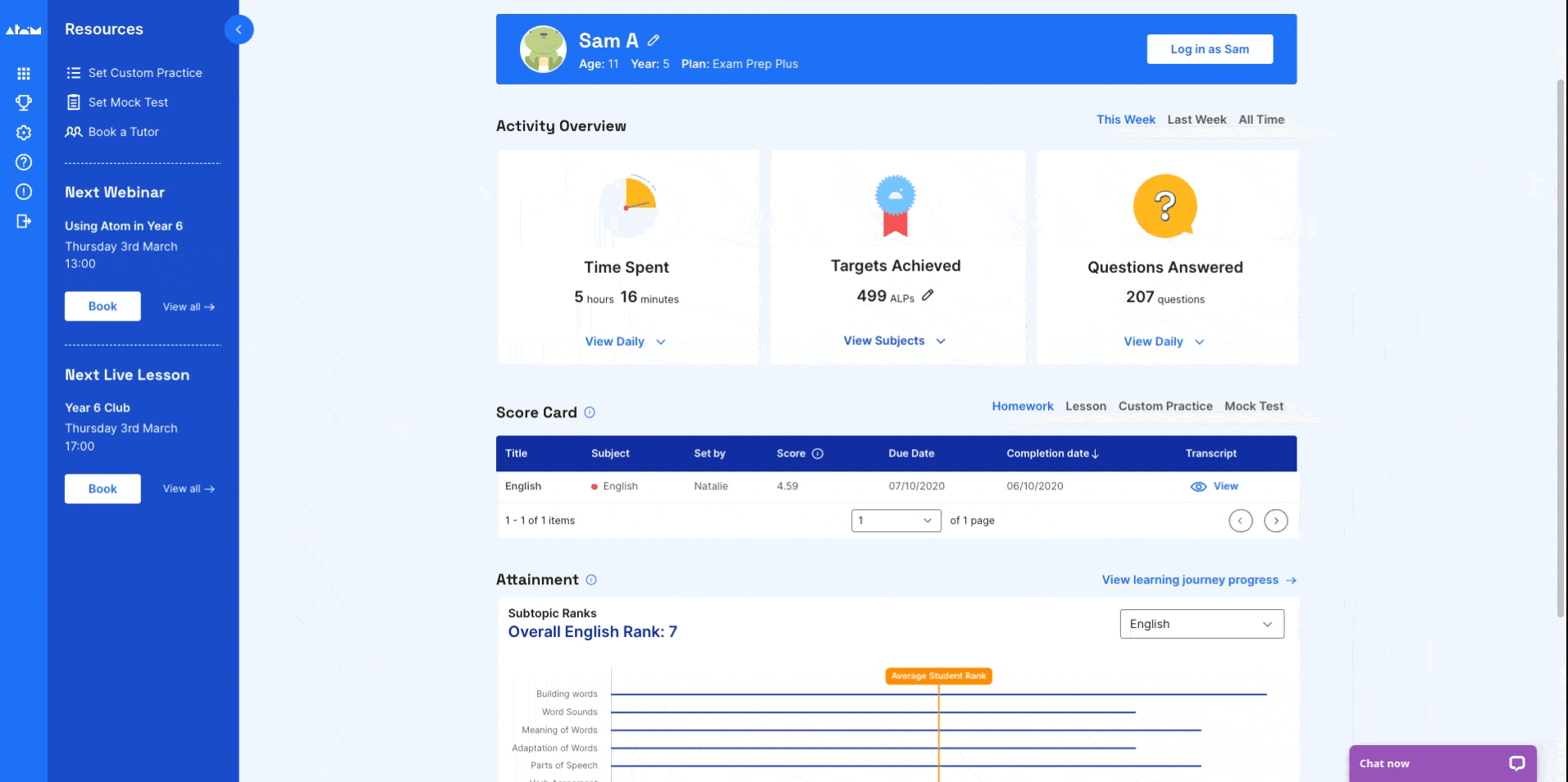 ---
Get started with Atom Learning
It's our mission to help your child feel prepared and confident before the exam day. Begin your free 5-day free trial of Nucleus today to help your child succeed.

We know how crucial this time is, so our team is on hand to support you and your family every step of the way. You can book a call with one of our Education Experts to ask any questions you might have about 11 plus entry to Kew House School:
If you're looking for exclusive tips and resources to help your child master key subjects, excel in exams and build academic confidence, join Atom's email list: