Note for parents: This learning resource for children follows the 'I do, we do, you do' teaching framework. For the 'you do' (independent practice) stage, you can download a free synonyms question pack for your child here.
---
What are synonyms?
Synonyms are words that have the same meaning as each other. If you can replace one word with another in a sentence without the meaning of the sentence changing, the words are synonyms.
Examples of synonyms
A trick for remembering synonyms
Here is an easy way to remember the difference between synonyms and antonyms.
'Synonyms' begins with an 's', reminding you that these words mean the 'same'.

'Antonyms' begins with an 'a', reminding you that these words go 'against' each other in meaning.
I do: Synonyms helpsheet
The synonyms helpsheet is a handy guide to what you need to know:
We do: Watch the synonyms video!
In the classroom, for homework and exams, you might be asked to identify synonyms from a list. In the video, Ato the monster shows you how to do this.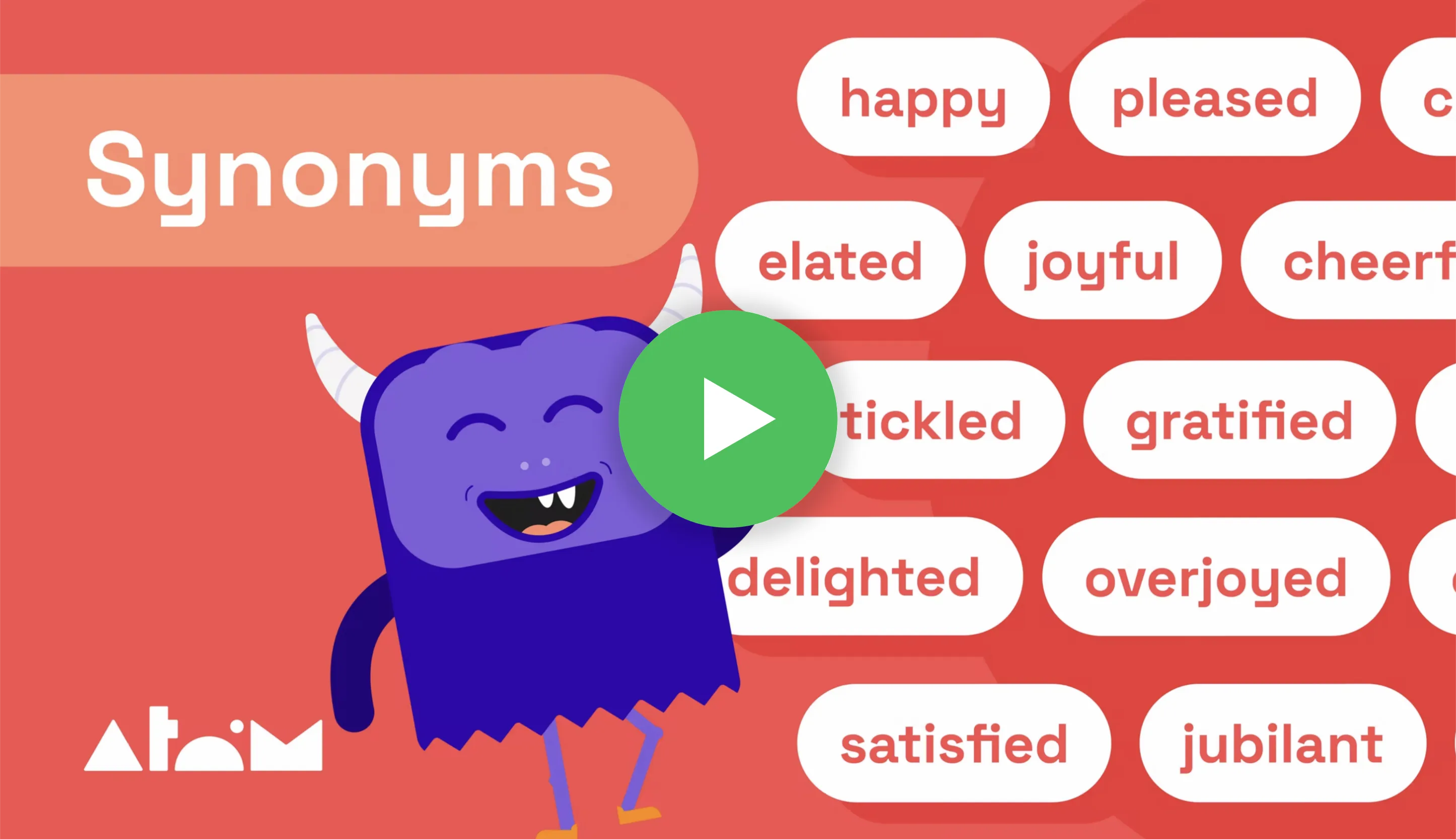 You do: Test your knowledge of synonyms!
Are you ready to try some synonyms questions?
Ask a parent or guardian to download these free question packs. You'll be able to work through the questions independently and then mark them using our helpful answer guide!
More activities to practice synonyms
Here are some activities that will help you boost your knowledge of synonyms.
Think of a word. Now write down as many words as you can that mean the same thing.

Look at an object around you. How many words can you think of that describe its size or colour?

Read lots of books! This will help you increase your vocabulary (and it's fun).
---
Master Key Stage 2 with Atom
Did your child find these resources helpful?
A subscription to Atom – the award-winning online learning platform for children aged 7–11 – will give your child access to thousands of resources just like the ones in this article.
Over 70,000 interactive questions in English, maths and science

Automatic marking with data insights, allowing you to stay on top of your child's progress and attainment

Helpsheets and tutorial videos

Daily live lessons led by engaging teachers
Start your 5 day free trial of Atom today and inspire your child to love learning.