St Albans High School, more commonly known in the area as STAHS, is an independent day school for girls aged 4–18 in the town of St Albans in Hertfordshire. It was originally opened in 1889 by the Church Schools Company as the first school in the area to offer advanced education for girls beyond the age of 12.
STAHS is focused on preparing its pupils for long-term goals, and not just short-term successes. The school embodies a Teach to 25 philosophy; from a young age, children are engaged in a character education programme, while older students have access to a super-curriculum (extending beyond the limits of exam specifications) and a formal two-year leadership programme for sixth form students. These initiatives all provide girls at STAHS with the skills, independence and knowledge needed to navigate their early adult life.
Students at STAHs have access to an extensive co-curricular programme, which is divided into six main strands – sport (competitive and recreational), creative (music, dance, art and drama), academic (super-curricular and extension clubs and activities), performance (plays, concerts, tournaments and house events) and service (charitable activities in the local community).
Exam results at STAHS are consistently high. In 2022, 92.7% of A level grades were A*, A or B, while 90.1% of GCSE grades were A*/A/9/8/7. The school's Teach to 25 philosophy means that a comprehensive careers and higher education support service are its USP; ongoing professional and social support is provided to pupils through the school and its highly-engaged alumni network.
Key information for St Albans High School
Head: Mrs Amber Waite

Address: St Albans High School, Townsend Avenue, St Albans, Hertfordshire, AL1 3SJ

County: Hertfordshire

Admissions contact: Ms Caroline Hardy – [email protected], 01727 792 509

Age range and gender: 4–18, girls only

Number of pupils: 1,153

Open day date: Saturday 8th October 2022 (main event) and Tuesday 8th & Thursday 10th November 2022 (snapshot sessions). Book an open event at STAHS online

Overview of selection procedure: ISEB Common Pre-Test, creative writing task, taster day and interview

Registration opens: open for 2023 entry – apply online

Registration closes: Friday 18th November 2022

Assessment date: Friday 6th January 2023
St Albans High School fees and financial assistance
The tuition fees at St Albans High School are £6,915 per term. Lunch is an additional cost of £280 per term, or £6.00 per day.
STAHS is committed to providing a transformative secondary education to as many as possible of the young people who meet its entry criteria, regardless of their families' financial circumstances. Means-tested financial assistance (bursaries) are available and can cover up to 100% of the cost of school fees. Eligible families may also be granted an additional award to assist with the cost of travel, school uniform, school lunches, educational trips and music lessons.
STAHS also offers scholarships at 11 plus entry in the areas of academia, music and sport. Scholarships carry a fee remission of 10%.
St Albans High School term dates
The term dates at St Albans High School for 2022–23 are:
Autumn term (Michaelmas): 5th September – 14th December 2022

Half term: 15th–30th October 2022

Spring term (Lent): 9th January – 31st March 2023

Half term: 11th–19th February 2023

Summer term (Trinity): 25th April – 7th July 2023

Half term: 27th May – 4th June 2023
The term dates at St Albans High School for 2023–24 are:
Autumn term (Michaelmas): 4th September – 15th December 2023

Half term: 15th–29th October 2023

Spring term (Lent): 10th January – 22nd March 2024

Half term: 18th–23rd February 2024

Summer term (Trinity: 16th April – 5th July 2024

Half term: 26th May – 2nd June 2024
Admissions process for Year 7 entry to St Albans High School
Registration
The application process for entry to Year 7 at STAHS begins with the online registration form. If you would like to enter your child in the upcoming admissions process, you will need to submit this form before the deadline on Friday 18th November 2022 and pay a non-refundable registration fee of £125. This may be waived for families on a low income and who are applying for a bursary – if this applies to you, contact the admissions office to discuss this.
Optional familiarisation mornings
STAHS are offering two 11 plus familiarisation mornings to registered candidates, giving them an opportunity to understand how the test works. These will take place on Saturday 1st October 2022 and Saturday 12th November 2022. Both sessions are entirely optional and will be identical in format (i.e. there is no need to attend two sessions). Information on how to book these is sent to candidates' families upon completion of the registration form.
Assessment day
All candidates will then sit the ISEB Common Pre-Test at STAHS on Friday 6th January 2023. On the same day, they will also be required to complete a creative writing task and they will experience a taster lesson with educational team activities. This assessment day is around the same length as a normal school day and includes break times, lunch and refreshments. If your child will be taking the ISEB Common Pre-Test at their current prep school (and their school acts as an invigilation centre), your child will not need to repeat this at STAHS and will only need to attend for around half a day for the other elements.
Interview
Candidates will also have an interview with a senior member of staff. At the same time, parents will have the opportunity to meet individually with the head or one of her deputy heads. The parent meetings are purely for the benefit of parents (they do not form part of the assessment process for pupils). Pupil interviews will take place on one date between Friday 20th and Wednesday 25th January 2023 (weekdays only).
Scholarships
If your child is applying for a scholarship, there will be additional steps in the admissions process:
Academic scholarships (Atkins scholarships): applications are by invitation only. External candidates are automatically considered for an academic scholarship when they sit the STAHS entrance assessments, with the top 10–15% of the cohort invited to an academic scholarship assessment day on Friday 20th January 2023. This will include problem-solving and creative-thinking tasks, as well as a short interview with a member of the senior leadership team.

Drama scholarships: candidates will need to submit a drama scholarship application form that details relevant drama experience and includes a reference from their current school/drama group. Shortlisted candidates will then be invited to an interview with the director of drama and head of academic drama, where they will be asked to perform either given or self-chosen monologues. They will also need to bring a portfolio to exhibit the highlights of their experience to date.

Music scholarship (Du Cane instrumental scholarship): eligible candidates are those who have obtained at least Grade 5 on their main instrument and Grade 3 on a second instrument or grade 7 on one instrument. To apply, you will need to submit a music scholarship application form, after which shortlisted candidates will be invited to an audition which will include one piece on each instrument, singing an unaccompanied song, sight-reading and aural tests, and an interview with the director of music.

Choral scholarship: candidates will need to submit a Du Cane choral scholarship application form. Shortlisted candidates will be invited to perform two contrasting songs of their choice and prepare a verse of one unaccompanied song. They will also be tested in sight-singing and aural ability and will be interviewed by the director of music.

Sports scholarships: eligible candidates are those who play sport at a competitive level (typically performing in their school's A team) in at least one of STAHS' major competitive sports. To apply, you will need to submit a sports scholarship application form, a sporting portfolio of your child's experience, and two sporting references. Candidates will be invited to a sports scholarship assessment day, which will include a series of motor ability assessments, teamwork challenges and multidisciplinary games, and an interview with the director of sport.
Results
STAHS will write to families with the outcome of their child's application on Friday 10th February 2023. The acceptance deadline is Monday 6th March 2023.
St Albans High School 11 plus exam
ISEB Common Pre-Test
STAHS uses the ISEB Common Pre-Test to assess its applicants for entry to Year 7. This is an online adaptive test of a little over two hours, covering four subjects:
Creative writing task
In addition to the ISEB Common Pre-Test, applicants to Year 7 at STAHS will also complete a creative writing task. Take a look at our free resources for preparing for creative writing exams:
How to help your child prepare for the selection process at St Albans High School
Build foundational knowledge
For entry to St Albans High School, candidates are tested across the Key Stage 2 curriculum – and beyond – with questions on English, maths, verbal reasoning and non-verbal reasoning in the ISEB Common Pre-test.
Atom Nucleus can help your child consolidate everything they need to know for the exam, with over 90,000 interactive practice questions that span the Key Stage 2 core curriculum, in addition to verbal and non-verbal reasoning.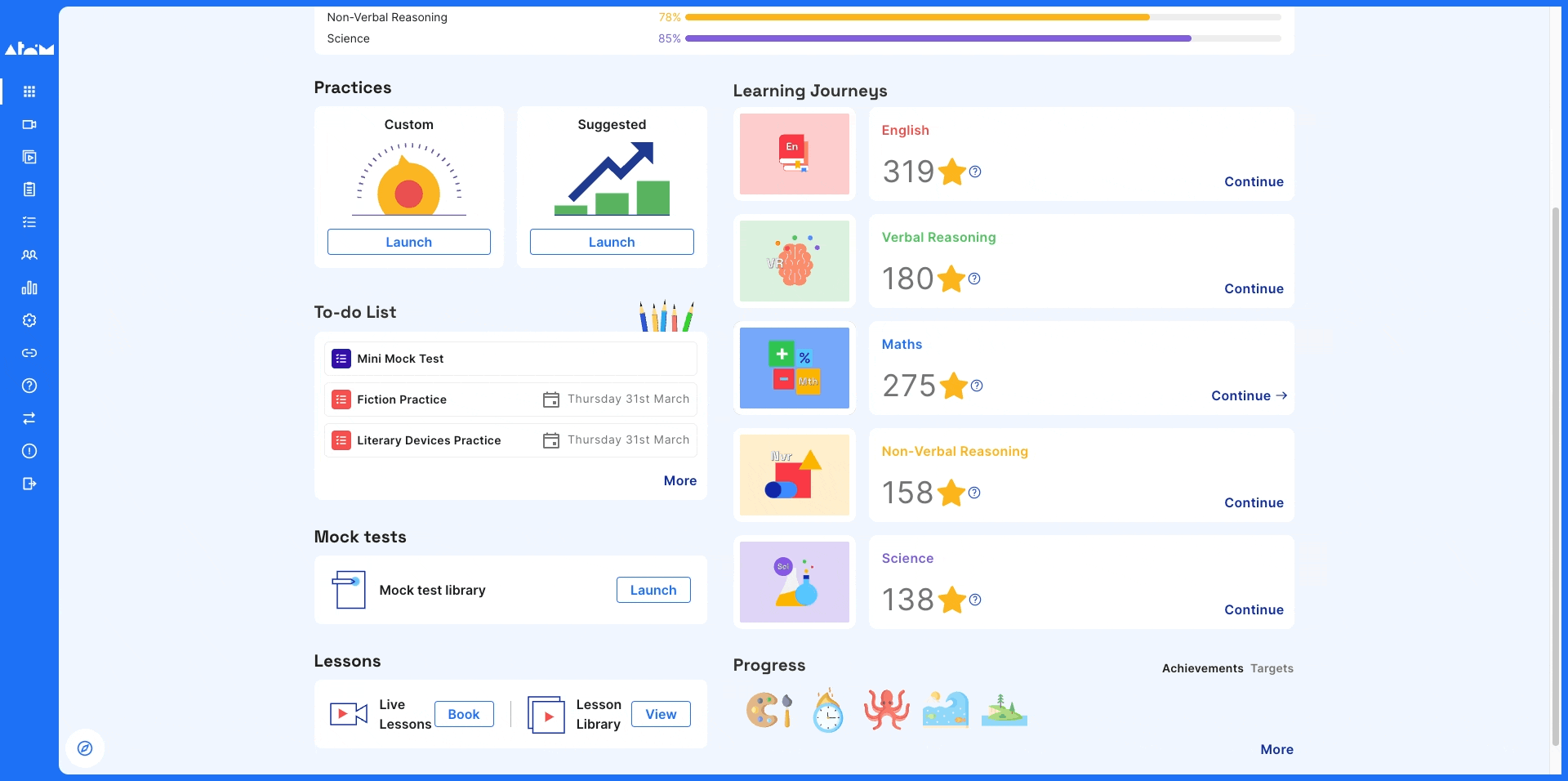 Preparation is key
Familiarisation with the question formats and known styles ahead of the exam is essential to help your child build exam confidence. An exam preparation subscription with Atom Nucleus enables your child to access quality, unlimited practice material with full score breakdowns to help your child feel confident by the time the exam day comes around. Best of all, your child can take unlimited practice tests – including the ISEB Common Pre-Test – for one monthly cost.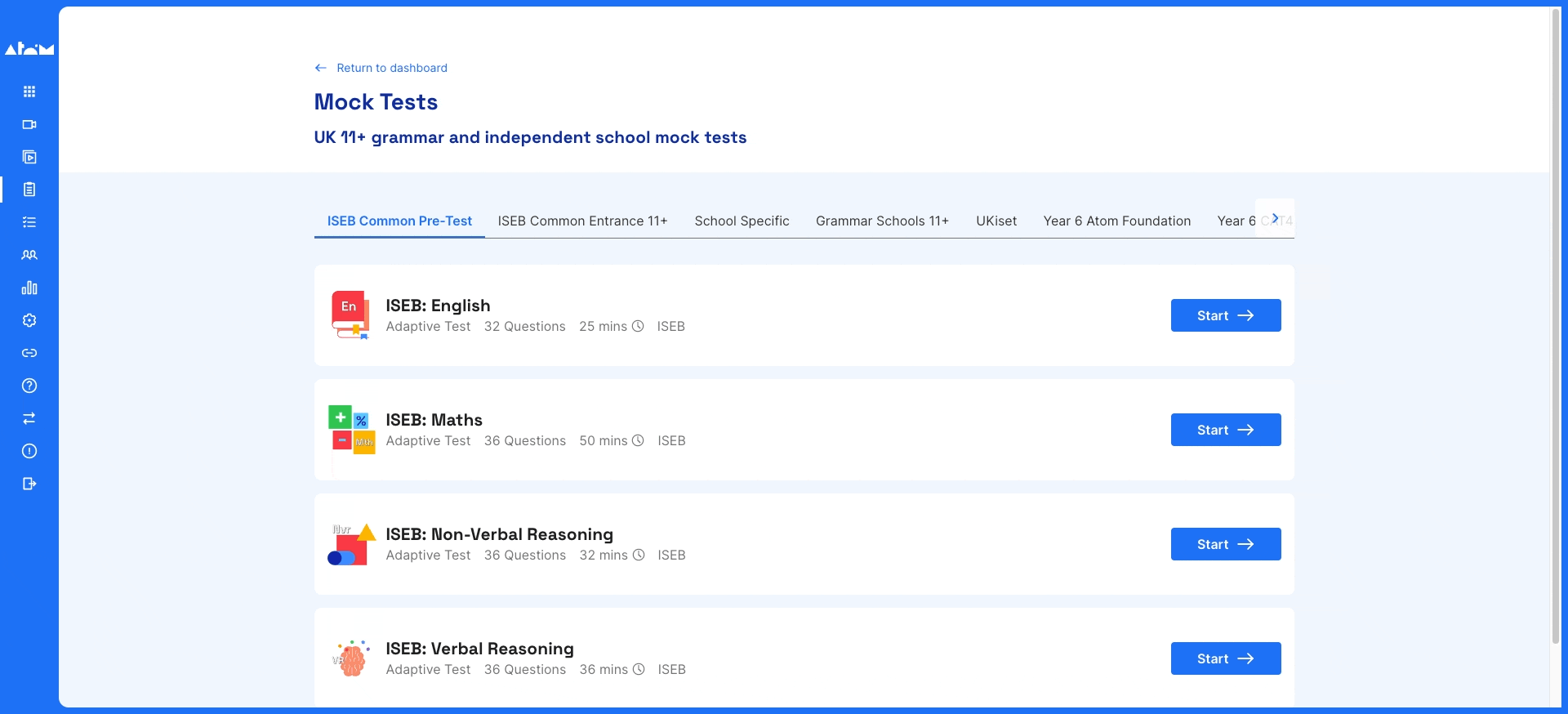 When working through challenging topics, your child will need immediate clarity with any misconceptions so that they feel truly secure in every topic. Atom Nucleus includes video tutorials, help sheets and examples with every question to help your child build confidence and competence across all the areas assessed.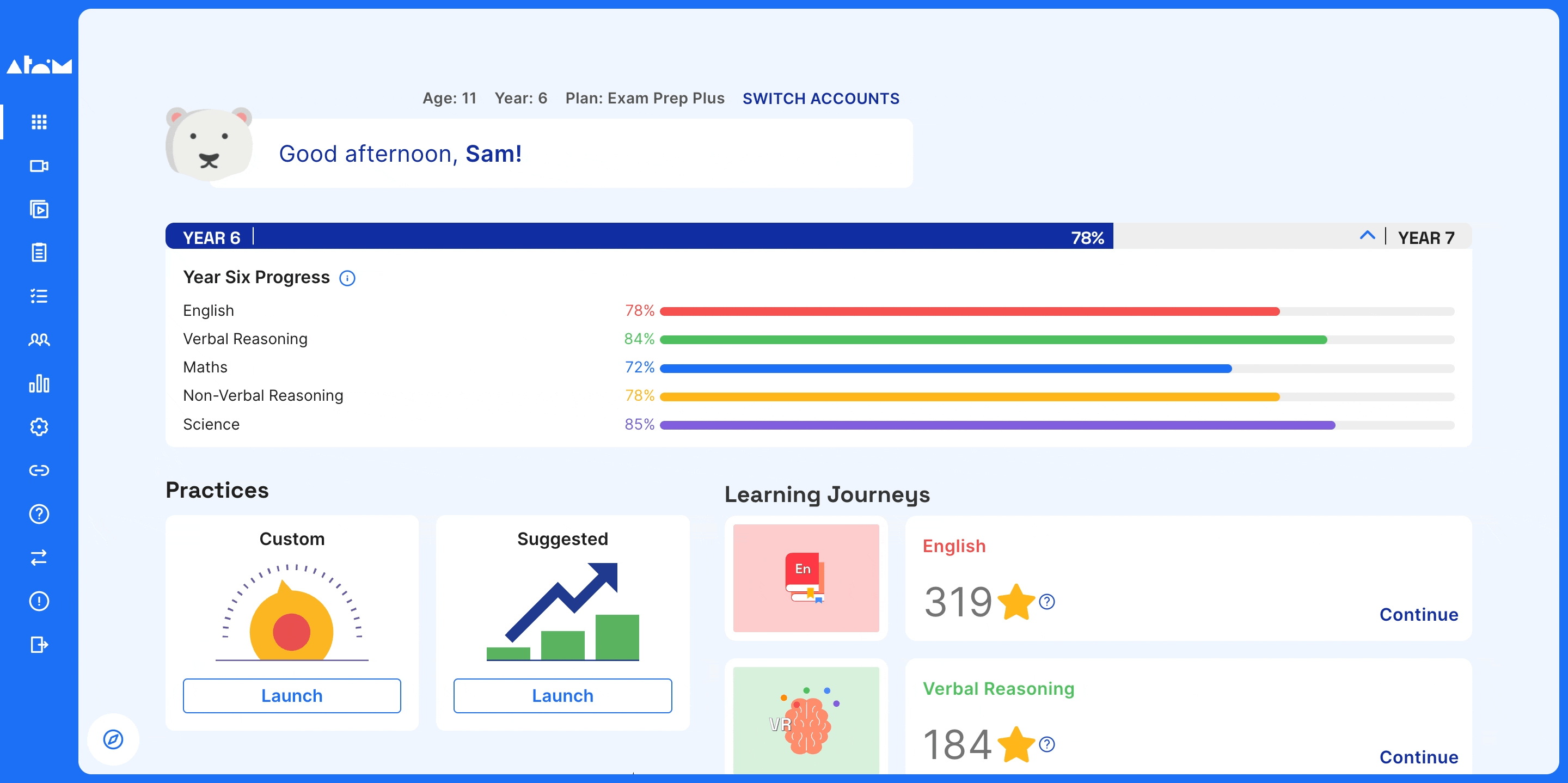 Engage with their progress
Celebrate your child's improvement in areas of challenge together. An accurate and ongoing assessment of their areas of strength and development is helpful.
As an Atom subscriber, you'll have a parent dashboard which offers data-driven insights into your child's progress. You can use this effectively to help your child set targets, see a detailed breakdown of their progress by subtopic and set custom practices to target those they find most challenging.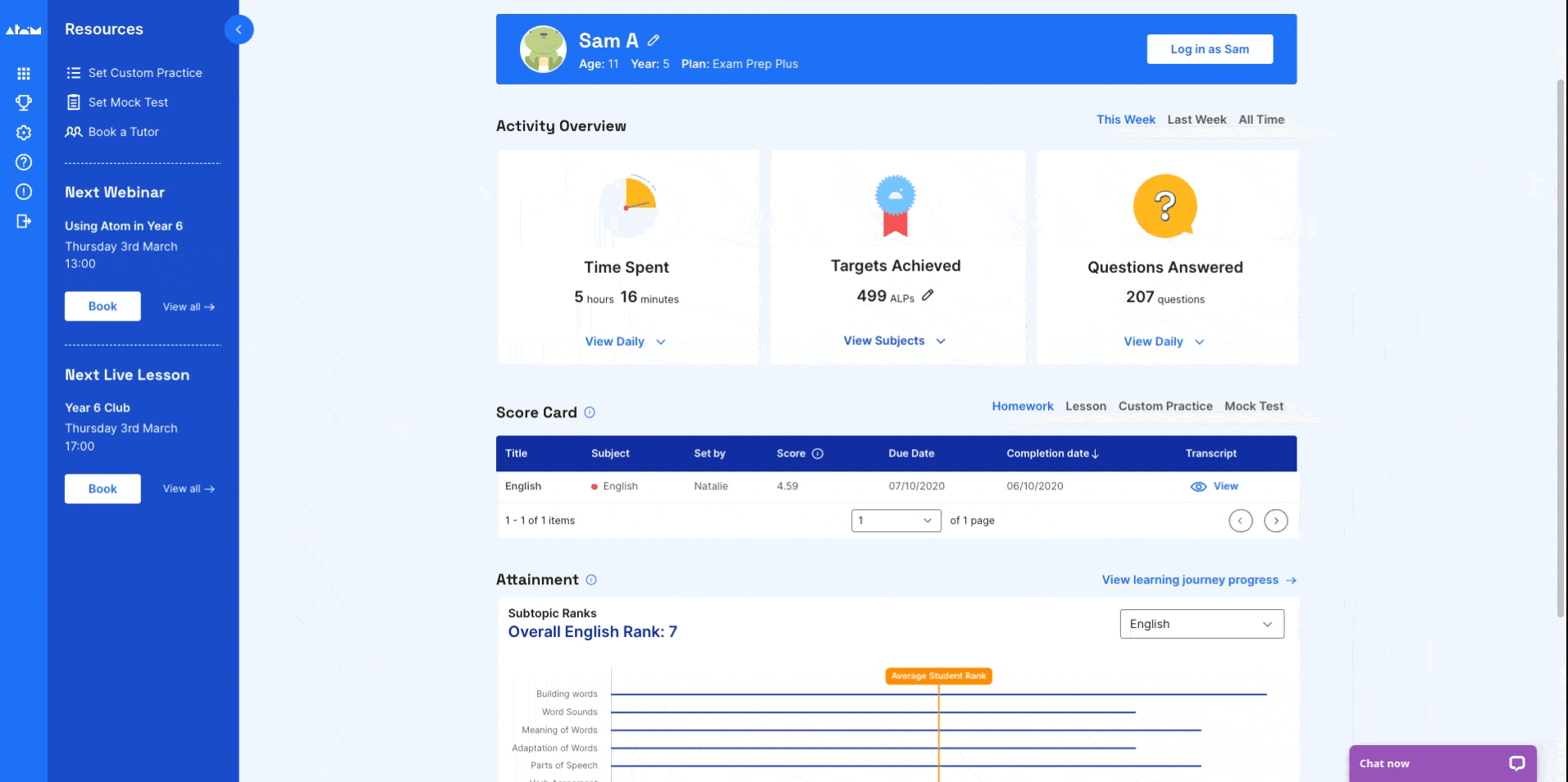 ---
Get started with Atom Learning
It's our mission to help your child feel prepared and confident before the exam day. Begin your free 5-day free trial of Nucleus today to help your child succeed.
We know how crucial this time is, so our team is on hand to support you and your family every step of the way. You can book a call with one of our Education Experts to ask any questions you might have about 11 plus entry to St Albans High School:
If you're looking for exclusive tips and resources to help your child master key subjects, excel in exams and build academic confidence, join Atom's email list:

Parent WhatsApp groups
Preparing for entrance exams in 2023? Why not join our Exam Preparation group on WhatsApp? Get access to free resources and advice, and ask our Education Experts any questions you have about the admissions process and your child's upcoming exams.