Tormead School is an independent day school for girls aged 4–18 in Surrey, southeast England.
The school prides itself on nurturing flexibility of thought and resilience in its pupils – both key for future-proofing them in a world where traditional professions will be disrupted by the impact of AI and robotics. Tormead has been named an Apple Distinguished School for its use of Apple technology to connect students to the world, fuel creativity, deepen collaboration and make learning personal.
Due to the relatively small size of the school, every girl at Tormead is visible and well-known as an individual. Well-being is at the core of each child's educational journey; every girl has access to a number of free and confidential counselling sessions per year, while a pupil support officer is available daily as a listening ear for any pupil.
Tormead School has achieved accreditation as a 'World Class School' through the High Performance Learning programme (HLP). This recognises those schools at the forefront of educational thinking with exceptional pupil outcomes. The school's bespoke enrichment programme, the Beacon Programme, exposes pupils to topics beyond the normal curriculum and provides them with intellectual challenges through subject-based courses, cross-curricular projects and individual portfolios.
Directory of private schools in Surrey
---
Key information for Tormead School
Head: Mr David Boyd

Address: Tormead School, Cranley Road, Guildford, Surrey GU1 2JD

County: Surrey

Admissions contact: Mrs Jo Drury – [email protected], 01483 796040

Age range and gender: 4–18, girls only

Number of pupils: 740

Open day date: Friday 23rd September and Saturday 1st October 2022 – book online

Overview of selection procedure: activity morning, interview, school reference and ISEB Common Pre-Test

Registration opens: Currently open – apply on the Tormead School website

Registration closes: Monday 31st October 2022

Assessment date: Saturday 3rd December 2022

Scholarship assessment date: Tuesday 3rd January 2023 (art, drama and music) and Saturday 7th January 2023 (sport)
Tormead School fees and financial assistance
The tuition fees at Tormead School from autumn 2022 are £5,904 per term for pupils in Years 7 to 13. Lunch is an additional cost of £325 per term.
Tormead School is committed to broadening access by offering means-tested financial support to eligible parents and guardians. Entrance bursaries may be awarded in the form of a discount of up to 100% of the school fees and may include assistance with additional expenses (such as school uniform, residential trips, school lunch and transport). The number of bursaries available each year is limited.
The school offers a range of scholarships to acknowledge and celebrate pupils' achievements and talents. Available scholarships include academic, art, drama, music and sport, and are worth up to 10% of the current tuition fees (music scholars additionally receive free tuition at Tormead School for one instrument). All scholarships are renewed annually.
Tormead School offers a sibling discount for the third and subsequent daughters of a family (all girls must be in attendance at the school at the same time). The discount is one-third of the term's tuition fees.
Tormead School term dates
The term dates at Tormead School for 2022–23 are:
Autumn term: 5th September – 14th December 2022

Half term: 17th–28th October 2022

Spring term: 5th January – 24th March 2023

Half term: 13th–17th February 2023

Summer term: 17th April – 7th July 2023

Half term: 29th May – 2nd June 2023
Admissions process for Year 7 entry to Tormead School
Tormead School encourages families to visit at one of the published open events, or by arranging a one-off visit with the admissions office. After you have visited the school, you will then need to complete the online registration form and pay the registration fee of £125 before Monday 31st October 2022.
Girls who are registered will be invited to the 11+ Registered Candidates' Activity Morning on Saturday 19th November 2022. This is an optional event, which will give girls the opportunity to join in a range of sports, creative, and academic activities as a taster of life at Tormead School.
All candidates will be required to take the online entrance exam on Saturday 3rd December 2022. Tormead School uses the ISEB Common Pre-Test for its 11 plus exam (see more information below). Every child is also invited to an interview on Tuesday 3rd January 2023.
Academic scholarships are automatically awarded to children based on their performance in the entrance exam. If your daughter has applied for a music, drama, art or sports scholarship, she will undergo additional testing:
Art scholarships: candidates must submit a collection of their recent work and/or a selection of their sketchbooks on the day of the entrance exam. Shortlisted candidates are invited to an interview and a one-hour drawing test on Tuesday 3rd January 2023.

Drama scholarships: candidates must submit a portfolio, which may include certificates from drama exams, photos and/or programmes from productions they have performed in and seen, and reviews of productions or reflections on workshops. Shortlisted candidates are invited to Tormead School for a 20-minute audition on Tuesday 3rd January 2023.

Music scholarships: candidates should be playing at approximately Grade 4 or 5 standard on their principal instrument and show evidence of attainment on a second instrument. Auditions will take place on Tuesday 3rd January 2023, where candidates will be expected to perform two contrasting pieces of music on their principal instrument and one piece on their second and undergo aural and sight-reading tests, together with a short interview.

Sports scholarships: candidates must submit a one-page sporting CV. Shortlisted candidates will be invited to an assessment day on Saturday 7th January 2023.
Tormead School sends the outcome of candidates' applications to families on Friday 20th January 2023.
Tormead School 11 plus exam
All pupils applying to Tormead School for 11 plus entry in 2023 will take the ISEB Common Pre-Test on Tuesday 3rd January 2023.
This is an adaptive online exam which covers English, maths, verbal reasoning and non-verbal reasoning. The English and maths sections are based on the Key Stage 2 national curriculum taught up until the end of Year 5, while verbal reasoning and non-verbal reasoning assess children's logical thinking and problem-solving skills.
It takes about two and a half hours to sit all four sections of the ISEB Common Pre-Test:
English: questions test comprehension, spelling, punctuation and grammar.

Maths: questions assess the topics of number, measurement, data, algebra and geometry

Verbal reasoning: questions are split across six different topics. In 2021, the topics that appeared in the ISEB Common Pre-Test were letter codes, homographs, antonyms, join the words, transfer a letter and number codes.

Non-verbal reasoning: questions are split over three topics. In 2021, The topics featured in the ISEB Common Pre-Test were pairing shapes, matching to a pair and finding a code.
Take a look at our complete guide to the ISEB Common Pre-Test for more detailed information about what the test involves.
Atom's complete guide to the ISEB Common Pre-Test
How to help your child prepare for the selection process at Tormead School
Build foundational knowledge
For entry to Tormead School, candidates are tested across the Key Stage 2 curriculum – and beyond – with questions on English, maths, verbal reasoning and non-verbal reasoning in the ISEB Common Pre-test.
Atom Nucleus can help your daughter consolidate everything they need to know for the exam, with over 90,000 interactive practice questions that span the Key Stage 2 core curriculum, in addition to verbal and non-verbal reasoning.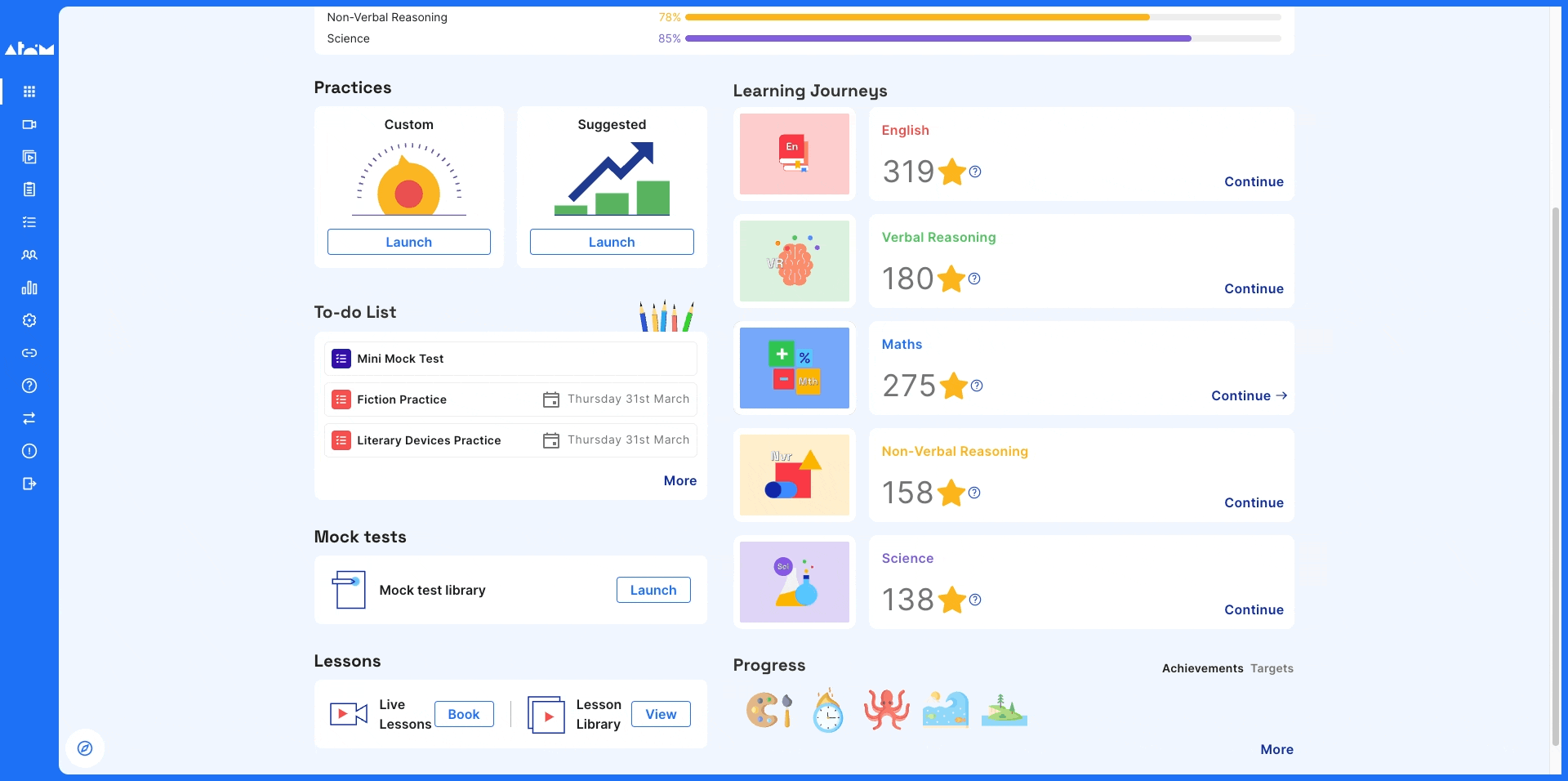 Preparation is key
Familiarisation with the question formats and known styles ahead of the exam is essential to help your child build exam confidence.
An exam preparation subscription with Atom Nucleus enables your child to access quality, unlimited practice material with full score breakdowns to help them feel confident by the time the exam day comes around. Best of all, your child can take unlimited practice tests – including the ISEB Common Pre-Test – for one monthly cost.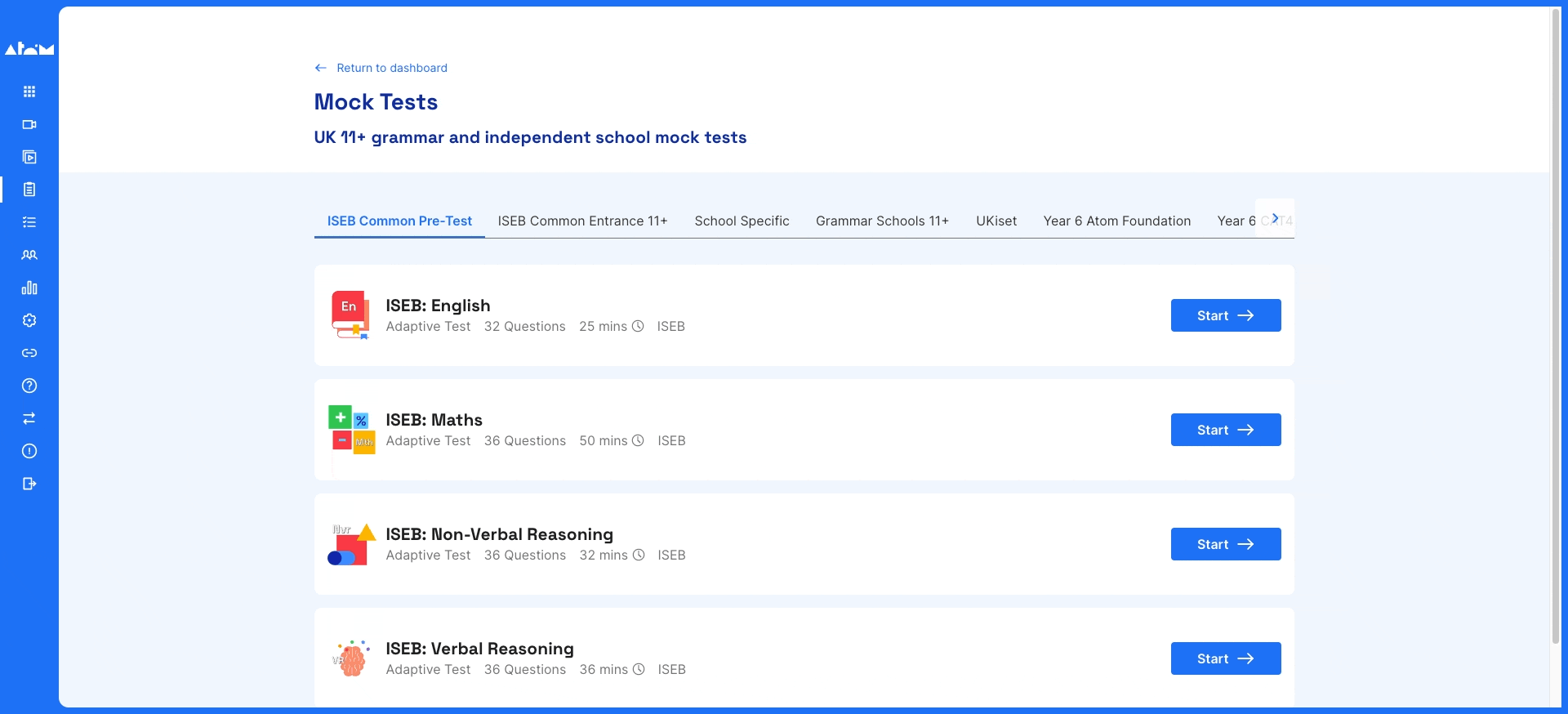 When working through challenging topics, your child will need immediate clarity with any misconceptions so that they feel truly secure in every topic. Atom Nucleus includes video tutorials, help sheets and examples with every question to help your child build confidence and competence across all the areas assessed.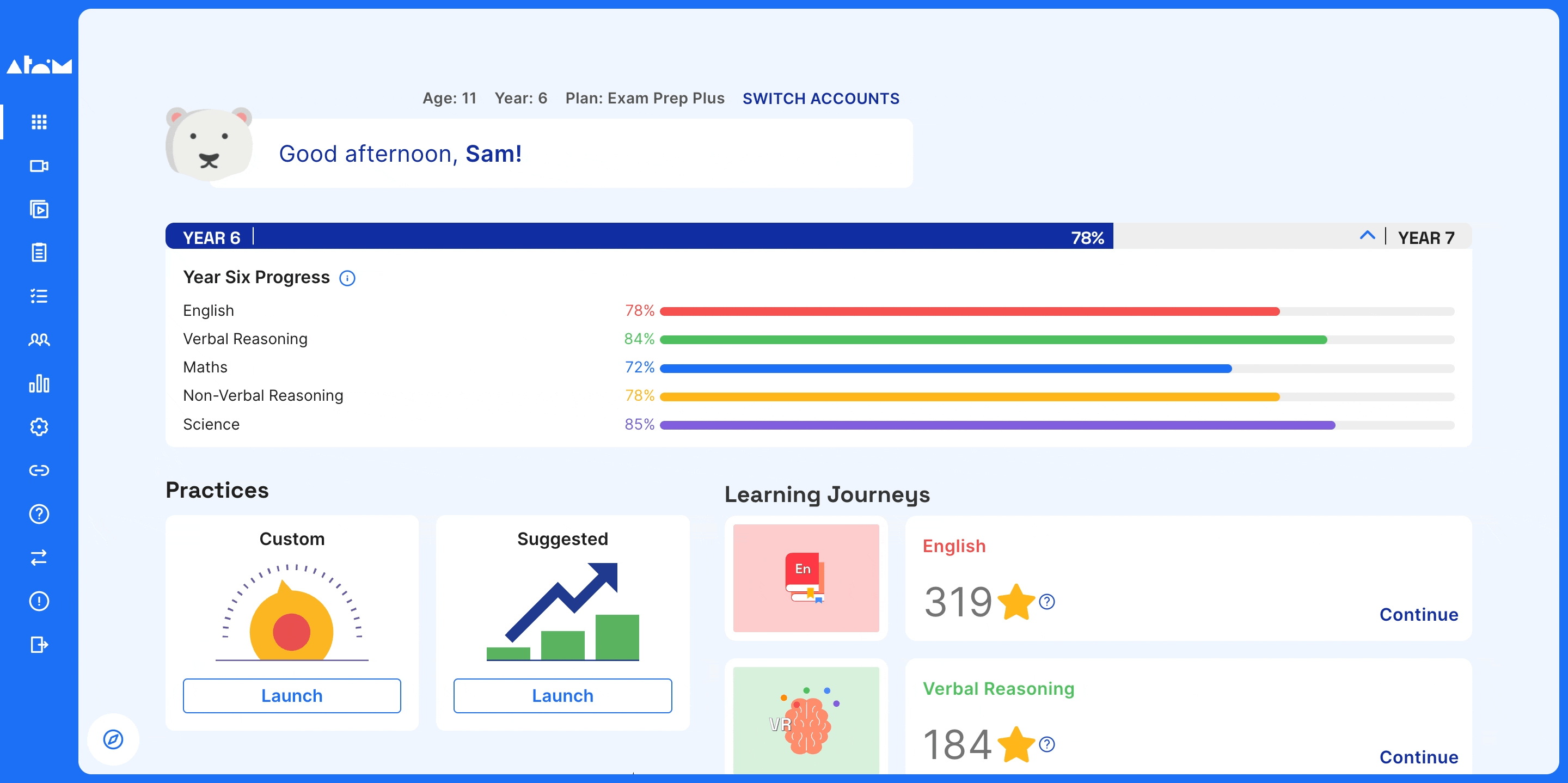 Engage with their progress
Celebrate your child's improvement in areas of challenge together. An accurate and ongoing assessment of their areas of strength and development is helpful.
As an Atom subscriber, you'll have a parent dashboard which offers data-driven insights into your child's progress. You can use this effectively to help your child set targets, see a detailed breakdown of their progress by subtopic and set custom practices to target those they find most challenging.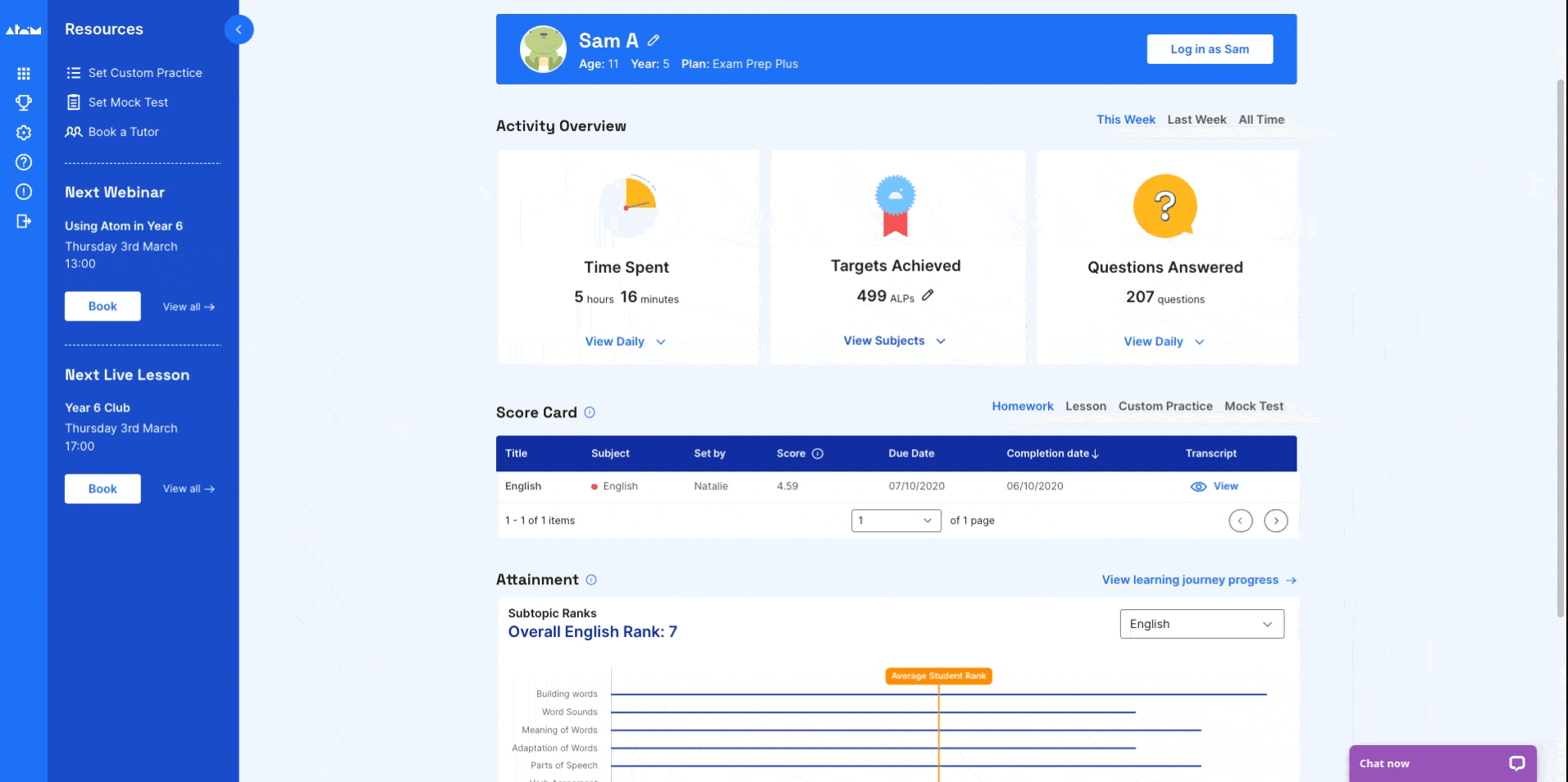 ---
Get started with Atom Learning
It's our mission to help your child feel prepared and confident before the exam day. Begin your free 5-day free trial of Nucleus today to help your child succeed.
We know how crucial this time is, so our team is on hand to support you and your family every step of the way. You can book a call with one of our Education Experts to ask any questions you might have about 11 plus entry to Tormead School:
If you're looking for exclusive tips and resources to help your child master key subjects, excel in exams and build academic confidence, join Atom's email list:

Parent WhatsApp groups
Preparing for entrance exams in 2023? Why not join our Exam Preparation group on WhatsApp? Get access to free resources and advice, and ask our Education Experts any questions you have about the admissions process and your child's upcoming exams.