Babington House School is an independent day school for boys and girls aged 3–18 located in Chislehurst, on the edge of South East London. The school strives for academic rigour in all areas and encourages pupils to develop independent thinking and personal confidence.
Small class sizes at Babington House School create a strong sense of community. Every child is known as an individual, with pupils carefully monitored through tailored, well-directed learning and excellent pastoral care. Form tutors watch over the personal development of their class, while the school's house and 'buddy' system help pupils develop self-discipline and concern for one another.
Babington House School sets a brisk academic pace. In 2021, 79% of A level grades were awarded A*–A, with 44% of GCSE pupils achieving grades 9–8 (A* equivalent). Many students leave Babington House School at the age of 18 for well-respected university destinations (many of them within the Russell Group) and degree courses including medicine, economics, business and law.
Beyond the classroom, pupils at Babington House School have plenty of co-curricular activities to enjoy, including competitive sports (netball, football, rugby, athletics, cross country, rounders and swimming), leisure sports (rock climbing, horse riding, trampolining and tennis), music and drama productions and artistic pursuits through fine art, textiles and product design.
Key information for Babington House School
Head Teacher: Mr Tim Lello

Address: Babington House School, Grange Drive, Chislehurst, Kent BR7 5ES

London Borough: Bromley

Admissions contact: Miss Sophie James – [email protected], 020 8467 5537 (extension 222)

Age range and gender: 3–18, boys and girls

Number of pupils: 437

Number of places in Year 7: Undisclosed

Ratio of applicants to places: Undisclosed

Open day date: Saturday 8th October 2022. Book a place online.

Overview of selection procedure: Entrance exam, school report and reference

Registration opens: Currently open – apply online

Registration closes: October 2022 (date TBC)

Assessment date: November 2022 (date TBC)

Scholarship assessment date: November 2022 (date TBC)
Babington House School fees and financial assistance
The senior school fees at Babington House School (relevant to pupils in Years 7–11) are £5,725 per term. This includes school lunches.
Bursaries (means-tested financial assistance) are limited in number and are normally only provided to existing pupils for a short period of time. For more information, contact the school directly.
Babington House School offers scholarships for academic, sporting, dramatic and artistic endeavours, in addition to an 'all-rounder' scholarship for pupils who show aptitude across a number of different areas. For more details about scholarships at the school, including fee remission, contact the admissions registrar at [email protected].
Babington House School term dates
The term dates at Babington House School for 2022–23 are:
Autumn term: 5th September – 9th December 2022

Half term: 17th–28th October 2022

Spring term: 3rd January – 24th March 2023

Half term: 13th–17th February 2023

Summer term: 17th April – 7th July 2023

Half term: 29th May – 2nd June 2023
Admissions process for Year 7 entry to Babington House School
If you would like to register your child for Year 7 entry to Babington House School, you will need to complete the online application form and pay the non-refundable registration fee of £100 before the deadline in October (date TBC). The school is happy to admit young people at any time during the school year, provided there is enough space and that the child fills the entry criteria.
Once your child has been registered and the registration fee paid, they will be invited to Babington House School for a taster day and a school assessment. The school will also take up references from your child's current school and will request two years' worth of your child's most recent school reports. Pupils are automatically considered for Academic Scholarships on the basis of the entrance exam, while pupils who apply for a co-curricular scholarship will take an additional assessment to test their aptitude in the selected area during the same week as the main entrance exam in November.
After considering the results of the entrance exam, the child's references and school reports, the head teacher will discuss place availability with you at an interview. Babington House School applies the following criteria in order of priority when making offers of places:
Children of staff

Siblings of current pupils

Date of application (based on two lists per class, boys and girls, to provide an equal gender split where possible)
Babington House School entrance exam
Pupils applying for Year 7 entry to Babington House School will take an entrance exam which assesses their academic ability and potential. This exam involves tests in the following subjects:
How to help your child prepare for the selection process at Babington House School
Build foundational knowledge
For entry to Babington House School, candidates are tested across the Key Stage 2 curriculum – and beyond – with questions on English, maths, verbal reasoning and non-verbal reasoning. With an Atom Nucleus Exam Prep Plus subscription, your child can consolidate everything they need to know for the exam.
Preparation is key
Familiarisation with the question formats and known styles ahead of the exam is essential to help your child build exam confidence.
An exam preparation subscription with Atom Nucleus enables your child to access quality, unlimited practice material with full score breakdowns to help your child feel confident by the time the exam day comes around. Best of all, your child can take unlimited practice tests in key 11 plus subjects for one monthly cost.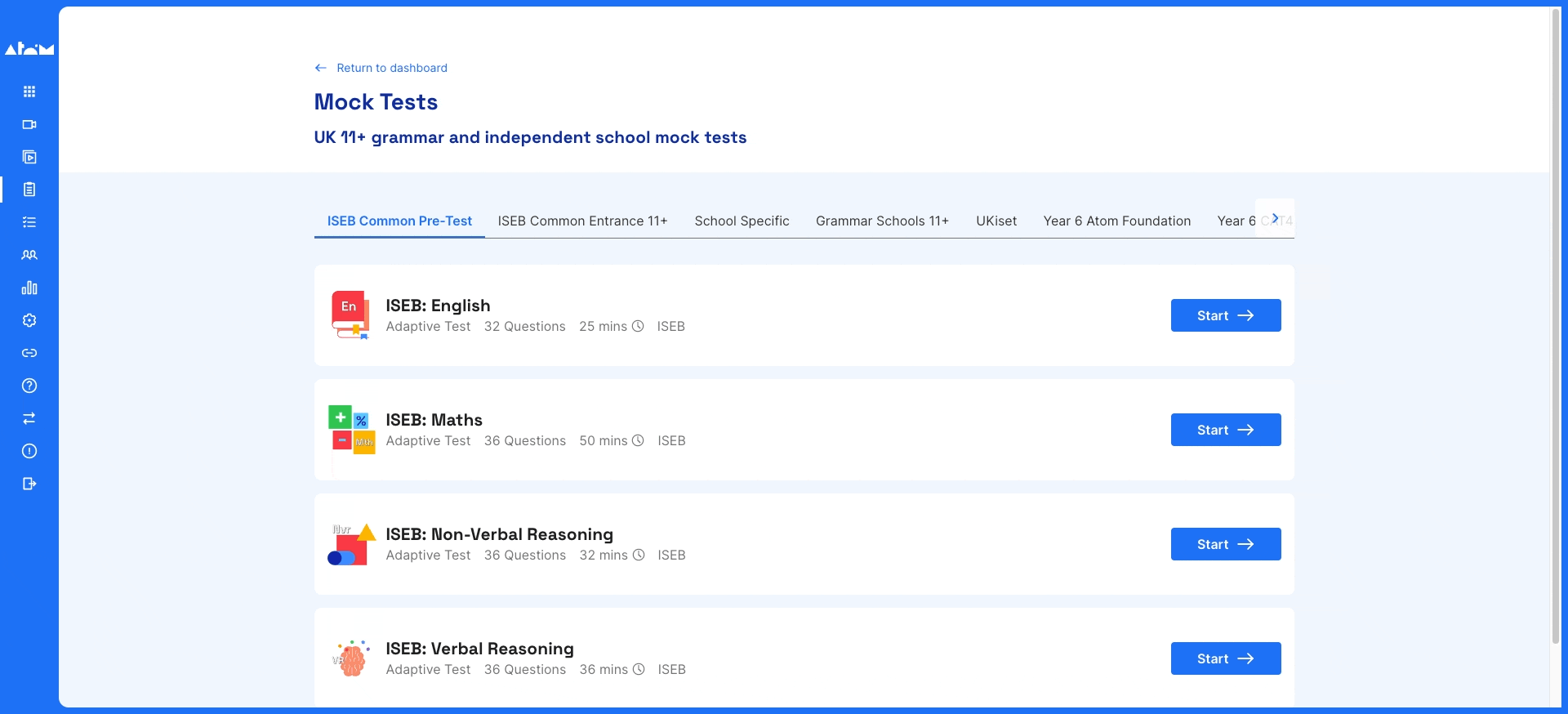 When working through challenging topics, your child will need immediate clarity with any misconceptions so that they feel truly secure in the exam.
Atom Nucleus includes video tutorials, help sheets and examples with every question to help your child build confidence and competence across all the areas assessed.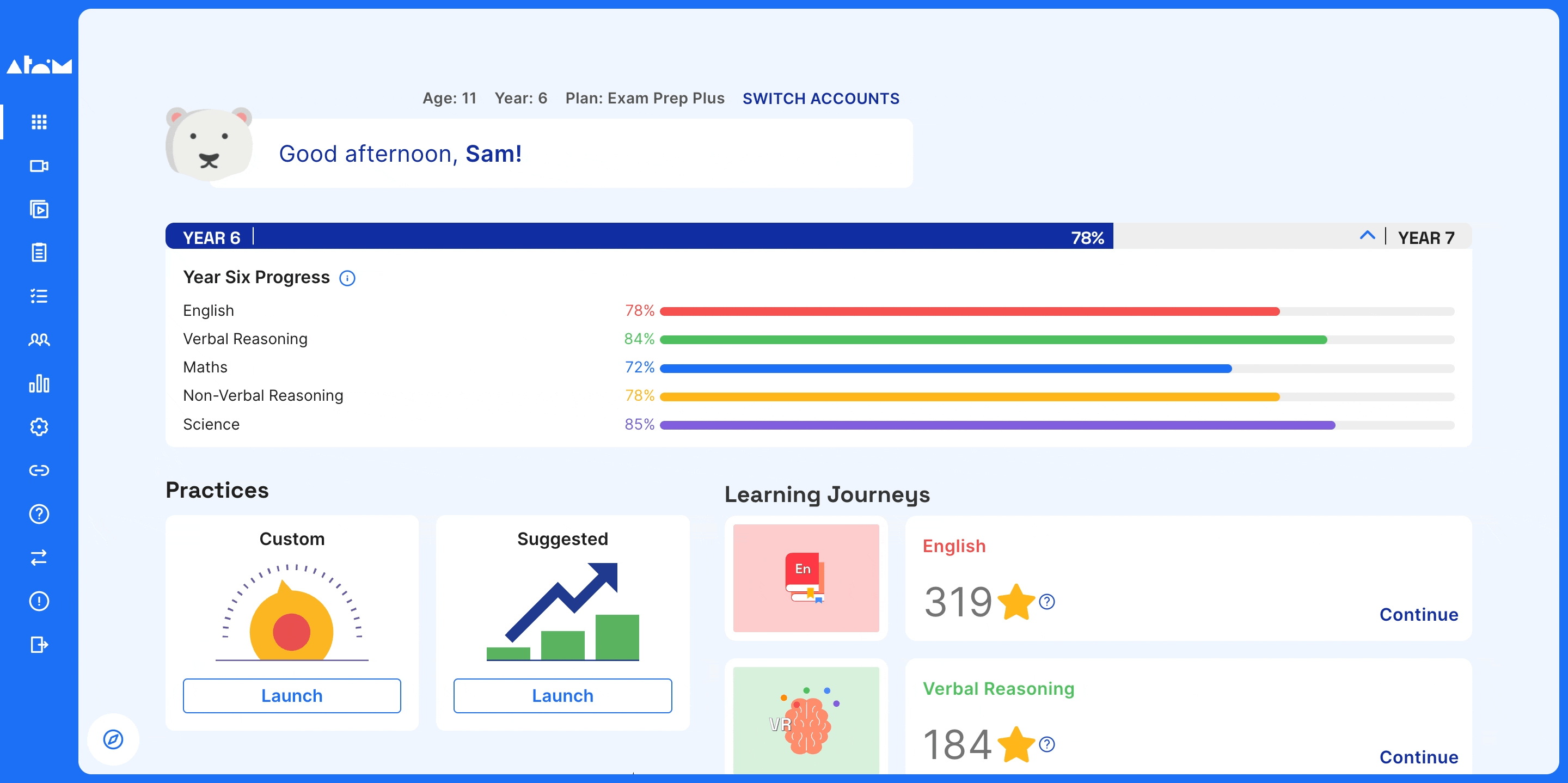 Engage with their progress
Celebrate your child's improvement in areas of challenge together. An accurate and ongoing assessment of their areas of strength and development is helpful.
As an Atom subscriber, you'll have a parent dashboard which offers data-driven insights into your child's progress. You can use this effectively to help your child set targets, see a detailed breakdown of their progress by subtopic and set custom practices to target those they find most challenging.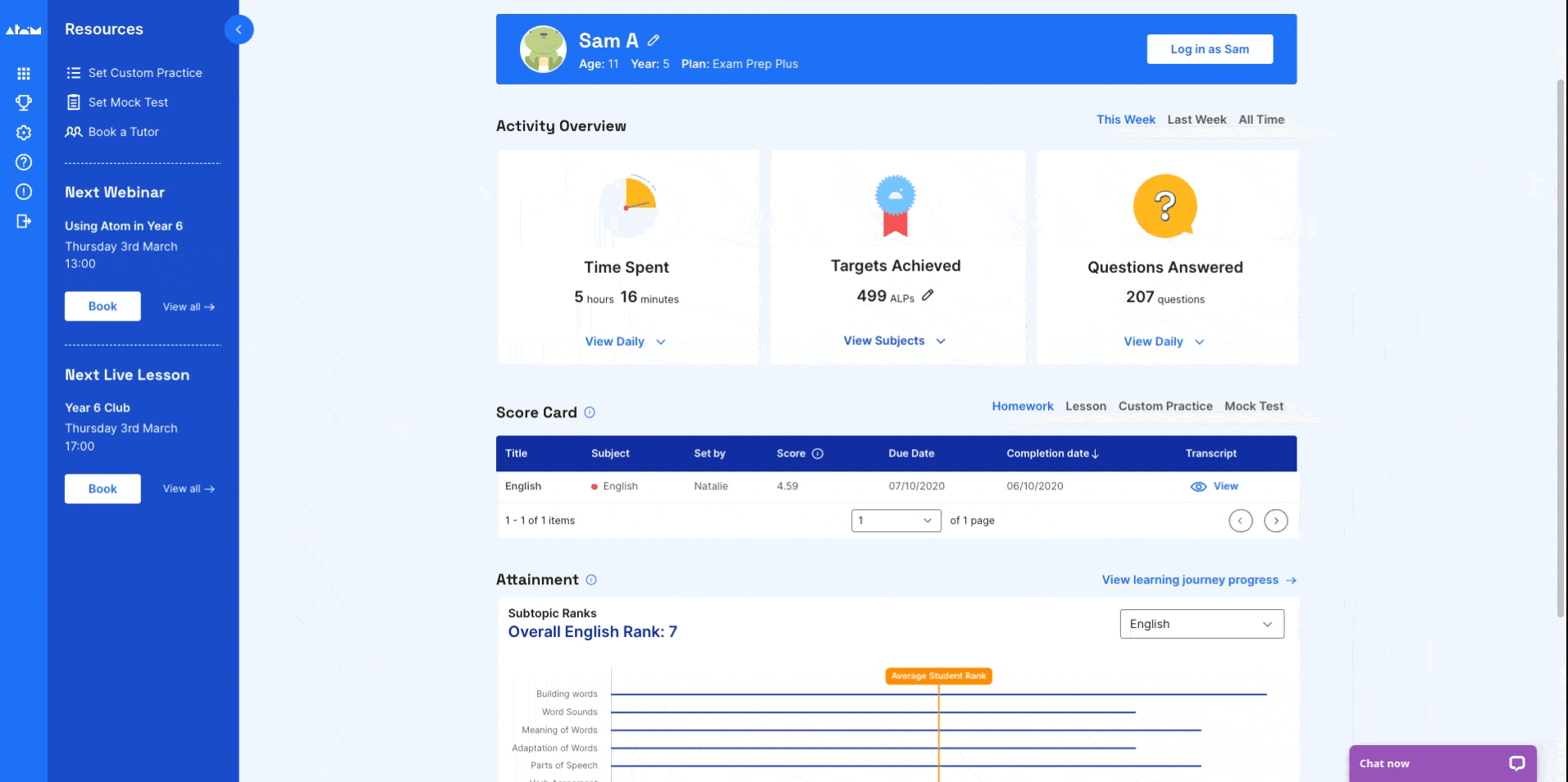 ---
Get started with Atom Learning
It's our mission to help your child feel prepared and confident before the exam day. Begin your free 5-day free trial of Nucleus today to help your child succeed.

We know how crucial this time is, so our team is on hand to support you and your family every step of the way. You can book a call with one of our Education Experts to ask any questions you might have about 11 plus entry to Babington House School:
If you're looking for exclusive tips and resources to help your child master key subjects, excel in exams and build academic confidence, join Atom's email list: