Bradford Grammar School is a co-educational independent day school in West Yorkshire. It dates back to 1548 and was re-established by Royal Charter in 1662 as the Free Grammar School of Charles II at Bradford. It became independent in 1975 and fully co-educational 24 years later.
The school's vision is to be recognised as a model of co-educational excellence with happy, hardworking and successful students. BGS embraces excellence in academia, sports and the creative arts; pupils thrive in music, drama and theatre studies, while sport helps to build camaraderie and school spirit. There are over 50 clubs and societies for pupils to explore, from Debating, to Micro, to Handmade Clubs. Teamwork and life skills are fostered through local, national and international trips (the local Yorkshire Dales is a popular spot), while all pupils in Year 10 undertake the Duke of Edinburgh Bronze Award.
Exam results are typically high; in 2021, 69% of A level grades were A*–A and 77% of GCSE results were A*/A/9/8/7. 94% of students progressed to higher education, including Oxbridge and other Russell Group universities.
The school has won a collection of accolades over the past few years, including The Sunday Times Northern Independent School of the Year 2018, among the top three independent schools in the North in 2019 and 2021 (The Sunday Times), and Independent School of the Year for Social Mobility and Best Value Independent School in the UK in 2021 (Independent Parent Magazine and the Daily Telegraph).
Key information for Bradford Grammar School
Headmaster: Dr Simon Hinchcliffe

Address: Bradford Grammar School, Keighley Road, Bradford, West Yorkshire, BD9 4JP

County: West Yorkshire

Admissions contact: Karen Hewitt – [email protected], 01274 553702

Age range and gender: 6–18, co-educational

Number of pupils: 1,052

Open day date: Saturday 1st October 2022

Overview of selection procedure: entrance exam and possible interview

Registration opens: currently open – apply online

Registration closes: Friday 6th January 2023

Assessment date: week commencing 16th January 2023
Bradford Grammar School fees and financial assistance
The current fees at Bradford Grammar School are £4,635 per term. School fees include tuition, books, stationery and pupil personal accident insurance. Lunch is charged separately and costs £3.50 per day. A 5% sibling discount is available on the termly tuition fees for third and subsequent siblings.
Bradford Grammar School offers means-tested assisted places to pupils applying for Year 7 entry. Eligible candidates are those who are academically gifted, but whose families would not otherwise be able to afford the school fees (typically from a household income of less than £70,000). If you would like to apply, you will need to submit an application by Monday 21st November 2022 at 4pm – children who have been registered for an Assisted Place will take an additional assessment on Tuesday 29th November 2022. Note that Assisted Places do not cover 100% of the school fees – the family is still expected to make a financial contribution.
Five academic scholarships are awarded, at the headmaster's discretion, to 11 plus applicants each year who demonstrate exceptional academic performance in the entrance exam. These scholarships provide a 20% reduction in fees for the duration of the child's time at BGS (subject to the maintenance of their academic performance). A further 12 scholarships (Charter Scholarships) are awarded for outstanding academic performance; these carry a monetary value of £100 per year.
Bradford Grammar School term dates
The term dates at Bradford Grammar School for 2022–23 are:
Autumn term: 6th September – 16th December 2022

Half term: 20th–28th October 2022

Spring term: 5th January – 31st March 2023

Half term: 13th–17th February 2023

Summer term: 17th April – 7th July 2023

Half term: 29th May – 2nd June 2023
The 2023-24 term dates at Bradford Grammar School are:
Autumn term: 7th September – 20th December 2023

Half term: 23rd–31st October 2023

Spring term: 8th January – 22nd March 2024

Half term: 12th–16th February 2024

Summer term: 8th April – 5th July 2024

Half term: 27th–31st May 2024
Admissions process for Year 7 entry to Bradford Grammar School
If you would like to register your child for 11 plus entry to Bradford Grammar School in 2023, you will need to complete the online application form and pay the non-refundable fee of £50 before Friday 6th January 2023. Shortly after this, you will receive information confirming your child's assessment date – this will take place during the week commencing 16th January 2023. You will also be sent specimen questions in advance of the test.
If your child is eligible for an assisted place, you will need to submit a separate application form by 4pm on Monday 21st November 2022. Candidates registered for an assisted place will sit the Assisted Places Awards assessment on Tuesday 29th November 2022, with successful candidates going forward to sit the main entrance exam in January. Further details of this will be forward upon receipt of the completed application form.
All registered candidates will attend the Bradford Grammar School assessment day in mid-January. This will consist of an exam in the morning, followed by practical group activities, led by the headmaster and the head of Year 7, in the afternoon. This is an opportunity for the staff to get to see your child in a relaxed environment.
A letter with the results of your child's application will be posted to you at the start of February 2023, together with an invitation for successful candidates to join a taster day.
Bradford Grammar School 11 plus exam
Candidates who are registered for Year 7 entry to Bradford Grammar School in 2023 will take two papers in mid-January 2023:
English: children are tested on their reading comprehension and creative writing skills, including SPaG (spelling, punctuation and grammar), inference and deduction.

Maths: children are tested on their knowledge and understanding of the national Key Stage 2 maths curriculum. The questions are in standard format (not multiple-choice) and will test candidates on their mathematical and problem-solving ability. Take a look at our guide to 11 plus maths for more information.
How to help your child prepare for the selection process at Bradford Grammar School
Build foundational knowledge
The 11 plus exam at Bradford Grammar School assesses candidates' knowledge and understanding of the Key Stage 2 national curriculum for English and maths.
With a subscription to Atom Nucleus, your child can consolidate everything they need to know for the Bradford Grammar School 11 plus, with over 90,000 interactive teacher-created questions and best-in-class learning resources that span the curriculum from Year 3 to Year 6.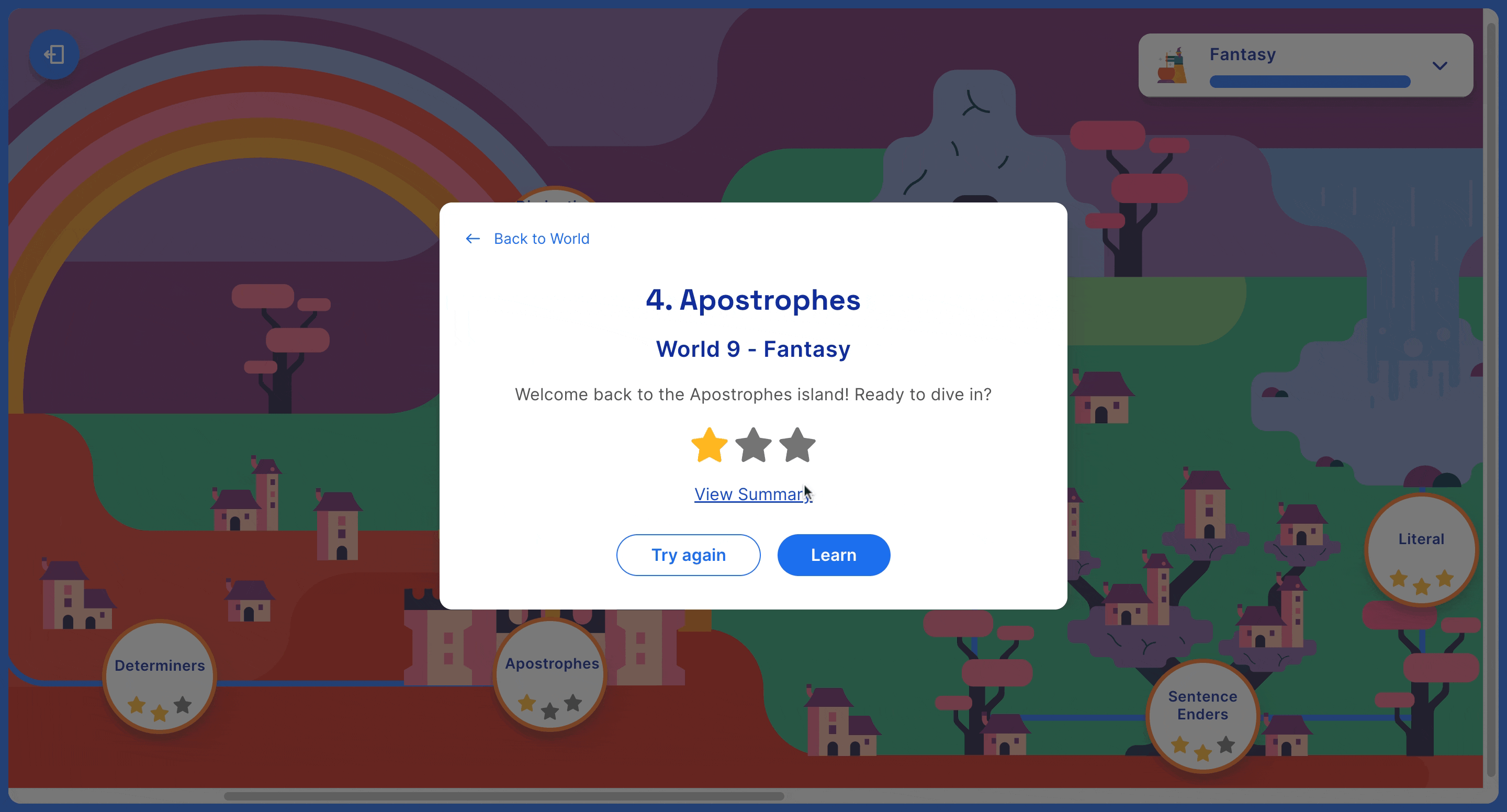 Preparation is key
Familiarisation with the question formats and known styles ahead of the exam is essential to help your child build exam confidence. An exam preparation subscription with Atom Nucleus enables your child to access quality, unlimited practice material with full score breakdowns to help your child feel confident by the time the exam day comes around.
Candidates can practice exam skills on Atom Nucleus using Year 6 foundation tests in English and maths.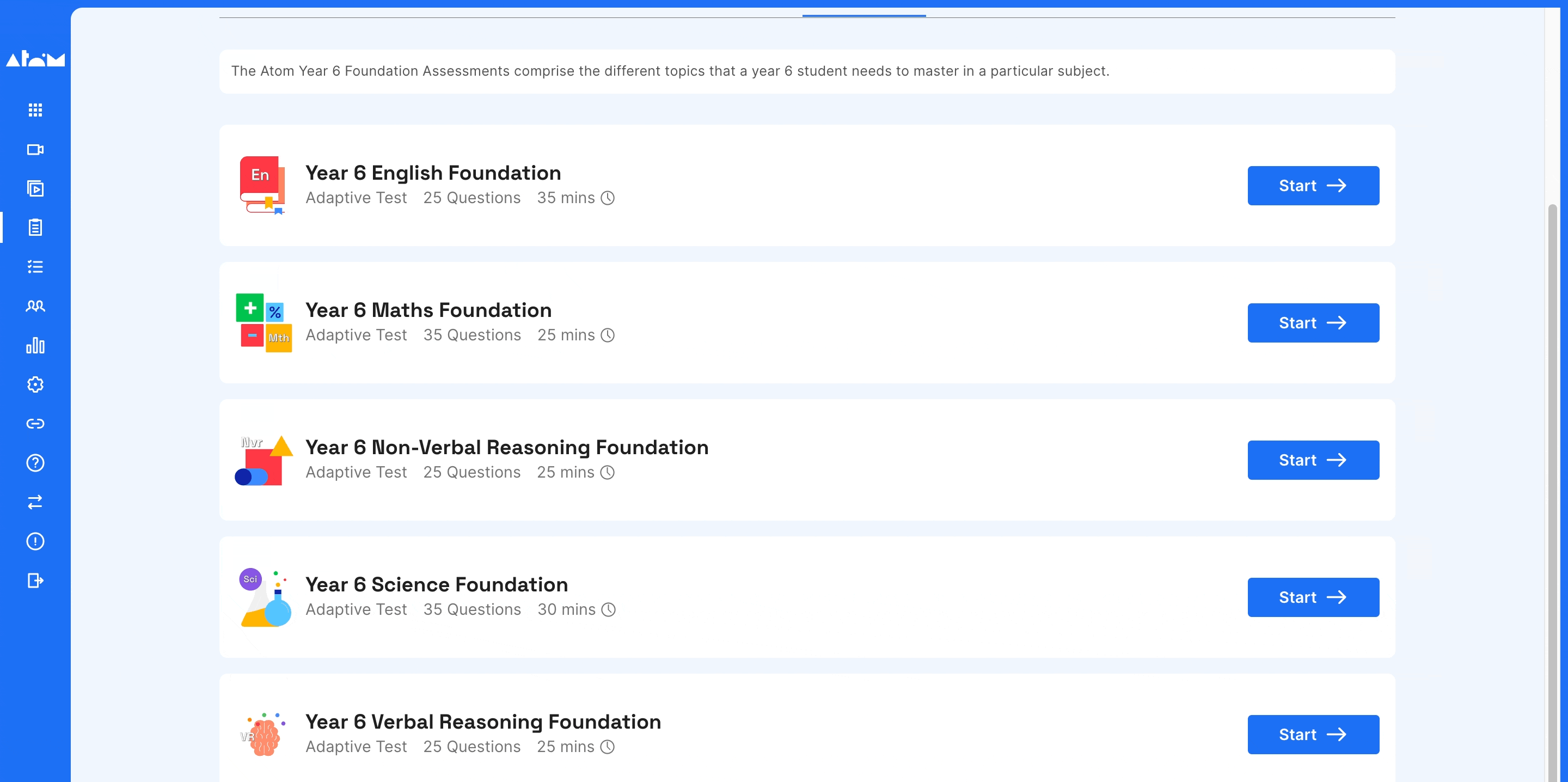 When working through challenging topics, your child will need immediate clarity with any misconceptions so that they feel truly secure in every topic. Atom Nucleus includes video tutorials, help sheets and examples with every question to help your child build confidence and competence across all the areas assessed.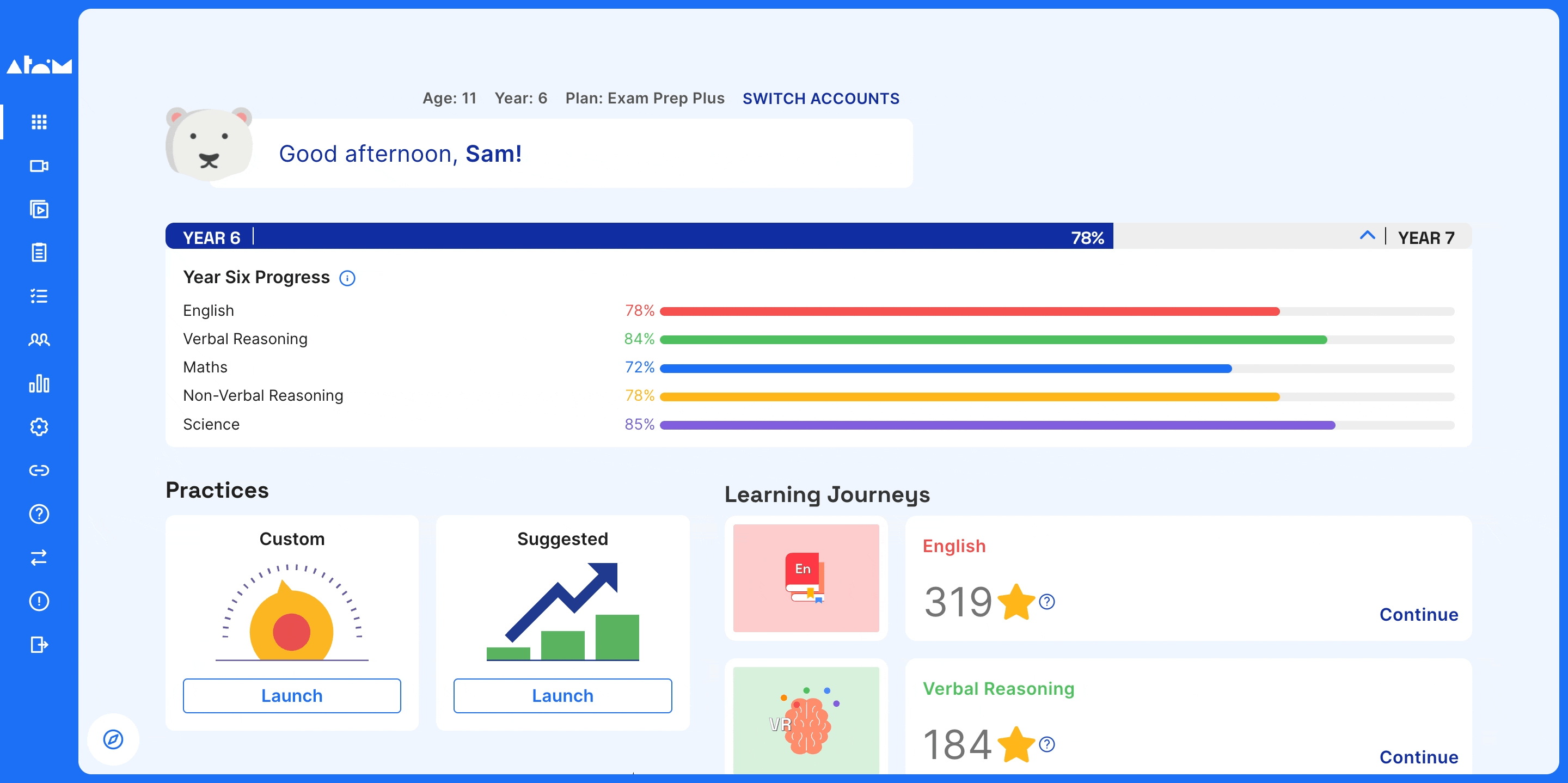 Engage with their progress
Celebrate your child's improvement in areas of challenge together. An accurate and ongoing assessment of their areas of strength and development is helpful.
As an Atom subscriber, you'll have a parent dashboard which offers data-driven insights into your child's progress. You can use this effectively to help your child set targets, see a detailed breakdown of their progress by subtopic and set custom practices to target those they find most challenging.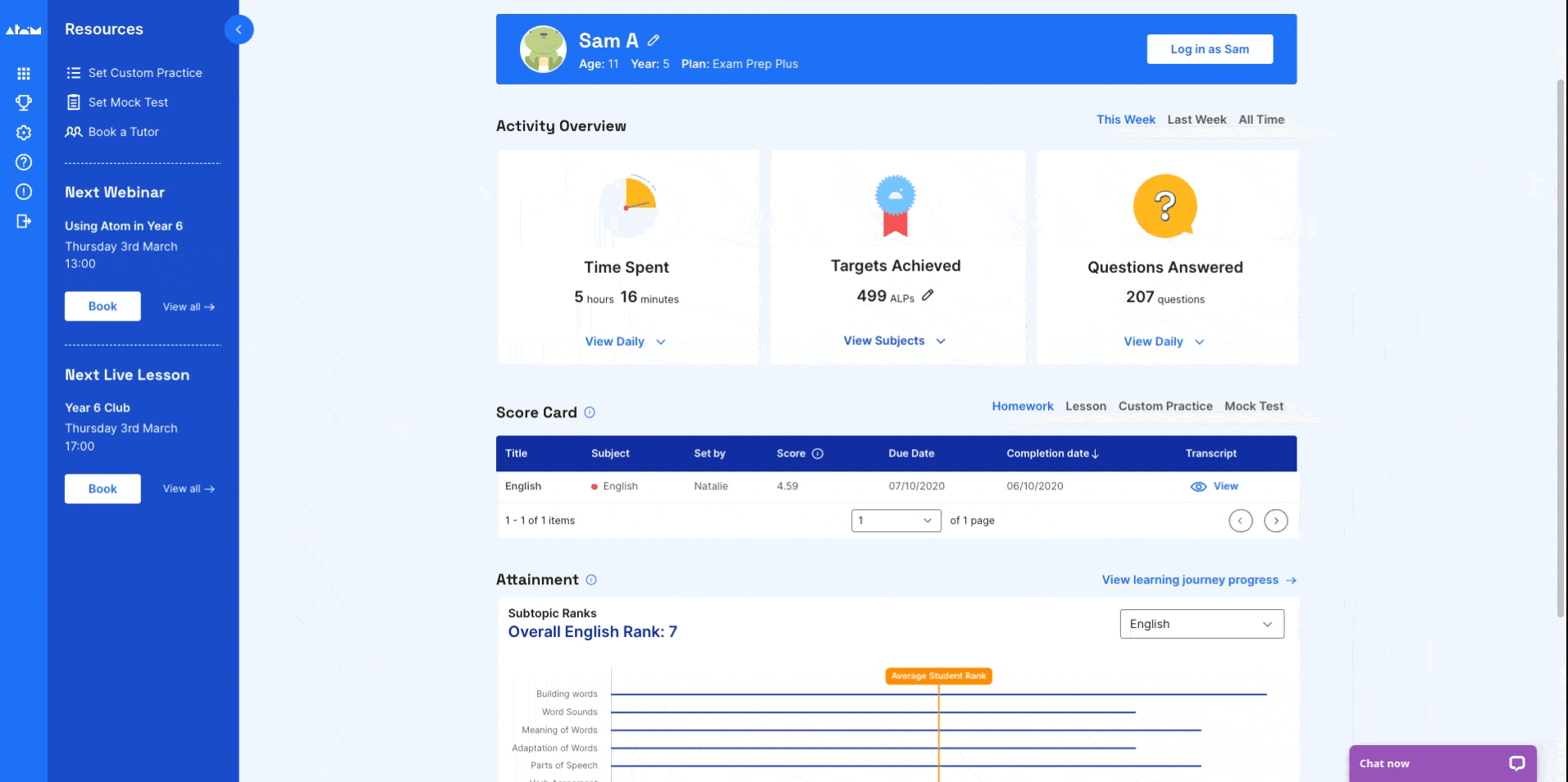 ---
Get started with Atom Learning
It's our mission to help your child feel prepared and confident before the exam day. Begin your free 5-day free trial of Nucleus today to help your child succeed.
We know how crucial this time is, so our team is on hand to support you and your family every step of the way. You can book a call with one of our Education Experts to ask any questions you might have about 11 plus entry to Bradford Grammar School:
If you're looking for exclusive tips and resources to help your child master key subjects, excel in exams and build academic confidence, join Atom's email list:

Parent WhatsApp groups
Preparing for entrance exams in 2023? Why not join our Exam Preparation group on WhatsApp? Get access to free resources and advice, and ask our Education Experts any questions you have about the admissions process and your child's upcoming exams.