Caterham School is an independent day and boarding school for boys and girls aged 18 in Caterham, Surrey. The school has an impressive number of accolades, including the Ed Tech 50 Award (2019) and the National Children's Bureau Wellbeing Award (2019–2022). Caterham was also formally accredited as an Apple Distinguished School in 2018.
Facilities are extensive at Caterham. The school is located on a 200-acre campus in the Harestone Valley within the Surrey Hills and incorporates sports fields, woodlands, a high ropes course, and an outdoor learning centre. Within the school buildings, pupils have access to an indoor pool, fitness centre, two theatres, a dance studio, and a dedicated digital innovation centre.
Pupils at Caterham consistently achieve excellent results in public exams. In 2022, over 90% of A level grades were A*–B (40% alone were A*) and 90% of GCSE grades were 9, 8 and 7 (previously A* to A). 85% of leavers secured their first choice university and course, while the school's established tradition of producing medics continued with seven students taking up places to read medicine at university.
Beyond academic study, pupils are encouraged to find their voice and develop the skills needed to transition into adulthood. Caterham School is just one of a few UK schools which dedicate weekly timetabled lessons to a range of wellbeing topics which cover the five strands of health, readiness, awareness, community, and spirituality.
Directory of private schools in Surrey
---
Key information for Caterham School
Headmaster: Mr Ceri Jones

Address: Caterham School, Harestone Valley Road, Caterham, Surrey, CR3 6YA

County: Surrey

Admissions contact: Mrs Alison Jones – [email protected], 01883 343028

Age range and gender: 11–18, co-educational

Number of pupils: 965

Open day date: Thursday 2nd February 2023 and Wednesday 15th March 2023. More details are available on the school website.

Overview of selection procedure: ISEB Common Pre-Test, interview, experience day (including school's own assessments), and school reference

Registration closes: November of Year 6

Assessment date: November–December of Year 6 (ISEB Common Pre-Test) and January of Year 6 (Caterham School assessments)
Caterham School fees and financial assistance
The current fees at Caterham School are £6,955 per term for day pupils. Boarding is available from Year 9 onwards and costs between £11,830 and £14,180 per term (weekly to full boarding). Lunch is not included in the school fees and costs £265 per term.
Caterham School is committed to ensuring that all talented children have the opportunity to benefit from its education, irrespective of parental income or background. There are a range of means-tested financial support available for 11 plus candidates:
William Wilberforce bursaries (also known as transformational bursaries): up to 100% of fees, available for day and boarding candidates who are UK residents. Extra support may be available for the cost of transport, school uniform and school trips.

The Eynon Award: up to 100% of school tuition fees, available to the children of former pupils of Caterham and Eothen Schools.

United Reform Church (URC) bursaries: 30% (minimum) of school tuition fees, available to the children of URC clergy. 100% may be available in particular cases.

Assisted place: up to 50% of school tuition fees (possibly more in exceptional cases).
Scholarships are also available for 11 plus candidates. These awards are made without regard to parental income and are usually worth a percentage of the school fees. Up to 50% is available for academic scholarships, and between 10% and 30% for co-curricular scholarships (art & design, chess, dance, drama, innovation & entrepreneurship, music, and sports).
Caterham School term dates
The term dates at Caterham School for 2022–23 are:
Autumn term: 6th September – 14th December 2022

Half term: 14th–21st October 2022

Spring term: 6th January – 24th March 2023

Half term: 10th–20th February 2023

Summer term: 17th April – 7th July 2023

Half term: 26th May – 5th June 2023
Admissions process for Year 7 entry to Caterham School
Caterham School is academically selective. Pupils wishing to attend Caterham School will undergo academic assessments and will need to demonstrate their likely positive wider contribution to the school.
If you would like your child to be considered for a place in Year 7 at Caterham School, you will need to submit an application by early November of Year 6.
All candidates will be interviewed in the same month, and will sit the ISEB Common Pre-Test in the second half of the autumn term either at their current school or at Caterham School. A reference will also be sought from your child's current school.
All children will then be invited to the school's EDGE experience day in January of Year 6. This is a unique assessment day, designed by Caterham School, which includes entry assessments in addition to collaborative team problem-solving activities.
Academic scholarships are automatically awarded to candidates based on their performance throughout the admissions process (no separate application is required). However, if your child has applied for a co-curricular scholarship, they will undergo specific scholarship assessments in January of Year 6.
Caterham School will email its 11 plus decision letters to families in February of Year 6. If your child is awarded a place, you will have until a specified date in March to accept.
Caterham School 11 plus exam
Stage one: the ISEB Common Pre-Test
All candidates applying for entry to Caterham School in Year 7 will take the ISEB Common Pre-Test during the autumn term of Year 6. This test is taken online and is adaptive, meaning that the questions become more difficult depending on how your child is performing.
You will need to register your child separately for the ISEB via the ISEB website. You only need to register your child once, regardless of how many schools you are applying for.
The test takes about 2 hours and 15 minutes to complete and covers four subjects:
Atom's complete guide to the ISEB Common Pre-Test
Stage two: EDGE experience day
Caterham School's EDGE experience day is inspired by its EDGE (Explore, Develop, Grow, Evolve) curriculum, which in turn is built upon three central elements: Learning to Learn, Big Ideas and Practical Problem-Solving.
All candidates will be invited to the experience day in January of Year 6. In addition to collaborative team-building and problem-solving activities, children will also take two written assessments:
Maths: a 30-minute non-calculator paper which assesses children on their knowledge of Key Stage 1 and 2. They will be tested on their numerical skills, their ability to read and interpret simple statistical diagrams and tables, and their ability to solve worded mathematical problems.

Creative, critical and innovative thinking: children will be tested on their creative writing skills and critical thinking. They will also complete a written exercise which gives them the opportunity to showcase their innovative thinking and problem-solving skills. This paper is designed to assess each child's potential, rather than what they may have studied in the past.
How to help your child prepare for the selection process at Caterham School
Build foundational knowledge
The 11+ exam at Caterham School assesses candidates' knowledge and understanding of the Key Stage 2 curriculum and beyond, with test questions covering English, maths, verbal reasoning and non-verbal reasoning in the ISEB and papers assessing creative and critical thinking ability in the school's own test.
Your child can consolidate everything they need to know with Atom Nucleus. They'll have access to over 90,000 interactive teacher-created questions and learning resources in all subjects.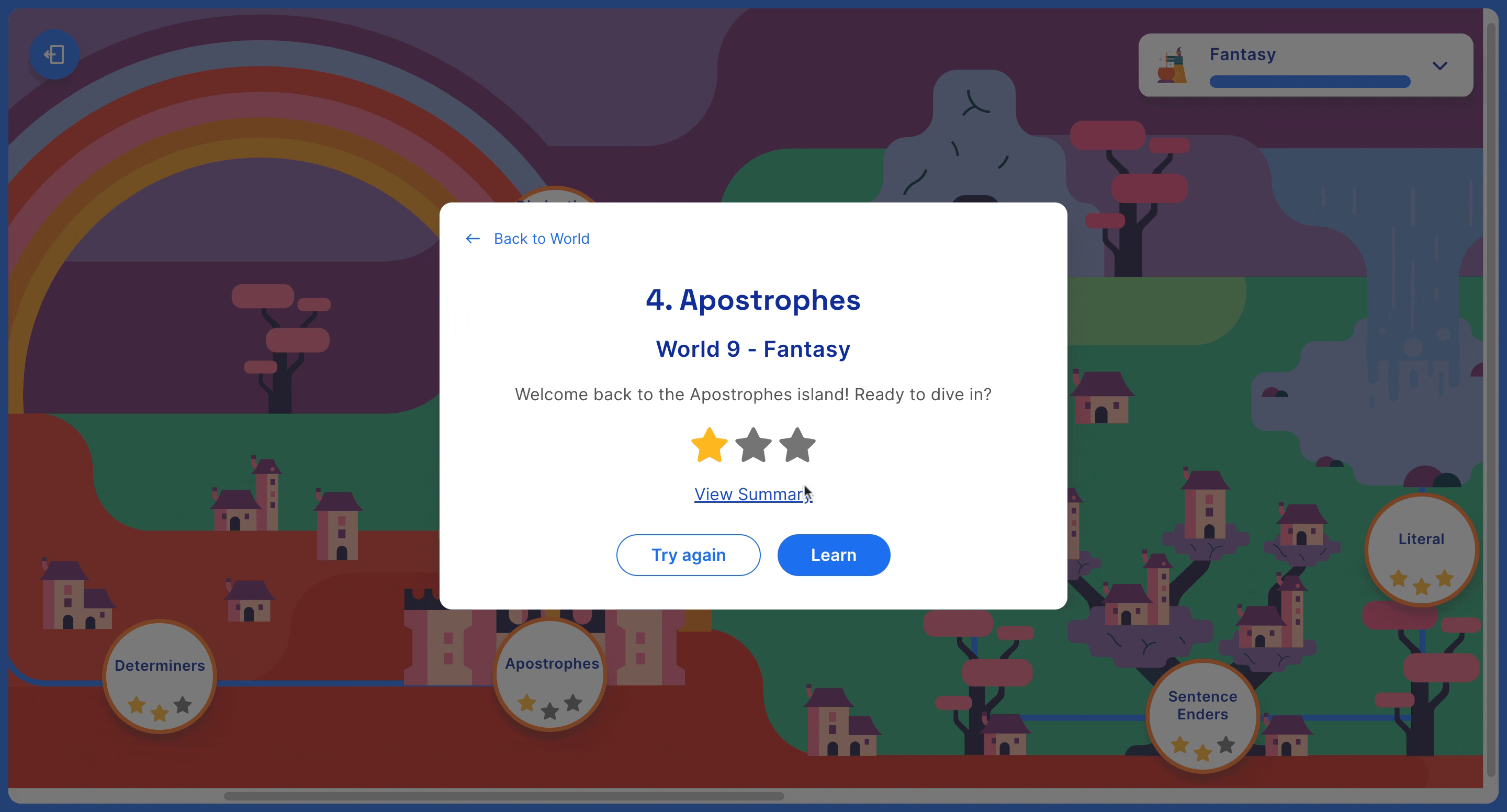 Preparation is key
Familiarisation with the question formats and known styles ahead of the exam is essential to help your child build exam confidence.
An exam preparation subscription with Atom Nucleus enables your child to access quality, unlimited practice material with full score breakdowns to help your child feel confident by the time the exam day comes around.
Your child can take mock tests for the ISEB Common Pre-Test as many times as they like without repeatedly seeing the same questions. Meanwhile, you'll be able to see their results instantly, including their performance compared to peers and suggested areas for improvement.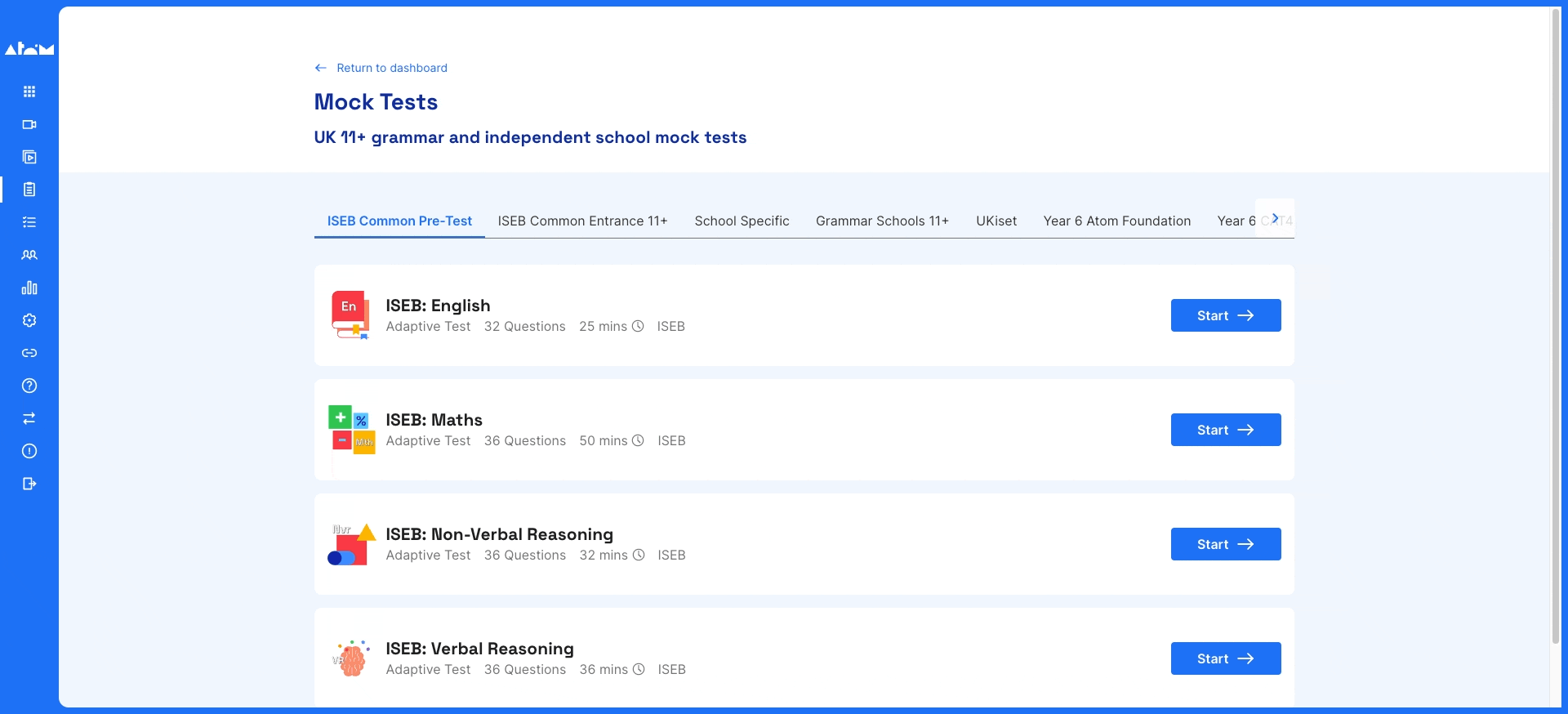 When working through challenging topics, your child will need immediate clarity with any misconceptions so that they feel truly secure in every topic. Atom Nucleus includes video tutorials, help sheets and examples with every question to help your child build confidence and competence across all the areas assessed.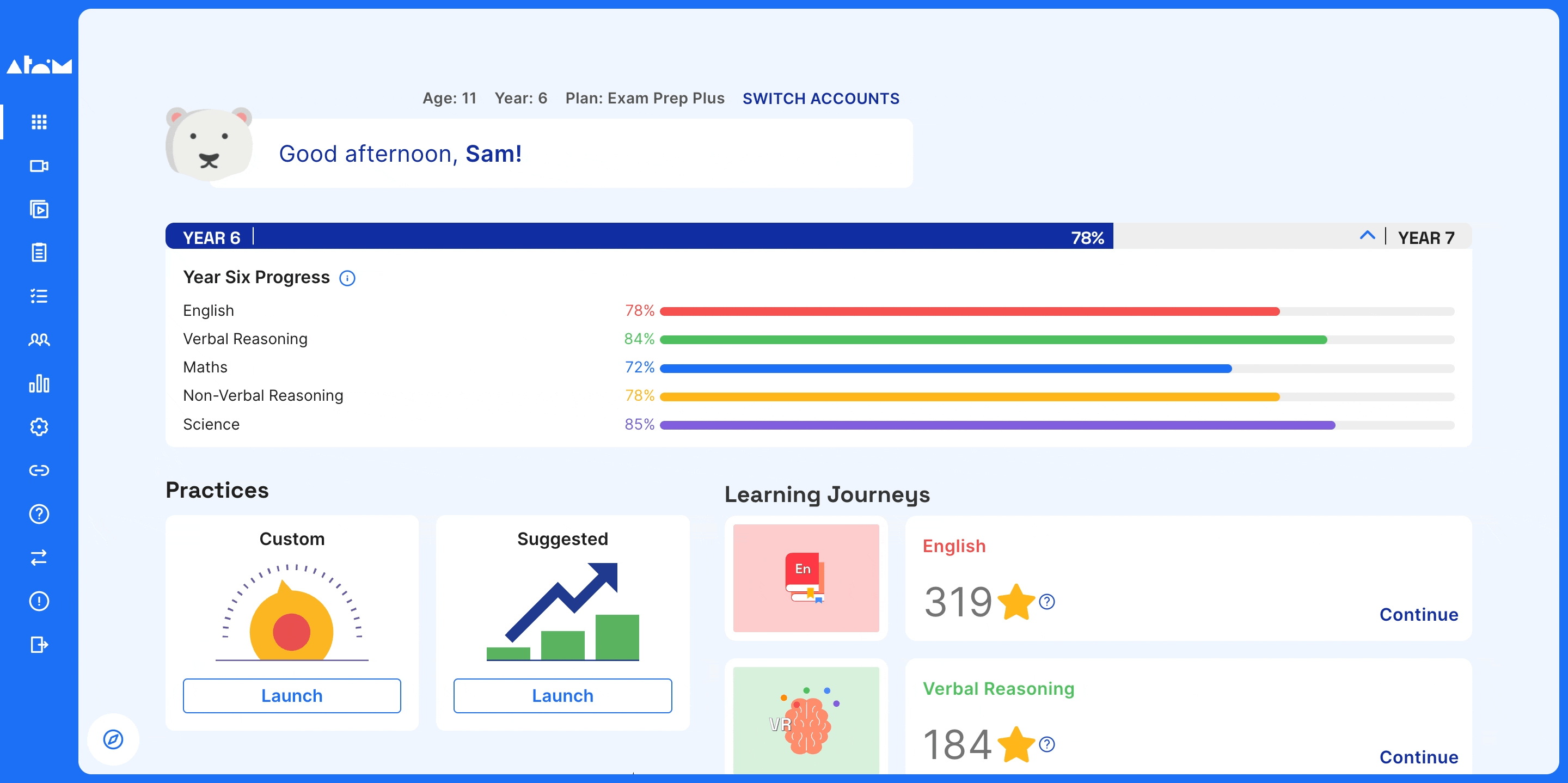 Engage with their progress
Celebrate your child's improvement in areas of challenge together. An accurate and ongoing assessment of their areas of strength and development is helpful.
As an Atom subscriber, you'll have a parent dashboard which offers data-driven insights into your child's progress. You can use this effectively to help your child set targets, see a detailed breakdown of their progress by subtopic and set custom practices to target those they find most challenging.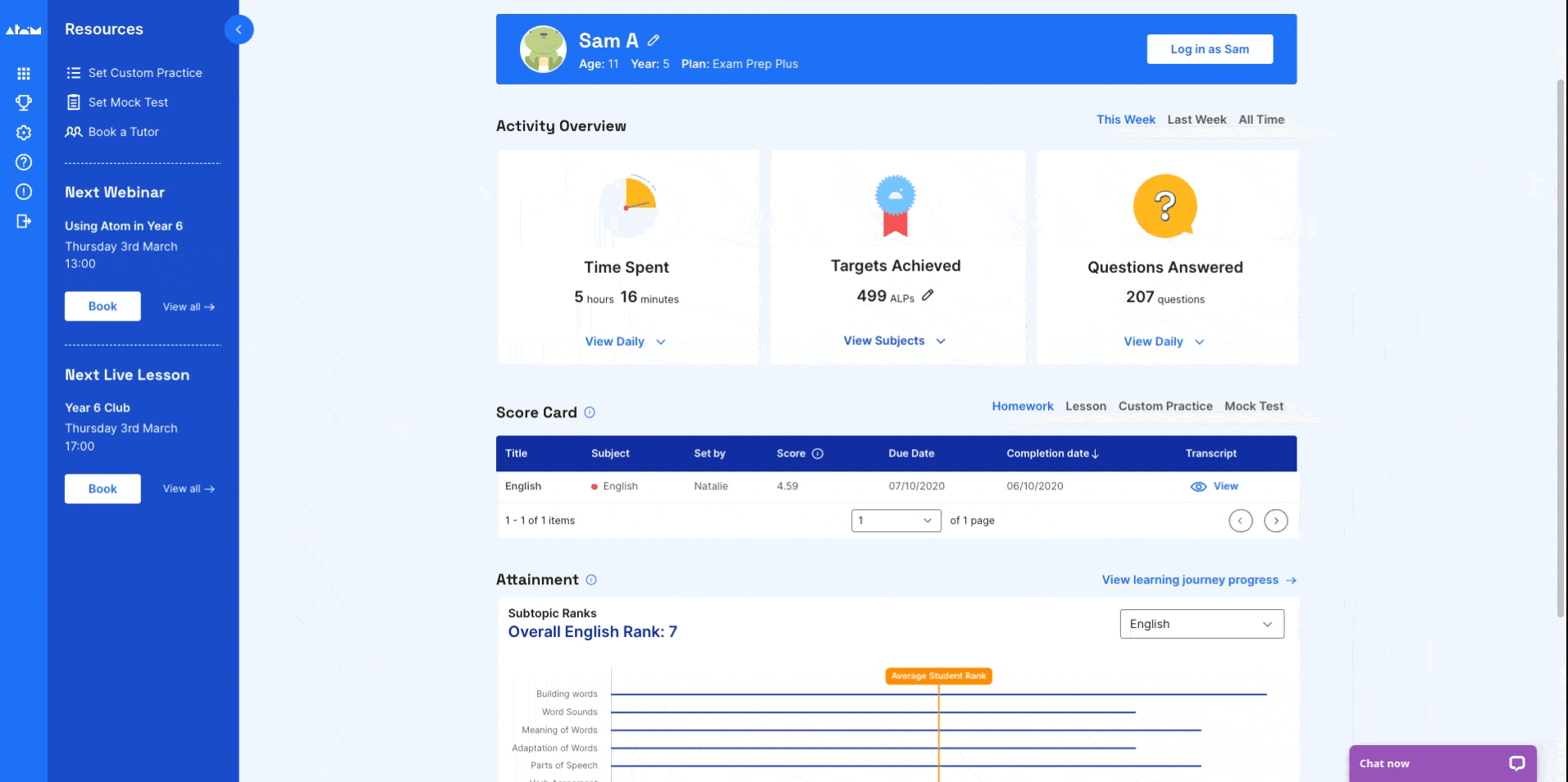 ---
Get started with Atom Learning
It's our mission to help your child feel prepared and confident before the exam day. Begin your free 5-day free trial of Nucleus today to help your child succeed.
We know how crucial this time is, so our team is on hand to support you and your family every step of the way. You can book a call with one of our Education Experts to ask any questions you might have about 11 plus entry to Caterham School:
If you're looking for exclusive tips and resources to help your child master key subjects, excel in exams and build academic confidence, join Atom's email list: