Farringtons School is an independent day and boarding school for boys and girls in Chislehurst, on the edge of South East London. Originally founded as a 'sister' school to The Leys School ( Methodist boys' school in Cambridge), Farringtons School provided education to girls until 2010, at which point it became fully coeducational.
Farringtons School is underpinned by a strong Christian ethos. Chapel is an integral aspect of school life, with pupils across the junior and senior schools regularly engaging in worshipping while encouraged to tolerate, understand and respect each other. Every pupil belongs to a house, enabling them to develop a 'can-do' spirit and enjoy healthy competition.
There are 'enviably small class sizes' at Farringtons School and young people are encouraged to develop intellectual curiosity. There is an extensive range of subjects on the curriculum, with a mixture of traditional and contemporary disciplines including dance, financial studies, government and politics, graphic communication, photography and textiles. In 2021, over 50% of A level and BTEC results were A*/A or equivalent, with just under half of GCSE results graded A*/A/9/8/7.
From 2022, Farringtons School has introduced a new co-curricular programme called 'Floreat' (which means 'to thrive'), which exists within the timetabled school day and seeks to develop pupils' social, moral, spiritual and cultural skills. Pupils have the opportunity to try a variety of activities ranging from archery to mindfulness, and podcasting to Japanese culture.
Key information for Farringtons School
Head: Mr David Jackson

Address: Farringtons School, Perry Street, Chislehurst, Kent, BR7 6LR

London Borough: Bromley

Admissions contact: Mrs Bernadette Thompson – [email protected], 020 8467 0256

Age range and gender: 11–18, co-educational

Number of pupils: 690

Number of places in Year 7: Undisclosed

Ratio of applicants to places: Undisclosed

Open day date: Saturday 8th October 2022 – book a family slot online

Overview of selection procedure: Entrance exam, interview, school report and reference

Registration opens: Currently open – download an application form from the school website

Registration closes: Friday 11th November 2022

Assessment date: Saturday 26th November 2022

Scholarship assessment date: Week commencing 28th November 2022
Farringtons School fees and financial assistance
The senior school fees at Farringtons School are £5,750 per term for day pupils (including lunches) and up to £12,030 per term for full boarders. A range of boarding options, including weekly and flexi-boarding, are available.
Farringtons School is able to provide some level of financial assistance to pupils whose families could not otherwise afford the fees. These are awarded on the assessed basis of financial need; to apply, you will need to select the tickbox on the registration form, after which point you will be sent a bursary application form.
There are also a number of scholarships on offer to exceptional pupils at Year 7. All scholarships provide a financial value of up to 30% per year and are available in academia, music and sport.
Farringtons School also offers a sibling discount to a second or further child who studies at the school. The reduction is 10% in respect of the fees of the younger siblings. Additionally, special fee reductions apply to British Forces personnel.
Farringtons School term dates
The term dates at Farringtons School for 2022–23 are:
Autumn term: 5th September – 14th December 2022

Half term: 17th–28th October 2022

Spring term: 5th January – 30th March 2023

Half term: 13th–17th February 2023

Summer term: 19th April – 7th July 2023

Half term: 29th May – 2nd June 2023
Admissions process for Year 7 entry to Farringtons School
If you would like to register your child for Year 7 entry to Farringtons School in 2023, you will need to complete the application form, attach a copy of your child's most recent school report, and pay the non-refundable registration fee of £100. This must be completed by Friday 11th November 2022.
All registered candidates will sit the school's entrance exam on Saturday 26th November 2022, which consists of both written and online tests. Sample papers will be made available in advance. All children will also have an interview with a member of Farringtons School senior staff, or the head, during October, November or early December.
Children who have excelled in the entrance exam will then be shortlisted for an Academic Scholarship interview. Candidates who have applied for a Creative Arts, Music or Sports Scholarship may be shortlisted for an additional assessment to qualify, which will take place during the week of 28th November 2022:
Creative Arts Exhibition Awards: Eligible candidates for a Creative Arts Scholarship should be able to demonstrate their talent and commitment through a portfolio of artistic work / LAMDA exams / recorded evidence of performance ability/examples of semi-professional or professional theatre work/success at local, national or international competitions.

Music Scholarships: Candidates should have a minimum of Grade 4 standard on their first instrument, and some skill to perform on a second instrument (which may include voice). The audition will include a performance on at least two instruments, in addition to aural tests and an interview with the headteacher and the head of music.

Sports Scholarships: Eligible candidates for a Sports Scholarship should be able to demonstrate all-round ability in a number of sports and have participated at a high level in the community or at their current school. Applicants will be asked to submit an application form and references, after which shortlisted candidates will be asked to attend a practical assessment for a second stage and a formal interview for a third stage.
Farringtons School will post offer letters to candidates' families by 16th January 2023. Acceptances will need to be made by 3rd March 2023.
Farringtons School entrance exam
All children who are registered for Farringtons School's admissions process will take an entrance exam at the school on Saturday 26th November 2022. This consists of the following papers:
Extended writing task (written paper): Candidates will be asked to demonstrate their creative writing ability and accuracy in spelling, punctuation and grammar. Take a look at our 11 plus creative writing guide for more guidance on what this could include.

Maths (written paper): Candidates will be assessed on their knowledge and understanding of the Key Stage 2 maths curriculum. You may find our 11 plus maths guide helpful.

Computer-based exam: This test will be used to identify each child's unique academic profile. Questions will be reasoning-based and will assess candidates' abilities to solve problems and identify patterns. You may wish to look at our exam guides for verbal reasoning and non-vebral reasoning for guidance.
How to help your child prepare for the selection process at Farringtons School
Build foundational knowledge
Candidates for 11 plus entry to Farringtons School are assessed across the Key Stage 2 national curriculum, including English, maths and reasoning skills. Atom Nucleus can help your child consolidate everything they need to know for the exam. With over 90,000 teacher-created questions and helpful learning resources spanning English and maths from Years 3–6 plus verbal and non-verbal reasoning, one Atom subscription will give your child all the materials needed to get to grips with the curriculum before the exam day.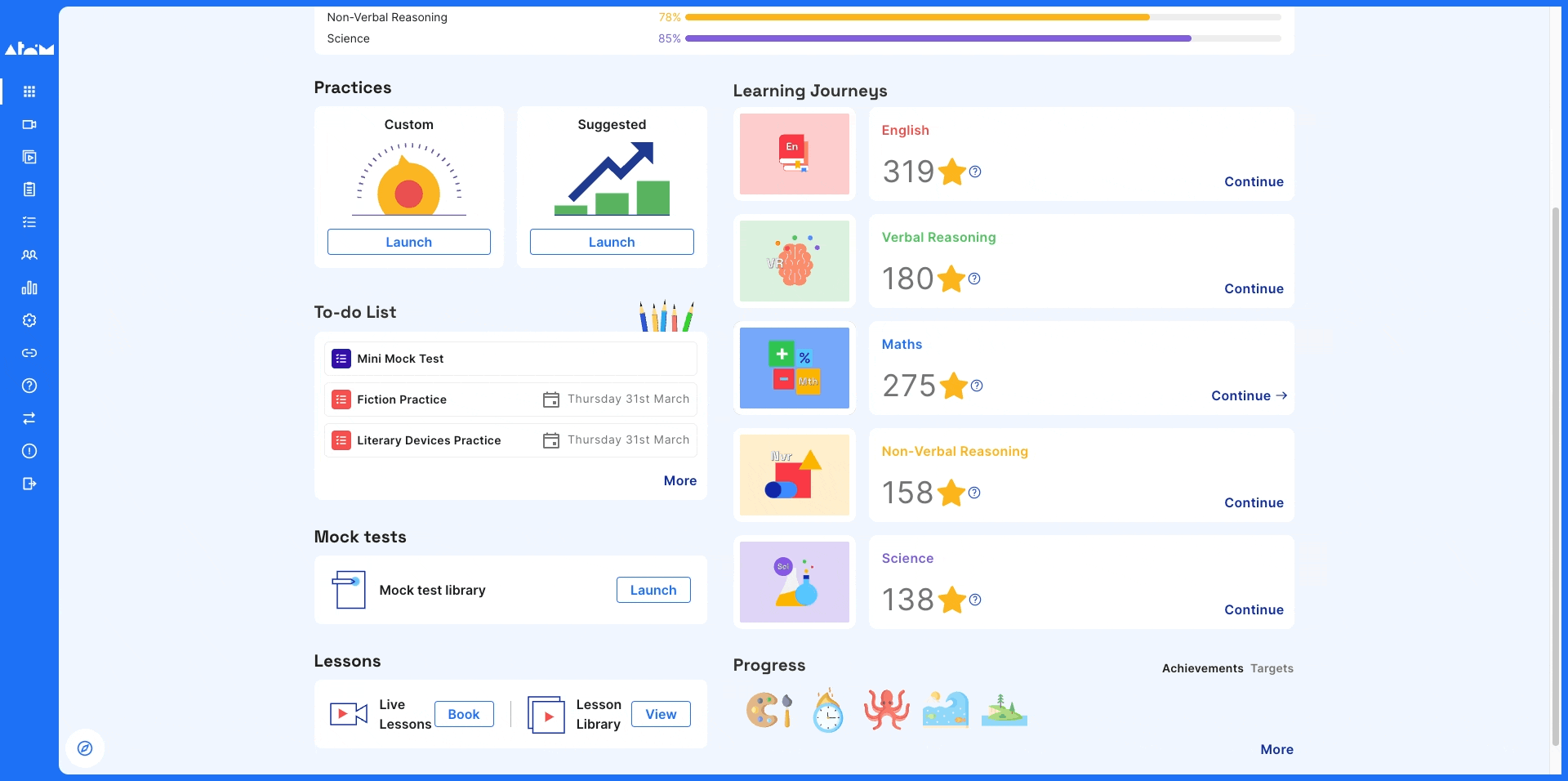 Preparation is key
Familiarisation with the question formats and known styles ahead of the exam is essential to help your child build exam confidence.
An exam preparation subscription with Atom Nucleus enables your child to access quality, unlimited practice material with full score breakdowns to help your child feel confident by the time the exam day comes around. For one monthly subscription cost, your child can take unlimited practice tests that replicate the 11 plus and independent school entry exams.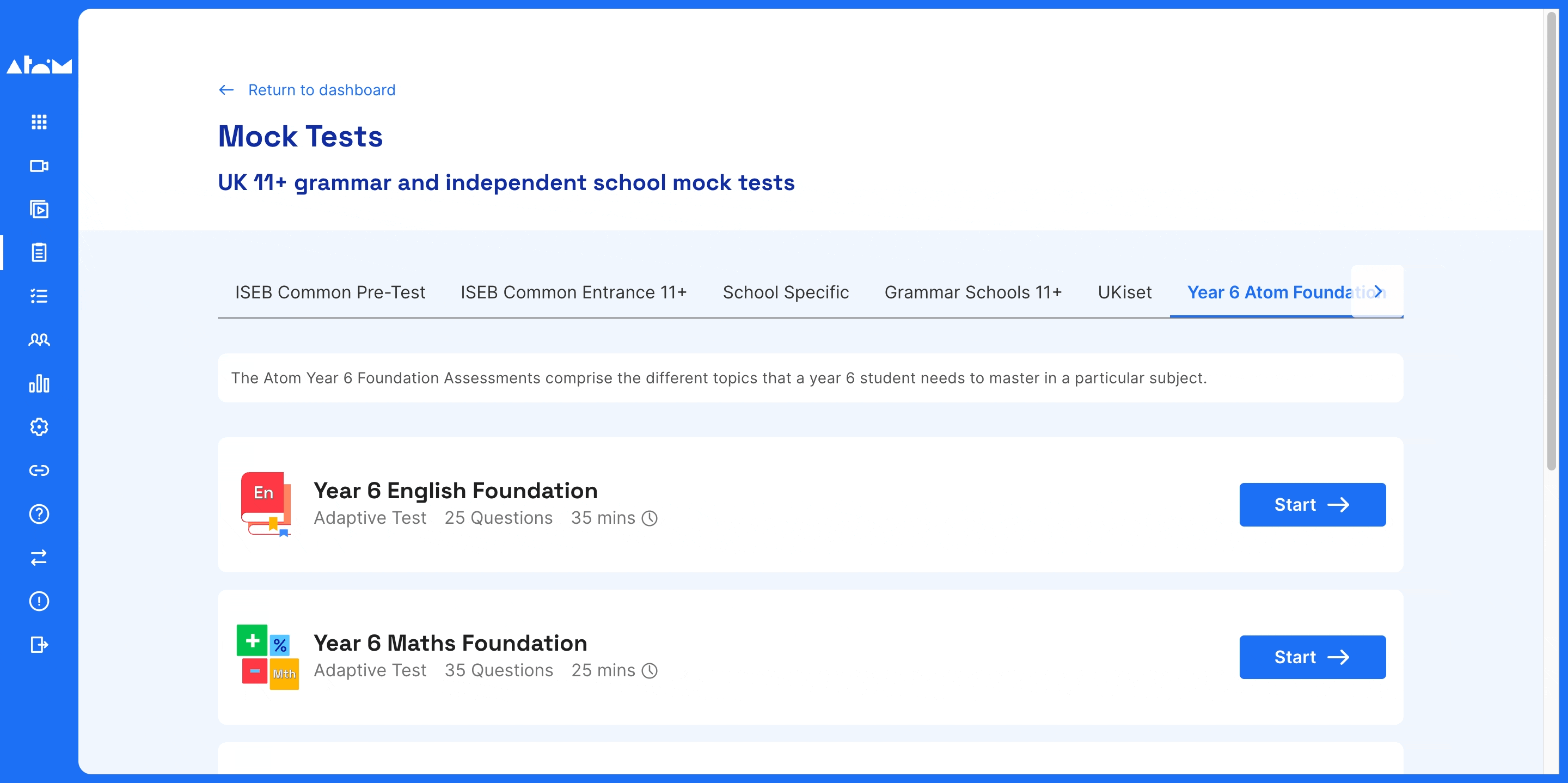 When working through challenging topics, your child will need immediate clarity with any misconceptions so that they feel truly secure in the exam.
Atom Nucleus includes video tutorials, help sheets and examples with every question to help your child build confidence and competence across all the areas assessed.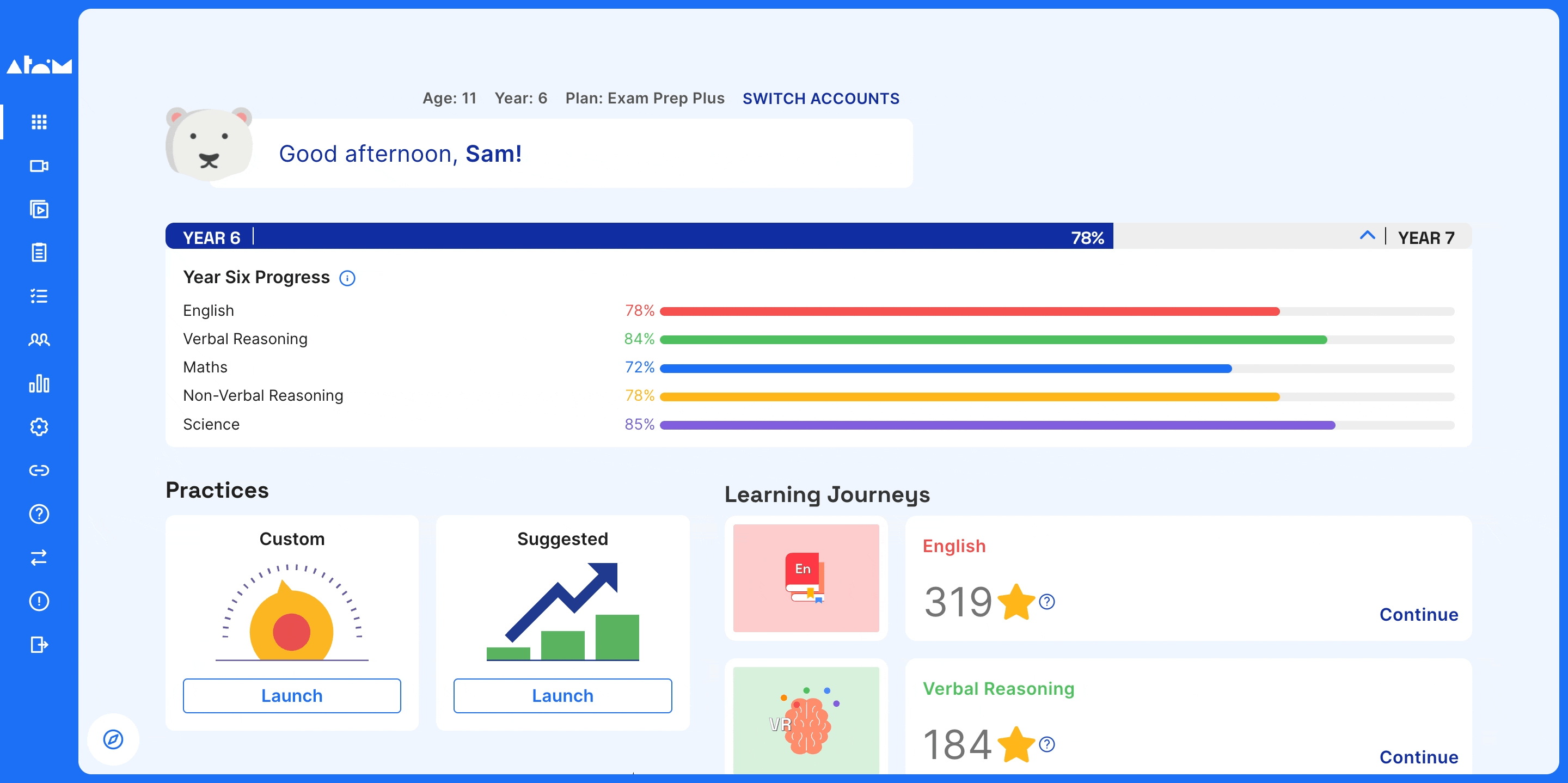 Engage with their progress
Celebrate your child's improvement in areas of challenge together. An accurate and ongoing assessment of their areas of strength and development is helpful.
As an Atom subscriber, you'll have a parent dashboard which offers data-driven insights into your child's progress. You can use this effectively to help your child set targets, see a detailed breakdown of their progress by subtopic and set custom practices to target those they find most challenging.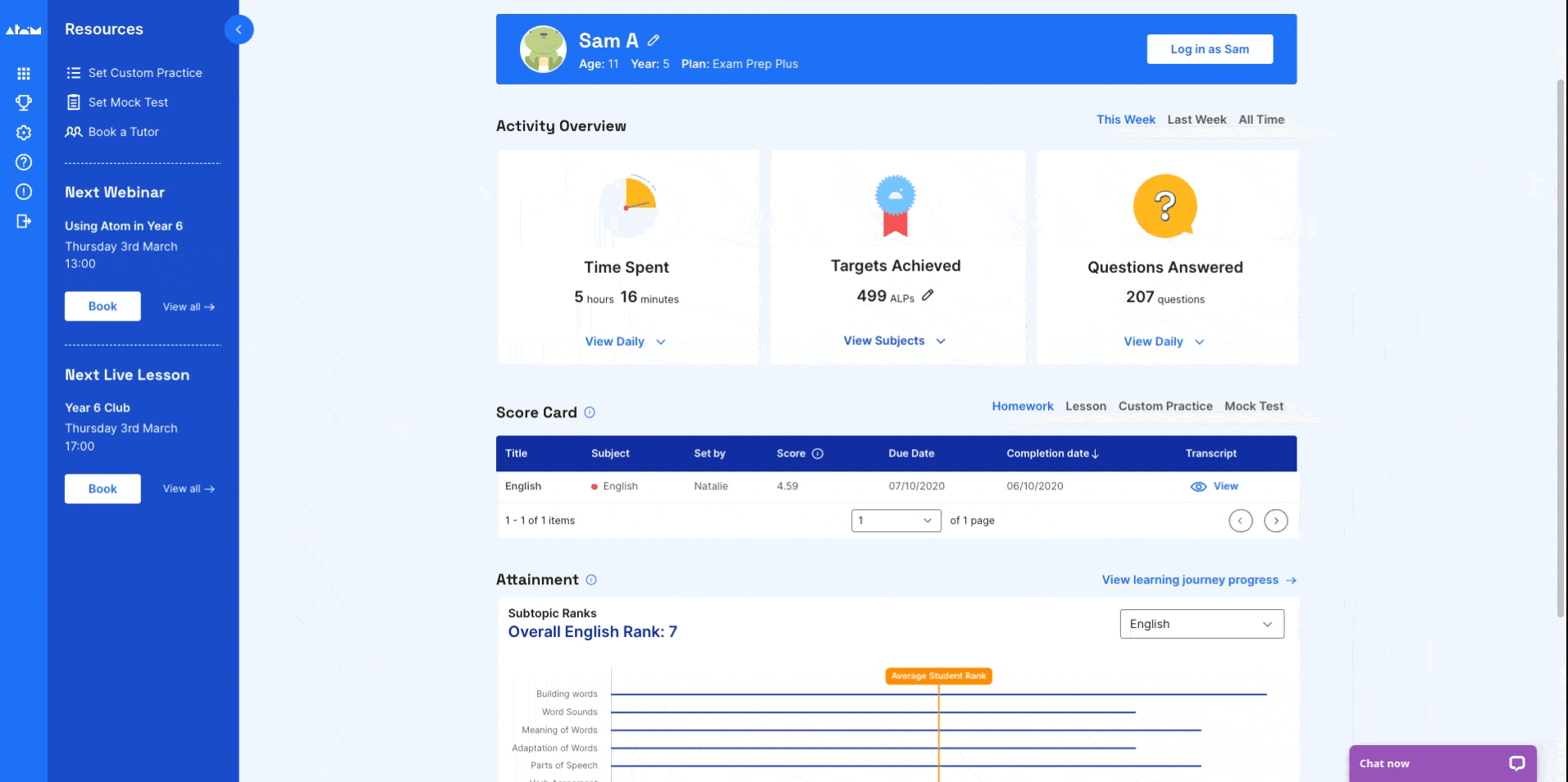 ---
Get started with Atom Learning
It's our mission to help your child feel prepared and confident before the exam day. Begin your free 5-day free trial of Nucleus today to help your child succeed.

We know how crucial this time is, so our team is on hand to support you and your family every step of the way. You can book a call with one of our Education Experts to ask any questions you might have about 11 plus entry to Farringtons School:
If you're looking for exclusive tips and resources to help your child master key subjects, excel in exams and build academic confidence, join Atom's email list: