Royal Russell School is an independent day and boarding school for boys and girls aged 3–18.
The school is located on a 110-acre campus at the edge of South London, where pupils have access to modern facilities for sport, performing arts, science, media technology and design. Its proximity to London Gatwick and Heathrow airports makes it particularly convenient for international boarders.
Pupils at Royal Russell School have access to a broad curriculum; alongside traditional subjects, pupils can opt to study subjects including Food Preparation & Nutrition, Theology & Philosophy and Photography at GCSE. In 2021, 46.7% of GCSE results were the top grades of 9 and 8 (A* equivalent).
Royal Russell prides itself on being a 'family school' and gives bespoke pastoral care to all pupils and their families. Beyond the classroom, pupils can hone their interests in a vast co-curricular programme which includes sport, drama, music, Combined Cadet Force (CCF), the Duke of Edinburgh Award, Model United Nations and the Royal Russell Young Drivers' Club (supported by Croydon Council and JEDS Driving School).
Key information for Royal Russell School
Headteacher: Chris Hutchinson

Address: Royal Russell School, Coombe Lane, Croydon, Surrey, CR9 6BX

London Borough: Croydon

Admissions contact: [email protected], 020 8657 4433

Age range and gender: 3–18 (co-educational)

Number of pupils: 780 (senior school), 300 (junior school)

Number of places in Year 7: 88

Ratio of applicants to places: 4:1

Open day date: Saturday 24th September 2022

Overview of selection procedure for Year 7 entry: Assessment day (interview and entrance test) and school report

Registration deadline: Friday 11th November 2022

Assessment date for Year 7 entry: Wednesday 4th and Thursday 5th January 2023

Scholarship assessment date: Friday 25th November 2022 (Sport Scholarships) and Tuesday 29th November 2022 (Art, Drama and Music scholarships)
Royal Russell School fees and financial assistance
The fees at Royal Russell School in 2022-23 will be £6,995 per term for day pupils (including lunch and an optional evening meal, if staying after school for an activity) and £13,826 per term for boarders.
The school does not receive support from a financial foundation and is therefore dependent on fee income to support bursaries and scholarships. However, limited bursaries are available for particularly talented pupils whose families cannot afford the school fees (typically those with a gross household income of less than £40,000 per annum). Parents wishing to be considered for a bursary will need to indicate this on the registration form.
Royal Russel School offers scholarships from Year 7 and above for excellence in academic performance, art, music, drama and sport. All applicants are considered for an academic scholarship as this is based on the results of the 11 plus entrance exam. Art, Music, Drama and Sport scholarships require separate application forms and assessment processes.
Pupils can apply for up to two scholarships, with the total value providing between 5% and 35% off the school fees. Pupils can hold both a bursary and a scholarship.
Royal Russell School term dates
The 2022-23 term dates for Royal Russell School are:
Autumn term: 7th September – 15th December 2022

Half term: 14th – 30th October 2022

Spring term: 9th January – 31st March 2023

Half term: 10th – 20th February 2023

Summer term: 18th April – 5th July 2023

Half term: 27th May – 4th June 2023
Admissions process for Royal Russell School
If you would like to register your child for Year 7 entry at Royal Russell School, you will need to complete the online registration form before the closing date of Friday 11th November 2022. This is also the deadline for bursary and scholarship applications. Registration for Royal Russell School costs £100 per child (day applicants) or £150 per child (boarding applicants).
Candidates will be invited to an assessment day, which takes place at Royal Russell School on Wednesday 4th January and Thursday 5th January between 8am and 4pm (your child will be invited to one of the two dates). The activities throughout the day are designed to give the admissions team a well-rounded view of your child – these include an entrance test and an interview.
Candidates applying for a scholarship will have additional steps in the assessment process:
Academic Scholarship: granted based on the child's performance in the main entrance exam

Art Scholarship: submission of a portfolio of work and a practical assessment

Music Scholarship: an audition, including a practical performance, sight-reading and aural tests

Drama Scholarship: a half-day group audition, which includes taking part in drama games, improvisation exercise, an interview and a performance from an individually prepared piece

Sport Scholarship: applicants will be pre-screened on the basis of a personal statement. Shortlisted candidates are then invited to a half-day assessment which includes activities to demonstrate set skills in small-sided games and fitness tests.
Royal Russell School states that they place a lot of importance on your child's school report. They will be looking for information about your child's character, interests and potential and how closely they align with the school's values of ambition, openness, distinction and courage. All of the following factors (not ranked) are given consideration when offering places:
The candidate's school report

The candidate's entrance exam performance

The candidate's interview performance

The candidate's reference from their current school

Candidates who are currently attending Royal Russell Junior School

Candidates with siblings already at Royal Russell School

Candidates who can maintain a full co-educational balance

The candidate's behaviour and involvement in the activities on the assessment day
Letters with the outcome of the application will be sent to parents on Thursday 9th February 2023. Acceptances must be received by Monday 6th March 2023.
Royal Russell School entrance exam format
The entrance exam at Royal Russell School is only one part of the overall assessment process, alongside the consideration of the factors above.
For the exam, candidates will sit two main papers:
English: reading comprehension (40 minutes) and a writing task (30 minutes)

Maths: non-calculator questions based on the Key Stage 2 national curriculum
Sample papers are available on Royal Russell School's website. You may also find the following guides helpful:
How to help your child prepare for the selection process at Royal Russell School
As the entrance exam for Royal Russell School will include Key Stage 2 National Curriculum content in English and maths, make sure that your child is familiar with everything they have covered in these subject areas at school up until the end of Year 5. Atom Nucleus, our online platform for home, covers the entire KS2 core curriculum in an interactive, engaging way: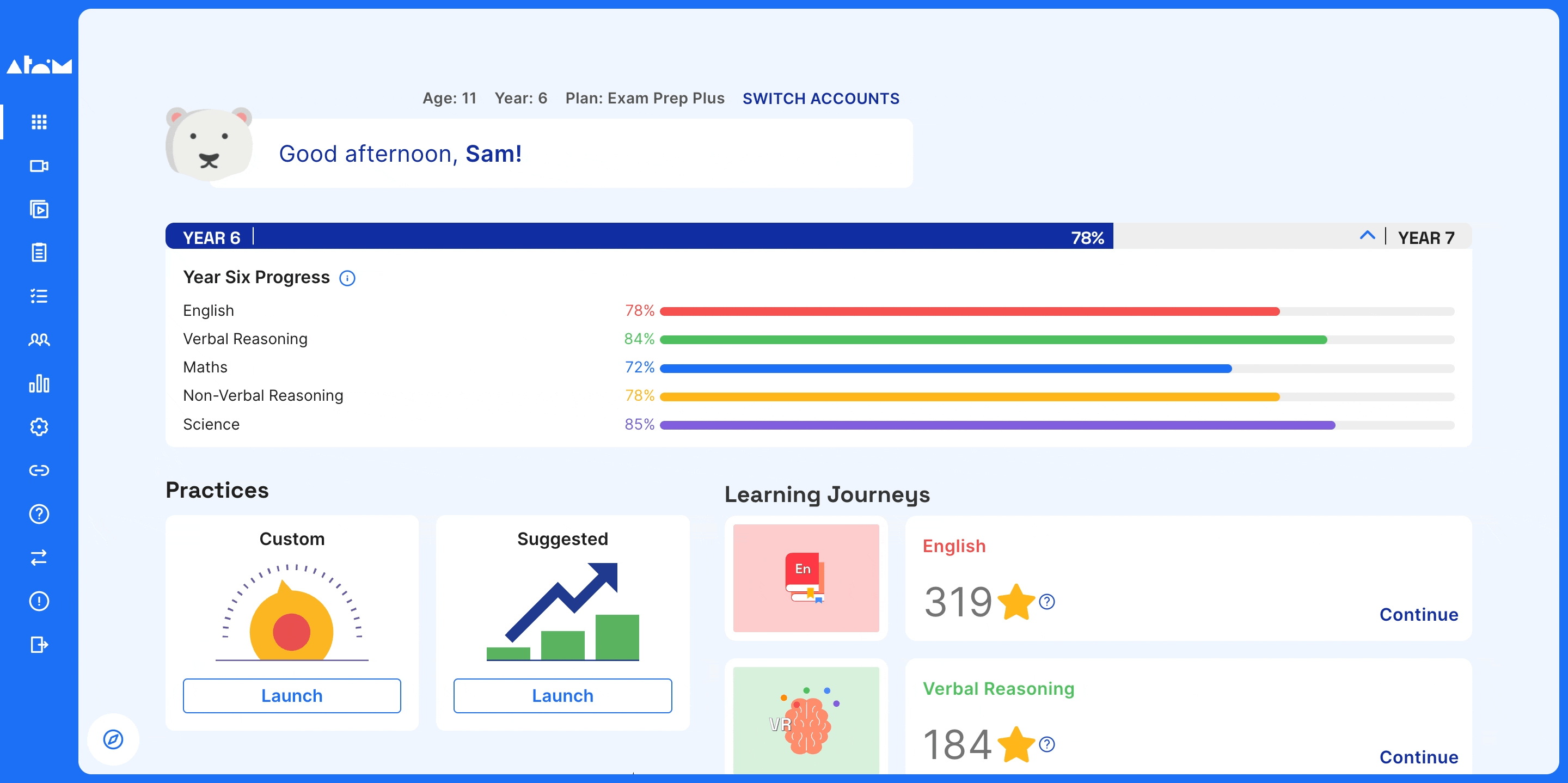 Regular reading time alongside revision will help your child boost their vocabulary and concentration. As the exam day gets closer, we suggest that your child completes online mock tests to help practice time management. Atom Learning has 11 plus practice papers available in English, maths and reasoning:
Atom Learning can help
We have over 90,000 teacher-written practice questions, video tutorials, help sheets, live exam preparation courses and unlimited mock tests that mirror the format of many 11 plus papers. It's our mission to help your child feel prepared and confident on exam day.
Begin your free 5-day free trial of Nucleus today to unlock success in the classroom, entrance exams and more.
---
We know how crucial this time is, so our team is on hand to support you and your family every step of the way. You can book a call with one of our Education Experts to ask any questions you might have about Year 7 entry to Royal Russell School:
If you're looking for exclusive tips and resources to help your child master key subjects, excel in exams and build academic confidence, join Atom's email list: