Eltham College is an independent day school in Mottingham, within the London Borough of Bromley. It was founded in 1842 as the School for Sons of Missionaries and remained single-sex until around 40 years ago, at which point girls were welcomed into the sixth form. In 2020 the school became fully co-educational from Year 3 to Year 13.
Eltham College has a longstanding reputation for excellent pastoral care and places a strong premium on valuing and supporting its students as individuals. Pupils are supported academically and emotionally every day and engage in a wellbeing curriculum which is built around the 5 'R's of resilience, respect, relationships, responsibility and readiness.
Pupils at Eltham College have the opportunity to enjoy a wide range of activities beyond the curriculum in an expansive space of 67 acres. The school's many on-site facilities include the Eric Liddell Sports Centre, the Gerald Moore Gallery for modern and contemporary arts and a new state-of-the-art wellbeing centre. Sport is taken seriously at Eltham College and the school produces some of the highest-performing teams and players in the region. Meanwhile, creative pupils flourish in music and the arts; almost two-thirds of students play a musical instrument and there are twice-daily drama rehearsals taking place in the school's bespoke Antony Barnard Theatre and dance studio.
Academic excellence has always been at the heart of the education provided by Eltham College. Students learn in small classes (no more than 24) and study a wide range of subjects, including three languages in years 7 and 8 (Latin plus two from French, German, Mandarin or Spanish). In 2021, almost half of all GCSE students achieved all 9/8 grades (A* equivalent), while 92% of A level grades were either A* or A. The majority of students leave Eltham College for higher education destinations including Oxbridge, Russell Group and US universities.
Key information for Eltham College
Head Master: Mr Guy Sanderson

Address: Eltham College, Grove Park Road, Mottingham, SE9 4QF

London Borough: Bromley

Admissions contact: Mrs C St Clair-Charles – [email protected], 020 8857 1455

Age range and gender: 7–18, co-educational

Number of pupils: 1,033

Number of places in Year 7: Approximately 60

Ratio of applicants to places: Undisclosed (competitive)

Open day date: Saturday 17th September 2022 – book a place online

Overview of selection procedure: Entrance exam, interview and school reference

Registration opens: Currently open – apply through the Eltham College website

Registration closes: Monday 14th November 2022

Assessment date: Tuesday 3rd and Wednesday 4th January 2023

Scholarship assessment date: Week commencing 23rd January 2023
Eltham College fees and financial assistance
The fees at Eltham College from September 2022 are £7,410 per term. Lunch is an additional cost of £330 per term. These fees are reviewed by the school governors annually in March.
Eltham College has a bursary provision for pupils who perform well in the entrance exam and at interviews, and whose families would not otherwise be able to afford the school fees. These are means-tested awards, with the financial value dependent on the circumstances of the parents and their combined assets. You will need to indicate if you wish to apply for a bursary at the time of registration as you will be asked to complete a separate application and provide documentary evidence of your financial circumstances.
Scholarships are also available at 11 plus entry to Eltham College in the following areas: Academic, Art, Drama, Music and Sport. The financial value of these is undisclosed.
Eltham College term dates
The term dates at Eltham College for 2022–23 are:
Autumn term (Michaelmas): 5th September – 14th December 2022

Half term: 17th–28th October 2022

Spring term (Lent): 5th January – 31st March 2023

Half term: 13th–17th February 2023

Summer term: 24th April – 6th July 2023

Half term: 29th May – 2nd June 2023
The term dates at Eltham College for 2023–24 are:
Autumn term (Michaelmas): 4th September – 13th December 2023

Half term: 16th–27th October 2023

Spring term (Lent): 5th January – 28th March 2024

Half term: 12th–16th February 2024

Summer term: 18th April – 4th July 2024

Half term: 27th–31st May 2024
Admissions process for Year 7 entry to Eltham College
All prospective candidates for Eltham College are invited to visit the school at one of its upcoming open days or visitor mornings (bookable through the school website) before applying. Once you have decided to register your child for Year 7 entry in 2023, you will need to complete the online registration form and pay a non-refundable application fee of £150 before the deadline on Monday 14th November 2022.
All registered candidates will be invited to the school's entrance exam, which includes a mixture of written and online papers, on either Tuesday 3rd or Wednesday 4th January 2024. Every candidate will also have a one-to-one interview with a senior member of Eltham College teaching staff.
Academic Scholarships are awarded (at the headmaster's discretion) to 11 plus applicants who excel in the entrance exam and interview. For co-curricular scholarships, there will be additional steps in this process:
Art Scholarships: Candidates who reach the required standard for a place in the entrance exam will be asked to submit a digital portfolio of their recent work (within the last year). Shortlisted candidates will then be invited to an assessment interview and a practical challenge in a workshop setting.

Drama Scholarships: Candidates who perform at a high enough level in the entrance exam will be invited to an audition with the director of drama. They will be asked to perform a monologue and then will re-work their monologue to see how well they can adapt to direction. They will also be asked to produce a scrapbook which outlines their interest in drama and gives detail about their previous performances and inspiration.

Music Scholarships: Eligible candidates for Music Scholarships offer at least two instruments (including singing), with at least Grade 5 standard on their first instrument and Grade 3 on their second. Awards will be made on the basis of an audition, interview and references from a current music teacher.

Sports Scholarships: Candidates who have been successful in the entrance exam will be invited to attend a practical assessment at the school, including rugby, hockey, cricket, netball, a fitness test and optional swimming. Eligible candidates should have reached a minimum standard equivalent to (or potential to achieve) county representation in one or more of the assessed sports.
Eltham College will let families know if their child has been successful on Friday 10th February 2023. Acceptances of places will need to be made by Friday 3rd March 2023.
Eltham College entrance exam
The 11 plus entrance exam will take place at Eltham College on either Tuesday 3rd or Wednesday 4th January 2023. Candidates will take four tests:
English (written paper): a 45-minute test which includes both reading comprehension and creative writing.

Maths (written paper): a 45-minute test which includes both multiple-choice questions and problem-solving questions. Calculators are not allowed.

Verbal reasoning (online test): An online test which assesses the candidate's ability to reason and solve problems with written information. This test is adaptive, meaning that the questions become more difficult depending on how the child is performing.

Non-verbal reasoning (online test): An online test which assesses the candidate's ability to analyse visual information and solve problems using shapes, diagrams and pictures. This is also an adaptive test.
Sample papers for English and maths are available on Eltham College's website. You may also find the following resources helpful for your child's preparation:
How to help your child prepare for the selection process at Eltham College
Build foundational knowledge
The 11 plus exam at Eltham College covers a huge range of content. Candidates are tested across the English and maths Key Stage 2 national curriculum, in addition to verbal reasoning and non-verbal reasoning (which are not taught on the curriculum).
Atom Nucleus can help your child consolidate everything they need to know for the exam. With over 90,000 teacher-created questions and helpful learning resources across English, maths, verbal and non-verbal reasoning, one Atom subscription will give your daughter all the materials needed to get to grips with the curriculum before the exam day.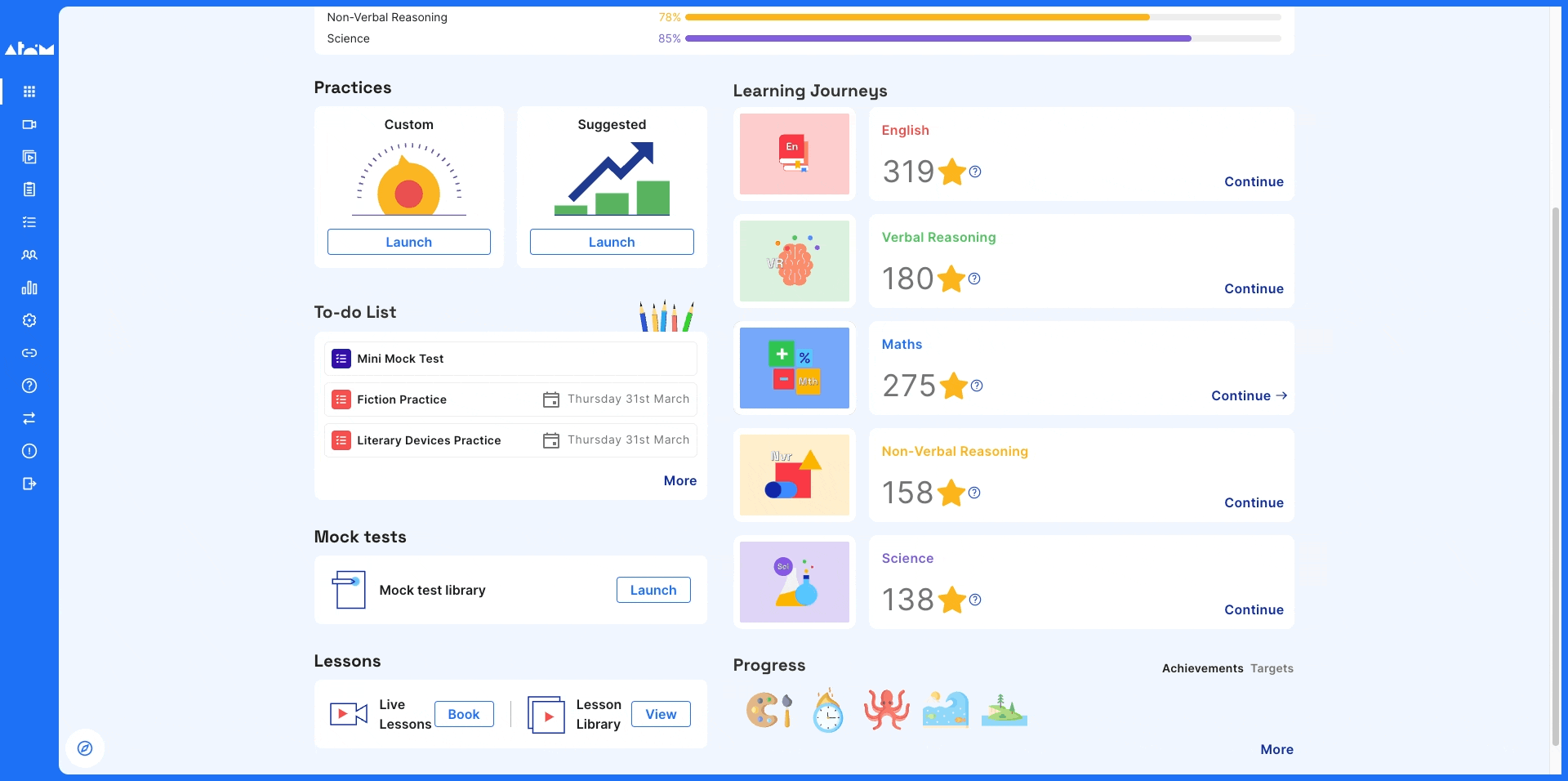 Preparation is key
Familiarisation with the question formats and known styles ahead of the exam is essential to help your child build exam confidence.
An exam preparation subscription with Atom Nucleus enables your child to access quality, unlimited practice material with full score breakdowns to help your child feel confident by the time the exam day comes around. For one monthly subscription cost, your child can take unlimited practice tests that replicate the 11 plus and independent school entry exams.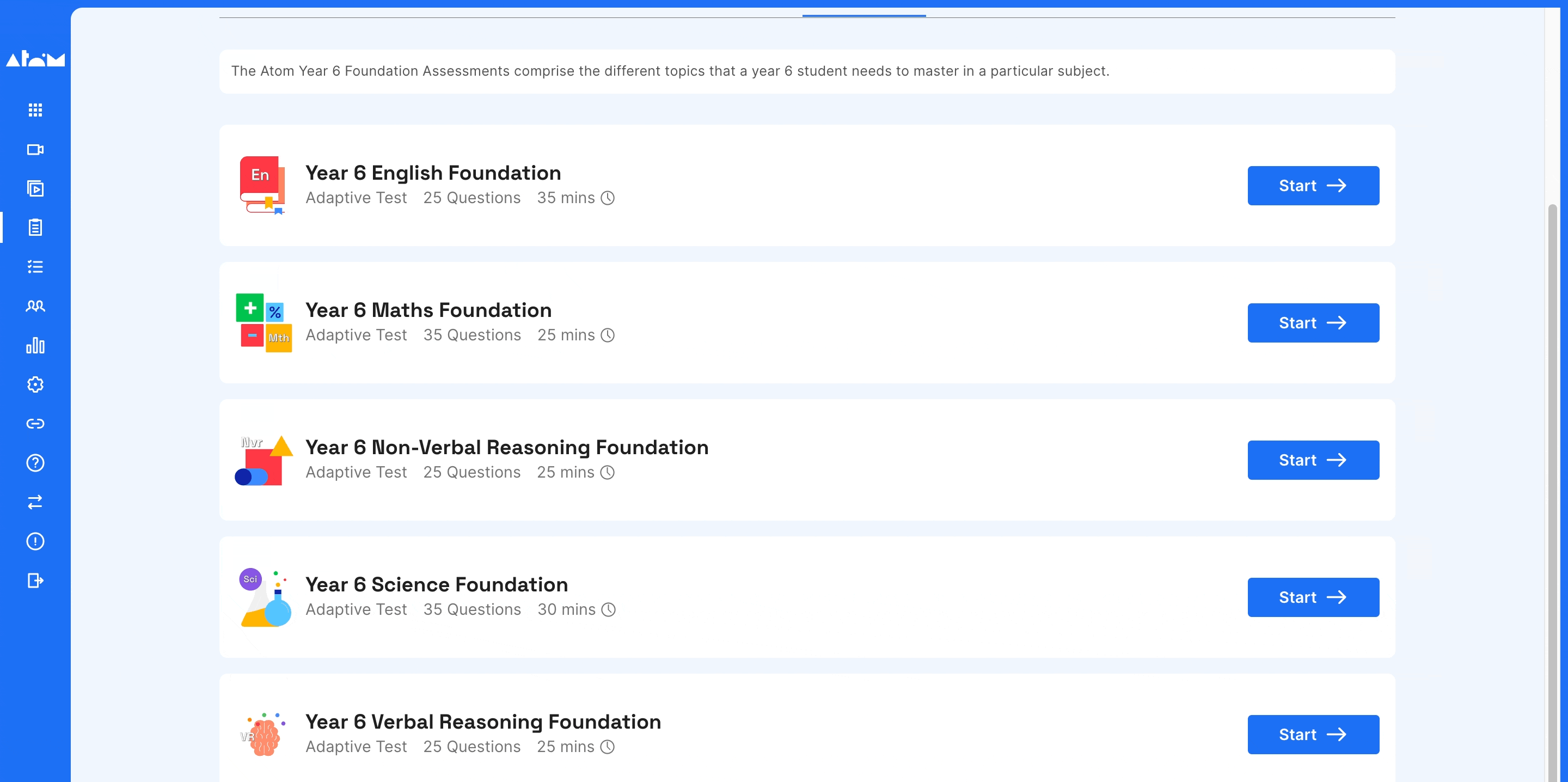 When working through challenging topics, your child will need immediate clarity with any misconceptions so that they feel truly secure in the exam.
Atom Nucleus includes video tutorials, help sheets and examples with every question to help your child build confidence and competence across all the areas assessed.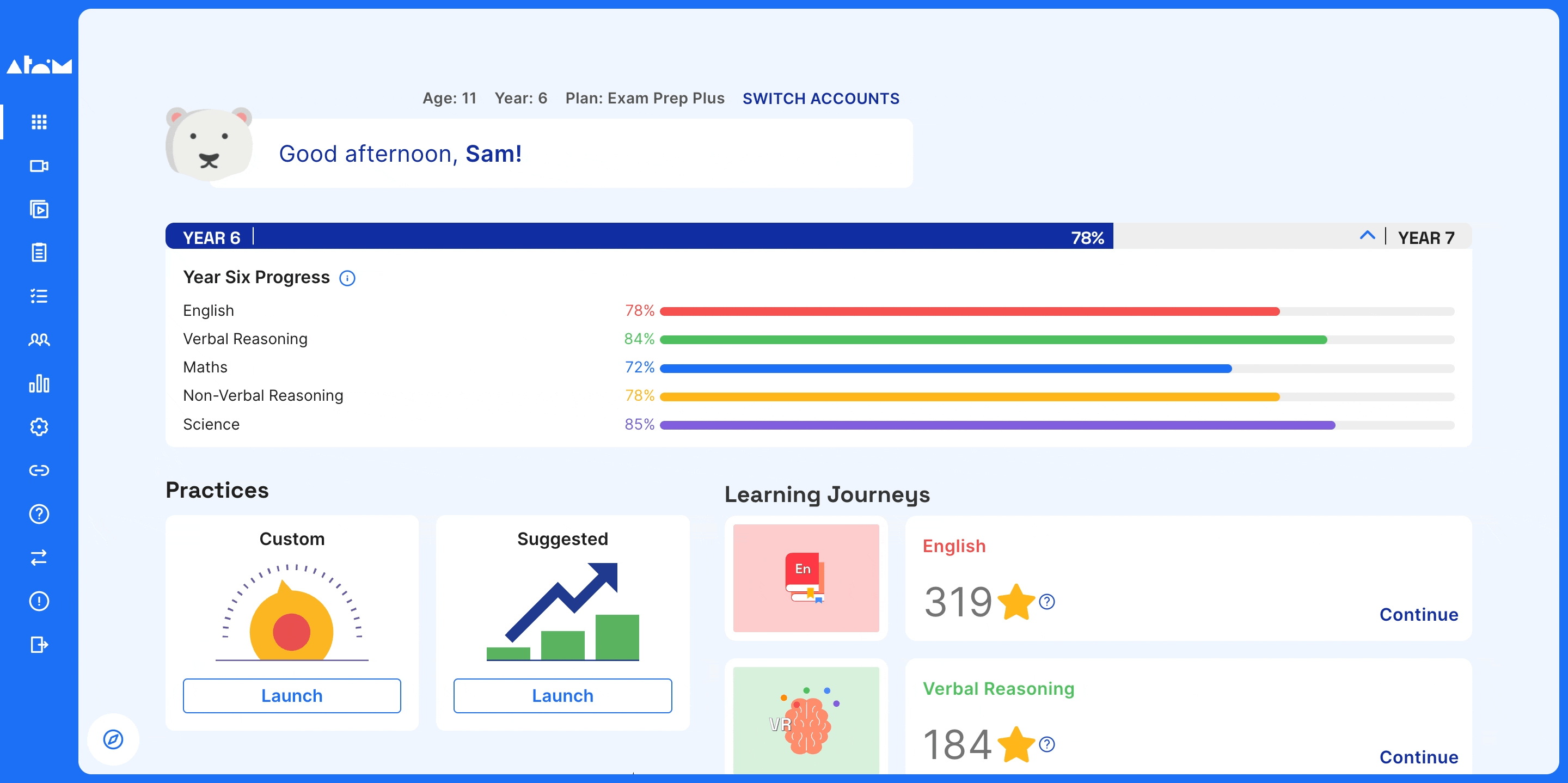 Engage with their progress
Celebrate your child's improvement in areas of challenge together. An accurate and ongoing assessment of their areas of strength and development is helpful.
As an Atom subscriber, you'll have a parent dashboard which offers data-driven insights into your child's progress. You can use this effectively to help your child set targets, see a detailed breakdown of their progress by subtopic and set custom practices to target those they find most challenging.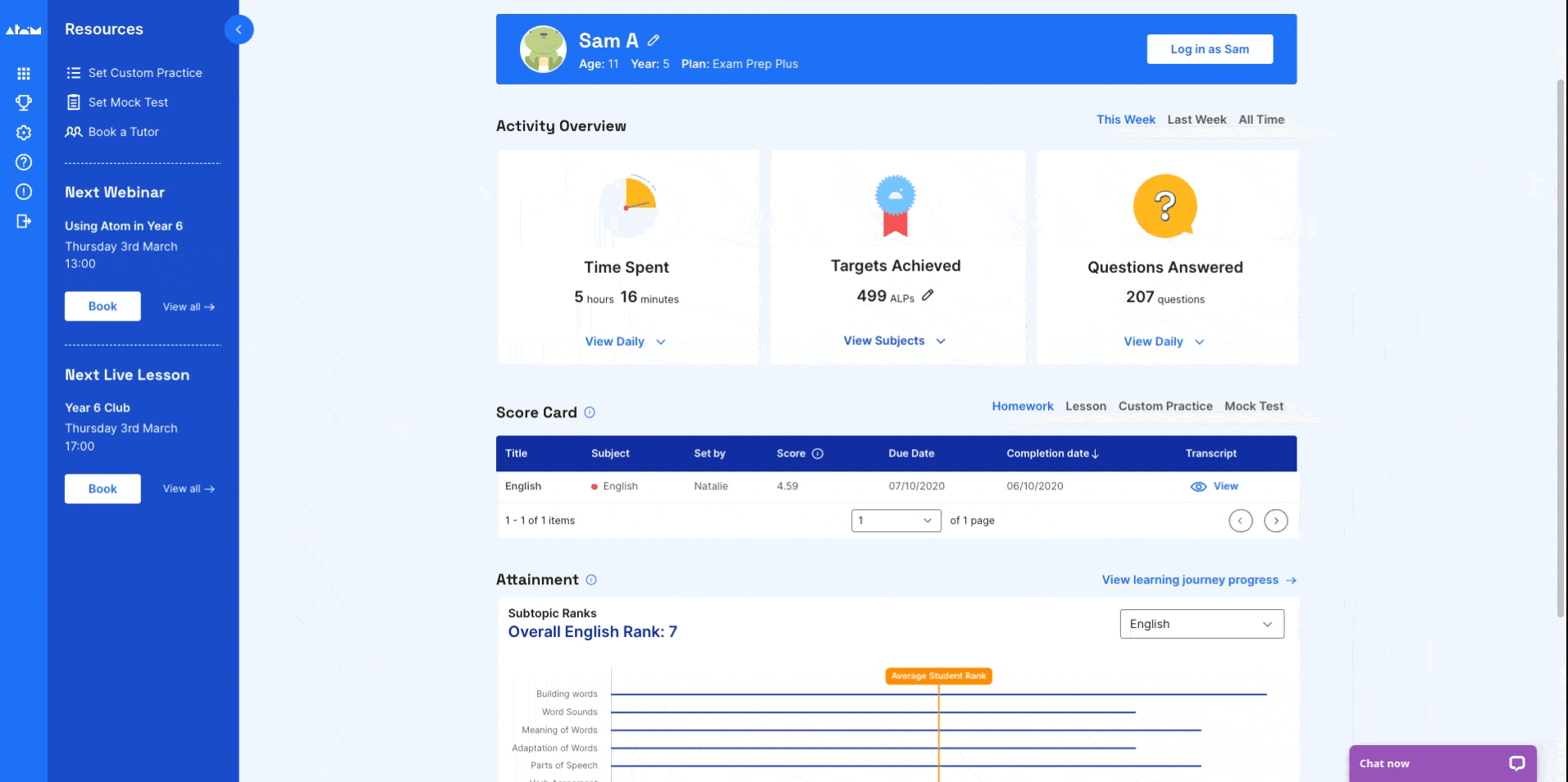 ---
Get started with Atom Learning
It's our mission to help your child feel prepared and confident before the exam day. Begin your free 5-day free trial of Nucleus today to help your child succeed.

We know how crucial this time is, so our team is on hand to support you and your family every step of the way. You can book a call with one of our Education Experts to ask any questions you might have about 11 plus entry to Eltham College:
If you're looking for exclusive tips and resources to help your child master key subjects, excel in exams and build academic confidence, join Atom's email list: