Knightsbridge School is a modern independent day school for boys and girls aged 3–16 in Knightsbridge, just west of Central London. The school is proud to develop confident students who are interested in the world around them and has an 'eco-system of happiness', where the value placed on the skills and talents of each child results in all-around achievement.
The whole school community, including children, parents and staff, follows a simple set of 12 rules known as the 'KS Code'. These are built on human values and encourage every individual to push their individual strengths and weaknesses while learning to succeed, fail, and learn. The school is committed to charity fundraising, with pupils supporting a chosen charity each year (currently the Teenage Cancer Trust) through fundraising events.
Students in Years 7 to 9 get a taste of GCSE and A level options through an enrichment programme, which consists of subjects including design technology, journalism, film studies and computing. As well as traditional subjects, pupils are enrolled on a course called 'perspectives', which covers the areas of philosophy, sociology and religious studies. Knightsbridge School does not currently have a sixth form and so students leave for a wide range of great senior schools across London and beyond, including Latymer Upper School, South Bank, Godolphin & Latymer School, Westminster School and St Paul's School.
Key information for Knightsbridge School
Principal: Mr Magoo Giles

Address: Knightsbridge School, 67 Pont Street, Knightsbridge, London SW1X 0BD

London Borough: Kensington & Chelsea

Admissions contact: Mary Caldecott-Smith – [email protected], 020 7590 9000

Age range and gender: 3–16, co-educational

Number of pupils: 397

Number of places in Year 7: Dependent on availability

Ratio of applicants to places: N/A

Open day date: Dates in September to be disclosed – check online and book a place here

Overview of selection procedure: Taster day including tests, interview, school report and references

Registration opens: Currently open – apply online

Registration closes: N/A – rolling admissions process

Assessment date: N/A – rolling admissions process
Knightsbridge School fees and financial assistance
The current school fees at Knightsbridge School are £7,950 per term for Years 7 and 8 and £8,314 for Years 9 to 11. Fees do not include school lunches, residential clubs, music, drama exams, school lunches or additional support. However, school trips are included.
Knightsbridge School is able to offer bursaries (means-tested financial assistance) to a maximum of four applicants at Year 7 entry. These carry a value of up to 100%. Find out more about KS bursaries here.
Scholarships are awarded to Knightsbridge School pupils who have excelled in a particular area or subject, but these are purely honorary awards and do not carry financial value.
Knightsbridge School term dates
The term dates at Knightsbridge School for 2022–23 are:
Autumn term: 7th September – 14th December 2022

Half term: 17th–28th October 2022

Spring term: 5th January – 31st March 2023

Half term: 13th–17th February 2023

Summer term: 19th April – 7th July 2023

Half term: 29th May – 2nd June 2023
Admissions process for Year 7 entry to Knightsbridge School
If you are considering Knightsbridge School for your child's secondary education, you are encouraged to attend an opening morning or a school tour. This will give you the opportunity to see the school facilities and meet the head, the principal, the registrar and current students.
If you then decide to apply for a place for your child, you will need to complete the registration form and return this to the admissions office with a non-refundable registration fee of £200. Admission will be subject to the availability of a place and of the pupil meeting the school entry requirements.
The registrar will write to your child's current school to request a copy of their most recent school report and a reference from a school professional who knows your child. They will also request standardised data and an example of your child's writing – if this is not available, your child will be asked to sit a CAT test.
All candidates will be invited to spend a taster day at Knightsbridge School with the current year group. This will give them the opportunity to experience school life and have an interview with a senior member of staff. They will also take standardised written and computer tests in English, maths and reasoning.
If your child is accepted, an offer letter will be issued to you and you will have three weeks to accept or decline the place.
Knightsbridge School entrance exam
As part of the admissions process, the registrar at Knightsbridge School will request standardised data on your child, and an example of their written work, from your child's current school. If this cannot be provided, your child will be asked to take a CAT test. This is an online aptitude test which assesses candidates' abilities in verbal and non-verbal reasoning, quantitative reasoning and spatial ability. Find out more about the CAT test in our exam guide.
All candidates are invited to a taster day at Knightsbridge School, which may include written and online tests in English, maths and reasoning. You may find the following resources helpful for your child's preparation:
How to help your child prepare for the selection process at Knightsbridge School
Build foundational knowledge
For 11 plus entry to Knightsbridge School, candidates are tested across the Key Stage 2 curriculum – and beyond – with questions in English, maths and reasoning.
Atom Nucleus can help your child consolidate everything they need to know for the exam. Your child can access over 90,000 interactive questions, complete with helpsheets and tutorial videos, to build the foundational knowledge necessary for exam success.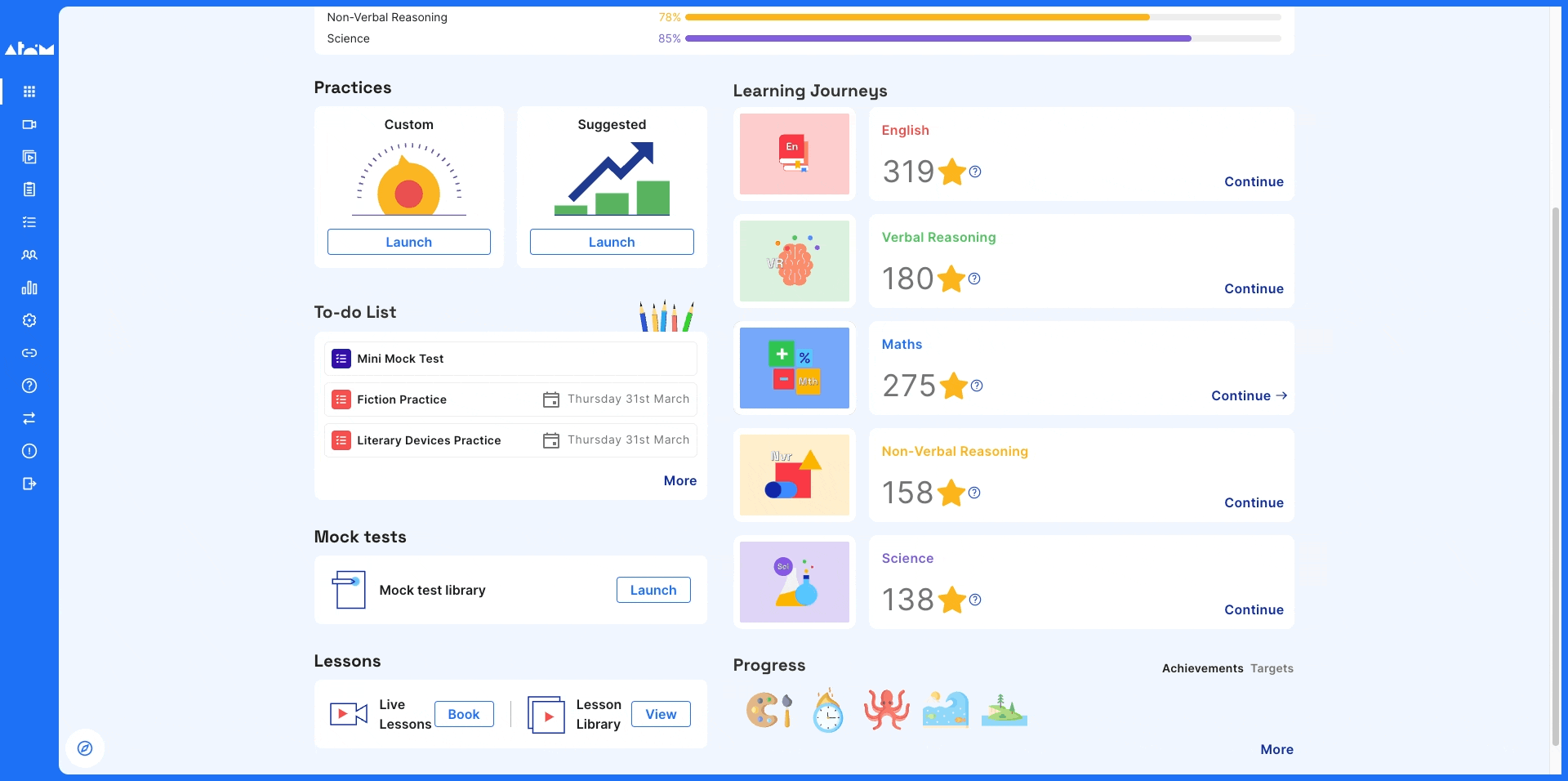 Preparation is key
Familiarisation with the question formats and known styles ahead of the exam is essential to help your child build exam confidence.
An exam preparation subscription with Atom Nucleus enables your child to access quality, unlimited practice material with full score breakdowns to help your child feel confident by the time the exam day comes around. Best of all, your child can take unlimited practice tests that match independent school exams, including the CAT4 aptitude test, for one monthly subscription.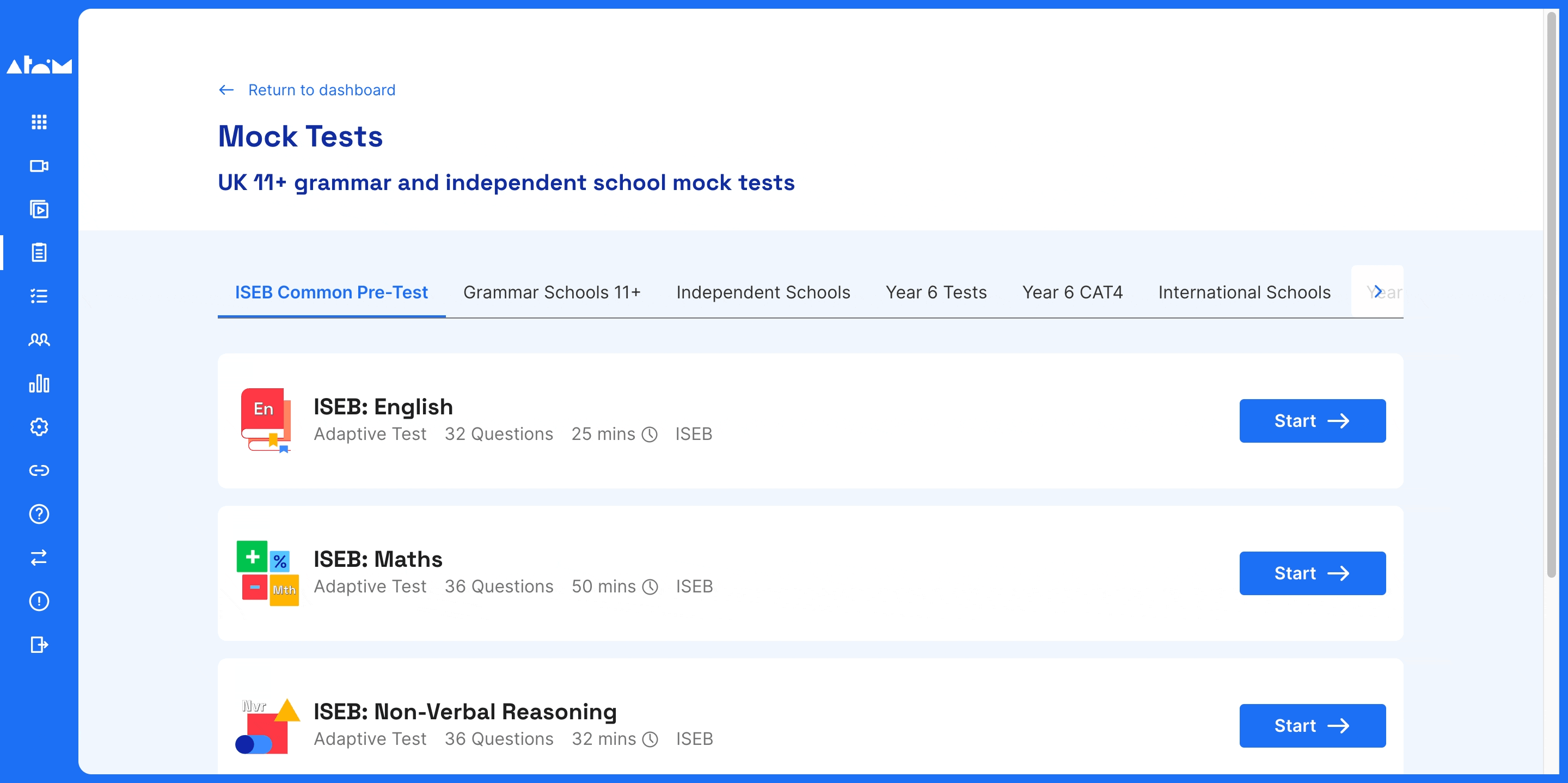 When working through challenging topics, your child will need immediate clarity with any misconceptions so that they feel truly secure in the exam.
Atom Nucleus includes video tutorials, help sheets and examples with every question to help your child build confidence and competence across all the areas assessed.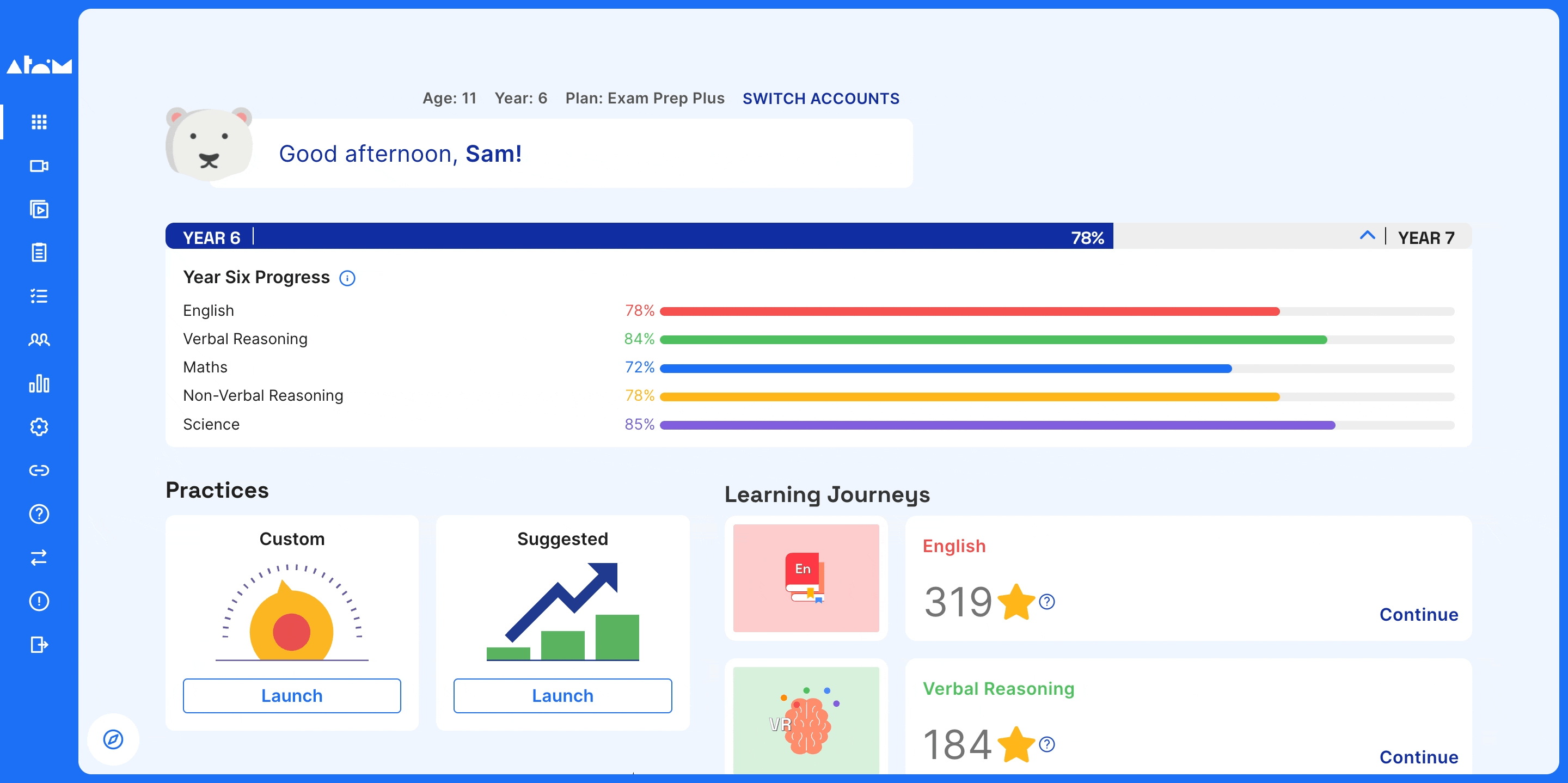 Engage with their progress
Celebrate your child's improvement in areas of challenge together. An accurate and ongoing assessment of their areas of strength and development is helpful.
As an Atom subscriber, you'll have a parent dashboard which offers data-driven insights into your child's progress. You can use this effectively to help your child set targets, see a detailed breakdown of their progress by subtopic and set custom practices to target those they find most challenging.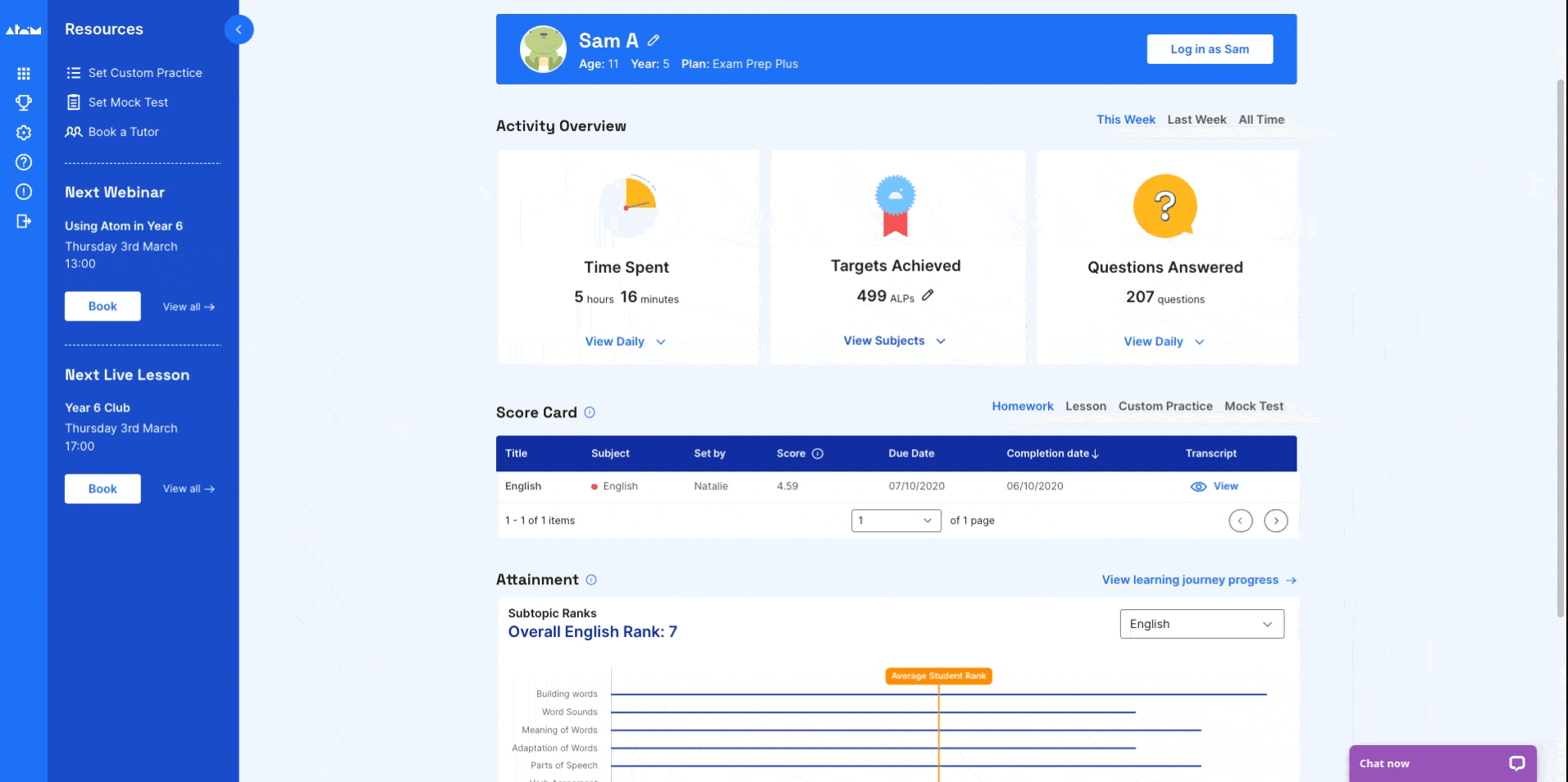 ---
Get started with Atom Learning
It's our mission to help your child feel prepared and confident before the exam day. Begin your free 5-day free trial of Nucleus today to help your child succeed.

We know how crucial this time is, so our team is on hand to support you and your family every step of the way. You can book a call with one of our Education Experts to ask any questions you might have about 11 plus entry to Knightsbridge School:
If you're looking for exclusive tips and resources to help your child master key subjects, excel in exams and build academic confidence, join Atom's email list: