Mock tests, practice papers, past papers – whatever you call them, they're a powerful tool for exam preparation. In this article, find out how to harness them to help your child prepare for secondary school entrance exams – and how to avoid the number one mistake parents make when using mock tests!
Find out more about the 11 plus and how to prepare for success.
What are 11 plus mock tests?
Mock tests are practice exams taken to help familiarise students with what to expect in the real 11 plus. They're an important tool to use at home alongside other study materials as part of your exam preparation journey.
Mock exams or practice papers are formulated based on the curriculum and structure of the actual exam. Past papers are (in theory) real exam papers that have been used in previous years. As the exam boards change the tests each year, this isn't a guaranteed way to know what to expect.
What are familiarisation papers?
Familiarisation papers or booklets are sample questions published by an exam board, school, or local authority. Like mock exams and past papers, they also have the goal of helping children know what to expect. You might find familiarisation papers on the website of your target schools.
How readily available familiarisation papers are can depend on which exam board the school is using. GL Assessment publishes a handful of familiarisation papers. Unlike GL, CEM does not publish practice materials, and they change the exam format each year to try to avoid 'teaching to the test'.
How can mock tests improve my child's exam performance?
Here are the key ways that you can help improve your child's academic performance by using mock exams at home.
1. Reduce cognitive demand
The number one reason that mock tests are a vital part of your 11 plus preparation toolkit is that they reduce cognitive demand on exam day. To boost their performance, your child needs to be familiar with not just the content they are likely to come across, but the exam format, layout and experience too.
For many children, sitting the 11 plus might be the first time they:
Experience an online exam

Encounter new styles of question, language, or instructions

Have to type for an extended period
When confronted with all of this as a new experience, children will have to spend time and mental energy navigating the layout of the test and trying to decipher what the questions are asking of them.
On the other hand, a child who has regularly practiced accurate mock tests under exam conditions will know exactly what to do. Their cognitive demand will be reduced to the point where they can simply focus on answering the questions correctly.
This is why accuracy is vital for practice papers to be effective. Free mock exams available to download online are often generic, varying in quality and accuracy. This will do little to familiarise your child with what to expect, or may even create false expectations leading to confusion on test day.
2. Boost confidence, conquer stress
Preparing for exams can be stressful and even anxiety-inducing for children. The unknown is scary. By using practice tests in a friendly environment, children get familiar with exactly what to expect, reducing the chances of anxiety when they sit down to do the real thing.
We know that our brains work less efficiently when we're stressed. Cognitive function is better when we're calm and focused on the task at hand. At Atom, we make our mock tests accurate because we want children to go in on test day feeling confident and empowered.
3. Refine exam technique
The timings can be an additional challenge on test day. The only way to learn the specific time management skills needed is through practice working under stringent time constraints in exam conditions.
A child who is experienced with mock exams will know how to pace themselves to get the best results. They'll also have solidified their mastery of other elements of exam technique, such as knowing when to go back and check their work.
4. Get insight into your child's progress
Practice papers are useful for gauging how your child is likely to perform on the real exam at their current level of knowledge. Mock tests on Atom Nucleus are automatically marked, giving you a Standardised Age Score (SAS). This is the same scoring system used in the real exam to help determine whether your child gets a place at their target school.
Your child's SAS is a helpful indicator of their progress. Keeping an eye on how it develops will give you insights into how quickly they are improving, as well as highlighting weaker areas or subtopics that need more practice.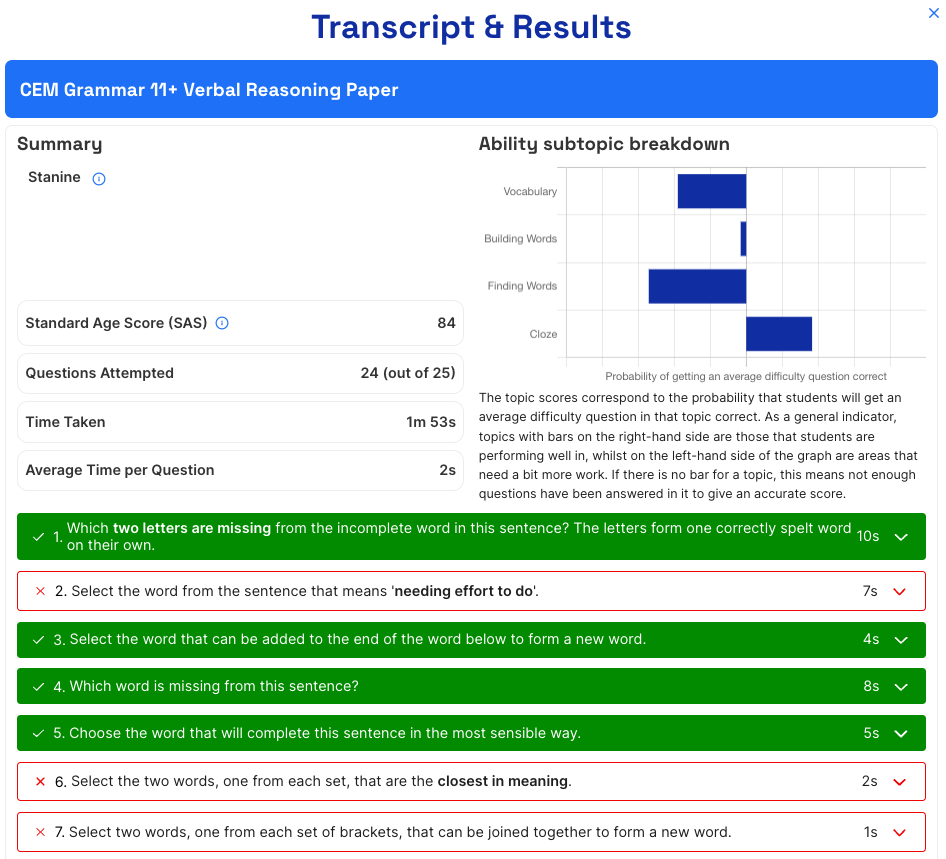 An Atom mock test transcript showing the SAS and a breakdown of subtopic scores.
The number one mock test mistake (and how to avoid it)
A common misconception about exam preparation is that repeating mock exams is the most effective way to revise. Many parents and tutors put a lot of emphasis on repeating as many different 11 plus past papers or mock exam papers as possible.
However, this isn't the most efficient or effective way to go about exam prep.
Although mock tests are a fantastic tool to practise exam technique, they're not the best way to teach – or to learn. The main reason for this is that mock tests are taken in exam conditions, which means:
Your child won't have access to help sheets or explanations to embed their understanding of a topic.

They won't be able to see their score as they go, so won't have the chance to self-correct any misunderstandings to consolidate their learning.
How to use 11 plus mock tests
Instead of over-relying on past papers, it's more effective to build and consolidate secure knowledge of the curriculum first. We recommend treating mock exams as a supplement to the time your child spends mastering the breath and depth of the exam content.
Your child should be spending around 1.5–2 hours on exam practice a week – but the majority of that time should be focused on mastering the curriculum.

Research shows that for the best focus and retention of knowledge, study time should be broken down into 20–30 minutes a day. A good approach is to practise a different subject each day of the week.
By the end of the Easter holidays in Year 5, it's highly recommended to have covered every question type in the 11 plus curriculum. Once your child has covered all question types, you can then identify the topics that need further revision, and use the summer term to drill down into these.
Atom's adaptive algorithm creates a child's unique optimal learning pathway through the 11 plus curriculum.
How many mock tests should we be doing?
Alongside working to build a full understanding of the 11 plus curriculum, we recommend your child sits one or two practice tests each month.
In the final six weeks before an exam (at the start of August for the 11 plus) you should increase this to one test per week.
We've found this to be the right pace to ensure children are able to solidify their knowledge, while still perfecting their exam skills and confidence.
How to debrief with your child after a practice paper
Always take five or ten minutes to sit down with your child after a practice exam paper to review their answers together and talk through any corrections. This is an important step to consolidate and embed their learning.
To cultivate a growth mindset, remember to celebrate the process, not just the results! Try to avoid only praising your child's score, as this can discourage them from valuing the learning and reasoning process.
Instead, praise their resilience in making mistakes and learning from them, their attention to detail, improvements they've made from the last mock test – and encourage them to reflect on what they're proud of too.
Encouraging them to reflect on different ways to solve the problem will support them with their reasoning skills and build lateral thinking. Try asking these questions:
Is there a different way you could solve this problem?

Was this the quickest way to solve the problem?

How would you explain this to someone else?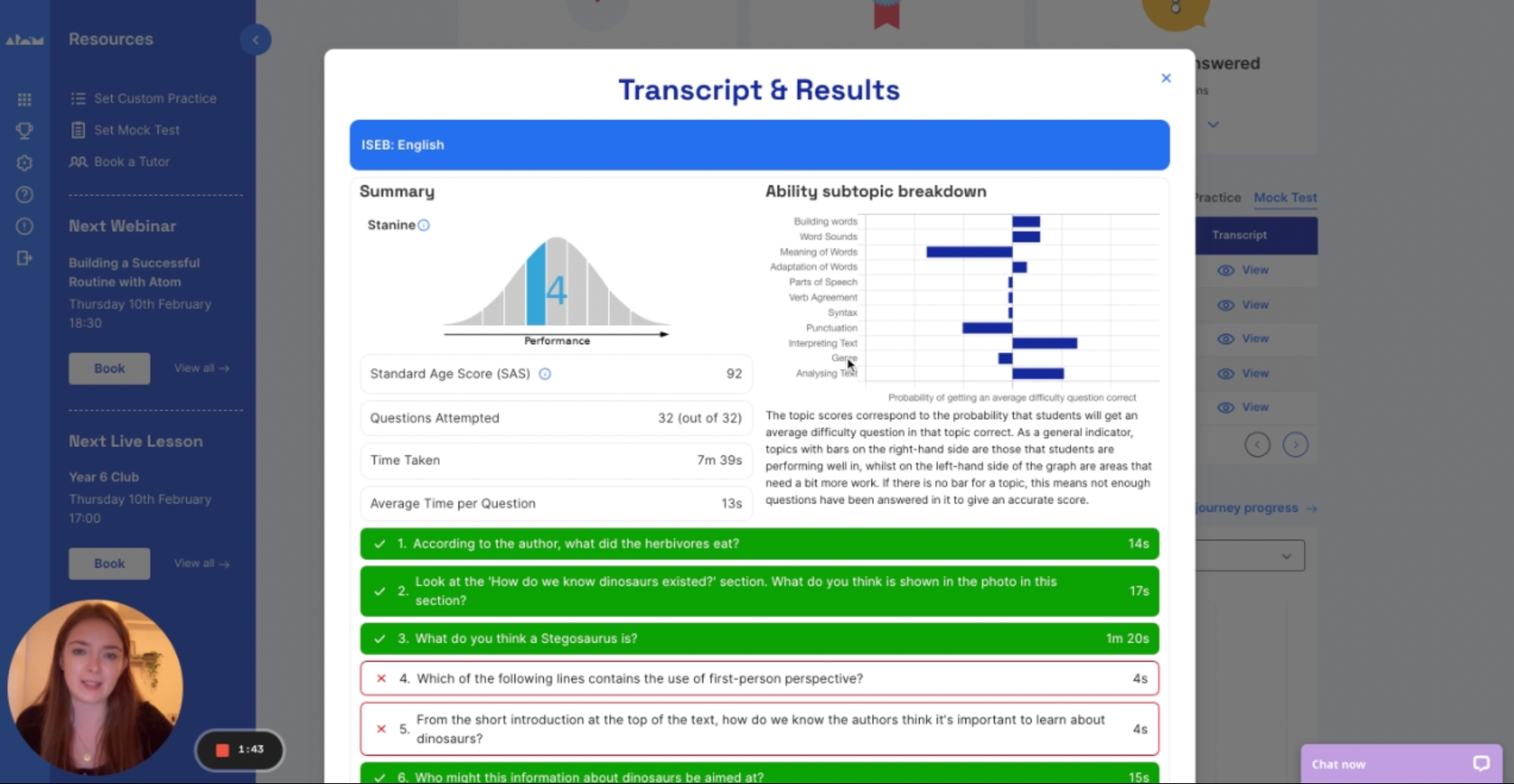 Atom makes these debrief conversations easy for you and your child. When your child completes an Atom Nucleus mock test, it is automatically marked. You get:
A transcript with a breakdown of results for each question

Links to help sheets and videos with friendly explanations for each question

Your child's SAS, showing you how they'd score in the real exam at their current performance level

An ability subtopic breakdown, showing you where to focus next in your child's revision
Learn more about how to use mock test transcripts in this video.
Get accurate online mock test papers
If you're looking for accurate online mock exams, Atom can help. We have unlimited online 11 plus mock exams that mirror the style and format of your target schools' entrance exams.
Find out which grammar and independent schools we have mock tests for.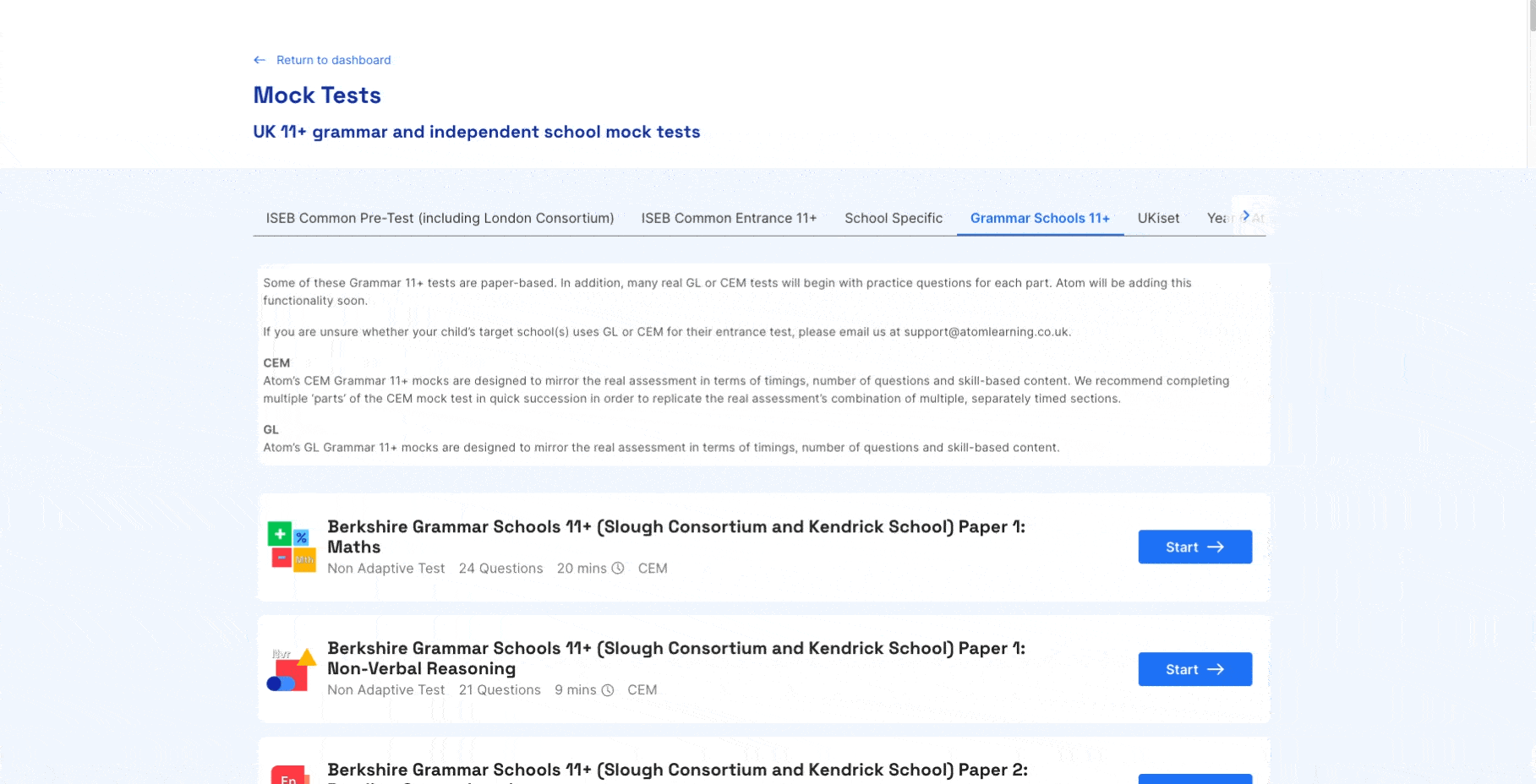 Why are Atom's mock tests the most accurate on the market?
Our entrance assessment specialists have mapped Atom mock tests to the real exams. We replicate everything from the content and functionality, right down to the colours, fonts and layouts of all major 11 plus tests. You can be confident our mock tests are accurate and up to date, so your child will feel 100% prepared.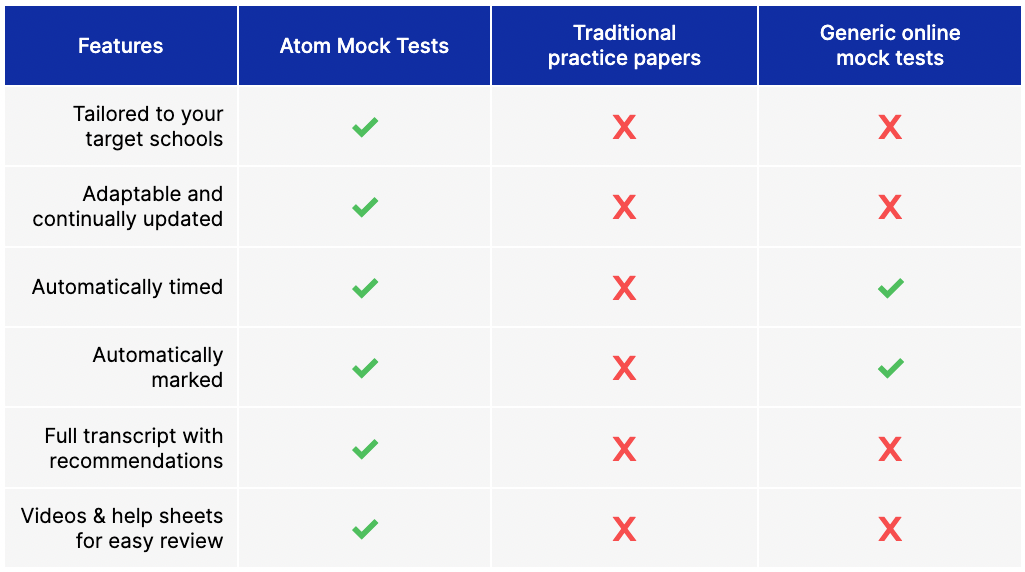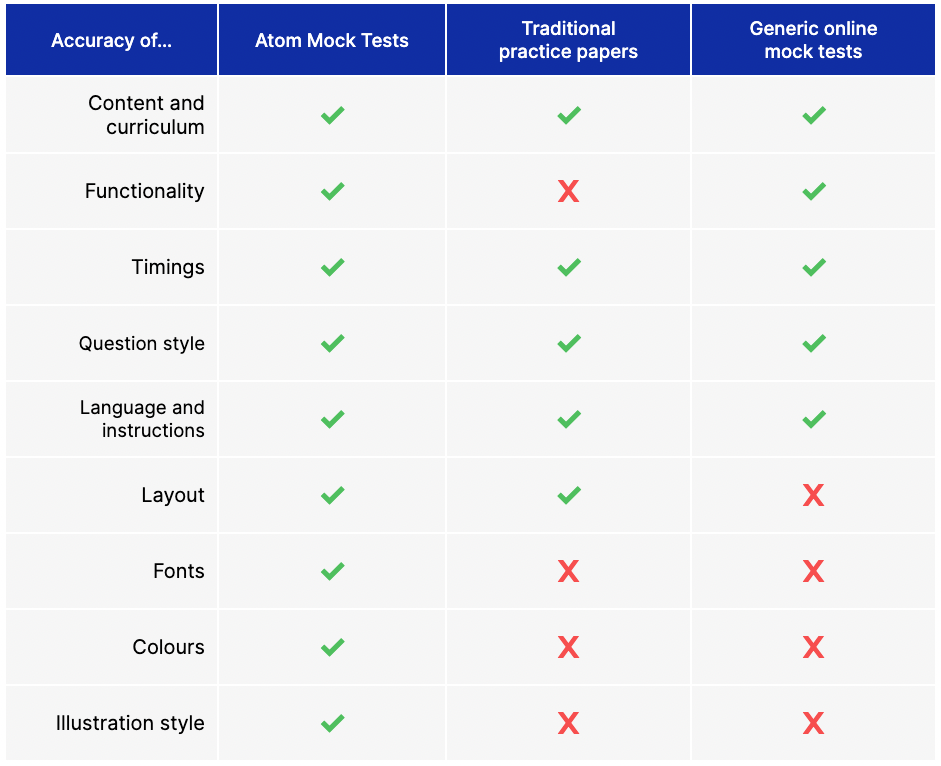 What parents say about Atom Nucleus: