Surbiton High School is an independent day school for girls aged 11 to 18. It is the founding member of the United Church Schools Trust and consists of the boys' and girls' separate prep schools (ages 4–11) and the senior school.
Girls at Surbiton High School have access to an extensive academic curriculum, with 20 disciplines on offer including unique options such as Classical Greek, Dance and Art Photography. Exam results at the school are consistently high; in 2021, 80.5% of GCSE grades were 9–8 (A* equivalent) and 93.3% were 9–7 (A*–A equivalent). Sixth form students leave Surbiton High School to study a wide range of subjects at top universities, including Russell Group and Oxbridge institutions as well as art colleges.
Surbiton High students can pursue many co-curricular activities across the school's three main sites (the main site on Surbiton Crescent, the sports ground and the boat house). Co-curricular opportunities include art, drama, dance, music (over 60 school events each year) and sport, with a wide range of sports including the Super Eight: cricket, football, netball, hockey, gymnastics, rowing, tennis and skiing.
Girls at Surbiton High School are looked after through the school's commitment to pastoral care and wellbeing, evidenced by the school's own Charter for Wellbeing based on a growing body of scientific evidence. Pupils have access to a 1:1 coaching programme and target setting, as well as personal form tutors and statutory PSHE lessons.
Key information for Surbiton High School
Principal: Mrs Rebecca Glover

Address: Surbiton High School, Surbiton Crescent, Kingston-upon-Thames, Surrey KT1 2JT

London Borough: Kingston-upon-Thames

Admissions contact: Sara Coleman – [email protected], 020 8439 1309

Age range and gender: 11–18, girls only

Number of pupils: 1,065

Number of places in Year 7: 120

Ratio of applicants to places: 5:1

Open day date: TBC - register your interest online

Overview of selection procedure for Year 7 entry: entrance exam, interview and report from the current school

Registration opens: Currently open – apply on the school website

Registration closes: Thursday 3rd November 2022 at midday

Assessment date for Year 7 entry: Saturday 26th November 2022

Scholarship assessment date: November 2022 to January 2023 (dependent on scholarship)
Surbiton High School fees and financial assistance
In 2022–23, the tuition fees for Surbiton High School are £6,690 per term. This covers the normal curriculum tuition as well as most books and stationery. Lunch is compulsory for Years 7 to 9 and costs £305 per term.
Surbiton High School offers a limited number of means-tested Church Schools Foundation Bursaries for eligible candidates (those who excel in the entrance process and whose family combined income is less than £70,000 per year). A sibling discount is also available at 5% for the second sibling and 10% for the third and any subsequent siblings.
Applicants to Year 7 at Surbiton High School may apply for a scholarship in the following areas:
Academic Scholarships: up to 20% reduction in school fees

Art Scholarships: up to 20% reduction in school fees

Dance, Drama and Performing Arts Scholarships: up to 20% reduction in school fees

Music Scholarships: up to 20% reduction in school fees

Sports Scholarships: up to 20% reduction in school fees
Surbiton High School term dates
The term dates for Surbiton High School in 2022–23 are:
Autumn term: 2nd September – 14th December 2022

Half term: 17th – 28th October 2022

Spring term: 5th January – 24th March 2023

Half term: 13th – 17th February 2023

Summer term: 19th April – 7th July 2023

Half term: 29th May – 2nd June 2023
Admissions process for Surbiton High School
To apply for a place in Year 7 at Surbiton High School in 2023, you will need to complete the online application form before the deadline of Thursday 3rd November 2022 at midday. You will also need to pay a non-refundable entrance assessment fee of £100.
If you are applying for a bursary or a scholarship for your daughter, you will need to register your child earlier, and complete the necessary application forms for the bursary/scholarship, by 5th October 2022 at midday. Shortlisted scholarship candidates will then be contacted by the end of October.
All candidates for Surbiton High School will take the school's entrance exam on Saturday 26th November 2022. The results of this will be communicated to parents/carers by early December and shortlisted candidates will be invited back to Surbiton High School for an interview between December and January.
If your daughter is applying for a scholarship, the following additional steps will take place:
Academic Scholarships: All candidates who take the school's entrance exam will be considered for an Academic Scholarship; these are awarded based on candidates' performances across the exam, the questionnaire and the school report.

Art Scholarships: Candidates will also need to submit a portfolio of work along with a report from the child's current art teacher Shortlisted candidates will then be assessed on Saturday 7th January 2023.

Dance, Drama and Performing Arts Scholarships: Candidates will need to submit a letter of support as part of their application which details their performance experience, a report/reference from their current drama, dance or English teacher and a three-minute video of their role in a filmed performance. Shortlisted candidates will be assessed on Thursday 5th January 2023 in a group workshop and a two-minute solo performance (either a dance piece, a drama monologue or a musical theatre piece).

Music Scholarships: Candidates should have reached Grade 4 minimum on their principal instrument by the date of the entrance exam to be eligible for a Music Scholarship. A report from the current music teacher will be required for the application, after which shortlisted candidates will be invited to audition during the week commencing 7th November 2022. Girls will play two contrasting pieces, be asked to sight read and take an aural test. There will also be an informal interview.

Sports Scholarships: To be eligible for a Sports Scholarship, girls will need to have reached the minimum required standard in at least one of: cricket, football, gymnastics, hockey, netball, skiing or tennis. Candidates will need to submit an application form which includes information about their sporting success and experiences with a reference from a sports coach (and a video if required for the particular sport). Shortlisted applicants are then invited to group sessions and sports-specific assessments, which will take place between Saturday 3rd December 2022 and Sunday 9th January 2023.
Parents/carers will receive the outcome of their child's application by the beginning of February 2023, including the outcome of any scholarships or bursaries applied for. There will then be an opportunity to visit the school's sports ground and take part in virtual taster sessions for offer-holders in February, before the deadline for accepting places on 6th March 2023.
Surbiton High School entrance exam format
All candidates for Year 7 at Surbiton High School will take an entrance exam on Saturday 26th November 2022. This will consist of two papers:
English (1 hour): reading and writing in response to a single unseen text, which could be fiction or non-fiction. The writing task will be connected to the unseen text.

Maths (1 hour): number, shape and space, measurement and data handling. Girls will also be expected to add, subtract, multiply and divide whole numbers, simple fractions and decimals. Girls will need to be able to work quickly and accurately without a calculator.
There will also be a short questionnaire. The results of this are included in the school's decision-making for granting Academic Scholarships.
You may find the following resources helpful:
How to help your child prepare for the selection process at Surbiton High School
Build foundational knowledge
The entrance exam at Surbiton High School assesses applicants' understanding of Key Stage 2 English and maths. Atom Nucleus takes your child through personalised learning journeys across the entire Key Stage 2 core curriculum, with over 90,000 teacher-created questions.
Preparation is key
Familiarisation with the question formats and known styles ahead of the exam is absolutely essential. Access to quality, unlimited practice material ensures that your child will feel confident when tackling the test. Atom gives your child access to unlimited mock tests that mirror the content, format and structure of typical school entrance exams: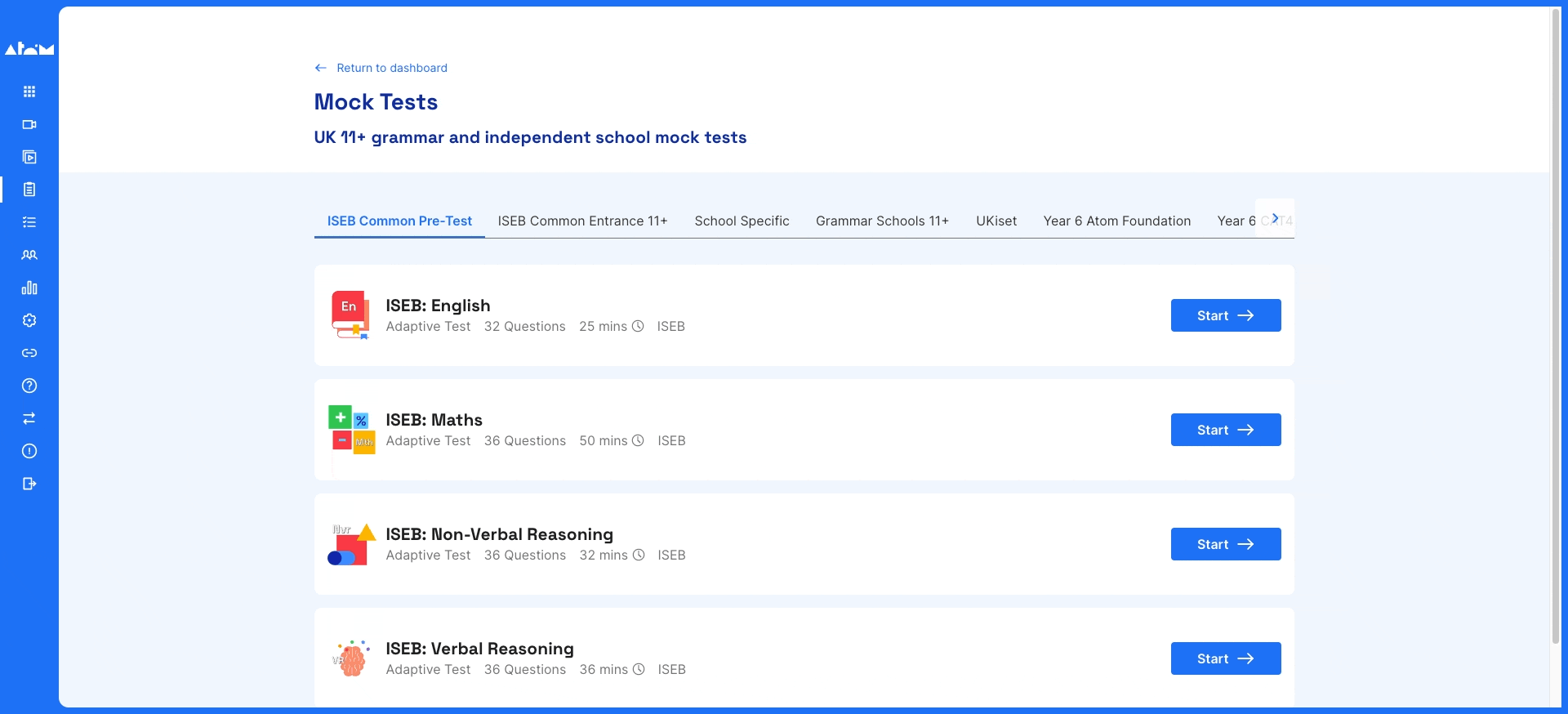 When working through challenging topics, your child will need immediate clarity with any misconceptions so that they feel truly secure in every topic. Atom gives your child access to video tutorials, help sheets and examples for each question to help build confidence and competence across all areas of the Key Stage 2 core national curriculum.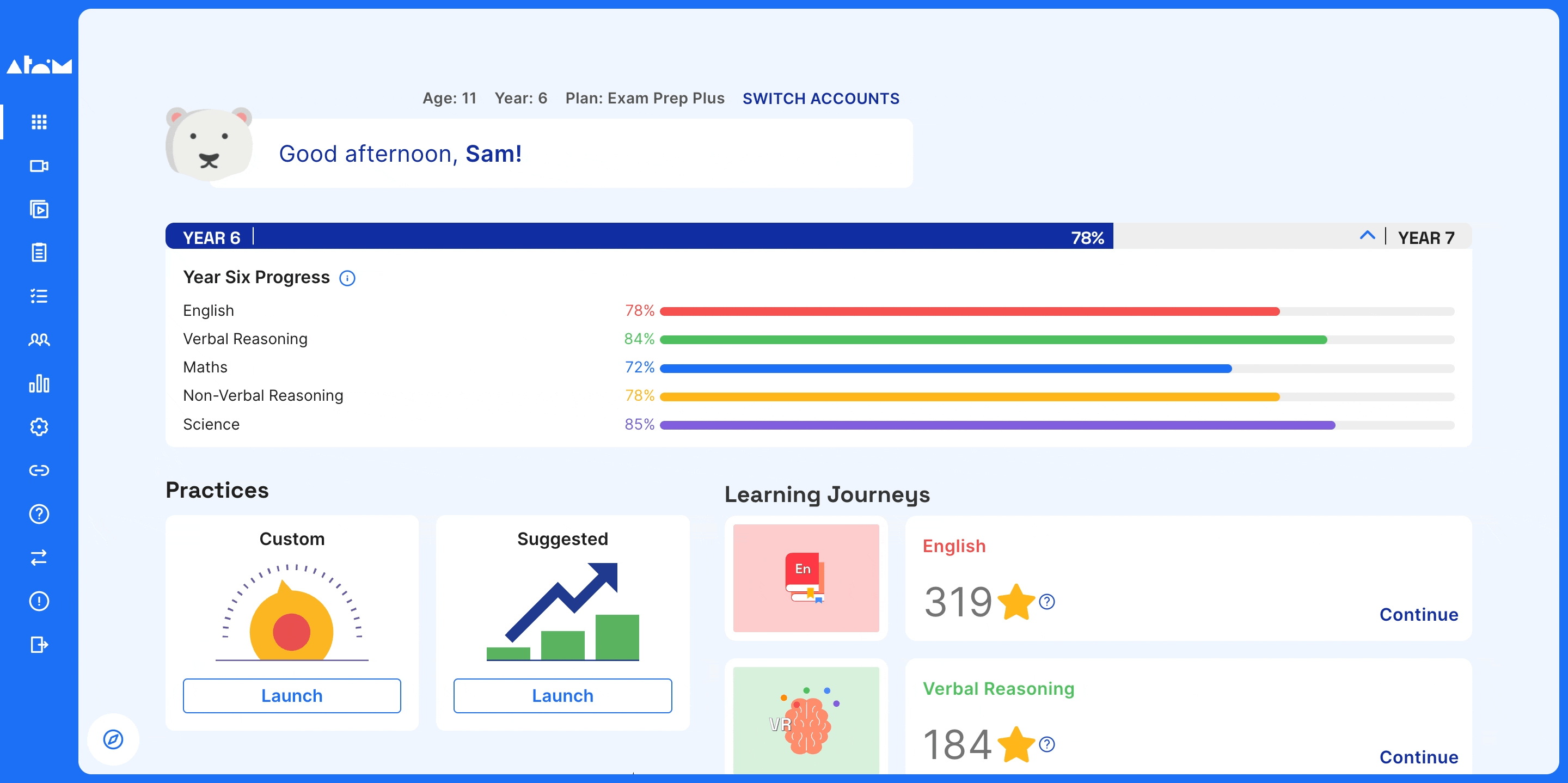 Engage with their progress
Celebrate your child's improvement in areas of challenge together. An accurate and ongoing assessment of their areas of strength and development is helpful. Atom's Parent Portal offers data-driven insights into your child's progress to help you prepare effectively, including targets achieved, a detailed breakdown of progress by subtopic and the ability to set custom practices to target your child's most challenging subtopics.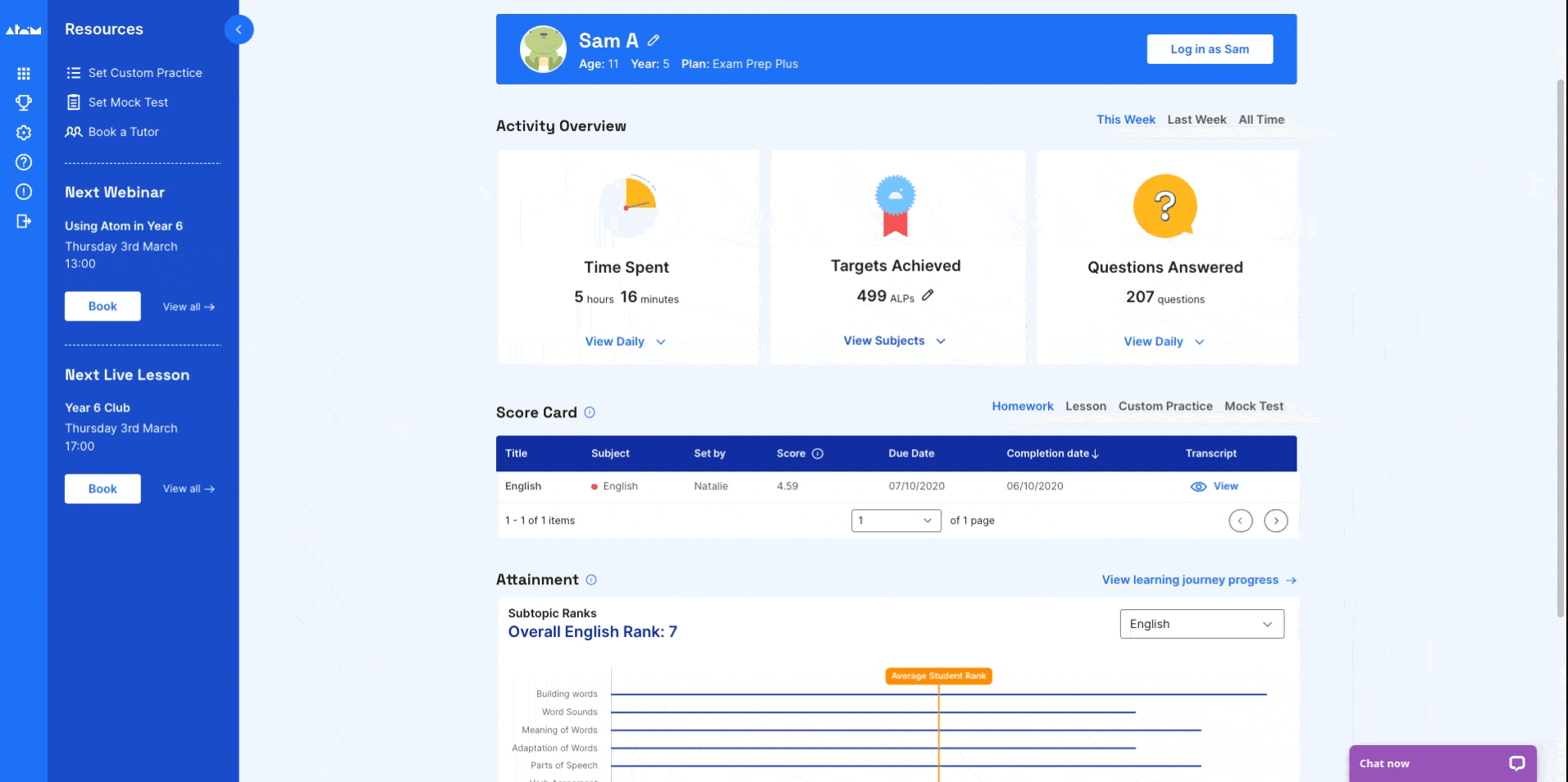 ---
Atom Learning can help
It's our mission to help your child feel prepared and confident on exam day. Begin your free 5-day free trial of Nucleus today to unlock success in the classroom, entrance exams and more.
We know how crucial this time is, so our team is on hand to support you and your family every step of the way. You can book a call with one of our Education Experts to ask any questions you might have about Year 7 entry to Surbiton High School:
If you're looking for exclusive tips and resources to help your child master key subjects, excel in exams and build academic confidence, join Atom's email list: