Westminster School is an independent day and boarding school for boys aged 13–18 (with a co-educational sixth form) situated directly next to Westminster Abbey and the Houses of Parliament in London. The school's history dates back to the 14th century and it is recognised as one of the world's foremost centres of academic excellence, as well as one of the top 10 private schools in England.
The school aims to instil in its pupils a love of learning combined with the openness to embrace fresh ideas. The curriculum covers traditional academic subjects with more innovative options, including theology and philosophy, electronics, product design and languages such as Mandarin and Russian.
Education at Westminster School is underpinned by three core objectives: transforming lives, transforming experience and transforming impact. The school is committed to these values by widening access and becoming needs-blind on entry, increasing diversity, equality and inclusion in all areas of school life, and working with local and global partners to develop a community of well-rounded scholars who care deeply about the life of the mind and the lives of others.
Pupils at Westminster School consistently achieve excellent academic results at both GCSE and A level; in 2019, 95% of all GCSE grades were 9 or 8 (A* equivalent) and 76% of A level grades were A*–A. American universities are proving to be increasingly popular destinations for Westminster students (approximately 40 places each year), with many pupils offered courses in leading fields at locations including the London School of Economics, Imperial College, the Courtauld Institute, the Sorbonne, the Royal College of Music and the New York Film School.
Key information for Westminster School
Head Master: Dr Gary Savage

Address: Westminster School, 17 Dean's Yard, Westminster, London SW1P 3PF

London Borough: City of Westminster

Admissions contact: [email protected], 020 7963 1003

Age range and gender: 13–18 (boys), 16–18 (girls)

Number of pupils: 766

Number of places in Year 9: 120 (including approximately 60 boys moving up from Westminster Under School)

Ratio of applicants to places: Undisclosed (competitive)

Open day date: Regular tours available for 13 plus entry – submit an enquiry online

Overview of selection procedure: ISEB Common Pre-Test, school's own test, school reference and interview

Registration opens: Currently open – apply online

Registration closes: 30th September 2022

Assessment date: October to November 2022 (ISEB Common Pre-Test) and January 2023 (school's own test)

Scholarship assessment date: April/May 2025
Westminster School fees and financial assistance
The current fees at Westminster School are £9,987 per term (£29,961 per year) for day pupils. For pupils who are boarding, the fees are £14,424 per term (£43,272 per year).
When Westminster School was granted its Royal Charter by Elizabeth I in 1560, she mandated that the school "provide for 40 poor scholars". The school now provides approximately £1.4m each year in financial assistance to pupils across the Under School (prep) and Great School (senior), which allows exceptionally talented pupils to benefit from the school's education regardless of their family's financial circumstances. Children who live within the M25 London orbital and are able to commute daily to school are eligible for a means-tested bursary (based on financial circumstances).
There are 8 Academic Scholarships available to boys at 13 plus entry each year, with successful candidates known as Queen's Scholars. Queen's Scholars are required to board at Westminster School but will pay the day fee, rather than the full boarding fee.
Music Scholarships and Organ Scholarships are also available at 13 plus entry. The financial award of both is a 10% remission of the day fees and free tuition on up to two instruments.
Westminster School term dates
The term dates at Westminster School for 2022–23 are:
Play (autumn) term: 3rd September – 10th December 2022 (exeat weekends on 23rd September and 19th November)

Half term: 15th–31st October 2022

Lent (spring) term: 9th January – 25th March 2023 (exeat weekends on 27th January and 10th March)

Half term: 9th–20th February 2023

Election (summer) term: 18th April – 5th July 2023 (exeat weekend on 28th April)

Half term: 26th May – 5th June 2023
The provisional term dates at Westminster School for 2023–24 are:
Play (autumn) term: 2nd September – 9th December 2023 (exeat weekends on 22nd September and 18th November)

Half term: 14th–30th October 2023

Lent (spring) term: 8th January – 23rd March 2024 (exeat weekends on 26th January and 8th March)

Half term: 8th–19th February 2024

Election (summer) term: 16th April – 3rd July 2024 (exeat weekends on 3rd May and 21st June)

Half term: 24th May – 3rd June 2024
Admissions process for Year 9 entry to Westminster School
If you would like to register your son for Year 9 entry to Westminster School in 2025, you will need to complete the online registration form before 30th September 2022 and pay a non-refundable registration fee of £100.
All applicants will then take the ISEB Common Pre-Test, which consists of English, maths and reasoning questions, at their current schools. Westminster School will assess the results of this test in conjunction with each boy's reference from his current school.
Boys who have an exemplary school reference and who perform well in the ISEB Common Pre-Test will be invited to sit Westminster School's own 13 plus entry exam at the school, and to have an interview with a member of staff in January/February 2023.
Families will receive a letter, by email, with one of three outcomes of their child's application:
A offer of an unconditional place at the school

An offer to place their son's name on a waiting list

A letter explaining that the school will not take the child's application forward
Boys who have been offered an unconditional place at Westminster School for 13 plus entry in 2025 and are applying for an Academic Scholarship will sit an exam known as The Challenge. This will take place in April or May 2025 and consists of written papers in English, French, Latin, maths, science, history and geography. Past papers are available to download from Westminster School's website.
There are also up to eight Music Scholarships and three Music Exhibitions available at 13 plus entry. Eligible candidates should be of Grade 7 standard on their first instrument.
Auditions will be held in late January or early February 2025. It is recommended that if you are considering registering your child for a Music Scholarship at Westminster School that they have an informal audition with the Director of Music in the autumn of 2024.
Westminster School 13 plus exam
Stage one: the ISEB Common Pre-Test
All applicants to Westminster School at 13 plus entry will take the ISEB Common Pre-Test. This is an adaptive online exam where the questions become more difficult depending on how the child is performing. It takes about two and a half hours to sit the exam, with the content divided into four sections:
English: Candidates will be assessed on their comprehension, spelling, punctuation and grammar.

Maths: Candidates will be tested on the Key Stage 2 national curriculum taught up to the end of Year 5, which covers number, measurement, data, algebra and geometry.

Verbal reasoning: Candidates will be assessed on their logic and problem-solving skills.

Non-verbal reasoning: Candidates will be tested on their ability to understand and analyse visual information using shapes.
Take a look at our complete guide to the ISEB Common Pre-test for more information about the content of the exam and how to help your son prepare.
Stage two: Westminster School's own exam
Families will find out if their son has been successful in the first stage of the entrance process in mid-December 2022. Boys who have performed strongly in the ISEB Common Pre-Test will be invited for an interview and further tests in early January 2023 (followed by a separate interview scheduled in January or February):
English: 40-minute paper test.

Maths: 40-minute paper test.
How to help your child prepare for the selection process at Westminster School
Build foundational knowledge
The 13 plus exam at Westminster School covers a huge range of content! Boys are tested on their knowledge and understanding of Key Stage 2 English and maths, as well as verbal reasoning and non-verbal reasoning (neither of which are taught in school).
Your child can consolidate everything he knows and learn how to answer unfamiliar questions with Atom Nucleus, with over 90,000 teacher-created questions and helpful learning resources across English, maths, verbal reasoning and non-verbal reasoning.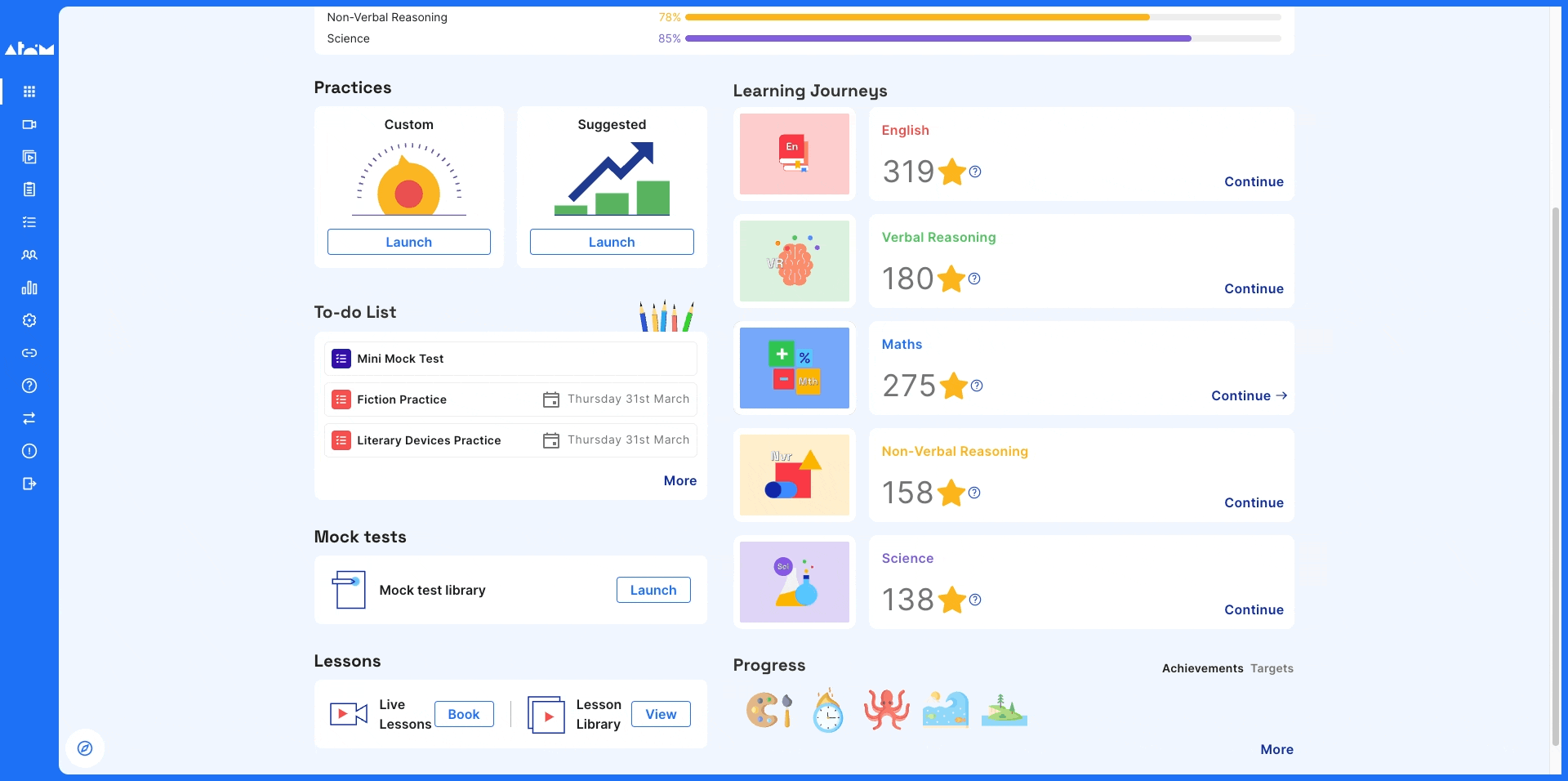 Preparation is key
Familiarisation with the question formats and known styles ahead of the exam is essential to help your child build exam confidence. An exam preparation subscription with Atom Nucleus enables your child to access quality practice material with full score breakdowns to help your child feel confident by the time the exam day comes around. Best of all, your child can take unlimited practice tests – including replicas of the ISEB Common Pre-Test – for one monthly cost.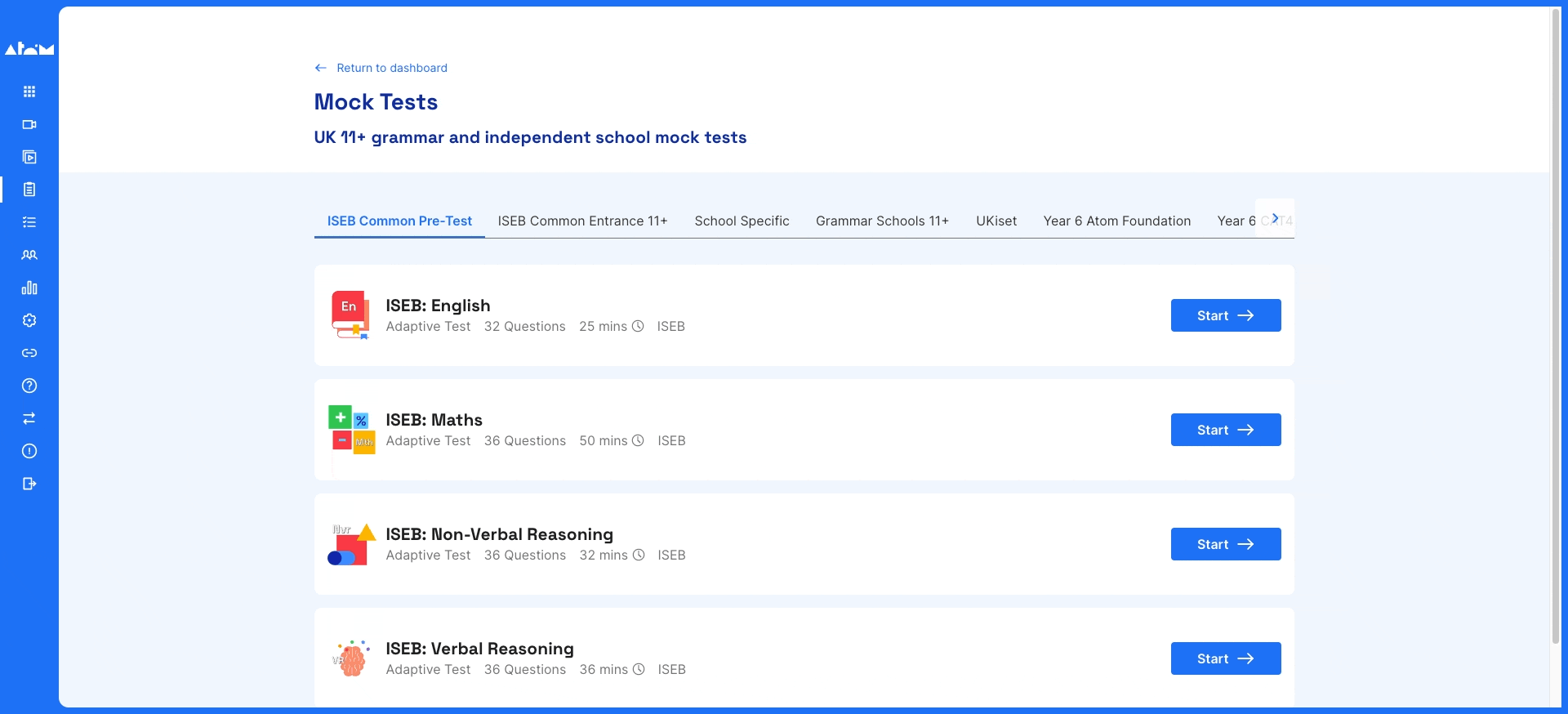 When working through challenging topics, your child will need immediate clarity with any misconceptions so that they feel truly secure in every topic. Atom Nucleus includes video tutorials, help sheets and examples with every question to help your child build confidence and competence across all the areas assessed.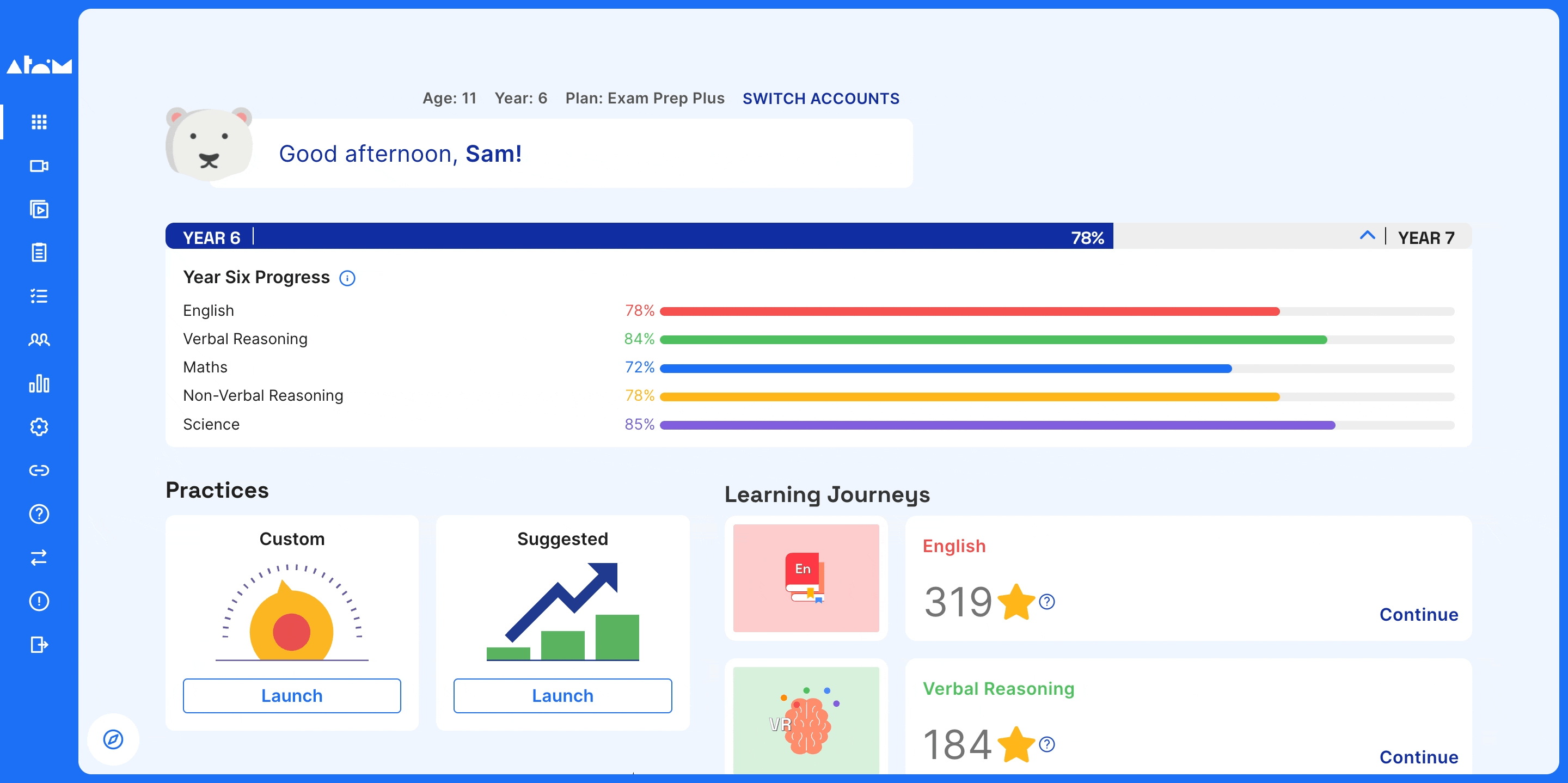 Engage with their progress
Celebrate your child's improvement in areas of challenge together. An accurate and ongoing assessment of their areas of strength and development is helpful.
As an Atom subscriber, you'll have a parent dashboard which offers data-driven insights into your child's progress. You can use this effectively to help your child set targets, see a detailed breakdown of their progress by subtopic and set custom practices to target those they find most challenging.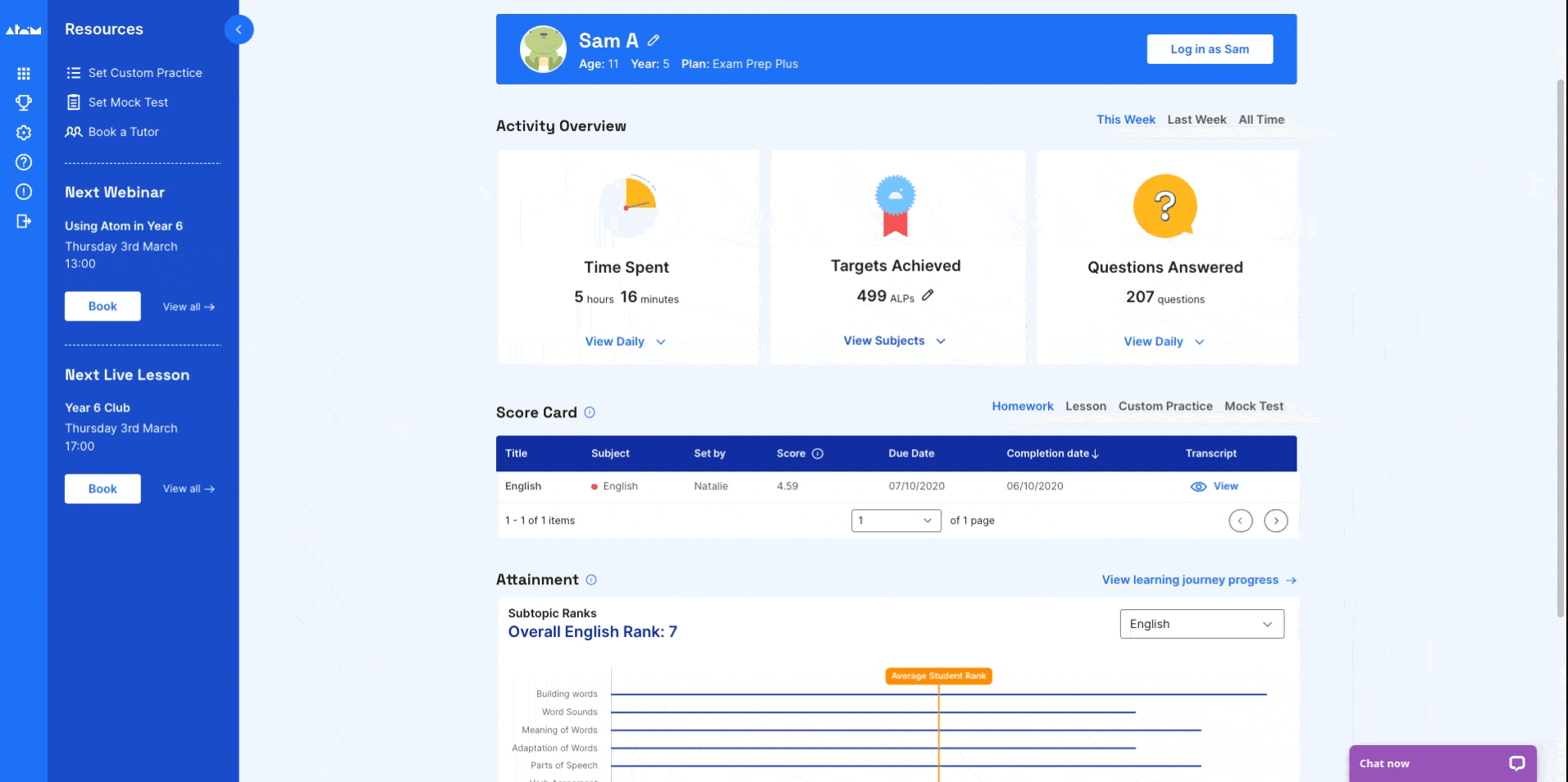 ---
Get started with Atom Learning
It's our mission to help your child feel prepared and confident before the exam day. Begin your free 5-day free trial of Nucleus today to help your child succeed.

We know how crucial this time is, so our team is on hand to support you and your family every step of the way. You can book a call with one of our Education Experts to ask any questions you might have about 13 plus entry to Westminster School:
If you're looking for exclusive tips and resources to help your child master key subjects, excel in exams and build academic confidence, join Atom's email list: