Belmont School is a co-educational day and weekly boarding school for boys and girls aged 3–16, situated in a rural location in the Surrey Hills. The smaller-than-average population facilitates small class sizes, ensuring that the ablest pupils are stretched and challenged while providing plenty of support for pupils who work at a different pace.
Belmont School uses a vibrant and multi-sensory approach to its education. In the classroom, teaching and learning blend traditional methods with modern technology and the latest pedagogic techniques. All pupils in the senior school have a personal electronic device and benefit from interactive touch screens and Apple TV to help develop technological skills from a young age.
Beyond the classroom, there are various opportunities for pupils at Belmont School to find new interests and develop talents in the arts and sports. All pupils take part in the biannual Belartis Festival (the school's celebration of performing and visual arts) in the spring term, while many pupils enrol in LAMDA lessons or classes at the school's own dance academy. Children who are interested in sports benefit from excellent games facilities on a 65-acre site, with a differentiated programme in place as part of the inclusive 'sport for all' philosophy.
Directory of private schools in Surrey
---
Key information for Belmont School
Headmistress: Mrs Helen Skrine

Address: Belmont School, Feldemore, Holmbury St Mary, Dorking, Surrey RH5 6LQ

County: Surrey

Admissions contact: Miss C Smith – [email protected], 01306 730852

Age range and gender: boys and girls aged 3–16

Number of pupils: 229

Open day date: Friday 25th November 2022 and Friday 24th November 2023. Arrange a visit via Belmont School's website.

Overview of selection procedure: entrance exam, taster day, interview, school reports and school reference

Registration closes: 31st December in Year 6

Assessment date: TBC
Belmont School fees and financial assistance
The termly fees at Belmont School for children in Years 7 and 8 is £6,380, and £6,810 for pupils in Years 9 and above. Weekly boarding is available from Sunday to Thursday night, or Monday to Friday night, at an additional cost of £1,765. Belmont School operates a sibling discount of 10% for the third, and 20% for the fourth and any subsequent siblings (day fees only).
The Board of Governors at Belmont School is committed to broadening access to eligible pupils by offering means-tested financial support. If you would like to apply for a bursary place, you will need to contact the bursar and submit a bursary application form by 31st December of Year 6 (same date as main registration).
Belmont School has a range of scholarships available for pupils who are offered a place at the school. If your child secures a place, you may then apply for a sport, music, drama, art, design technology, information technology, or all-rounder scholarship. Scholarships are not means-tested, but can be combined with a bursary if there is enough need.
Belmont School term dates
The term dates at Belmont School for 2022–23 are:
Autumn term (Michaelmas): 5th September – 9th December 2022

Half term: 17th–28th October 2022

Spring term: 4th January – 24th March 2023

Half term: 13th–17th February 2023

Summer term: 18th April – 7th July 2023

Half term: 29th May – 2nd June 2023
Admissions process for Year 7 entry to Belmont School
If you think Belmont School would be a good fit for your child, you will need to complete an application form (contact the admissions office to access this) and pay a non-refundable registration fee of £100.
Once you have registered your child, they will be invited to Belmont School for a taster day. This experience will include computerised academic tests, an interview with either the head or a member of the senior management team, and lessons and activities with other candidates. Belmont School will also request a formal reference from your child's current school, in addition to full school reports from the two years leading up to registration.
The headmistress will write to you shortly after the taster day with an offer letter, or, if your child is not successful in securing a place, you will receive a telephone call.
Belmont School 11 plus exam
Children who are registered for Year 7 entry to Belmont School will take computerised tests at the school during the taster day. They will have three tests in total:
Verbal reasoning: Children will be tested on their ability to reason and solve problems with written information. Find out more and a look at typical verbal reasoning questions in our complete guide to 11 plus verbal reasoning.

English: Belmont School doesn't disclose details about their test content. However, most 11 plus English exams include questions on reading comprehension – you can find out more about how to help your child develop their comprehension skills in our exam guide.

Maths: Children will be tested on their knowledge and application of the Key Stage 2 maths national curriculum. You can find out what topics this includes, and the sorts of questions your child will be asked, in our guide to 11 plus maths.
How to help your child prepare for the selection process at Belmont School
Build foundational knowledge
The 11+ exam at Belmont School will assess your child's knowledge and application of the Key Stage 2 national curriculum for English and maths. They will also be tested on their verbal reasoning ability, which is not taught at school.
Your child can consolidate everything they need to know with Atom Nucleus. They'll have access to over 90,000 interactive teacher-created questions and learning resources in all exam subjects.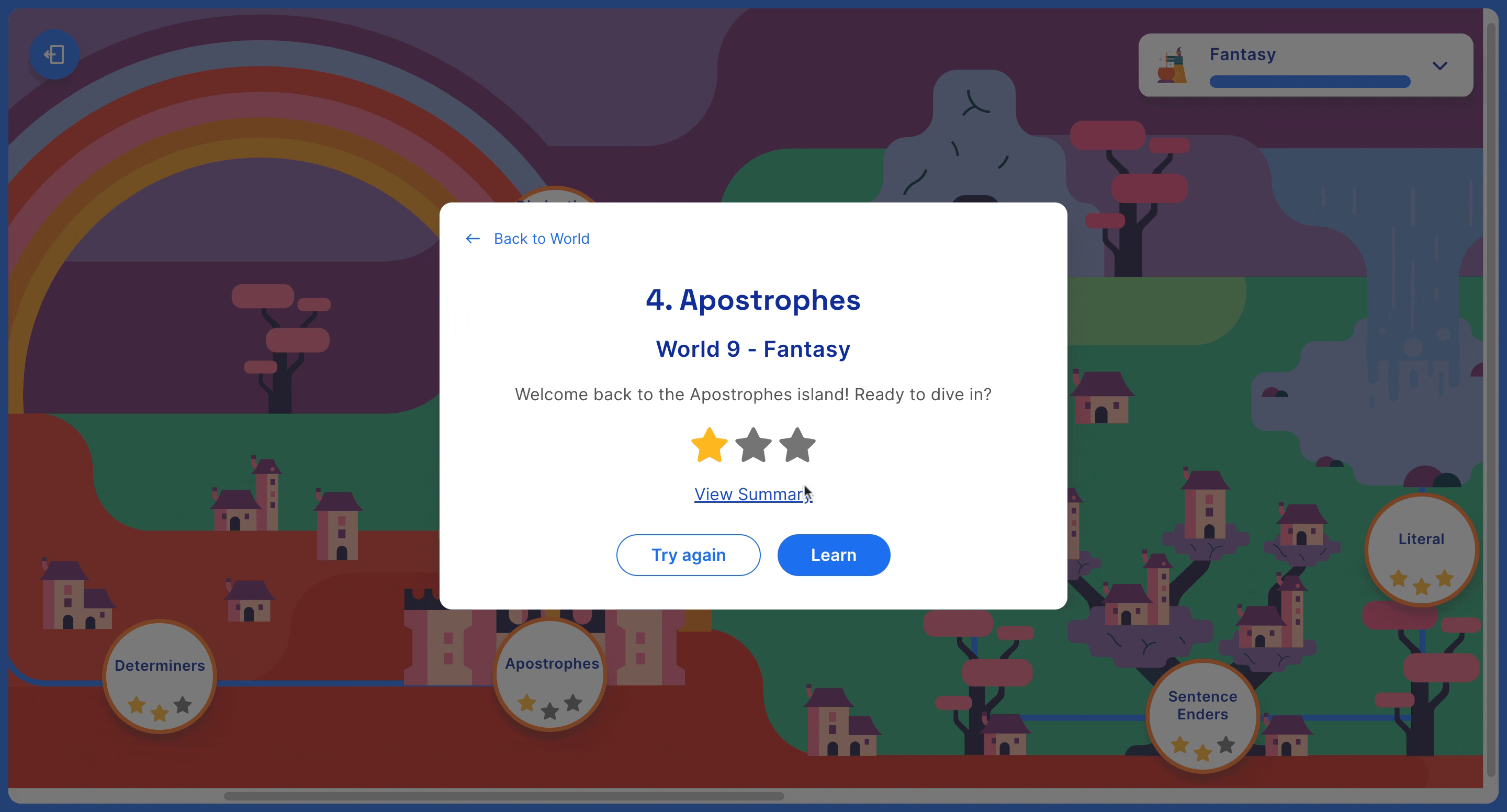 Preparation is key
Familiarisation with the question formats and known styles ahead of the exam is essential to help your child build exam confidence.
An exam preparation subscription with Atom Nucleus enables your child to access quality, unlimited practice material with full score breakdowns to help your child feel confident by the time the exam day comes around.
Your child can take mock tests that replicate typical 11 plus exams for English, maths, and verbal reasoning as many times as they like without repeatedly seeing the same questions. Meanwhile, you'll be able to see their results instantly, including their performance compared to peers and suggested areas for improvement.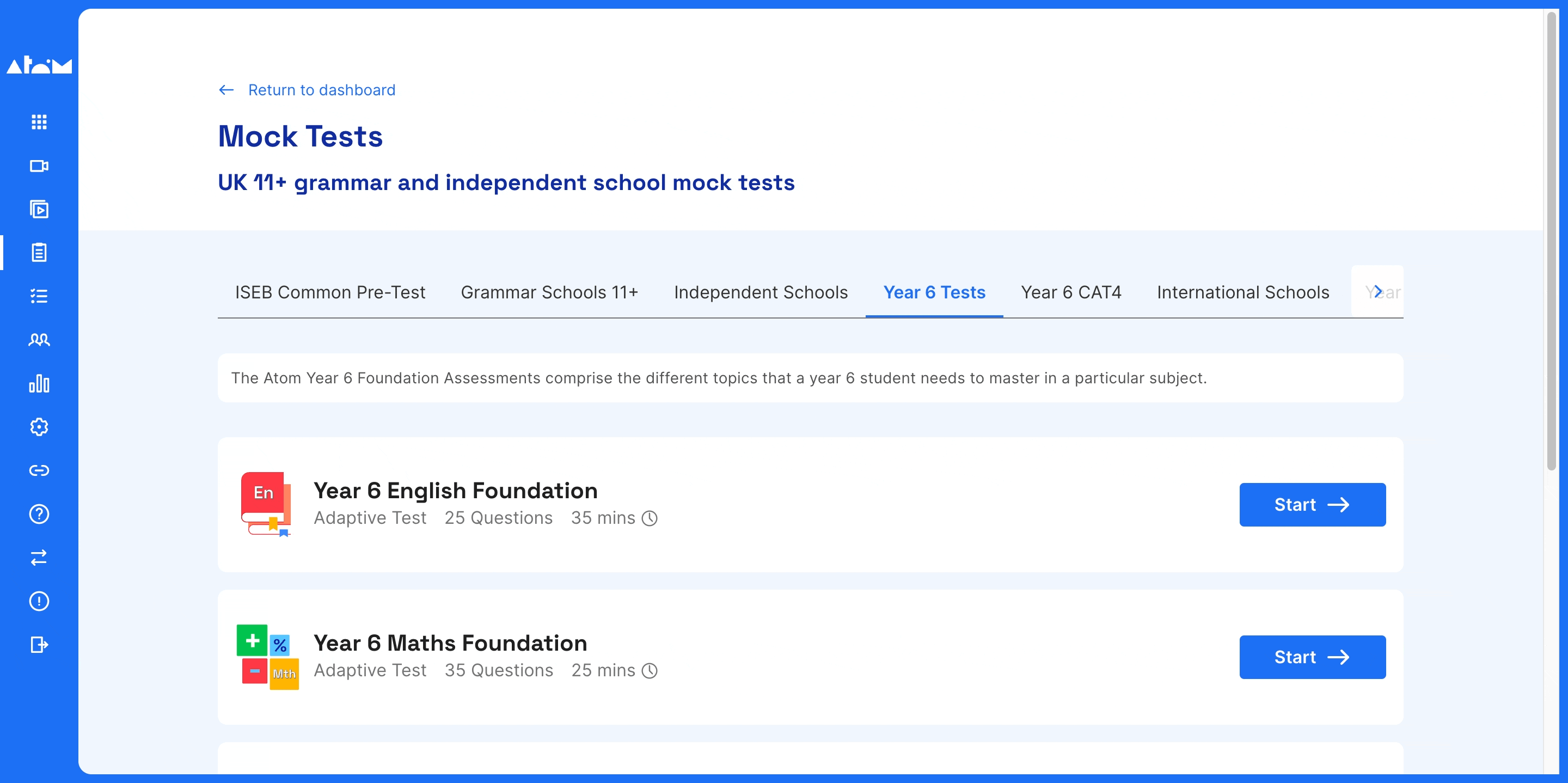 When working through challenging topics, your child will need immediate clarity with any misconceptions so that they feel truly secure in every topic. Atom Nucleus includes video tutorials, help sheets and examples with every question to help your child build confidence and competence across all the areas assessed.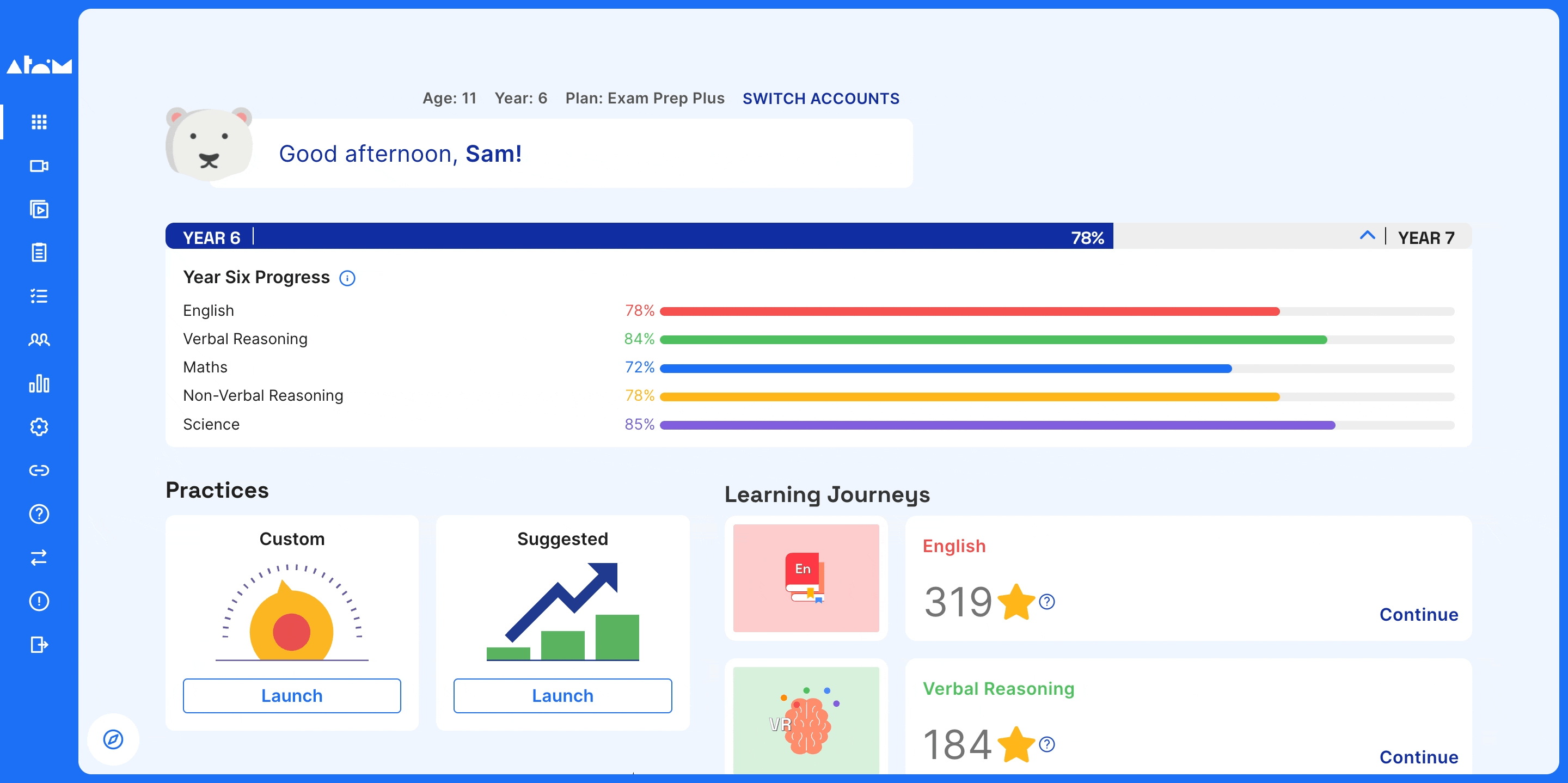 Engage with their progress
Celebrate your child's improvement in areas of challenge together. An accurate and ongoing assessment of their areas of strength and development is helpful.
As an Atom subscriber, you'll have a parent dashboard which offers data-driven insights into your child's progress. You can use this effectively to help your child set targets, see a detailed breakdown of their progress by subtopic and set custom practices to target those they find most challenging.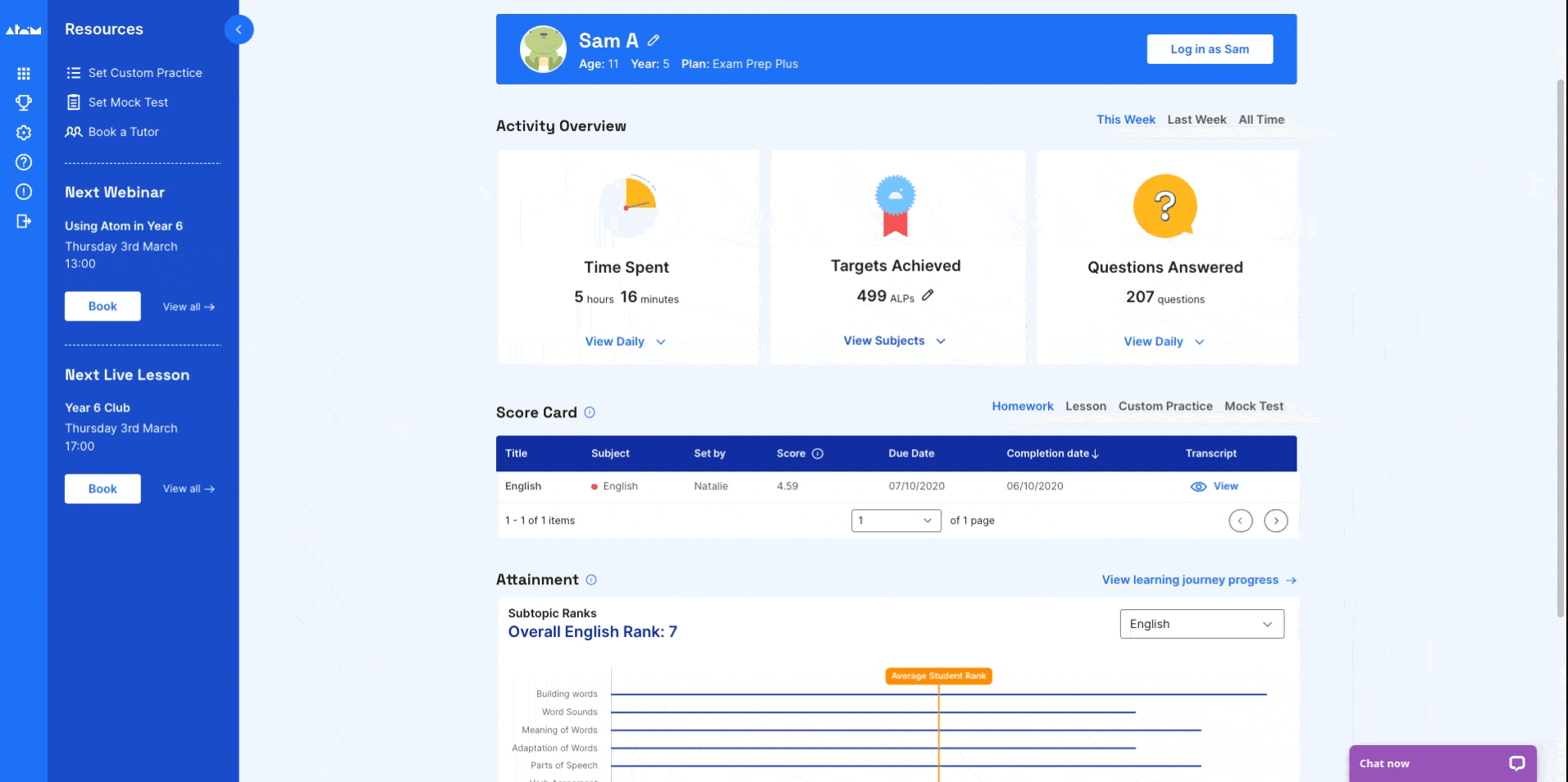 ---
Get started with Atom Learning
It's our mission to help your child feel prepared and confident before the exam day. Begin your free 5-day free trial of Nucleus today to help your child succeed.
We know how crucial this time is, so our team is on hand to support you and your family every step of the way. You can book a call with one of our Education Experts to ask any questions you might have about 11 plus entry to Belmont School:
If you're looking for exclusive tips and resources to help your child master key subjects, excel in exams and build academic confidence, join Atom's email list: