Churston Ferrers Grammar School is located near the coast in Brixham, South Devon and is one of only two co-educational grammar schools in the South West.
The school is relatively young (it was founded in 1957) and values its relaxed and supportive atmosphere. In 2007, it was named a leading school in the South West for sustainability.
Churston Ferrers Grammar School is rated 'Outstanding' by Ofsted.
11 plus information for Churston Ferrers Grammar School
Address: Churston Ferrers Grammar School, Greenway Road, Brixham, Devon, TQ5 0LN

County: Devon

Admissions info: [email protected], 01803 842289

School type: co-educational grammar

Number of pupils: 1,087

Number of Year 7 places: 150

Open day: 30th June 2022. Tours are also available on 16th May and 11th July (booking required)

Registration period: Open until 8th September 2022

11 plus exam date: Saturday 17th September 2022

Exam board type: CEM

Results: 17th October 2022

National school offer day: 1st March 2023

Appeals: heard by an independent appeal panel
Churston Ferrers Grammar School term dates
The 2022-23 term dates for Churston Ferrers Grammar School are:
Autumn term: 7th September – 16th December

Half term: 24th – 28th October

Spring term: 3rd January – 31st March

Half term: 13th – 17th February

Summer term: 17th April – 21st July

Half term: 29th May – 2nd June
Churston Ferrers Grammar School 11 plus admissions process
Applicants to Churston Ferrers Grammar School must be registered for the 11 plus exam before midday on Thursday 8th September 2022 (but preferably by midday on Thursday 21st July 2022). Registration is available on the school website.
You will also need to complete the Common Application Form (CAF) to apply for a place at Churston Ferrers Grammar School. This must be submitted to your local authority by 31st October 2022.
Guidance letters will be issued on or as soon as possible after 17th October, which will indicate whether your child's performance in the 11 plus exam indicates that they will be eligible for a place at the school. Note that this will not be the actual score, but a 'yes' or a 'no' as to whether they are eligible.
Churston Ferrers Grammar School has 150 places available in Year 7. Children who are eligible, and who have an Education, Health and Care Plan naming Churston Ferrers Grammar School, will be admitted. Other candidates will be ranked according to the following criteria:
Category A: candidates who have achieved a score equal to or higher than the 130th ranked candidate
Category B: candidates whose 11 plus score places them in the range between the 131st and 180th ranked candidate. The following children will be admitted first on condition that they satisfy the criteria to qualify for Category B:
Children in care, or previously in care (but ceased to be in care because they were adopted)

Children in receipt of free school meals or pupil premium

Children of staff working at the school (who have been employed for at least two years)

All remaining places in this category will be ranked according to the 11 plus score
Category C: candidates whose 11 plus score is lower than the 180th candidate
Churston Ferrers Grammar School 11 plus exam format
The 2022 11 plus exam at Churston Ferrers Grammar School will take place on Saturday 17th September. This exam is administered by CEM and consists of two papers:
Paper 1: 50 minutes

Paper 2: 1 hour
The tests will assess verbal ability (comprehension, vocabulary and verbal reasoning), numerical reasoning, and non-verbal reasoning. There is a mix of content in each of the two papers.
The exams are marked externally. The marks from both papers are added together and then age-standardised to produce a final score. This is a statistical process that is designed to take account of the fact that older children are at an advantage when taking the test (children are exposed to new vocabulary at a rate of more than 1,000 words a year) and makes it a level playing field for all candidates in the year.
How can I help my child prepare for Churston Ferrers Grammar School 11 plus?
Churston Ferrers Grammar School has plenty of information to help you and your child navigate the 11 plus process:
Churston Ferrers Grammar School also offers an additional online package (consisting of 10 hours of familiarisation material) to pupils who are eligible for pupil premium and/or free school meals. This has been developed by the King Edward Foundation of Birmingham Grammar Schools especially for pupil premium students. Those who indicate that they are in receipt of pupil premium on the application form will receive an individual login.
Here are our other top tips to help your child prepare for the 11 plus exam:
Start early: We suggest beginning the 11 plus preparation journey at the end of Year 4 or the beginning of Year 5. Your child should feel comfortable with the curriculum content before beginning targeted exam preparation. Core curriculum programmes are useful to help boost confidence and subject mastery ahead of the exam.
Friendly familiarisation: The 11 plus exam will contain question styles that your child has likely not come across before. With Atom's Exam Preparation Plus package, your child will be able to take as many Mock Tests as necessary to feel comfortable with the format and style of Churston Ferrers Grammar School CEM exam.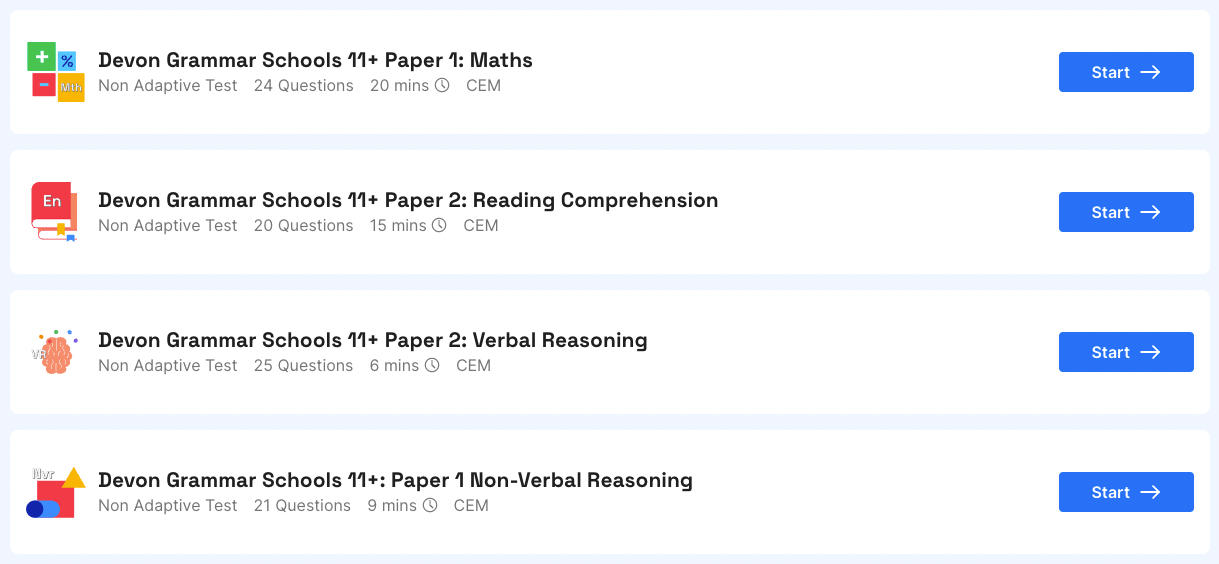 Read widely: The 11 plus exam will require your child to have an excellent understanding of the English language, including vocabulary, spelling, punctuation and grammar. Reading widely across traditional and contemporary texts will support their exam preparation – find free resources for engaging your child with reading here.
Focus on their needs: Tailor your child's exam practice to their specific needs to help them stay on track. Atom's adaptive learning algorithm personalises your child's optimal learning journey to help them master all the content required to achieve entry to Churston Ferrers Grammar School. Data-driven insights will also give you an in-depth overview of your child's progress.
Start your free 5-day trial of Atom Nucleus today to see how adaptive learning can empower your child to excel in Churston Ferrers Grammar School's 11 plus exam.
---
We know how crucial this time is, so our team is on hand to support you and your family every step of the way. You can book a call with one of our Education Experts to ask any questions you may have about Churston Ferrers Grammar School or the CEM 11 plus exam:
If you're looking for exclusive tips and resources to help your child master key subjects, excel in exams, and build academic confidence, join Atom's email list: