Frensham Heights is an independent day and boarding school for boys and girls aged 11–18 in Farnham, Surrey. The school provides a progressive education – pupils wear their own clothes, everyone is on a first-name basis, and there's no hierarchical system of prefects or head boys and girls. Frensham Heights aims to provide a level playing field for every pupil and values each child's individuality.
An informal setting and small class sizes allow teachers and students to get to know one another better at Frensham Heights. Teachers learn each child's strengths and weaknesses and reinforce where needed, but are mostly seen as friendly faces. Upon transitioning into Year 10, pupils have the choice to study a combination of GCSEs and alternative BTEC courses (First Award in Business, Tech Award in Performing Arts, and Specialist Qualification in Esports) or OCR Cambridge National Sports Science.
There are plenty of opportunities for pupils of all ages to get involved in the community and take part in charitable initiatives at Frensham Heights. The outreach programme is extensive; pupils in Years 7 and 8 socialise with local senior citizens every week, Year 9 and 10 ICT students mentor Year 5 children at a local junior school, and sixth form students create various workshops for primary children. Meanwhile, the whole school community comes together to collect, sort and deliver essential items for Farnham Help for Refugees.
Directory of private schools in Surrey
---
Key information for Frensham Heights
Head: Mr Rick Clarke

Address: Frensham Heights, Rowledge, Farnham, Surrey, GU10 4EA

County: Surrey

Admissions contact: Sarah Windsor – [email protected], 01252 792561

Age range and gender: 11–18, co-educational

Number of pupils: 545

Open day date: 30th November 2022 and 13th May 2023. Book tickets online

Overview of selection procedure for 2023 entry: informal small group interview, entrance tests, school references and school reports

Registration closes for 2023 entry: 30th November 2022

Assessment date for 2023 entry: Saturday 14th January 2023
Frensham Heights fees and financial assistance
The current fees at Frensham Heights are £6,780 per term for middle school day pupils (Years 7 and 8) and £7,115 for pupils in Year 9 and above. Boarding is available for middle school pupils, ranging from £8,430 per term to £9,860 per term (3-day boarding to full boarding). School fees include all routine meals for boarders and lunches for day students in term time.
The school is able to offer means-tested bursaries ranging from 10% to 90%, and occasionally 100%, to middle and senior school pupils who meet the criteria. Applications for bursaries are managed by the Bursary Administration Ltd (BAL) on behalf of Frensham Heights, and each case is assessed on its own merits. If you think your child may qualify for a bursary for entry to Frensham Heights, you will need to submit a separate bursary application before the main registration deadline. For 2023 entry, the bursary application deadline is 29th October 2022.
Frensham Heights is able to offer a sibling discount of 10% for the third and subsequent child, once elder siblings have completed (or will complete) a phase of education at the school.
Scholarships are available at Frensham Heights, but these are non-monetary and are only applied for at the end of Years 7 and 9.
Frensham Heights term dates
The term dates at Frensham Heights for 2022–23 are:
Autumn term: 8th September – 15th December 2022

Half term: 17th–29th October 2022

Spring term: 9th January – 31st March 2023

Half term: 13th–18th February 2023

Summer term: 25th April – 6th July 2023

Half term: 29th May – 3rd June 2023
The term dates at Frensham Heights for 2023–24 are:
Autumn term: 7th September – 14th December 2023

Half term: 23rd October – 4th November 2023

Spring term: 9th January – 28th March 2024

Half term: 12th–17th February 2024

Summer term: 23rd April – 5th July 2024

Half term: 27th May – 1st June 2023
Admissions process for Year 7 entry to Frensham Heights
Frensham Heights aims to make its admissions process as informal as possible, in keeping with the nature of the school. While Frensham is selective, the school aims to educate the whole child and looks beyond test results when offering places. Frensham's offers are based on choosing which children they believe will thrive and benefit from the school curriculum and, in turn, who they feel will be kind, passionate and active members of the school community.
Successful Year 7 applicants will start in the middle school at Frensham Heights. If you would like your child to be considered for a place in 2023, you will need to register them online and pay a non-refundable registration fee of £150.
All registered children will be invited to Frensham Heights in early January for an informal small group interview with the head and the head of the middle school. The staff will also request references from your child's current school and copies of their two most recent school reports. In the week after the interview (Saturday 14th January 2023, for 2023 applicants), children will return to Frensham Heights for entrance assessments (see details about these below). Once children have completed the tests, they stay for lunch at the school and enjoy a range of activities in the afternoon. Parents are invited for tea at the end of the day.
Offers are normally sent to families within one to two weeks of the entrance tests. You will likely receive one of three potential responses for entry to Year 7:
Guaranteed offer: successful candidates will be offered a guaranteed place to start in September. Places must be accepted by the first Monday in March.

Waiting list offer: candidates will be offered a guaranteed place as soon as one becomes available.

Regret: no place offered if the school feels it is not the right fit for your child.
Frensham Heights 11 plus exam
Children who are registered for Year 7 entry to Frensham Heights will take four short tests in the January of Year 6:
How to help your child prepare for the selection process at Frensham Heights
Build foundational knowledge
The 11+ exam at Frensham Heights will assess your child's in-depth knowledge and understanding of the Key Stage 2 curriculum, with tests in both English and maths. With a subscription to Atom Nucleus, your child can consolidate everything they need to know – they'll have access to over 90,000 interactive teacher-created questions and learning resources that span the whole Key Stage 2 national curriculum and beyond.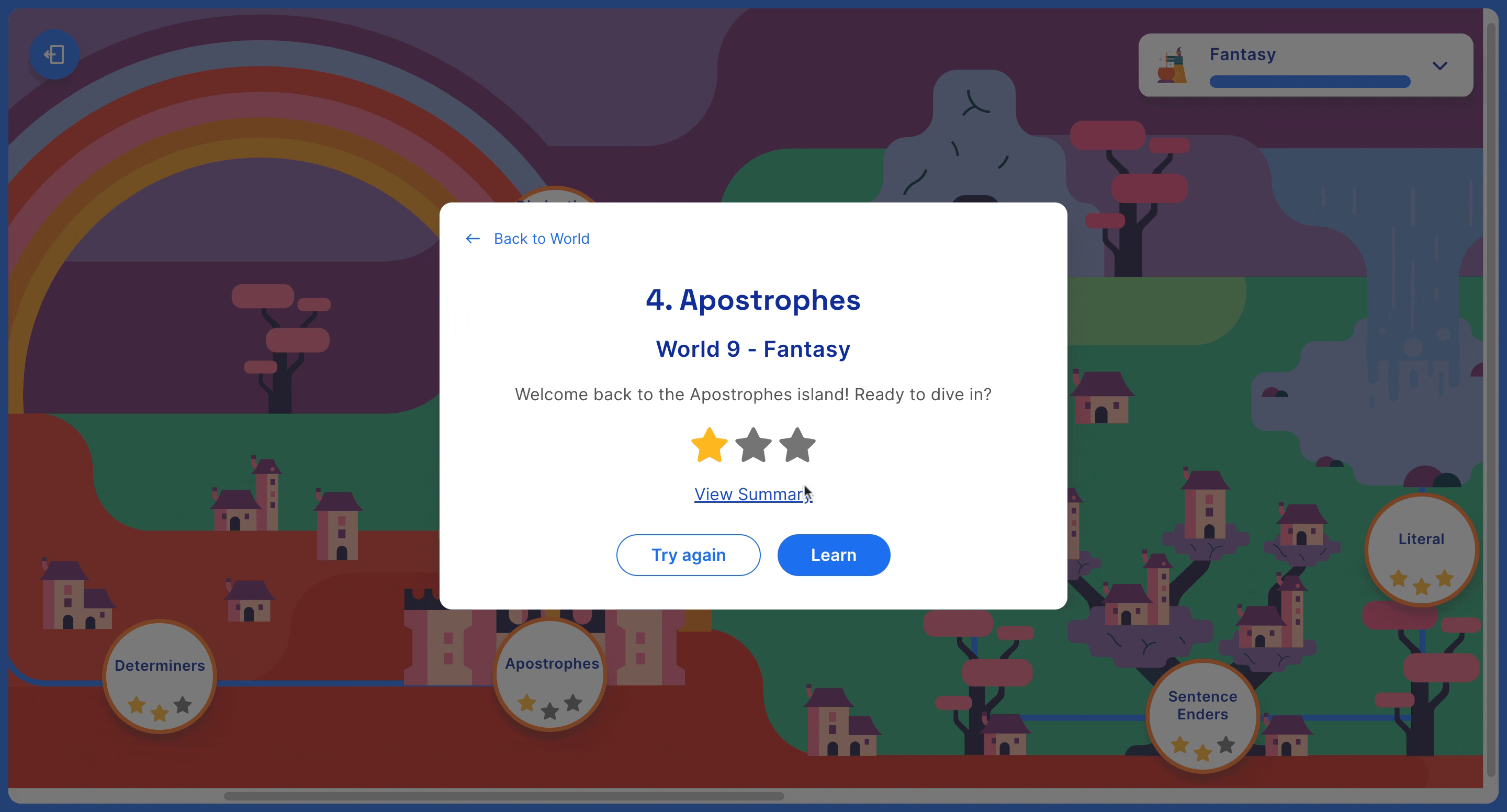 Preparation is key
Familiarisation with the question formats and known styles ahead of the exam is essential to help your child build exam confidence.
An exam preparation subscription with Atom Nucleus enables your child to access quality, unlimited practice material with full score breakdowns to help your child feel confident by the time the exam day comes around.
Your child can take mock tests for the 11 plus as many times as they like without repeatedly seeing the same questions. Meanwhile, you'll be able to see their results instantly, including their performance compared to peers and suggested areas for improvement.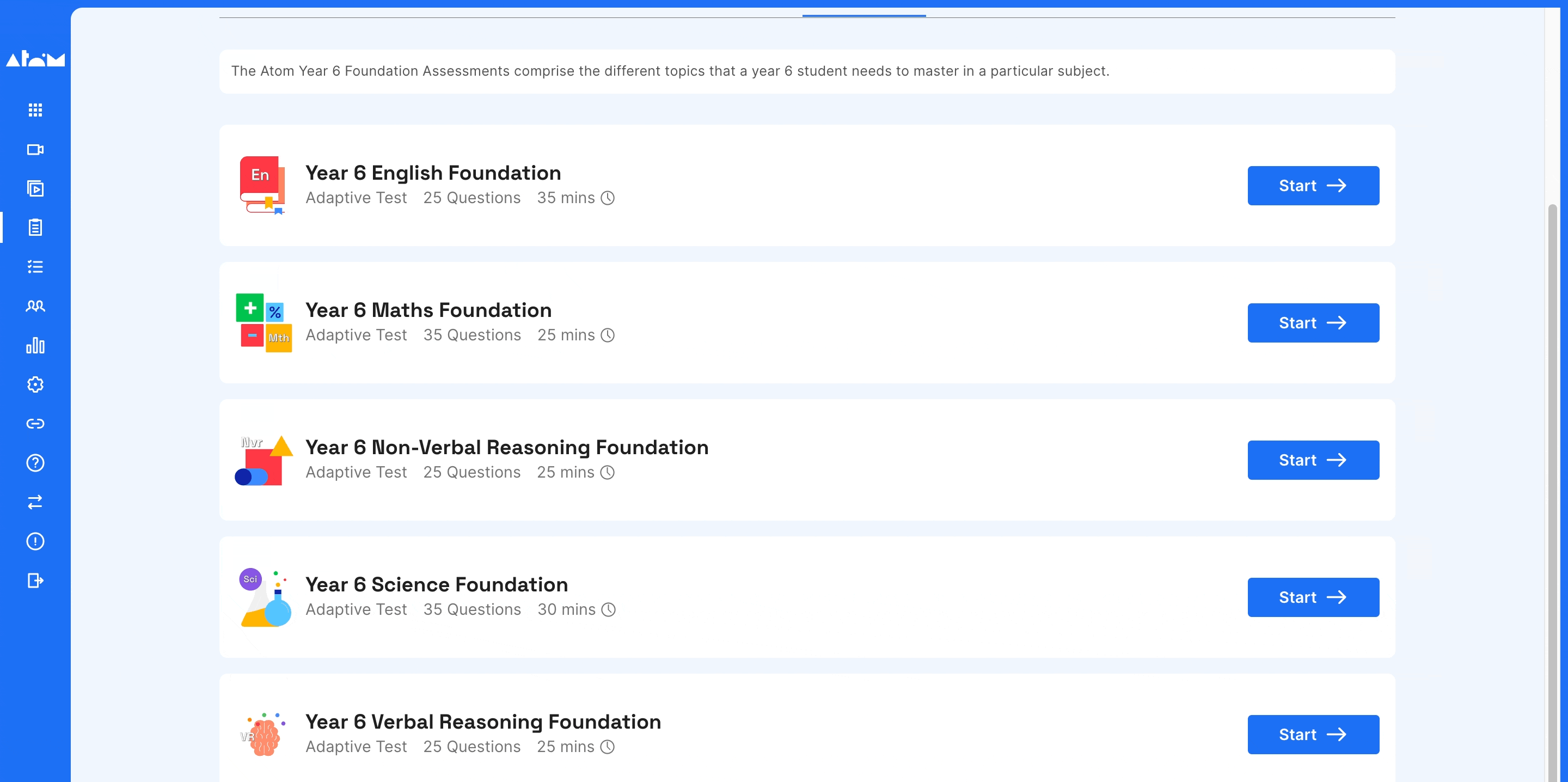 When working through challenging topics, your child will need immediate clarity with any misconceptions so that they feel truly secure in every topic. Atom Nucleus includes video tutorials, help sheets and examples with every question to help your child build confidence and competence across all the areas assessed.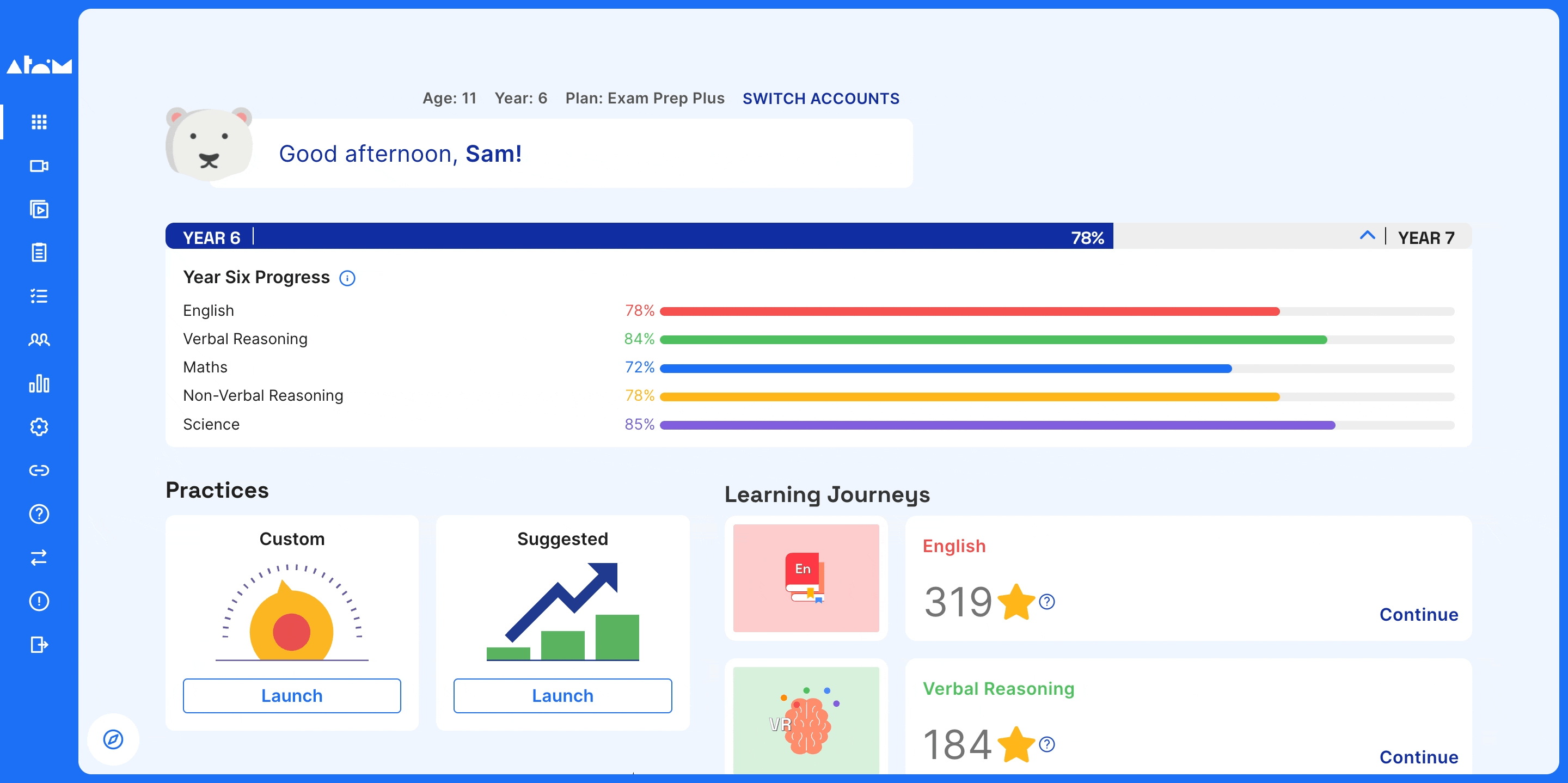 Engage with their progress
Celebrate your child's improvement in areas of challenge together. An accurate and ongoing assessment of their areas of strength and development is helpful.
As an Atom subscriber, you'll have a parent dashboard which offers data-driven insights into your child's progress. You can use this effectively to help your child set targets, see a detailed breakdown of their progress by subtopic and set custom practices to target those they find most challenging.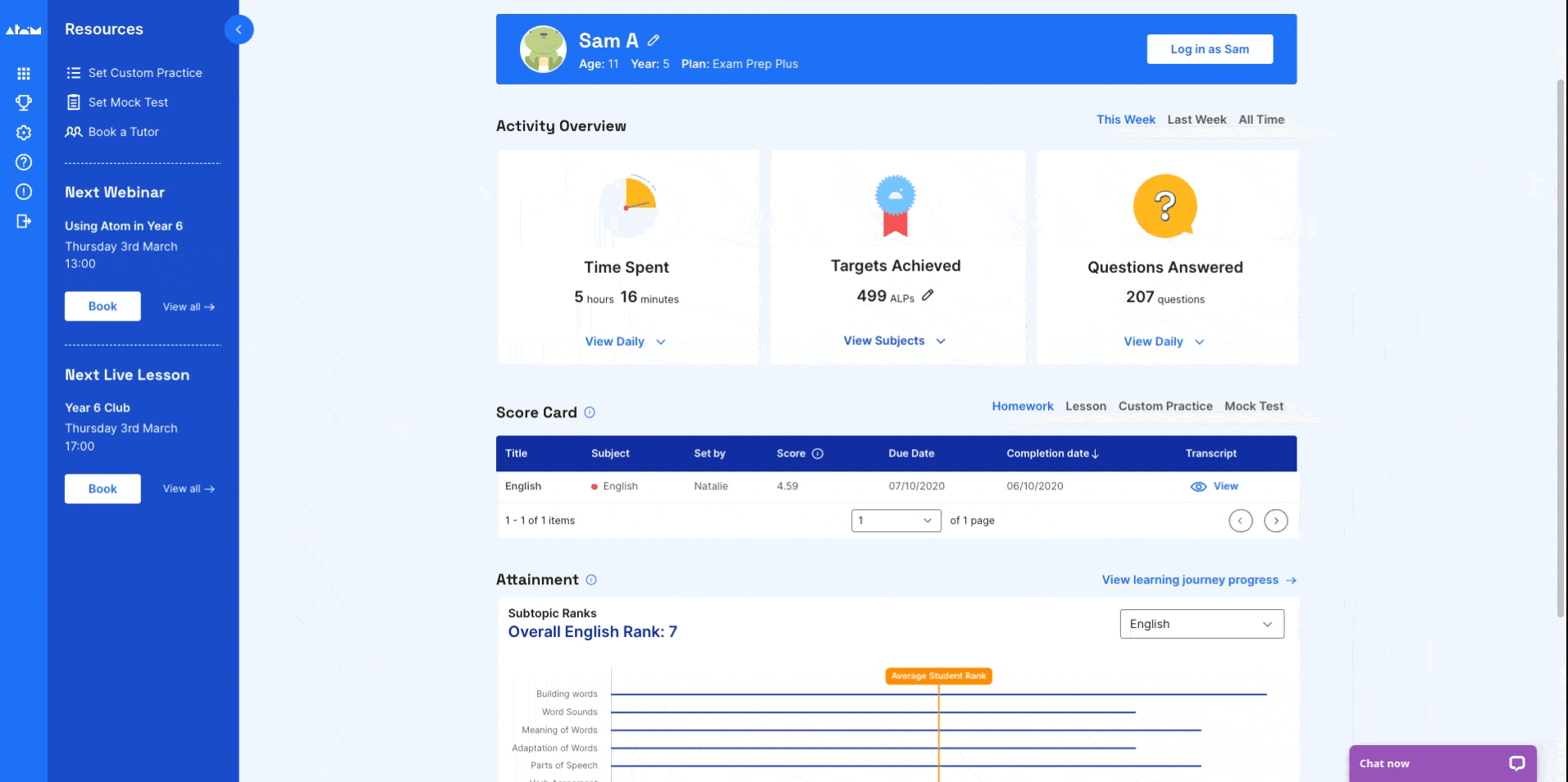 ---
Get started with Atom Learning
It's our mission to help your child feel prepared and confident before the exam day. Begin your free 5-day free trial of Nucleus today to help your child succeed.
We know how crucial this time is, so our team is on hand to support you and your family every step of the way. You can book a call with one of our Education Experts to ask any questions you might have about 11 plus entry to Frensham Heights:
If you're looking for exclusive tips and resources to help your child master key subjects, excel in exams and build academic confidence, join Atom's email list: