Haberdashers' Boys' School, commonly referred to as Habs Boys, is an independent day school for boys aged 5–18 that occupies a 100-acre campus in Hertfordshire. The school shares its facilities with its sister school, Habs Girls, to offer the best of single-sex education in a unique co-educational environment. It is the belief of Habs Boys that it has the largest coach network of any UK school – 150 stops span a 30-mile radius, allowing pupils from far and wide to benefit from a Haberdashers' education.
Pupils at Habs Boys are encouraged to develop a passion for lifelong learning through an exciting academic curriculum. From Year 7, boys study a wide range of subjects alongside the core curriculum, including theology and philosophy and four languages (French, German, Latin and Spanish). The number of subjects available to pursue widens as boys progress through the school with 26 A level choices in the sixth form, while the Aske's Level – a bespoke independent investigation – is taken as a supplement to A levels and draws from the best elements of the International Baccalaureate (IB).
Habs Boys encourages all pupils to find their niche outside the classroom, with a wide-ranging set of co-curricular activities available in the arts, sport, music, drama and beyond. The Combined Cadet Force (CCF) and Outdoor Leadership programme (OL) give pupils opportunities to develop unique team-building and leadership skills through activities such as sailing, shooting and flying, while the School and Community Service (SCS) programme provides Habs Boys with an opportunity to give something back to the community.
Exam results at Habs Boys are commonly among the best in the country. In 2022, 94.7% of GCSE results were graded A*/A/9/8/7 and 95.9% of A levels were A* to B. Traditionally, every student in the sixth form secures a university offer with a growing interest in US universities; Harvard, Stanford, Columbia, UC Berkeley and UCLA are among recent destinations.
Key information for Haberdashers' Boys' School
Headmaster: Mr Gus Lock

Address: Haberdashers' Boys' School, Butterfly Lane, Elstree, Hertfordshire, WD6 3AF

County: Hertfordshire

Admissions contact: Mrs Binnur Rogers – [email protected]

Age range and gender: 5–18 (boys only)

Number of pupils: 1,135

Number of places in Year 7: 100

Open day date: Saturday 8th October 2022

Overview of selection procedure: online exam and interview

Registration opens: currently open – apply on the Habs Boys' website

Registration closes: Friday 18th November 2022

Assessment date: Thursday 15th and Friday 16th December 2022
Haberdashers' Boys' School fees and financial assistance
The current fees at Habs Boys are £7,553 per term. This does not include the cost of school lunch in the senior school, which is £4.75 per day.
Haberdashers' Boys' School is able to offer means-tested financial assistance, known as bursaries, to eligible candidates at 11 plus entry each year. Boys need to qualify for a place at the school as a result of their performance in the 11 plus entrance exam and interview, while their parents must be able to show evidence of financial need. Bursary awards are offered on a sliding scale; as a guide, 100% fee remission (and a subsidiary for the school coach service) may be available for families with a total assessable household gross income of less than £45,000. The ceiling for eligibility for financial support is approximately £85,000 gross.
Habs Boys also provides scholarships (which are not means-tested) to pupils who can demonstrate exceptional talent in a particular area. Academic scholarships provide 10–20% fee-remission, while art, drama, and music scholarships come with a 10% award. Music scholarships provide free tuition on one instrument in addition to fee-remission, while music exhibitions provide free tuition on one instrument instead of fee-remission.
Haberdashers' Boys' School term dates
The term dates at Habs Boys for 2022–23 are:
Autumn term: 8th September – 14th December 2022

Half term: 17th–28th October 2022

Spring term: 9th January – 31st March 2023

Half term: 13th–17th February 2023

Summer term: 20th April – 7th July 2023

Half term: 29th May – 2nd June 2023
Admissions process for Year 7 entry to Haberdashers' Boys' School
If you would like to register your son for entry to Year 7 at Habs Boys in 2023, you will need to complete the online registration form and pay the non-refundable registration fee of £150 (UK applicants) before Friday 18th November 2022.
All candidates will be invited to take the school's entrance exam on either Thursday 15th or Friday 16th December 2022, on school premises. A number of candidates are then called forward for an interview between Wednesday 11th and Wednesday 18th January 2023 based on their performance in this test, with interviews covering questions in English and maths. These shortlisted candidates will also take part in a group task, and parents or guardians have an opportunity to meet with the headmaster or deputy head.
Academic scholarships are awarded to pupils who perform at the highest level in the entrance exam and in the interview (a separate application is not required). If your child has applied for an art, drama or music scholarship, they will undergo separate testing in addition to the main 11 plus entrance exam:
Art scholarships: candidates will first need to submit a portfolio of their work by Friday 18th November 2022. After the 11 plus entrance exam, the head of art will shortlist candidates who have reached the required academic standard and demonstrated their artistic potential through their portfolio to attend an interview and undertake a short practical and written task. This will take place in January 2023.

Drama scholarships: as well as completing the drama scholarship online form by Friday 18th November 2022, candidates will need to send a separate link to a reference from a drama teacher, class teacher, or production director. After the 11 plus entrance exam, the head of drama will shortlist candidates who have reached the required academic standard and who show promise as a drama scholar for an interview. This will take place in January and will involve a practical group workshop, the performance of a two-minute monologue, and a conversation with the drama team.

Music scholarships: the most successful music scholarship candidates are already playing at or above Grade 6 upon application, but Habs Boys has also admitted candidates who have achieved Grade 4 or 5 in a very short space of time in the past. To apply, applicants will need to complete an online form detailing their musical experience by Friday 18th November 2022. After the 11 plus entrance exam, the director of music will shortlist candidates to take part in an audition in January.
Haberdashers' Boys' School 11 plus exam
The 11 plus entrance exam at Habs Boys is a 90-minute bespoke reasoning test, taken on a computer on the school site. Candidates will be invited to one of four testing sessions on either Thursday 15th or Friday 16th December 2022. The test involves questions in four subjects:
How to help your child prepare for the selection process at Haberdashers' Boys' School
Build foundational knowledge
The 11 plus exam at Haberdashers' Boys' School assesses candidates' knowledge and application of the Key Stage 2 national curriculum with questions in English and maths, and beyond anything they may already learn at school with questions in verbal and non-verbal reasoning.
Your child can consolidate everything they need to know, and learn new skills, with Atom Nucleus – you'll get access to over 90,000 teacher-created questions and helpful learning resources that span the four subjects.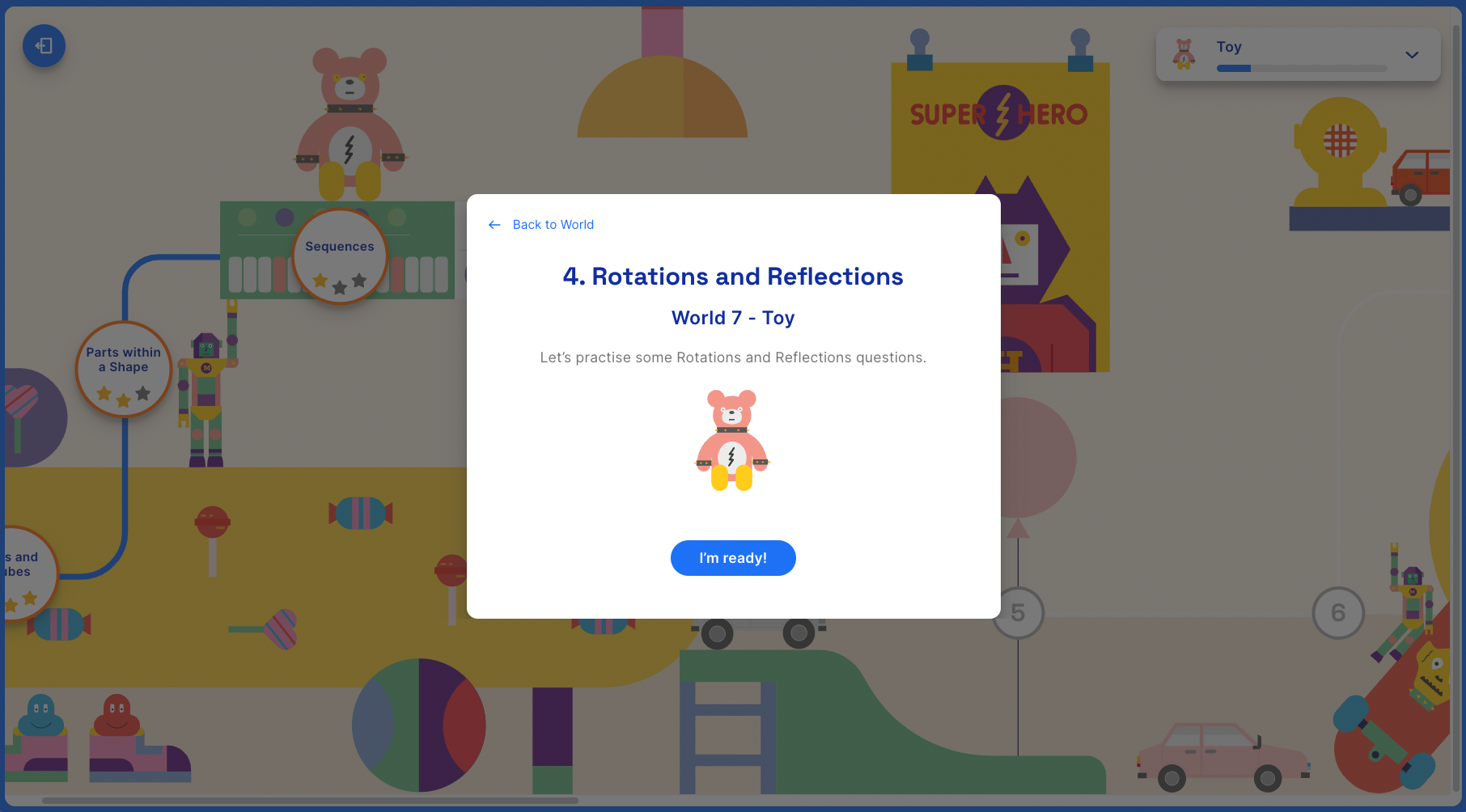 Preparation is key
Familiarisation with the question formats and known styles ahead of the exam is essential to help your child build exam confidence. An exam preparation subscription with Atom Nucleus enables your child to access quality, unlimited practice material with full score breakdowns to help your child feel confident by the time the exam day comes around.
Atom Nucleus provides subscribers with access to unlimited online practice tests in Key Stage 2 English and maths, as well as verbal reasoning and non-verbal reasoning, helping them tackle exam-style questions, build time-management skills, and develop academic confidence ahead of the exam.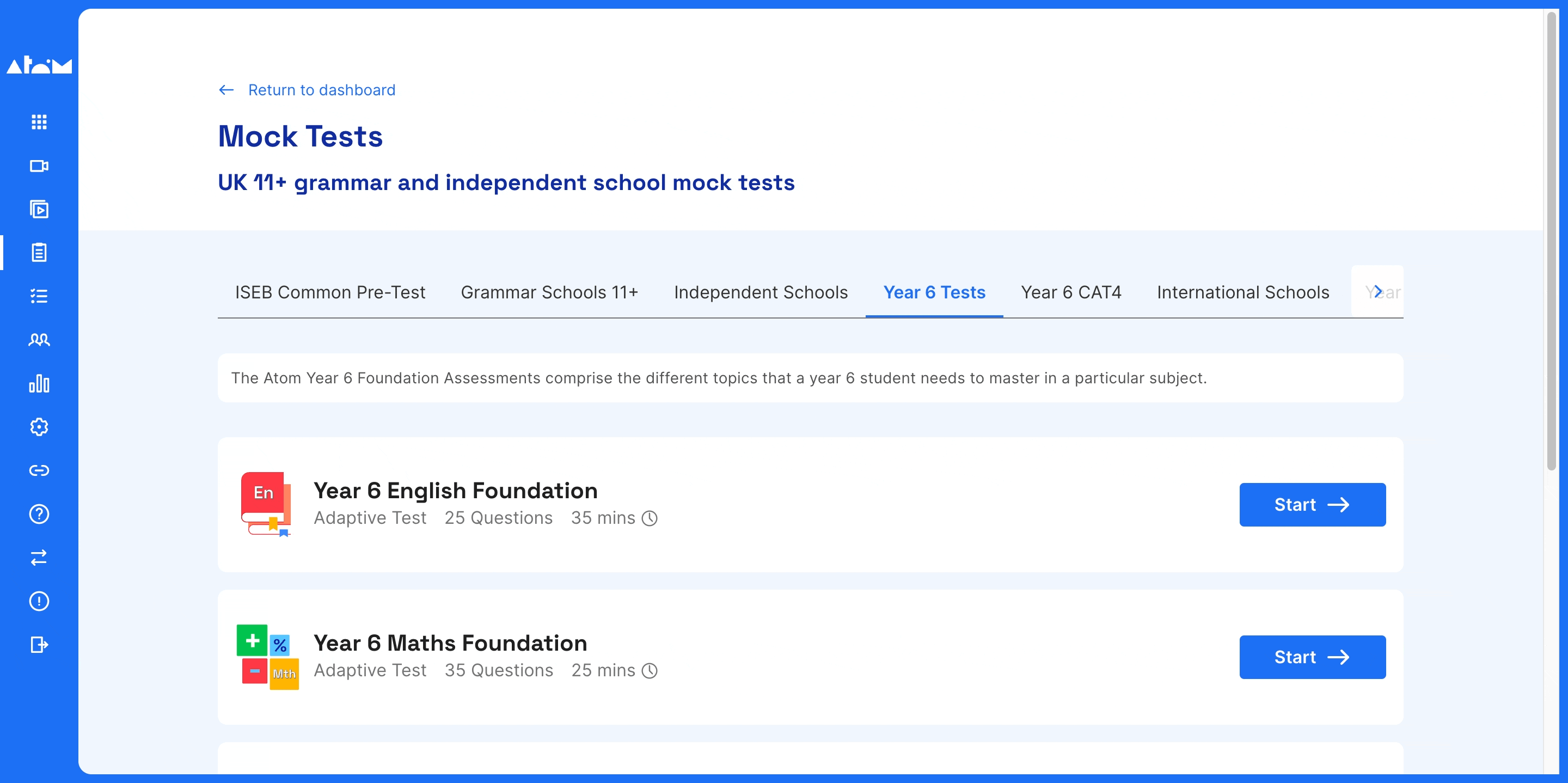 When working through challenging topics, your child will need immediate clarity with any misconceptions so that they feel truly secure in every topic. Atom Nucleus includes video tutorials, help sheets and examples with every question to help your child build confidence and competence across all the areas assessed.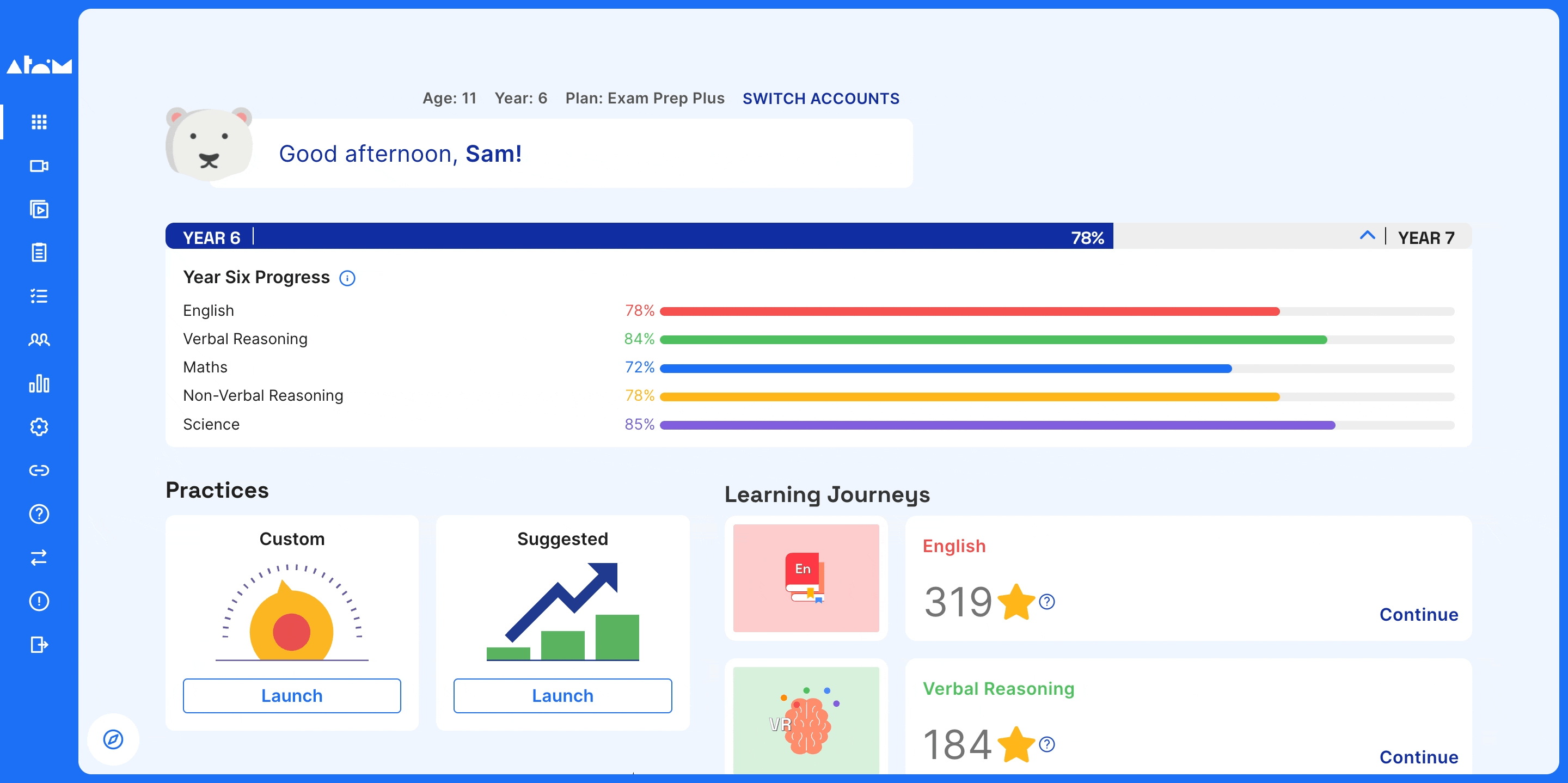 Engage with their progress
Celebrate your child's improvement in areas of challenge together. An accurate and ongoing assessment of their areas of strength and development is helpful.
As an Atom subscriber, you'll have a parent dashboard which offers data-driven insights into your child's progress. You can use this effectively to help your child set targets, see a detailed breakdown of their progress by subtopic and set custom practices to target those they find most challenging.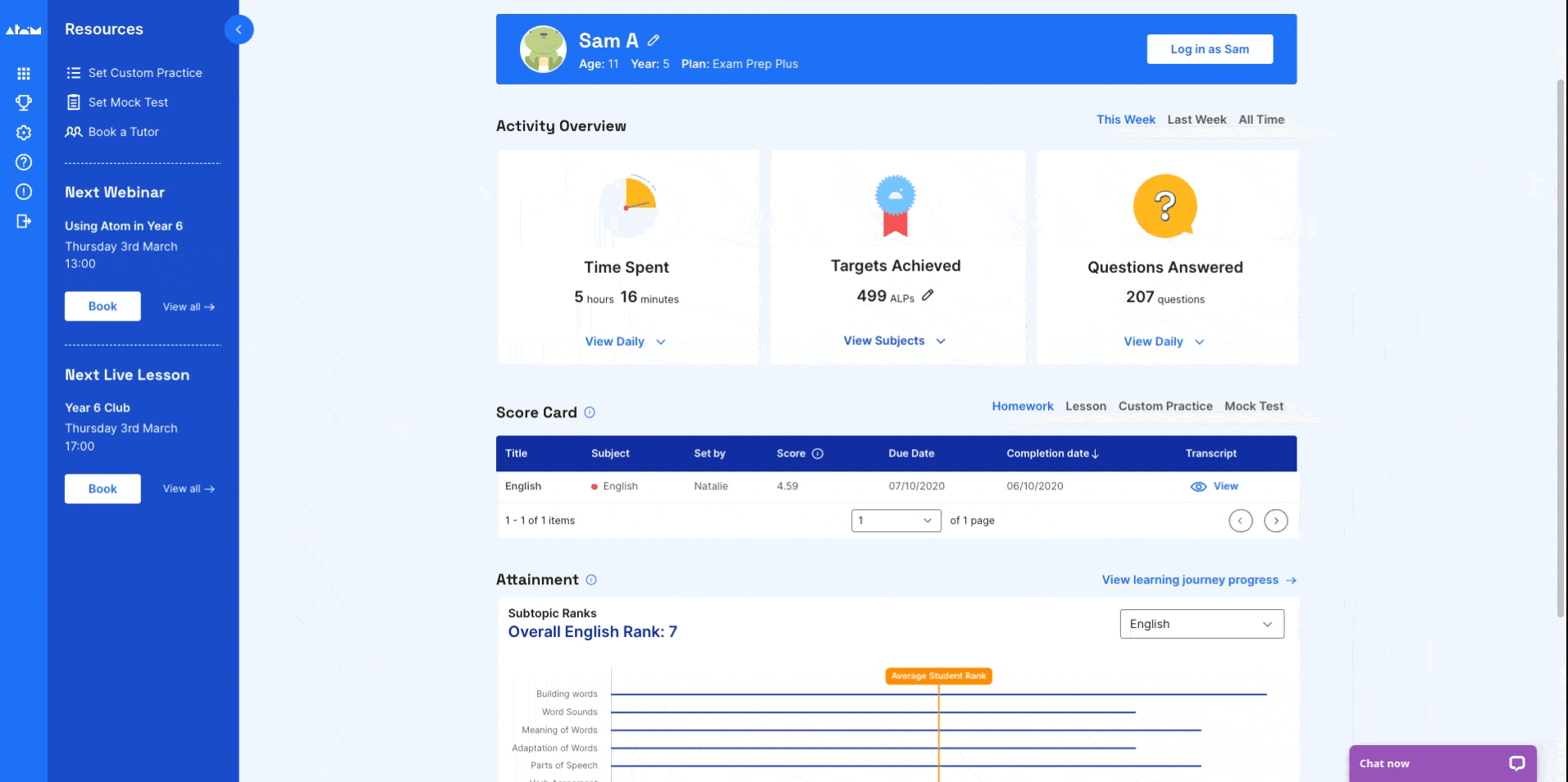 ---
Get started with Atom Learning
It's our mission to help your child feel prepared and confident before the exam day. Begin your free 5-day free trial of Nucleus today to help your child succeed.
We know how crucial this time is, so our team is on hand to support you and your family every step of the way. You can book a call with one of our Education Experts to ask any questions you might have about 11 plus entry to Haberdashers' Boys' School:
If you're looking for exclusive tips and resources to help your child master key subjects, excel in exams and build academic confidence, join Atom's email list: