Haberdashers' Girls' School (often referred to as Habs Girls) is an independent day school for girls aged 4–18 in Elstree, Hertfordshire. It is located next door to Haberdashers' Boys' School (Habs Boys) – while both are single-sex and run separately, the two schools enjoy the advantages of the same site with opportunities for collaboration and joint activities. From September 2022, pupils at both schools will be taught A levels in co-educational classes, with pupils studying at least one A level in a mixed-gender class across at the other school.
Habs Girls is committed to the pursuit of excellence in education. Girls are prepared for fulfilment in a world that demands flexibility, creativity, resilience and critical thought through the development of workplace and life skills and by encouraging a global perspective in all pupils. Academic results are consistently among the best in the country; in 2022, 54% of all GCSE grades were 9 (A* or higher) alone while 85% of A level grades were A*–A.
Beyond the classroom, pupils at Habs Girls have access to an extraordinary range of co-curricular activities. There are over 70 clubs and societies to get involved in, from African and Caribbean Society, to GIS (Geographical Information System) Club, to Unseen Poetry Lab. There are 18 musical groups on offer, nearly 30 sports to choose from, and a variety of leadership and challenge programmes, including the Duke of Edinburgh Award, European Youth Parliament and Model United Nations. Pupils also have the opportunity for academic enrichment and further co-curricular development in worldwide trips, with typical visits including India (Years 11 and 12), sites of historical importance (e.g. Washington, New York and Vienna), music in Tuscany, sports in Lanzarote and an annual ski trip to the USA.
Key information for Haberdashers' Girls' School
Headmistress: Mrs Rose Hardy

Address: Haberdashers' Girls' School, Aldenham Road, Elstree, Borehamwood, Hertfordshire, WD6 3BT

County: Hertfordshire

Admissions contact: [email protected], 020 8266 2338

Age range and gender: 4–18, girls only

Number of pupils: 1,161

Open day date: a range of events are available, including 'senior school in action mornings' (during the school day) and senior school Q&As. Visit the Habs Girls' website for more details.

Overview of selection procedure: entrance exam, interview and school reference

Registration opens: currently open – apply online

Registration closes: Friday 18th November 2022 at midday

Assessment date: Thursday 15th December 2022 (9am to 12pm)

Scholarship assessment date: TBC
Haberdashers' Girls' School fees and financial assistance
The annual tuition fees at Habs Girls from 2022 are £21,516 for Years 7 to 11. School lunches are not included and are charged termly at the cost of £4.75 per day.
Habs Girls offers means-tested bursaries each year to new 11 plus entrants. Candidates need to qualify for a place at the school as a result of their performance in the 11 plus entrance exam and interview, and the family's financial need must be established by completing a confidential statement of finances.
Bursaries range in value according to the family's financial needs and the funds available in that year; as a guide, free places may be awarded where total assessable household gross income is below £45,000, and some level of fee remission may be provided for families where the total assessable household gross income is below £85,000. Parents who are awarded 100% fee remission will usually be eligible for an award that covers the costs of coach travel and school lunches, as well as support with academic trips and one musical instrument.
Habs Girls also offers scholarships to girls who can demonstrate outstanding talent in a specified area:
Academic scholarships: usually between 10–20% of school fees (up to 30% in exceptional circumstances)

Art scholarships: 10% of school fees

Creative writing scholarships: 10% of school fees

Drama scholarships: 10% of school fees

Music scholarships: usually between 25–50% of school fees. Music awards and exhibitions will be offered at a lower rate – i.e. by providing the annual cost of music lessons (c. £1,000)

Sports scholarships: 10% of school fees
Haberdashers' Girls' School term dates
The term dates at Habs Girls for 2022–23 are:
Autumn term: 8th September – 14th December 2022

Half term: 17th–28th October 2022

Spring term: 9th January – 31st March 2023

Half term: 13th–17th February 2023

Summer term: 20th April – 7th July 2023

Half term: 29th May – 2nd June 2023
Admissions process for Year 7 entry to Haberdashers' Girls' School
Eligible candidates for Year 7 entry to Habs Girls in 2023 are girls born between 1st September 2011 and 31st August 2012. If you would like to register your daughter, you will need to complete the online registration form and pay the non-refundable fee of £150 before the published deadline of Friday 18th November 2022 at midday.
All registered candidates will take the Habs Girls entrance exam on the morning of Thursday 15th December 2022. Girls who perform well in these exams will then be shortlisted for an interview, which will take place between Friday 20th January and Tuesday 31st January 2023. If your daughter is shortlisted, you will also be asked to attend the interview to meet the head and a member of senior staff. Habs Girls will also be in touch with your daughter's current school to request a written reference as to the child's academic ability, attitude and behaviour, involvement in the school community, talents, and interests.
All girls are considered for an academic scholarship on the basis of their performance in the entrance exam and interview (no separate application is necessary). If your daughter has applied for another scholarship, they will need to undergo separate testing in addition to the main 11 plus entrance exam. All applications for scholarships for 2023 entry will open in October 2022; in the meantime, the eligibility criteria for these scholarships are as follows:
Art scholarships: eligible candidates are able to demonstrate an exceptional skill in traditional forms of art and design, have experience of working away from the classroom to demonstrate their genuine love of art and ability to work independently, and can critically analyse their own artwork and the artwork of others.

Creative writing scholarships: eligible candidates show exceptional potential as writers. They can demonstrate thoughtful and precise use of language, a willingness to experiment creatively, the ability to write in a clear and strong voice and assured technical ability in the use of punctuation and grammar.

Drama scholarships: eligible candidates show exceptional potential as theatre practitioners, displayed through a range of performance skills and experience. They can demonstrate being a successful member of an ensemble, the ability to take direction, the ability to use a range of performance skills and experience in live theatre (either as a member of the audience or company). They will be expected to have participated both in and out of school in a range of productions as an actor and/or musical theatre performer.

Music scholarships: eligible candidates should normally be able to offer at least two instruments. They will be able to play around Grade 5 standard on their principal instrument (or Grade 6/7 if this is piano) and Grade 3 standard on their second instrument.

Sports scholarships: eligible candidates are active members of their school sports teams and are involved in sporting clubs outside of school, with representative experience or its equivalent at county level or above. The competitive fixtures at Habs Girls take place in lacrosse, netball, gymnastics, trampolining, cross-country, badminton, swimming, athletics, rounders and tennis.
Habs Girls will post offers to families on Friday 10th February 2023. If your daughter is successful in securing a place and you would like to accept, you will need to confirm by midday on Monday 6th March 2023.
Haberdashers' Girls' School 11 plus exam
All girls who are registered for Year 7 entry to Habs Girls in 2023 will take the school's 11 plus entrance exam on Thursday 15th December 2022. This takes place between 9am and 12pm and consists of two main written papers:
English: questions on fiction and non-fiction tests. Candidates will be tested on their ability to understand, infer and evaluate. There will also be a short directed writing task, which will give girls the opportunity to demonstrate their ability to write effectively for a specific purpose and audience.

Maths: candidates are tested on their ability to think mathematically and logically. The test covers the topics of addition, subtraction, multiplication and division, with application to fractions, decimals, percentages, the metric system of weights and measures, the 12 and 24-hour clock, time problems, and questions involving geometric shapes and bar graphs. Calculators are not allowed.
You may find the following exam guides helpful in your child's preparation for entry to Habs Girls:
How to help your child prepare for the selection process at Haberdashers' Girls' School
Build foundational knowledge
The 11 plus exam at Haberdashers' Girls' School assesses candidates' knowledge and understanding of Key Stage 2 English and maths. Your child can consolidate everything they know with Atom Nucleus, with over 90,000 interactive teacher-created questions and helpful learning resources that span the Key Stage 2 national curriculum.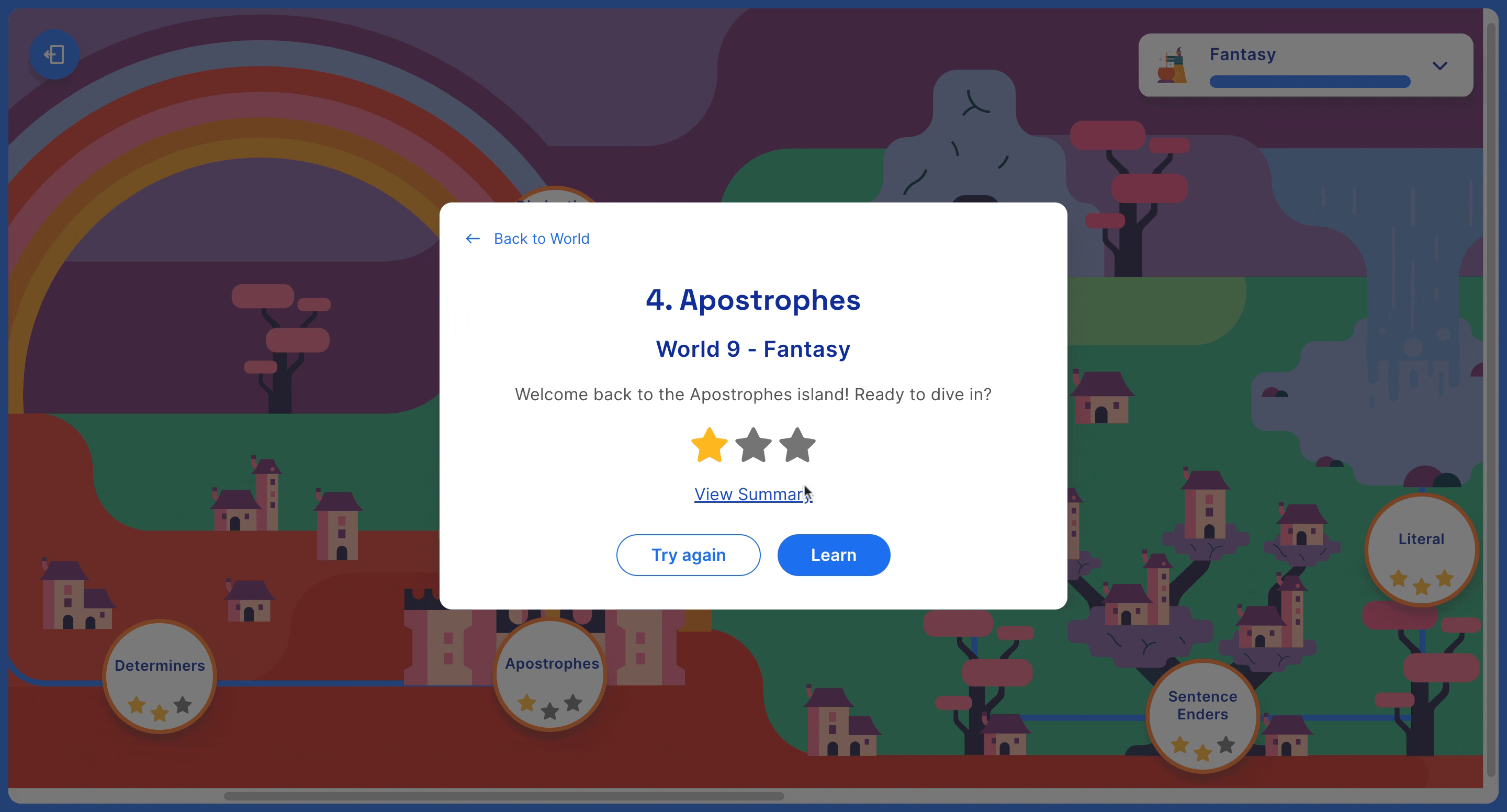 Preparation is key
Familiarisation with the question formats and known styles ahead of the exam is essential to help your child build exam confidence. An exam preparation subscription with Atom Nucleus enables your child to access quality, unlimited practice material with full score breakdowns to help your child feel confident by the time the exam day comes around.
Your child can try Atom's Year 6 foundation tests in English and maths to get a feel for exam-style questions and see what sort of content they will likely be tested on in the Haberdashers' Girls' School 11 plus exam.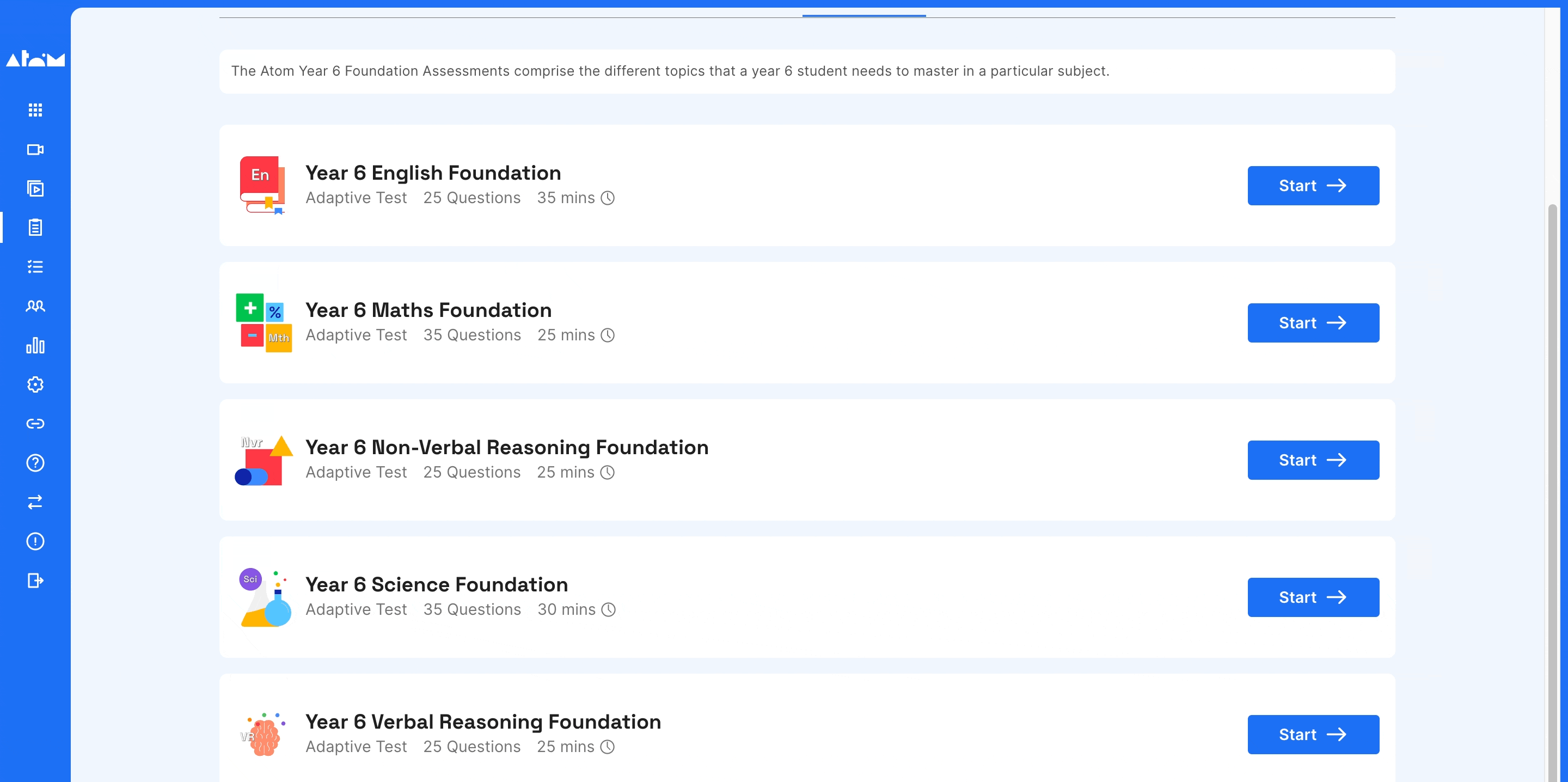 When working through challenging topics, your child will need immediate clarity with any misconceptions so that they feel truly secure in every topic. Atom Nucleus includes video tutorials, help sheets and examples with every question to help your child build confidence and competence across all the areas assessed.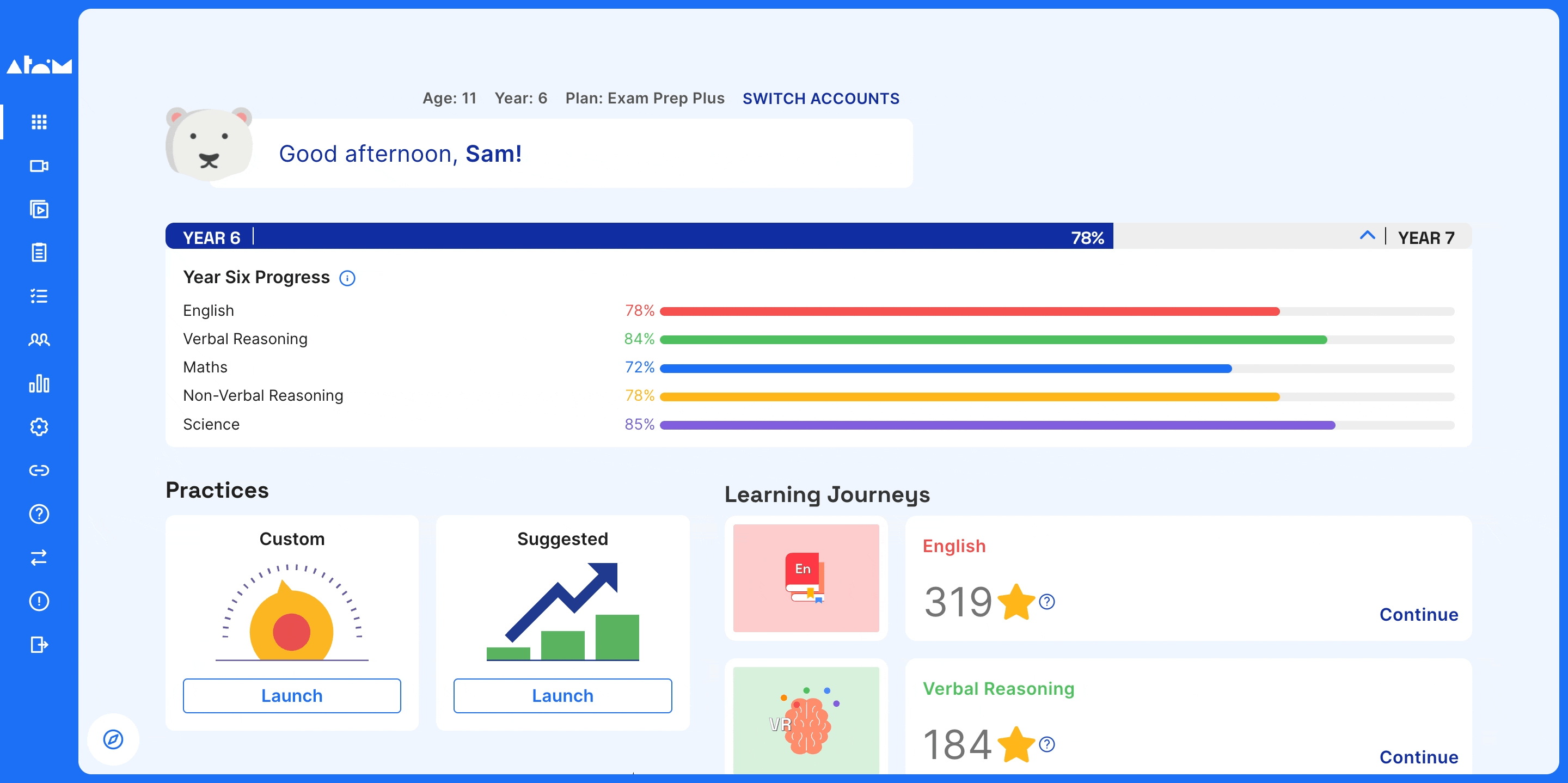 Engage with their progress
Celebrate your child's improvement in areas of challenge together. An accurate and ongoing assessment of their areas of strength and development is helpful.
As an Atom subscriber, you'll have a parent dashboard which offers data-driven insights into your child's progress. You can use this effectively to help your child set targets, see a detailed breakdown of their progress by subtopic and set custom practices to target those they find most challenging.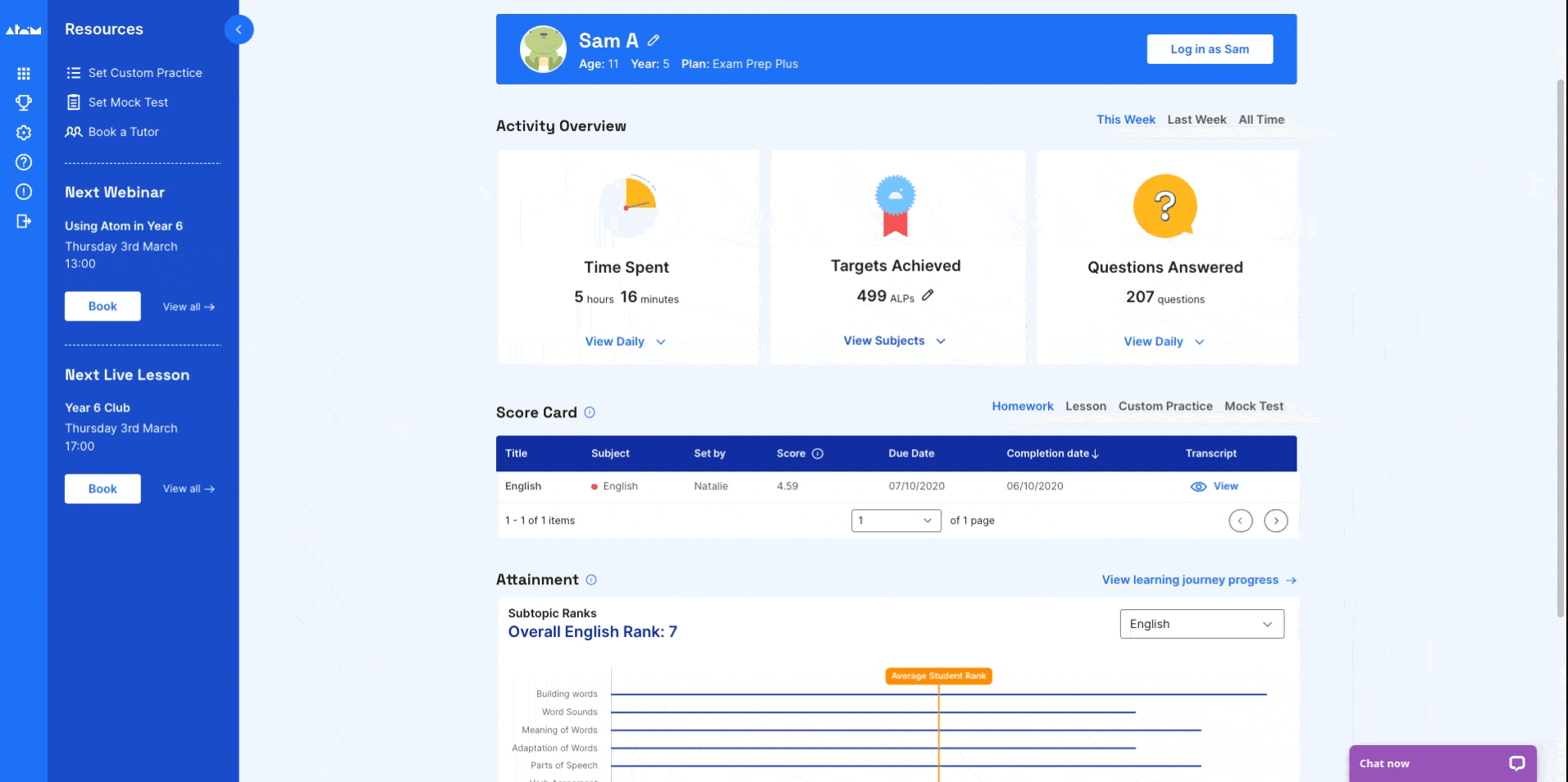 ---
Get started with Atom Learning
It's our mission to help your child feel prepared and confident before the exam day. Begin your free 5-day free trial of Nucleus today to help your child succeed.
We know how crucial this time is, so our team is on hand to support you and your family every step of the way. You can book a call with one of our Education Experts to ask any questions you might have about 11 plus entry to Haberdashers' Girls' School:
If you're looking for exclusive tips and resources to help your child master key subjects, excel in exams and build academic confidence, join Atom's email list:

Parent WhatsApp groups
Preparing for entrance exams in 2023? Why not join our Exam Preparation group on WhatsApp? Get access to free resources and advice, and ask our Education Experts any questions you have about the admissions process and your child's upcoming exams.