Halliford School is an independent day school for boys aged 11–18 and girls aged 16–18 in Shepperton, Surrey. It's home to a thriving, happy and aspirational community based on strong family values.
Boys study a broad and flexible curriculum at Halliford School within a safe environment. There is a strong emphasis on traditional academic subjects, but also on a variety of creative and practical subjects in art, music, drama, design technology and computing. Pupils are taught to develop academic resilience and to recognise that education is a marathon, not a sprint.
Pastoral care is a key focus at the school and it takes an open approach to mental health and wellbeing. Key pastoral staff have gained mental health first aid qualifications, while all staff are trained to spot the early signs of poor mental health. In 2022, Halliford School was shortlisted for Student Wellbeing in the Independent Schools of the Year Awards.
Beyond timetabled subjects, pupils have opportunities to get involved in a range of extra-curricular clubs and societies, with all pupils taking part in at least two activities every week. There are plenty of opportunities in the arts and sports, in addition to clubs including beginners' Japanese, climbing, current affairs, manga drawing, self-defence, podcasting and touch typing. The school aims for every child to return home each day feeling challenged, enthused and engaged with school life.
Directory of private schools in Surrey
---
Key information for Halliford School
Head: Mr Roland Martin

Address: Halliford School, Russell Road, Shepperton, Surrey, TW17 9HX

County: Surrey

Admissions contact: Mrs Fran Clatworthy – [email protected], 01932 234921

Age range and gender: boys 11–18, co-ed sixth form

Number of pupils: 451

Open day date: several opportunities throughout the year – book via the Halliford School website

Overview of selection procedure: entrance exam, interview and school reference

Registration closes: 2nd December 2022

Assessment date: 14th January 2023
Halliford School fees and financial assistance
The current tuition fees at Halliford School are £6,400 per term. Fees cover the normal curriculum and most books and stationery.
Means-tested financial assistance, known as a bursary, is available for families where the child meets the entrance criteria, but the family cannot afford the fees. Bursaries can cover up to 100% of the tuition fees. If you think your child is eligible for a bursary, you can access further details via the school fees assistant.
Halliford School shows testament to its strong family values with a sibling discount. Families who have three children enrolled at the school at the same time will have a 50% discount applied to the eldest child's tuition fees.
Academic, art, drama, music and sports scholarships are available for candidates applying for 11 plus entry to Halliford School. Scholarships are not means-tested and are awarded to children who demonstrate skill or talent in a particular area. The total financial value of each scholarship is up to 10% per year.
Halliford School term dates
The term dates at Halliford School for 2022–23 are:
Autumn term: 7th September – 14th December 2022

Half term: 17th–28th October 2022

Spring term: 5th January – 24th March 2023

Half term: 13th–17th February 2023

Summer term: 18th April – 7th July 2023

Half term: 29th May – 2nd June 2023
The term dates at Halliford School for 2023–24 are:
Autumn term: 6th September – 13th December 2023

Half term: 23rd October – 3rd November 2023

Spring term: 8th January – 22nd March 2024

Half term: 12th–16th February 2024

Summer term: 16th April – 5th July 2024

Half term: 27th–31st May 2024
Admissions process for Year 7 entry to Halliford School
If you would like your son to be considered for a place in Year 7 at Halliford School, you will need to complete the online registration form and pay a non-refundable fee of £125. The registration deadline for 2023 entry is Friday 2nd December 2022.
Once your son is registered, Halliford School will contact his current school to request a reference. Your son will be invited to an interview with the headmaster or deputy head during December or January, after which he will attend an examination day at Halliford School on 14th January 2023. More details about the entrance exam are available below.
All children will automatically be considered for an academic scholarship based on their performance in the 11 plus entrance exam. However, if your son is applying for an art, drama, music or sports scholarship, he will have an additional assessment:
Art scholarships: children applying for arts scholarships will need to submit a portfolio of their work and have a practical art exam at Halliford School. The test will consist of a drawing test from still-life objects and an interview with the head of art.

Drama scholarships: children applying for drama scholarships will need to demonstrate a strong appreciation of theatre, an understanding of production issues and knowledge of theatre outside of school. They will be asked to perform a 2-minute monologue and will be assessed on their improvisation skills in a group setting.

Music scholarships: candidates will have an audition consisting of two pieces of at least Grade 4 standard in their principal instrument/voice and one piece on an additional instrument voice. They will also have a sight-reading test, an aural comprehension test and a theory set set by the director of music.

Sport scholarships: candidates will need to demonstrate sporting achievement at county level or above. They will be invited to physical tests in agility and coordination run by the director of sport.
As a family-oriented school, siblings are usually offered a place as long as they meet the minimum academic entry requirements.
The 11 plus exam at Halliford School
Children who are registered for Year 7 entry to Halliford School in 2023 will be invited to an examination day on Saturday 14th January 2023. Your son will take four tests:
How to prepare for entry to Halliford School
Build foundational knowledge
The entrance exam at Halliford School will assess your child's knowledge and application of the Key Stage 2 core curriculum, with written tests in English and maths. They will also need to demonstrate their logic and problem-solving skills in verbal and non-verbal reasoning – neither of which are taught on the primary curriculum.
Your son can consolidate everything he'll need to know with Atom Nucleus. He'll have access to over 90,000 interactive teacher-created questions and learning resources spanning English, maths, science and reasoning.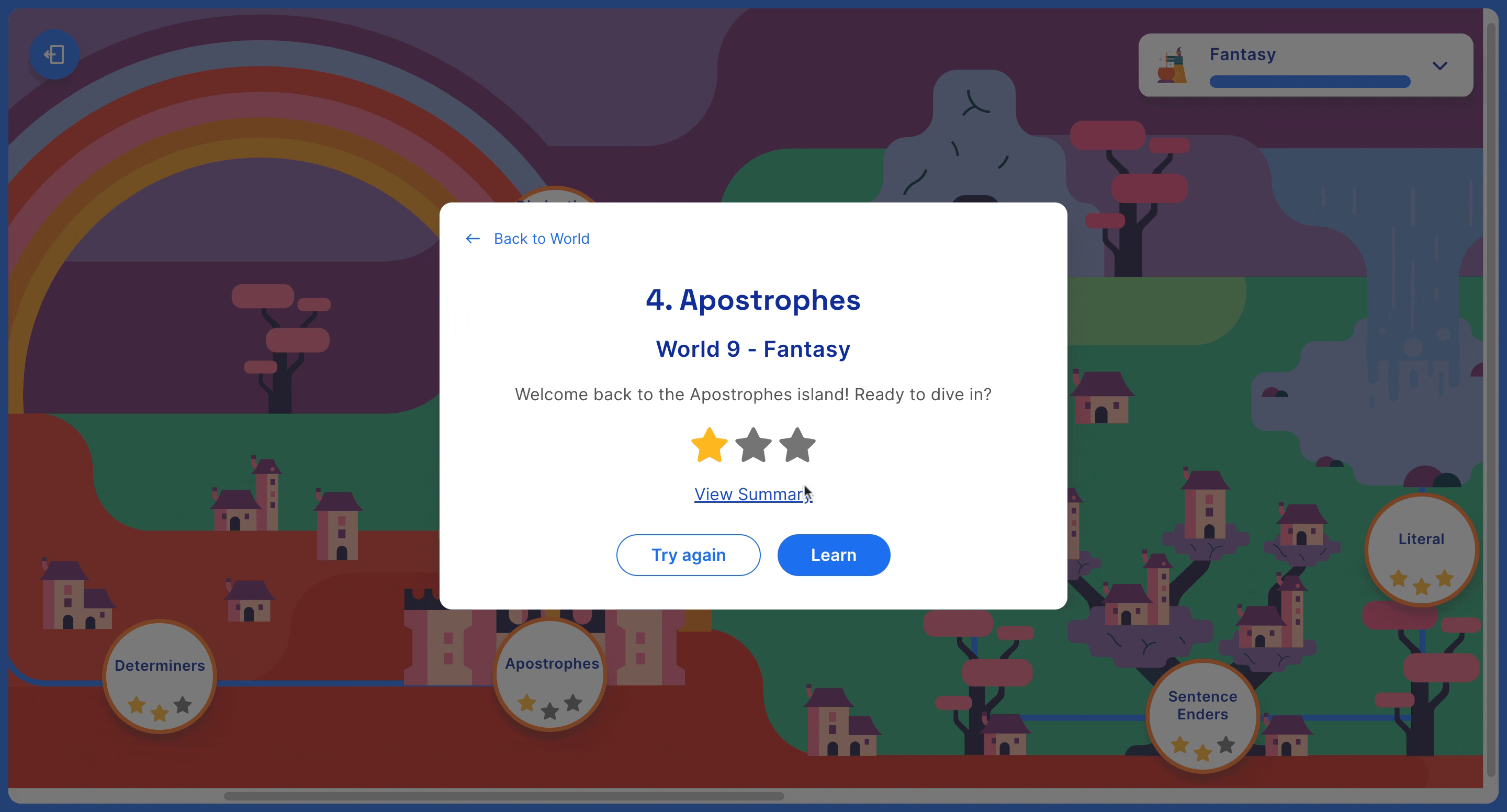 Preparation is key
Familiarisation with the question formats and known styles ahead of the exam is essential to help your child build exam confidence.
An exam preparation subscription with Atom Nucleus enables your child to access quality, unlimited practice material with full score breakdowns to help your child feel confident by the time the exam day comes around.
Your son can take multiple mock tests that replicate English, maths, verbal and non-verbal reasoning entrance exams as many times as he likes without repeatedly seeing the same questions. Meanwhile, you'll be able to see their results instantly, including his performance compared to peers and suggested areas for improvement.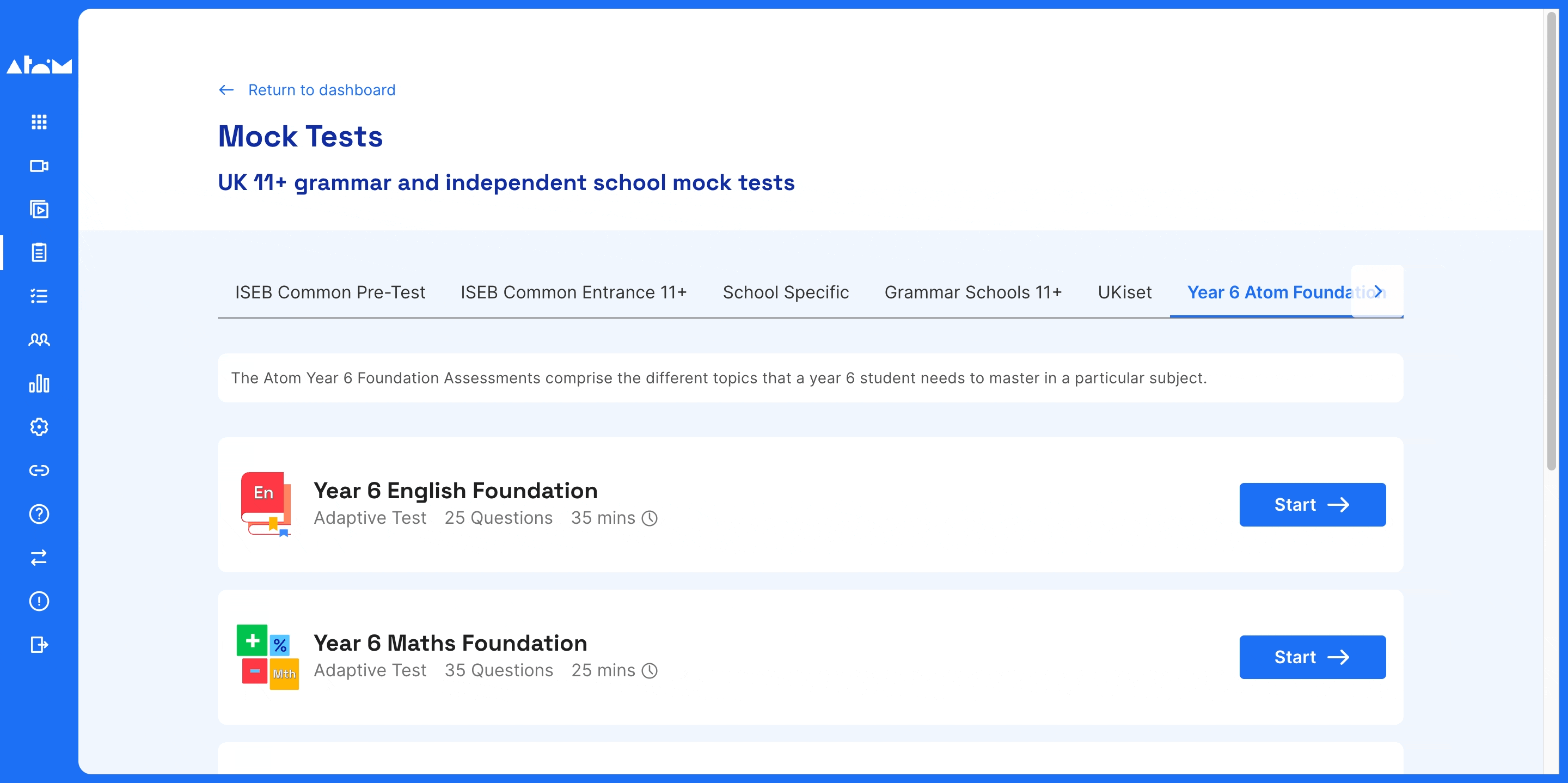 When working through challenging topics, your child will need immediate clarity with any misconceptions so that they feel truly secure in every topic. Atom Nucleus includes video tutorials, help sheets and examples with every question to help your child build confidence and competence across all the areas assessed.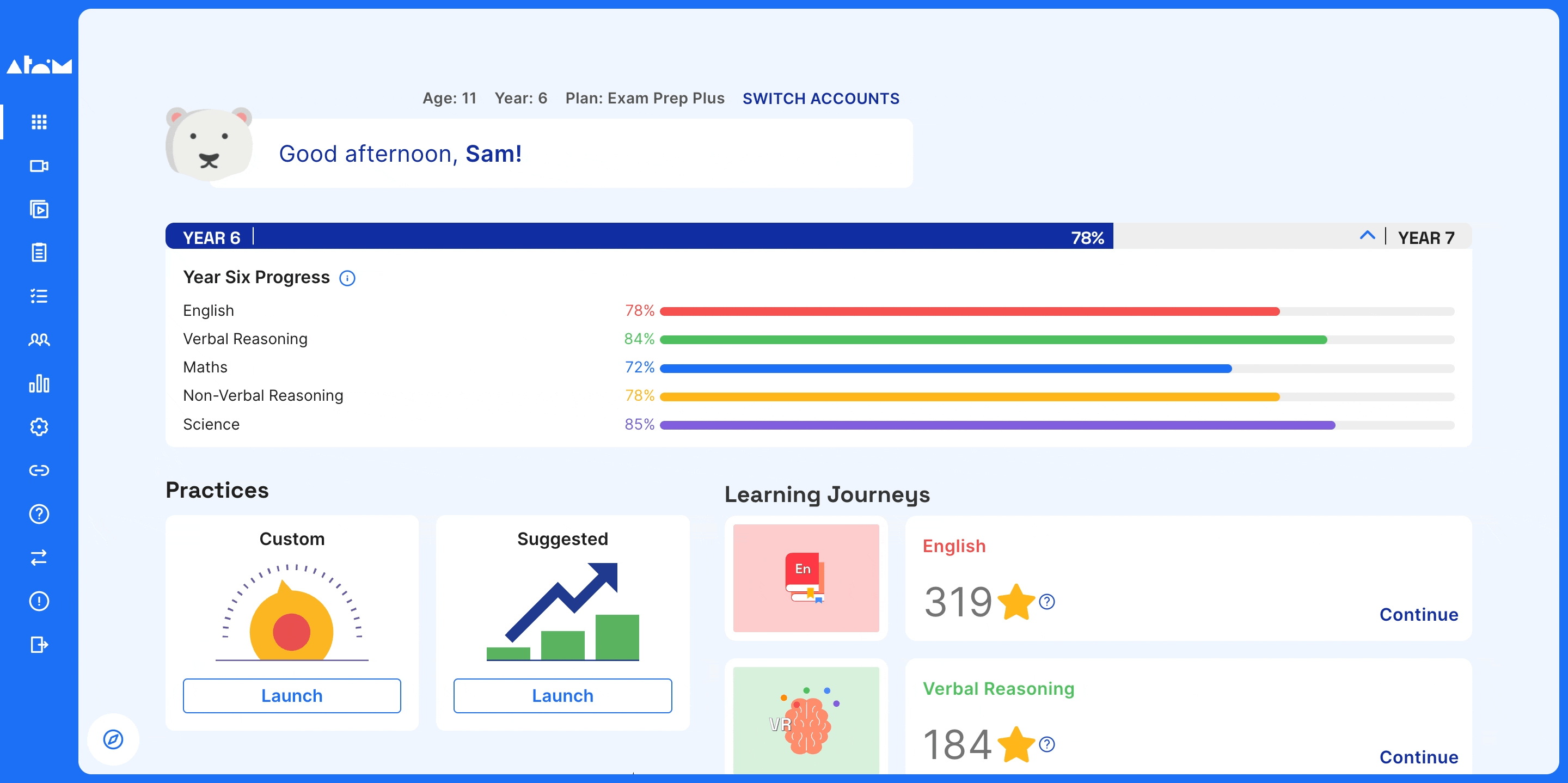 Engage with their progress
Celebrate your child's improvement in areas of challenge together. An accurate and ongoing assessment of their areas of strength and development is helpful.
As an Atom subscriber, you'll have a parent dashboard which offers data-driven insights into your child's progress. You can use this effectively to help your child set targets, see a detailed breakdown of their progress by subtopic and set custom practices to target those they find most challenging.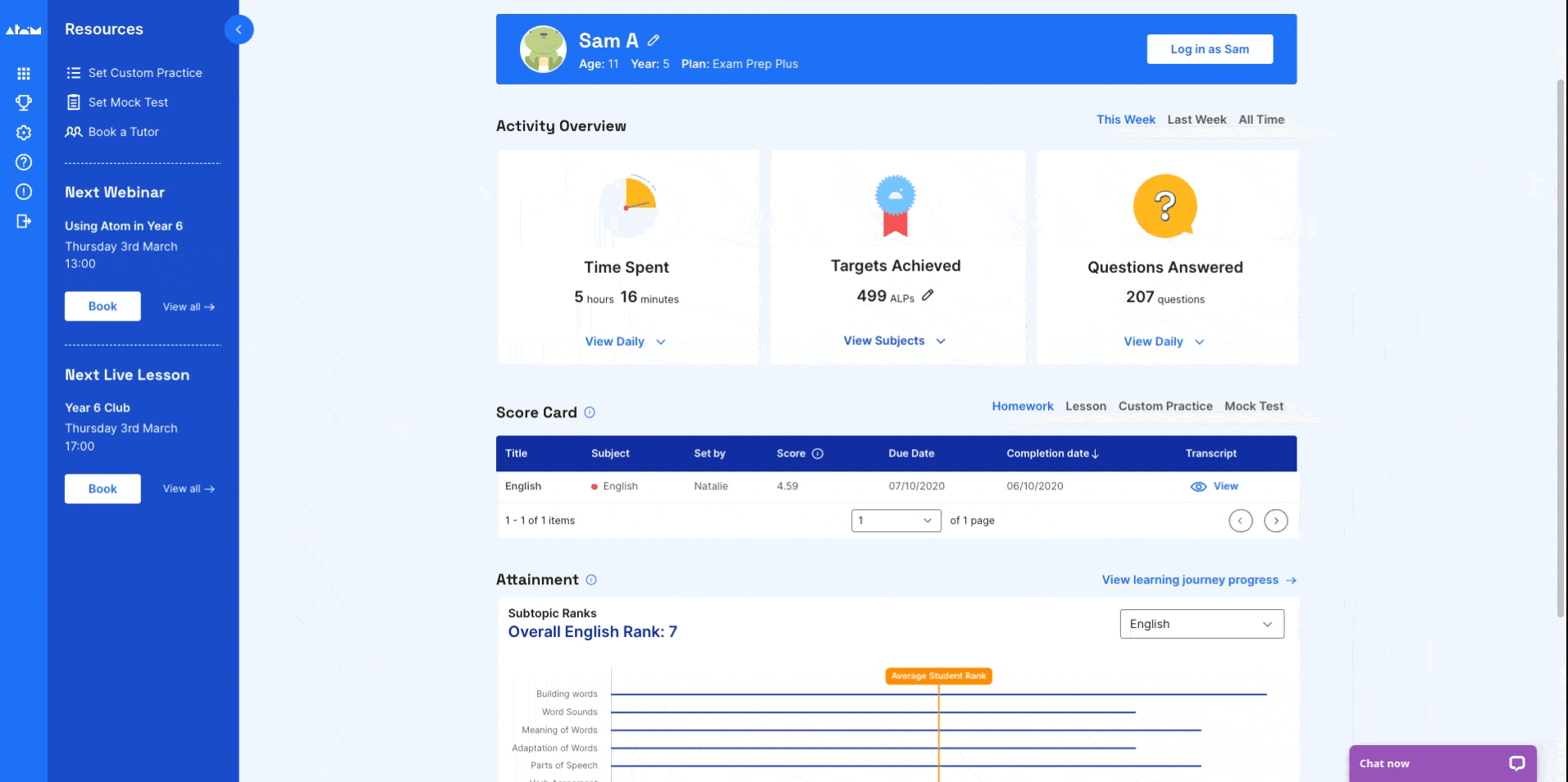 ---
Get started with Atom Learning
It's our mission to help your child feel prepared and confident before the exam day. Begin your free 5-day free trial of Nucleus today to help your child succeed.
We know how crucial this time is, so our team is on hand to support you and your family every step of the way. You can book a call with one of our Education Experts to ask any questions you might have about 11 plus entry to Halliford School:
If you're looking for exclusive tips and resources to help your child master key subjects, excel in exams and build academic confidence, join Atom's email list: