Hampton Court House is a small independent day school for boys and girls aged 1–18. The school was founded in 2001 and occupies a Grade II listed building close to the historical Hampton Court Palace in Bushy Park.
Hampton Court House is divided into five sections: early years (age 1–5), lower years (age 5–9), middle years (age 9–13), upper years (age 13–16) and the sixth form (age 16–18). The school is a member of Dukes Education – an educational trust consisting of independent nurseries, schools and colleges in the UK.
The school's ethos is a 'guided freedom' where pupils are encouraged to develop their own independence, feel confident using their voices and explore their individuality. Pupils do not wear school uniform and address their teachers on a first-name basis.
Pupils at Hampton Court House achieve great academic results. In 2019, the school was in the top 4% of all schools nationwide for its A level results and in 2021, 83% of pupils achieved A*/A/9/8/7 in their GCSEs. Hampton Court House offers a varied education, with a Forest School in the early years and the award-winning LabelFrancÉducation French bilingual programme and the Nebula Future Research Programme available in the older year groups.
Key information for Hampton Court House
Headteacher: Dr Adrian Rainbow

Address: Hampton Court House, Hampton Court Road, East Molesey, Surrey, KT8 9BS

London borough: Richmond upon Thames

Admissions contact: Natalie Barker – [email protected], 020 8614 0865

Age range and gender: 1–18 (co-educational)

Number of pupils: 300

Number of places in Year 7: Undisclosed

Ratio of applicants to places: Undisclosed

Open day date: Thursday 13th October 2022. Tours are also taking place throughout June.

Overview of selection procedure for Year 7 entry: 11 plus entrance exam, interview with the headmaster, school reference and end-of-year school report

Registration opens: Currently open on the school website

Registration closes: Autumn 2022 (exact date TBC)

Assessment date for Year 7 entry: January 2023

Scholarship assessment date: TBC
Hampton Court House fees and financial assistance
The fees for Year 7 at Hampton Court House in 2021-22 are £6,436 per term. This figure increases when pupils join Year 9, and again in the sixth form. There are a very limited number of means-tested partial bursaries at Hampton Court House, but these are prioritised for existing students whose parents' financial situation may have changed. This means that there is no funding available for new students.
Academic and Music Scholarships are available, which are awarded on a case-by-case basis. These scholarships are offered at the value of 10% of the school fees each year.
Hampton Court House term dates
The 2022-23 term dates for Hampton Court House are:
Autumn term: 7th September – 14th December 2022

Half term: 17th – 28th October 2022

Spring term: 5th January – 29th March 2023

Half term: 13th – 17th February 2023

Summer term: 19th April – 5th July 2023

Half term: 29th May – 2nd June 2023
Admissions process for Hampton Court House
Year 7 is the main point of entry for applicants to Hampton Court House. If you would like to register your child for a place in Year 7 in 2023, you will need to complete the Middle Years application form, which is available on the school website. This will need to be returned to the Head of Admissions with a non-refundable fee of £150 (£500 for students from outside of the EU).
Applicants will then sit an 11 plus exam at Hampton Court House in January 2023. Shortlisted candidates will then have an interview with the headmaster (usually in the presence of one or both parent(s)).
Parents will receive the outcome of their child's application to Hampton Court House in early 2023.
Hampton Court House entrance exam format
All candidates for Year 7 entry to Hampton Court House will take two test papers:
English (1 hour and 10 minutes): three parts, consisting of reading comprehension, a vocabulary test and written composition.

Maths (45 minutes): a non-calculator paper based on the Key Stage 2 national curriculum at Year 6 level.
Example entrance papers for Hampton Court House are available on the school website. You may also find the following resources helpful:
How to help your child prepare for the selection process at Hampton Court House:
Build foundational knowledge
As the entrance exam for Hampton Court House will include Key Stage 2 National Curriculum content in English and maths, make sure that your child is familiar with everything they have covered in these subject areas at school.
Atom Nucleus, our online platform for home, covers the entire KS2 core curriculum – meaning your child can get ahead and start learning Year 6 content (which is key for the Hampton Court House 11 plus maths paper). Our adaptive platform teaches pupils in an interactive, engaging way: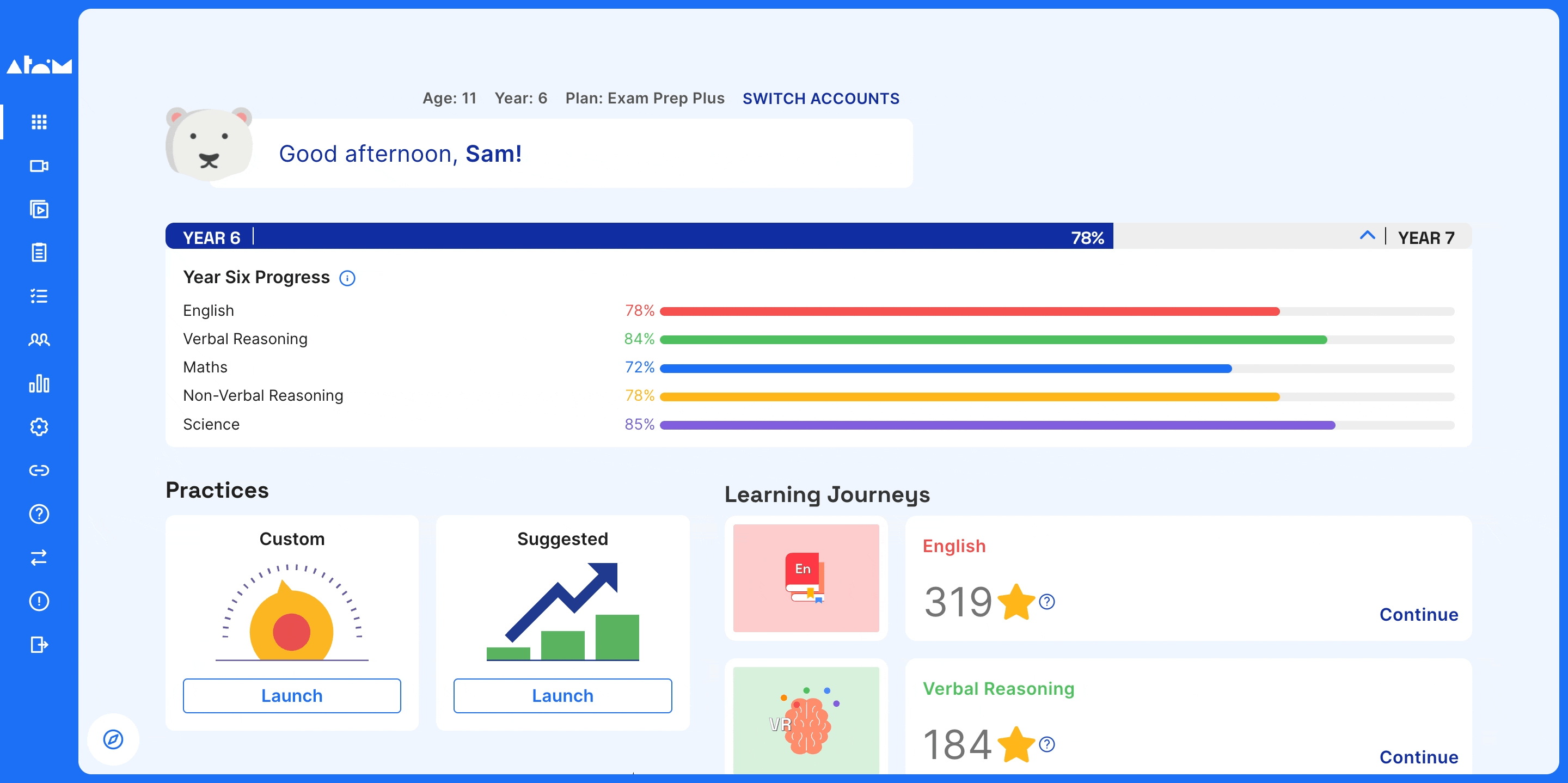 Regular reading will help your child develop great comprehensive skills and expand their vocabulary – both of which are key for the Hampton Court House 11 plus English paper. If your child is not a natural reader, take a look at our guide to engaging your child with reading for some ideas to help.
Engage with their progress
Celebrate your child's improvement in areas of challenge together. An accurate and ongoing assessment of their areas of strength and development is helpful. Atom's Parent Portal offers data-driven insights into your child's progress to help you prepare effectively, including targets achieved, a detailed breakdown of progress by subtopic and the ability to set custom practices to target your child's most challenging subtopics.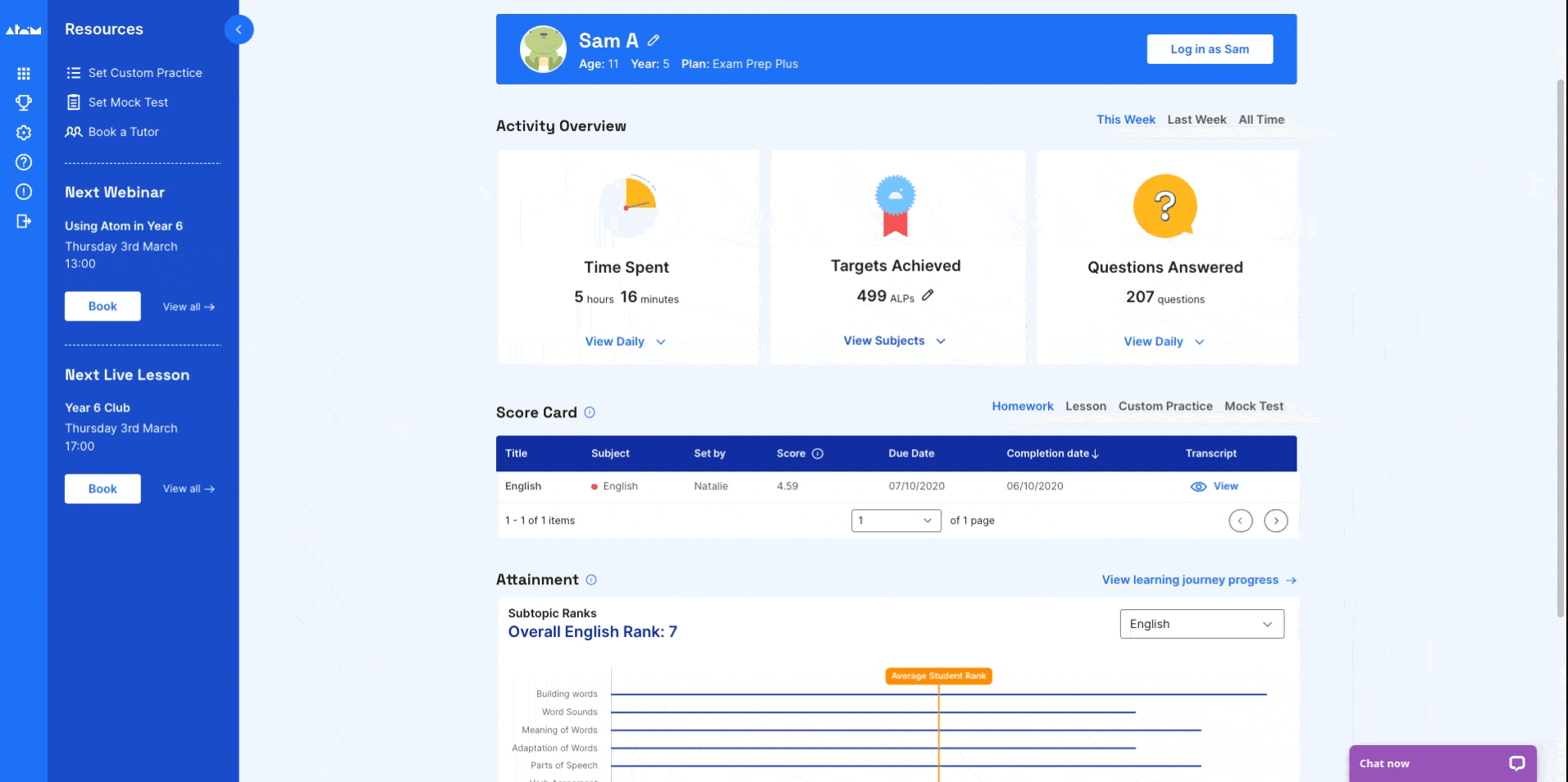 ---
Atom Learning can help
We have over 90,000 teacher-written practice questions, video tutorials, help sheets, live exam preparation courses and unlimited mock tests that mirror the format of most 11 plus entrance exams. It's our mission to help your child feel prepared and confident on exam day.
Begin your free 5-day trial of Nucleus today to unlock success in the classroom, entrance exams and more.
We know how crucial this time is, so our team is on hand to support you and your family every step of the way. You can book a call with one of our Education Experts to ask any questions you might have about Year 7 entry to Hampton Court House:
If you're looking for exclusive tips and resources to help your child master key subjects, excel in exams and build academic confidence, join Atom's email list: