Hill House School is an independent day school for girls and boys aged 3 to 18 in Doncaster, South Yorkshire.
Pupils at Hill House School study a broad yet challenging curriculum in small classes, making it possible for teachers to help children maximise their potential. English, maths, science and modern languages are essential to the curriculum, with a variety of encompassing subjects including computing, philosophy, politics and ethics, economics, psychology, and business studies available to students in later year groups. Exam results at Hill House School are the best in the area; in 2022, 75% of A level grades were A*/A/B and 51% of GCSEs were 9, 8 or 7.
Beyond the classroom, there are plenty of opportunities for pupils to develop existing talents and explore new interests in a wide and varied co-curricular programme. Musicians will enjoy six choirs, three orchestras and several ensembles, with a vibrant calendar of concerts. There are four large drama productions each year and budding artists have opportunities to exhibit their work on the websites of major galleries, including The Saatchi Gallery.
A large number of pupils represent the school locally and regionally in traditional sports (hockey teams at Hill House have been crowned North of England champions), while a new equestrian club has been established to allow pupils access to the facilities and experience at Grove House Equestrian Centre in Nottinghamshire.
Key information for Hill House School
Headmaster: Mr David Holland

Address: Hill House School, Sixth Avenue, Auckley, Doncaster, South Yorkshire, DN9 3GG

County: South Yorkshire

Admissions contact: Miss L Ward – [email protected], 01302 776300

Age range and gender: 3–18, boys and girls

Number of pupils: 736

Open day date: Saturday 1st October 2022

Overview of selection procedure: entrance exam and trial day

Registration opens: currently open – enquire with the school

Registration closes: undisclosed

Assessment date: Monday 23rd January 2023
Hill House School fees and financial assistance
The current fees at Hill House School for pupils in Years 7 and 8 are £4,650 per term. The school fees include the cost of tuition, swimming (where this applies) and school lunch.
Hill House School awards a small number of bursaries (means-tested financial assistance) annually to parents of children according to financial need. One or two places are available as 100% awards (i.e. free school places). Applications for bursaries can be made at any time during the school year – to obtain an application form and get guidance on applying, call the school bursar on 01302 776300.
There is also a small number of scholarships available to 11 plus applicants to Hill House School:
Open scholarships (academic, art, music, performing arts, and sport): these are awarded to children on the basis of their performance in the 11 plus entrance exam and assessment in January of Year 6. They normally carry a 10% reduction in fees but can be more if the child's parents require additional financial support (a means-testing process will take place if this is the case).

Foundation scholarships: assessment for a foundation scholarship is by invitation only at any age and is outside of the normal open scholarship process. These are only offered very occasionally, in exceptional circumstances.

Rose Learning Trust scholarships: one means-tested scholarship is available each year to a candidate of exceptional potential from any school within the Rose Learning Trust. This includes Richmond Hill Primary School, Woodfield Primary School, Balby Central Primary Academy, Hatchell Wood Primary Academy, Crowle Primary Academy, Owston Park Primary Academy, Lakeside Primary Academy, and Town Field Primary School.
Hill House School term dates
The term dates at Hill House School for 2022–23 are:
Autumn term (Michaelmas): 6th September – 16th December 2022

Half term: 22nd October – 6th November 2022

Spring term (Lent): 10th January – 30th March 2023

Half term: 11th–19th February 2023

Summer term: 17th April – 6th July 2023

Half term: 27th May – 4th June 2023
The term dates at Hill House School for 2023–24 are:
Autumn term (Michaelmas): 6th September – 15th December 2023

Half term: 21st October – 5th November 2023

Spring term (Lent): 9th January – 21st March 2024

Half term: 10th–18th February 2024

Summer term: 10th April – 10th July 2024

Half term: 25th May – 2nd June 2024
Admissions process for Year 7 entry to Hill House School
If you are considering Hill House School as a possible choice for your child, you will need to complete the registration form (contact the school to obtain this).
All registered applicants will then be invited to the Year 7 entrance exam day, which will take place on Monday 23rd January 2023 (applicants registered for 2023 entry). As well as completing test papers, your child will experience taster lessons – this is an opportunity for your child to find out if Hill House is the right fit for them, while enabling staff at the school to see what they can offer in return.
Following a successful trial day and good exam results, Hill House School will write to parents with the offer of places. If your child is successful in receiving a place and you would like to accept, you will need to return the necessary forms and submit a deposit (refundable once your child leaves the school).
Hill House School 11 plus exam
Applicants for Year 7 entry to Hill House School will take three written tests in January of Year 6:
English: a one-hour exam with sections on reading comprehension and creative writing.

Maths: a one-hour exam based on the Key Stage 2 national curriculum for maths. Find out what topics your child will likely be tested on in our guide to 11 plus maths.

Verbal reasoning: a one-hour exam which will assess your child's ability to reason and solve problems with written information. Take a look at our guide to 11 plus verbal reasoning to see typical questions and find out how your child can prepare effectively.
How to help your child prepare for the selection process at Hill House School
Build foundational knowledge
The 11 plus exam at Hill House School assesses candidates' knowledge and understanding of the Key Stage 2 core curriculum and beyond, with test papers in English, maths, and verbal reasoning.
Your child can consolidate everything they need to know with Atom Nucleus. They'll get access to over 90,000 interactive teacher-created questions and helpful learning resources that span English, maths and verbal reasoning (in addition to non-verbal reasoning and science).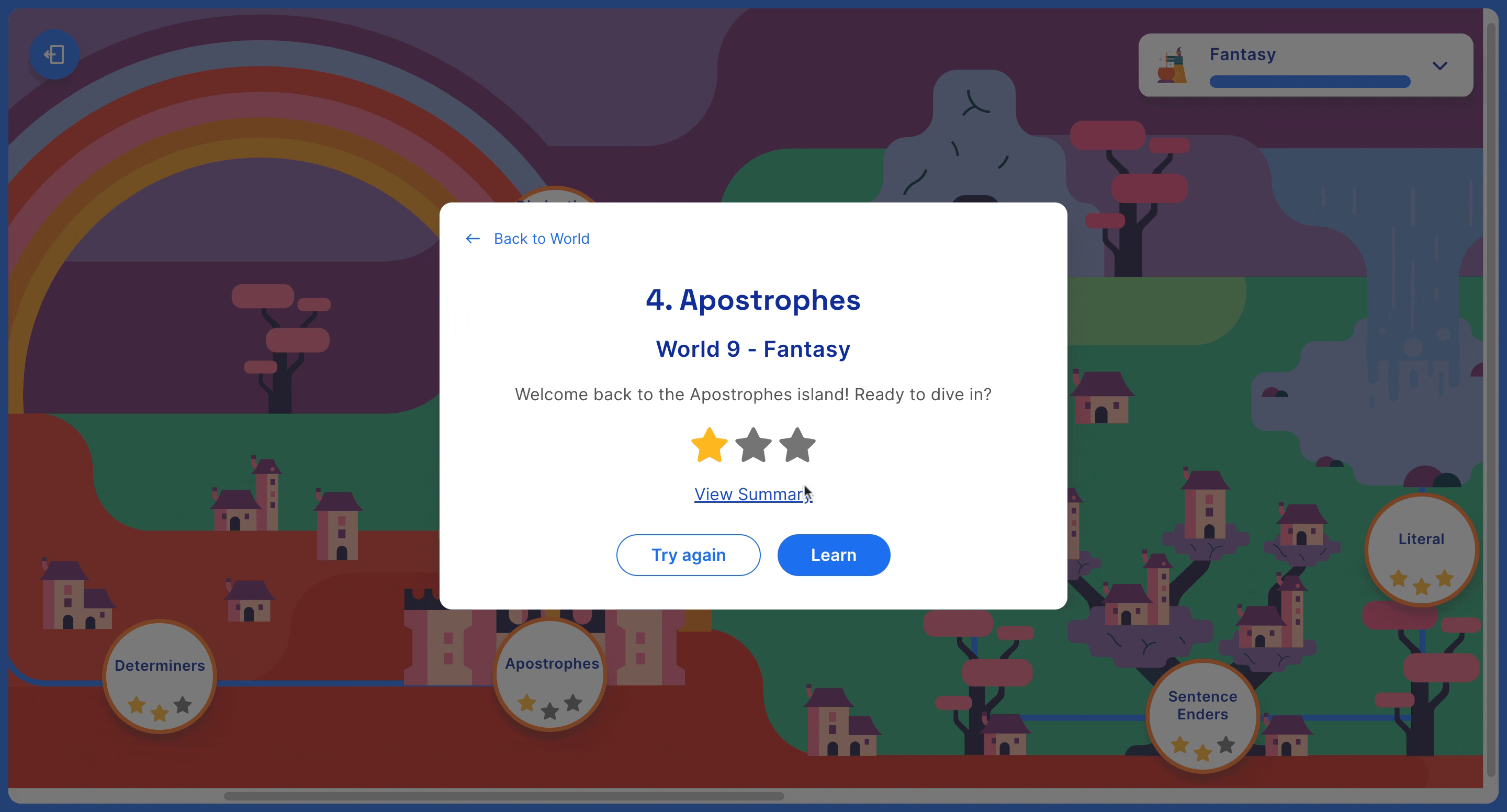 Preparation is key
Familiarisation with the question formats and known styles ahead of the exam is essential to help your child build exam confidence. An exam preparation subscription with Atom Nucleus enables your child to access quality, unlimited practice material with full score breakdowns to help your child feel confident by the time the exam day comes around.
Your child will benefit from taking Atom's foundation mock tests in English, maths and verbal reasoning. This will help them develop key time management skills and get a feel for the types of questions they might be asked in the Hill House School 11 plus exam.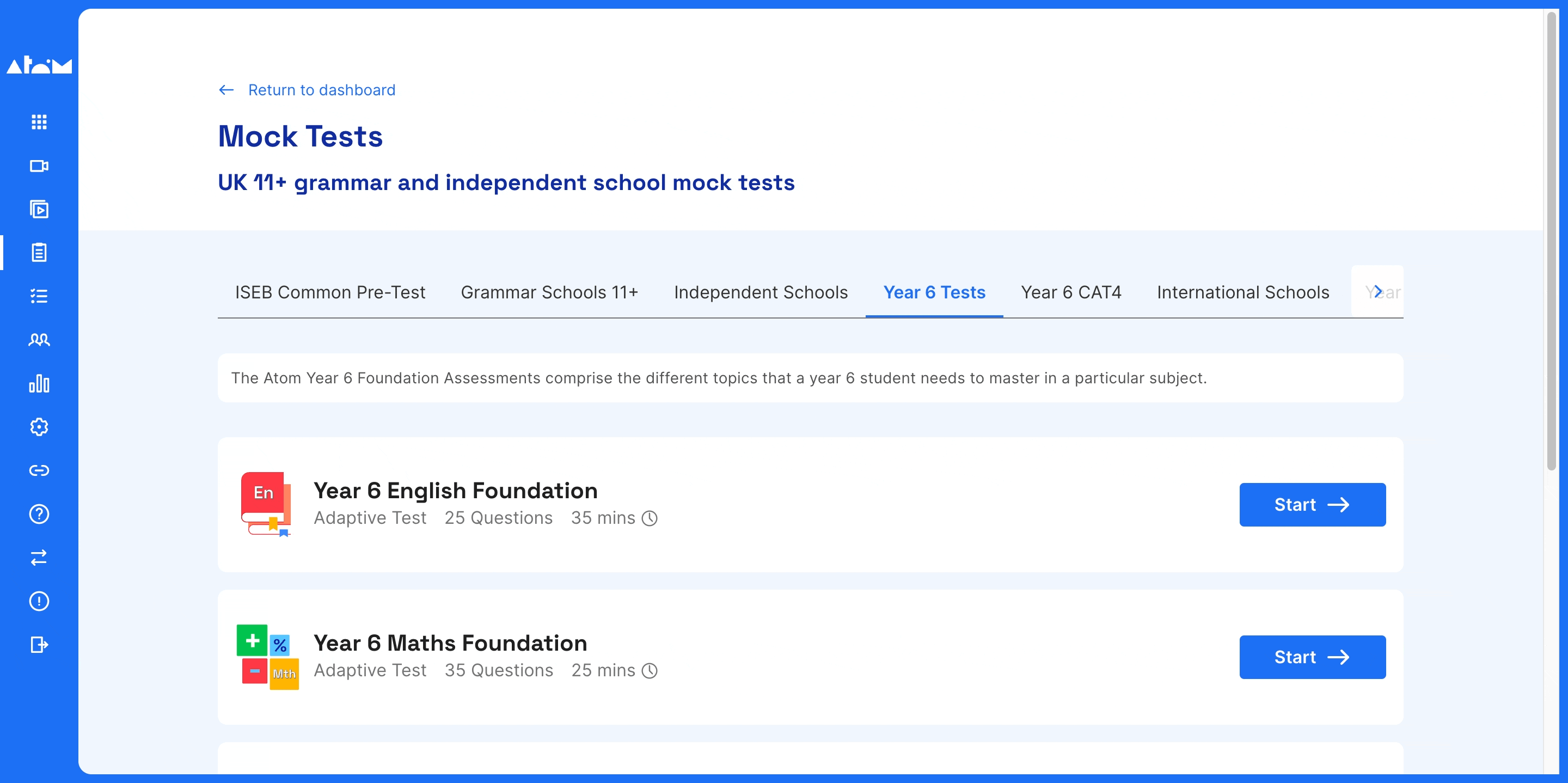 When working through challenging topics, your child will need immediate clarity with any misconceptions so that they feel truly secure in every topic. Atom Nucleus includes video tutorials, help sheets and examples with every question to help your child build confidence and competence across all the areas assessed.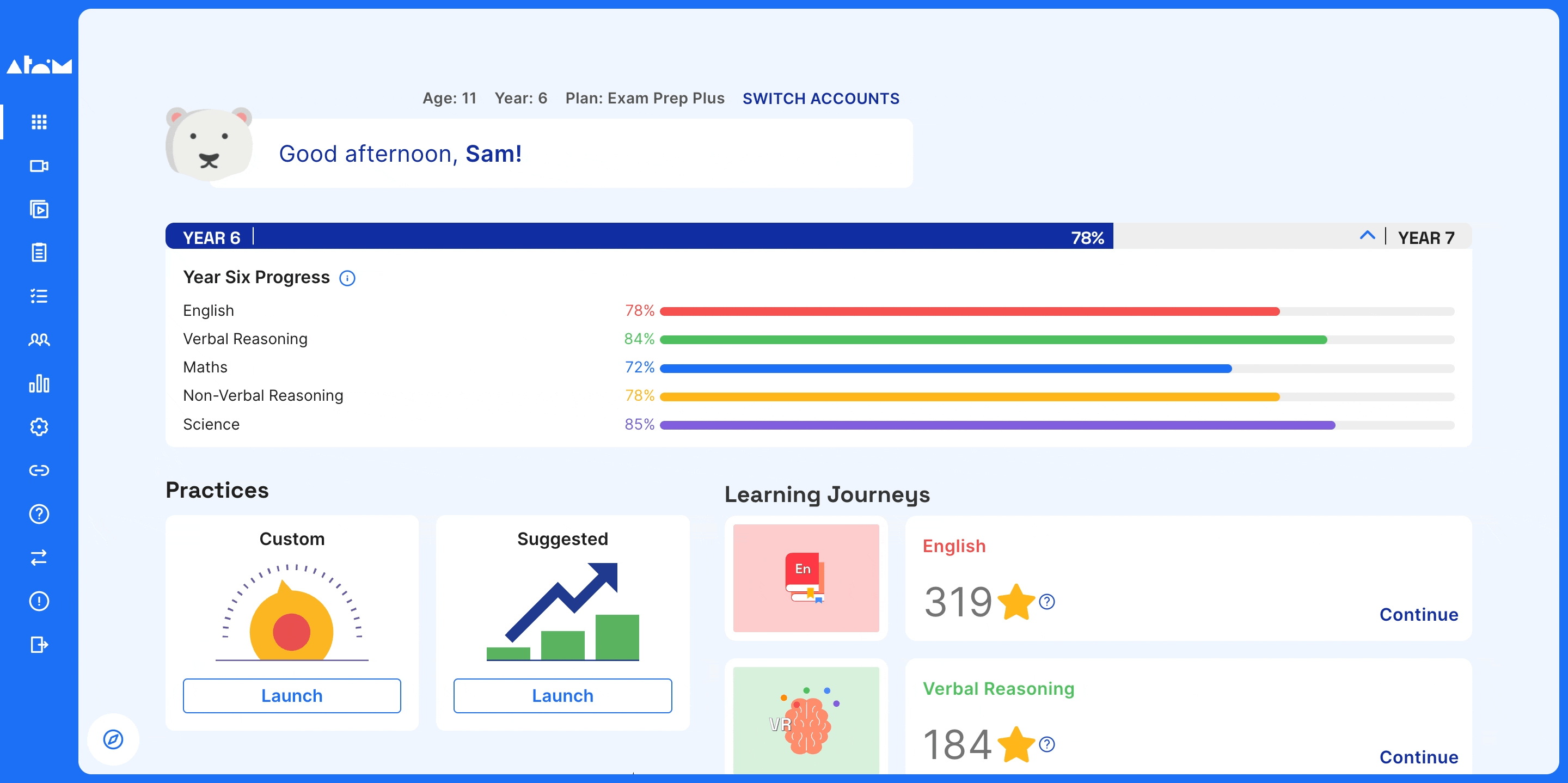 Engage with their progress
Celebrate your child's improvement in areas of challenge together. An accurate and ongoing assessment of their areas of strength and development is helpful.
As an Atom subscriber, you'll have a parent dashboard which offers data-driven insights into your child's progress. You can use this effectively to help your child set targets, see a detailed breakdown of their progress by subtopic and set custom practices to target those they find most challenging.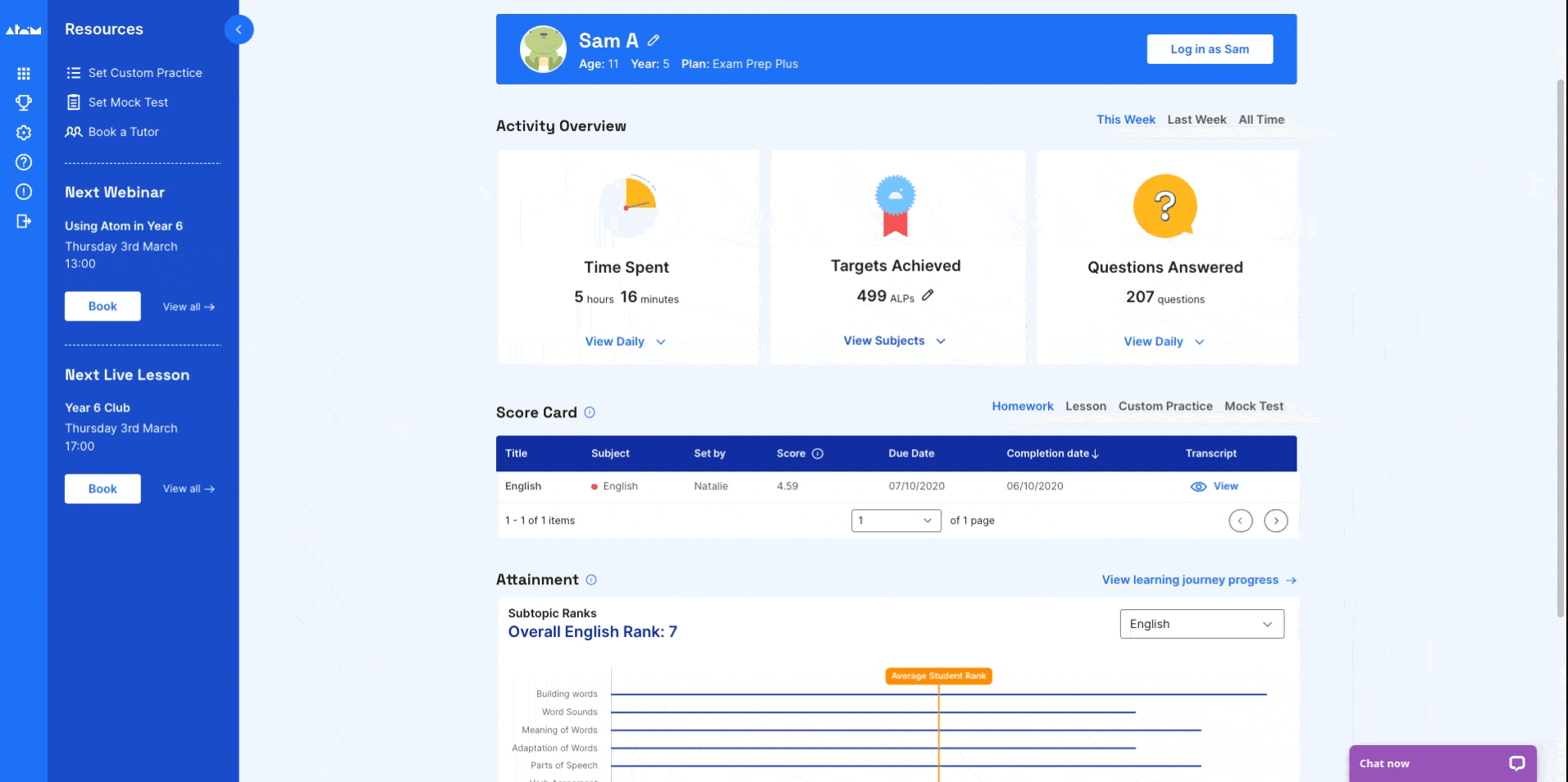 ---
Get started with Atom Learning
It's our mission to help your child feel prepared and confident before the exam day. Begin your free 5-day free trial of Nucleus today to help your child succeed.
We know how crucial this time is, so our team is on hand to support you and your family every step of the way. You can book a call with one of our Education Experts to ask any questions you might have about 11 plus entry to Hill House School:
If you're looking for exclusive tips and resources to help your child master key subjects, excel in exams and build academic confidence, join Atom's email list:

Parent WhatsApp groups
Preparing for entrance exams in 2023? Why not join our Exam Preparation group on WhatsApp? Get access to free resources and advice, and ask our Education Experts any questions you have about the admissions process and your child's upcoming exams.