King's School is a thriving independent day school for boys and girls aged 11–18 located next to the Cathedral and the River Severn in Worcester. King's has a long history of educating young people in the area and is directly descended from the monastic school – an integral part of the Benedictine cathedral monastery – until its dissolution in 1540. King's Worcester was one of seven 'King's Schools' established or re-endorsed by Henry VIII following the dissolution.
Pupils at King's do outstandingly well academically. King's Worcester is the highest-ranking school in the county and among the top ten schools in the region of the West Midlands. The majority of leavers go on to higher education – over 33 pupils have secured offers at Oxbridge in the past four years, with a significant number of offers to study medicine, dentistry or veterinary science each year. In 2021, over 90% of A level grades were A*/A/B and over 76% of GCSE entries were A*/A/9/8/7.
Pupils have bountiful opportunities on offer to explore lifelong interests and fulfil healthy habits of body and mind. There are over 100 clubs and activities available alongside opportunities in choral music, instrumental groups, drama and dance productions, sporting tournaments, and community engagement. The Duke of Edinburgh's Award has a particularly high uptake at King's, with pupils benefitting from the school's own outdoor education centre in the Black Mountains in Wales. The school recently had the highest percentage completion rate across Bronze, Silver and Gold Awards of all independent schools in the UK.
Key information for King's School, Worcester
Headmaster: Mr Gareth Doodes

Address: King's School, Worcester, 5 College Green, Worcester, Worcestershire, WR1 2LL

County: Worcestershire

Admissions contact: Vickie Peckston – [email protected]

Age range and gender: 11–18, boys and girls

Number of pupils: 875

Number of places in Year 7: 40-50 external places (joining children from King's own junior schools)

Open day date: 21st January 2023 (other events each year in September)

Overview of selection procedure: taster morning, entrance exam and interview

Registration opens: currently open for 2023 entry – apply online

Registration closes: Tuesday 24th January 2023

Assessment date: Saturday 4th February 2023
King's School, Worcester fees and financial assistance
The current fees at King's are £5,309 per term. This includes all textbooks, learning skills support and most co-co-curricular clubs and activities. School lunch is an additional cost of £246 per term for pupils in Years 7 and 8, and £267 per term for pupils in Years 9 to 13.
King's offers means-tested awards, known as bursaries, to children who qualify for a place at the school but whose parents would not otherwise be able to afford the school fees. If you think your child may qualify for a bursary at King's School, you will need to make an application between November and early January.
Scholarships are also available to pupils at 11 plus entry and provide fee remission of up to one-third. 11 plus candidates may apply for an all-rounder or music scholarship, or a sports skills award.
King's School offers a reduction in fees when three or more siblings are pupils at the school at the same time. The discount is 10% for a third child, and 15% for a fourth child.
King's School, Worcester term dates
The term dates at King's School, Worcester for 2022–23 are:
Autumn term: 6th September – 14th December 2022

Half term: 24th October – 4th November 2022

Spring term: 5th January – 31st March 2023

Half term: 20th–24th February 2023

Summer term: 20th April – 6th July 2023

Half term: 29th May – 2nd June 2023
The term dates at King's in 2023–24 are:
Autumn term: 7th September – 15th December 2023

Half term: 23rd October – 3rd November 2023

Spring term: 9th January – 27th March 2024

Half term: 12th–16th February 2024

Summer term: 16th April – 4th July 2024

Half term: 27th–31st May 2024
Admissions process for Year 7 entry to King's School, Worcester
If you are considering King's Worcester for your child for Year 7 entry, the school encourages you to visit – either through a formal open morning or for a private tour. Find out more about the school's upcoming open mornings or get in touch with the admissions team to arrange a private tour.
If, after visiting the school, you decide that you would like your child to be considered for a place in Year 7, you will need to complete the online registration form and pay the non-refundable registration fee of £40. If you are registering your child for entry to Year 7 in 2023, the deadline for completing this form is Tuesday 24th January 2023. If you are applying for a bursary or a scholarship, the same deadline applies.
All prospective 11 plus pupils will then be invited to attend a taster morning at King's Worcester. This is designed to be an enjoyable morning, where children will spend time with existing pupils and staff and get involved in a range of engaging activities to experience life at the school.
All candidates are required to sit the school's own entrance exam before being offered a place at the school. Exams take place in one of the school classrooms, and children stay for the whole day to participate in group activities and enjoy lunch with other candidates. Candidates also have a short interview with a senior member of staff. The date for this is Saturday 4th January 2023 for candidates applying to Year 7 for September 2023 entry.
Academic scholarships are automatically awarded to 11 plus candidates based on their results in the entrance exam, with candidates awarded for a high level of academic attainment and intellectual curiosity. If your child has applied for an all-rounded, music, or sports scholarship, the following processes will apply:
All-rounder awards: eligible candidates are enthusiastic contributors who will make a difference to the school across a range of disciplines, including drama, dance and art. They will have performed well in the entrance exam and have a strong reference from their current school. Parents will need to apply for an all-rounder award by the same deadline as the main registration.

Music scholarships: eligible candidates for an 11 plus music scholarship are at Grade 4 standard on their principal instrument. Assessments will take place on Thursday 2nd and Friday 34rd January 2023 and take the form of an instrument or vocal performance of two contrasting pieces of music.

Sports scholarships: 11 plus candidates may apply for a sports skills award, which involves a personal statement and reference. Eligible candidates will have performed at a high level in two major sports, and are likely to have attained representative honours beyond school.
Formal offers are made to successful candidates following the entrance exams.
King's School, Worcester: the 11 plus exam
All candidates for 11 plus entry to King's will take an entrance exam in February of the year of entry. For candidates applying for entry to Year 7 in 2023, the 11 plus entrance exam will take place on Saturday 4th January 2023.
Candidates will take three written papers:
English: children will be assessed on their knowledge and application of Key Stage 2 English (normally up to the end of Year 5). They will likely be assessed on their reading comprehension skills and may need to complete a creative writing task.

Maths: children will be assessed on their knowledge and understanding of Key Stage 2 maths (also normally up to the end of Year 5). They will be assessed on the main topics in the curriculum, which include number (place value, addition and subtraction, multiplication and division, fractions and decimals), measurement, geometry (properties of shape), position and direction, and statistics. Find out more in our guide to 11 plus maths.

Verbal reasoning: this subject is not taught on the school curriculum and assesses children's potential, rather than learnt ability. Candidates are tested on their ability to reason and solve problems with written information. Take a look at example questions in our guide to 11 plus verbal reasoning.
How to help your child prepare for the selection process at King's School, Worcester
Build foundational knowledge
The 11 plus exam at King's School, Worcester assesses candidates' knowledge and understanding of English, maths and verbal reasoning.
Your child can consolidate everything they know with Atom Nucleus, with over 90,000 teacher-created questions and helpful learning resources that span the Key Stage 2 curriculum and beyond.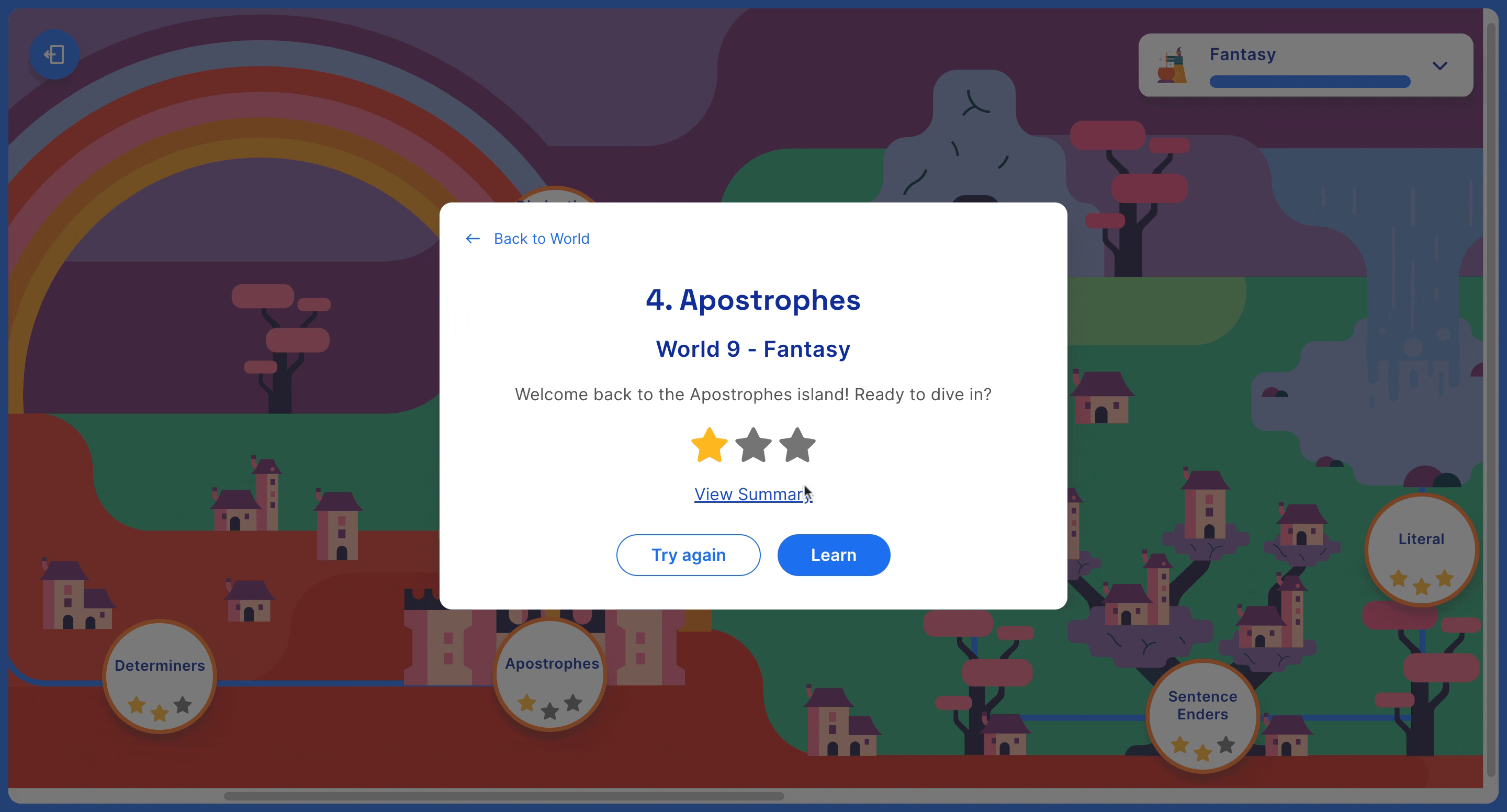 Preparation is key
Familiarisation with the question formats and known styles ahead of the exam is essential to help your child build exam confidence. An exam preparation subscription with Atom Nucleus enables your child to access quality, unlimited practice material with full score breakdowns to help your child feel confident by the time the exam day comes around.
With Atom Nucleus, your child can take multiple timed Year 6 foundation tests in English, maths and verbal reasoning to get a feel for the exam questions and develop crucial time-management skills.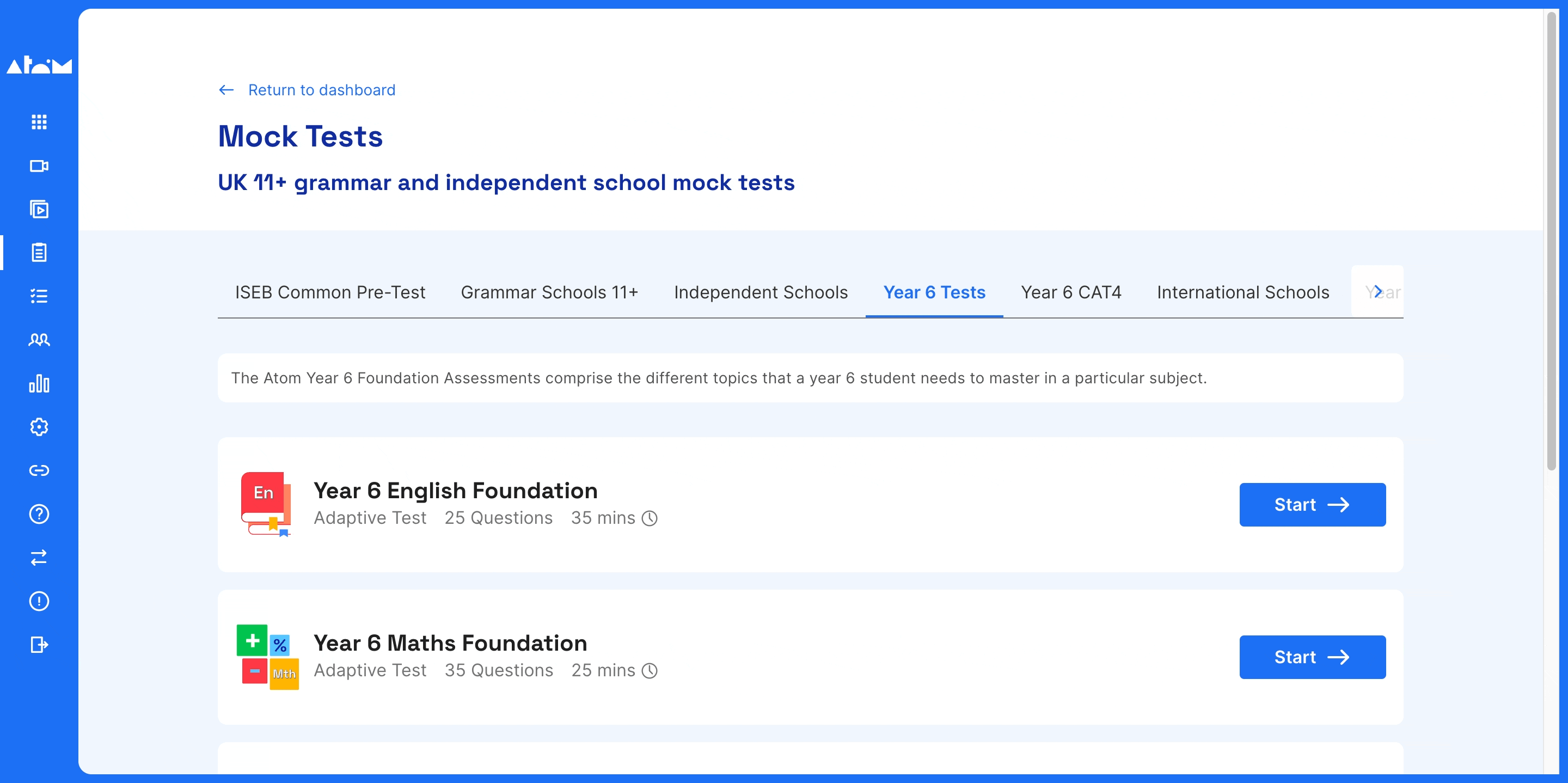 When working through challenging topics, your child will need immediate clarity with any misconceptions so that they feel truly secure in every topic. Atom Nucleus includes video tutorials, help sheets and examples with every question to help your child build confidence and competence across all the areas assessed.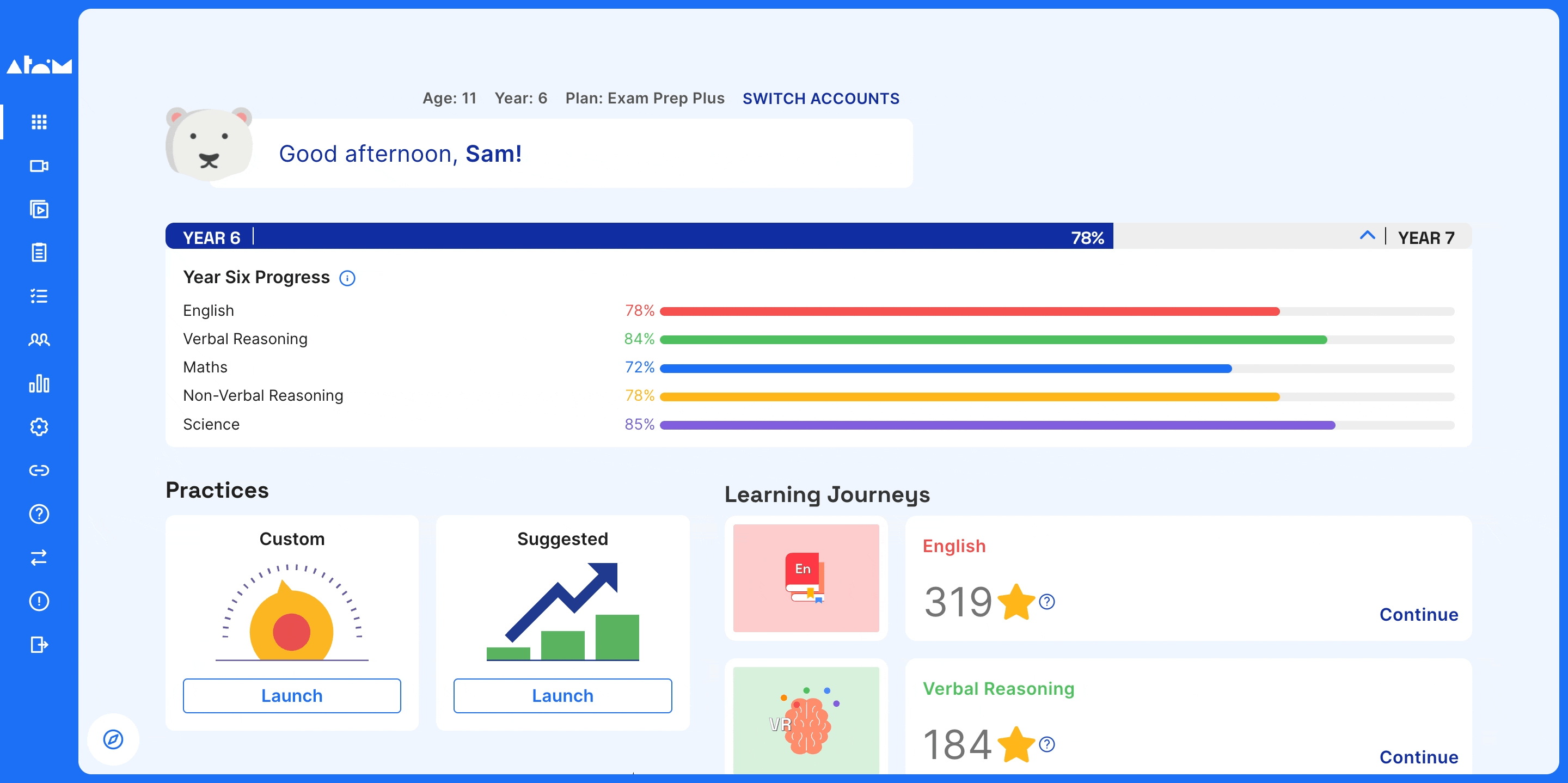 Engage with their progress
Celebrate your child's improvement in areas of challenge together. An accurate and ongoing assessment of their areas of strength and development is helpful.
As an Atom subscriber, you'll have a parent dashboard which offers data-driven insights into your child's progress. You can use this effectively to help your child set targets, see a detailed breakdown of their progress by subtopic and set custom practices to target those they find most challenging.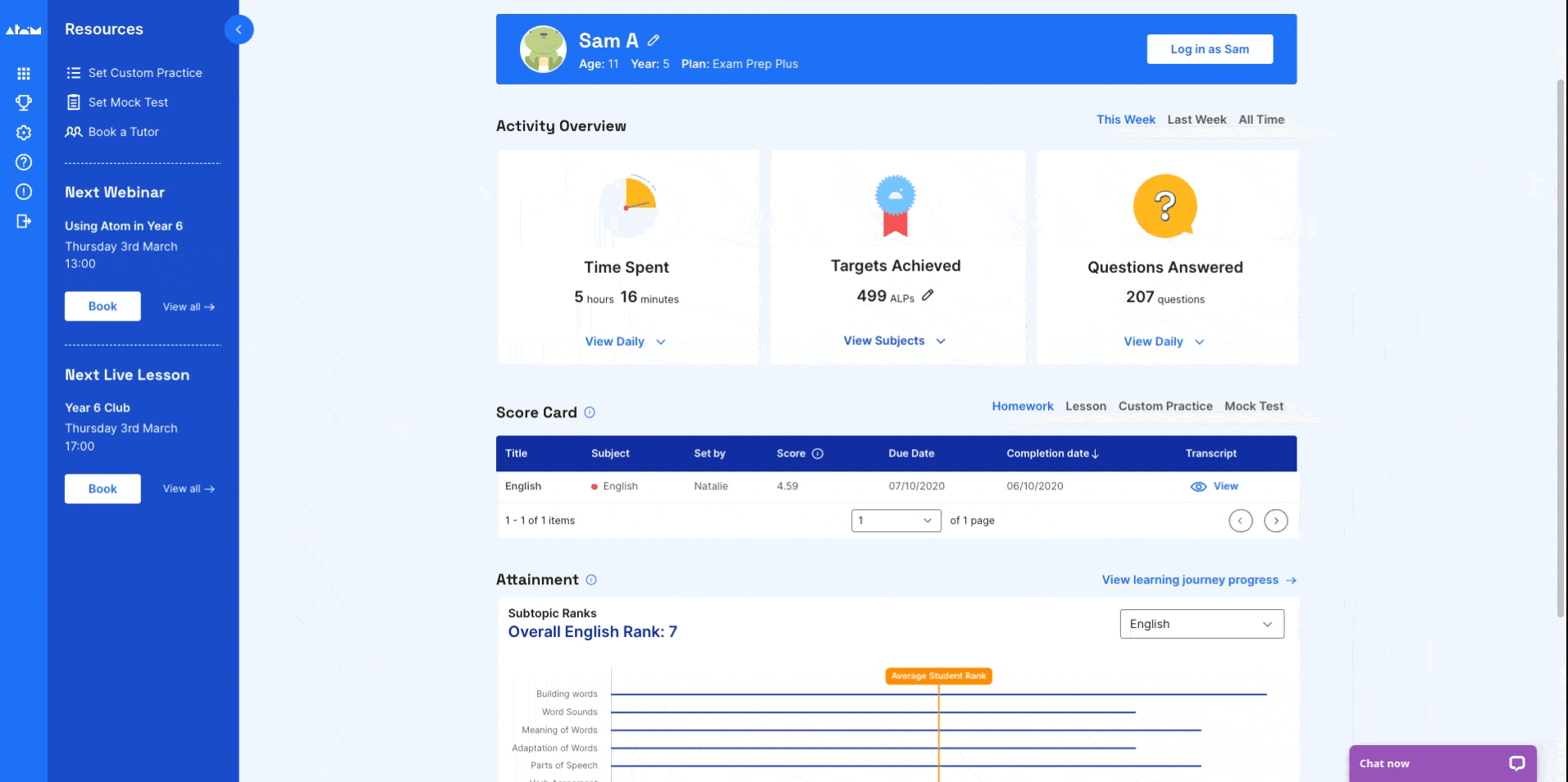 ---
Get started with Atom Learning
It's our mission to help your child feel prepared and confident before the exam day. Begin your free 5-day free trial of Nucleus today to help your child succeed.
We know how crucial this time is, so our team is on hand to support you and your family every step of the way. You can book a call with one of our Education Experts to ask any questions you might have about 11 plus entry to King's School, Worcester:
If you're looking for exclusive tips and resources to help your child master key subjects, excel in exams and build academic confidence, join Atom's email list:

Parent WhatsApp groups
Preparing for entrance exams in 2023? Why not join our Exam Preparation group on WhatsApp? Get access to free resources and advice, and ask our Education Experts any questions you have about the admissions process and your child's upcoming exams.