Kingston Grammar School is an independent day school for boys and girls aged 11 to 18 in Kingston upon Thames, South West London. The school was founded by Royal Charter in 1561 (although the school's Lovekyn Chapel can be traced back to the 13th century) and was boys-only until 1978 when it became co-educational.
Exam results at Kingston Grammar School are consistently high. In 2021, 84% of all A level grades were A*/A and 71% of all GCSE grades were the very top grades of 9 and 8 (A* and higher). 94% of sixth form leavers progressed to their first choice of course and university.
Kingston Grammar School has a strong tradition of theatre, art, music and sport. There have been 28 appearances by KGS alumni at the Olympic Games (five have won gold medals) and pupils compete in more than 1,000 sports fixtures – involving more than 80% of the pupil population – every year.
The school has recently been shortlisted in two Independent Schools' Admissions, Marketing and Communications (AMCIS) Awards: The Partnership/Outreach Impact Award, for its cross-sector partnership with The Kingston Academy, and The Small Budget Impact Award, for the school's in-house marketing campaign to celebrate the return of in-person events after lockdown.
Key information for Kingston Grammar School
Headteacher: Stephen Lehec

Address: Kingston Grammar School, London Road, Kingston upon Thames, KT2 6PY

London Borough: Kingston upon Thames

Admissions contact: [email protected], 020 8546 5875

Age range and gender: 11–18 boys and girls

Number of pupils: 870

Number of places in Year 7: 125

Ratio of applicants to places: up to 8:1

Open day date: Saturday 1st October 2022

Overview of selection procedure for Year 7 entry: Entrance exam, interview, headteacher's reference and Year 5 school report

Registration opens: Currently open

Registration closes: 10th October 2022

Assessment date for Year 7 entry: Friday 4th November 2022

Scholarship assessment date: TBC
Kingston Grammar School fees and financial assistance
The current school fees for pupils at Kingston Grammar School are £7,395 per term. Bursaries (financial assistance) are available for pupils whose families could not otherwise afford the fees. These are means-tested and are subject to a home visit, the annual retesting of parental means and satisfactory performance and good conduct of the pupil. The criteria for qualifying for fee assistance are not disclosed – all aspects of a parent's finance are taken into account.
Pupils may also be eligible for a scholarship at Kingston Grammar School. The school offers the following scholarship awards (the financial value of these is undisclosed):
Academic Scholarships

Art Scholarships

Music Scholarships

Sport Scholarships
Kingston Grammar School term dates
The term dates for Kingston Grammar School in 2022–23 are:
Autumn term: 5th September – 14th December 2022

Half term: 17th –28th October 2022

Spring term: 9th January –24th March 2023

Half term: 13th – 17th February 2023

Summer term: 18th April – 7th July 2023

Half term: 29th May – 2nd June 2023
Admissions process for Kingston Grammar School
If you would like to register your child for a place in Year 7 at Kingston Grammar School in 2023, you will first need to complete the online registration form before Monday 10th October 2022 and pay a non-refundable registration fee of £135. This can be waived if your child receives free school meals.
If you would like to apply for fee assistance for Kingston Grammar School, you will need to express your interest in this on the registration form then complete an additional application form when these are released in September.
All 11 plus candidates for Year 7 entry to Kingston Grammar School will take an exam in November 2022. Children who are successful in this exam will then be invited for a one-to-one interview with a member of staff – this will either be of a general nature or with a focus on English or maths (depending on your child's weaker subject). This is an opportunity for the interviewer to additionally assess the child's speaking and listening skills.
Candidates who then perform well in the interview will be offered a place at Kingston Grammar School. Offer letters will be posted to parents/carers in spring 2023.
If your child is applying for a scholarship, you will need to register for one of these when registration opens later in 2022. There will be additional steps in the application process:
Academic Scholarship: these are by invitation only. Candidates who achieve a high standard in the 11 plus entrance exam in November will be invited back for a separate scholarship assessment.

Art Scholarships: scholars are selected based on an excellent portfolio, an Art Scholarship assessment and an interview. These usually take place in January.

Music Scholarships: these are awarded to candidates who show outstanding potential on at least one instrument (preferably orchestral) in an audition.

Sport Scholarships: scholars are selected based on their potential in one or more sports. An initial assessment day will take place after the main 11 plus entrance exam, where candidates will be assessed on movement, hand-eye coordination, communication and leadership skills. Shortlisted candidates will then be invited back for a second assessment which is sport-specific.
Kingston Grammar School entrance exam format
All applicants to Year 7 at Kingston Grammar School will take an 11 plus exam on Friday 4th November 2022. There will be English and maths papers, which are broadly based on the national curriculum.
English
There will be three sections:
Section A: multiple-choice questions

Section B: identify and analyse quotations from a text

Section C: writing composition
Candidates will be tested on their ability to:
read, understand and respond to writing

construct and convey meaning in written language

use correct spelling, punctuation and grammar

follow instructions

retrieve and convey information

respond with imagination and sensitivity
Maths
This is a non-calculator paper. Candidates will be tested in three national curriculum areas and will be asked questions based on any of the attainment targets up to and including Level 5. These areas are:
You may find the following resources helpful to aid your child's preparation for the Kingston Grammar School 11 plus exam:
How to help your child prepare for the selection process at Kingston Grammar School
Build foundational knowledge
The 11 plus assesses a huge amount of content! Atom Nucleus takes your child through personalised learning journeys across the entire Key Stage 2 core curriculum, with over 90,000 teacher-created questions.
Preparation is key
Familiarisation with the question formats and known styles ahead of the exam is absolutely essential. Access to quality, unlimited practice material ensures that your child will feel confident when tackling the test. Atom gives your child access to unlimited 11 plus mock tests that mirror the content, format and structure of common 11 plus questions:
When working through challenging topics, your child will need immediate clarity with any misconceptions so that they feel truly secure in every topic. Atom gives your child access to video tutorials, help sheets and examples for each question to help build confidence and competence across all areas of the Key Stage 2 core national curriculum.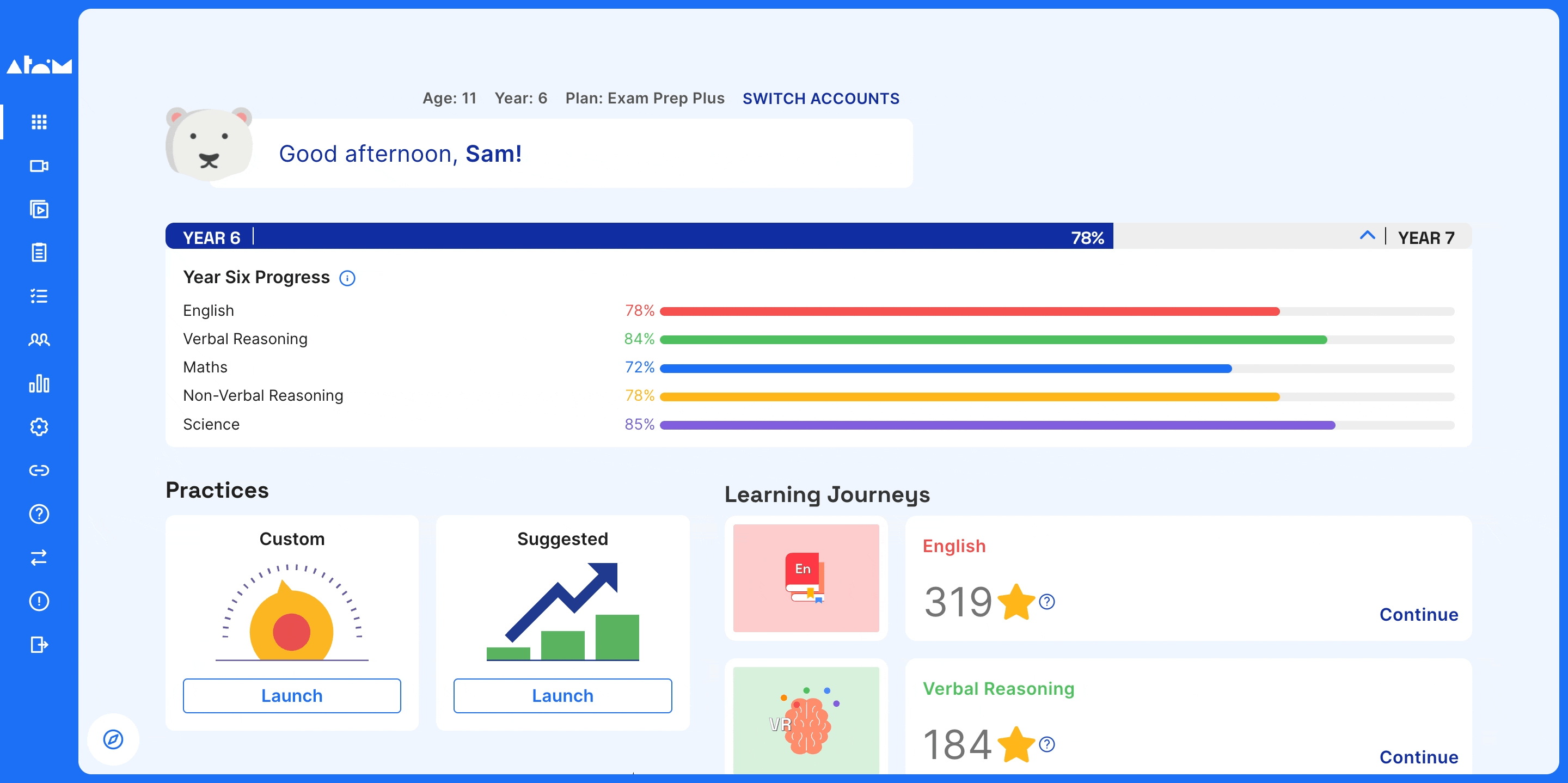 Engage with their progress
Celebrate your child's improvement in areas of challenge together. An accurate and ongoing assessment of their areas of strength and development is helpful. Atom's Parent Portal offers data-driven insights into your child's progress to help you prepare effectively, including targets achieved, a detailed breakdown of progress by subtopic and the ability to set custom practices to target your child's most challenging subtopics.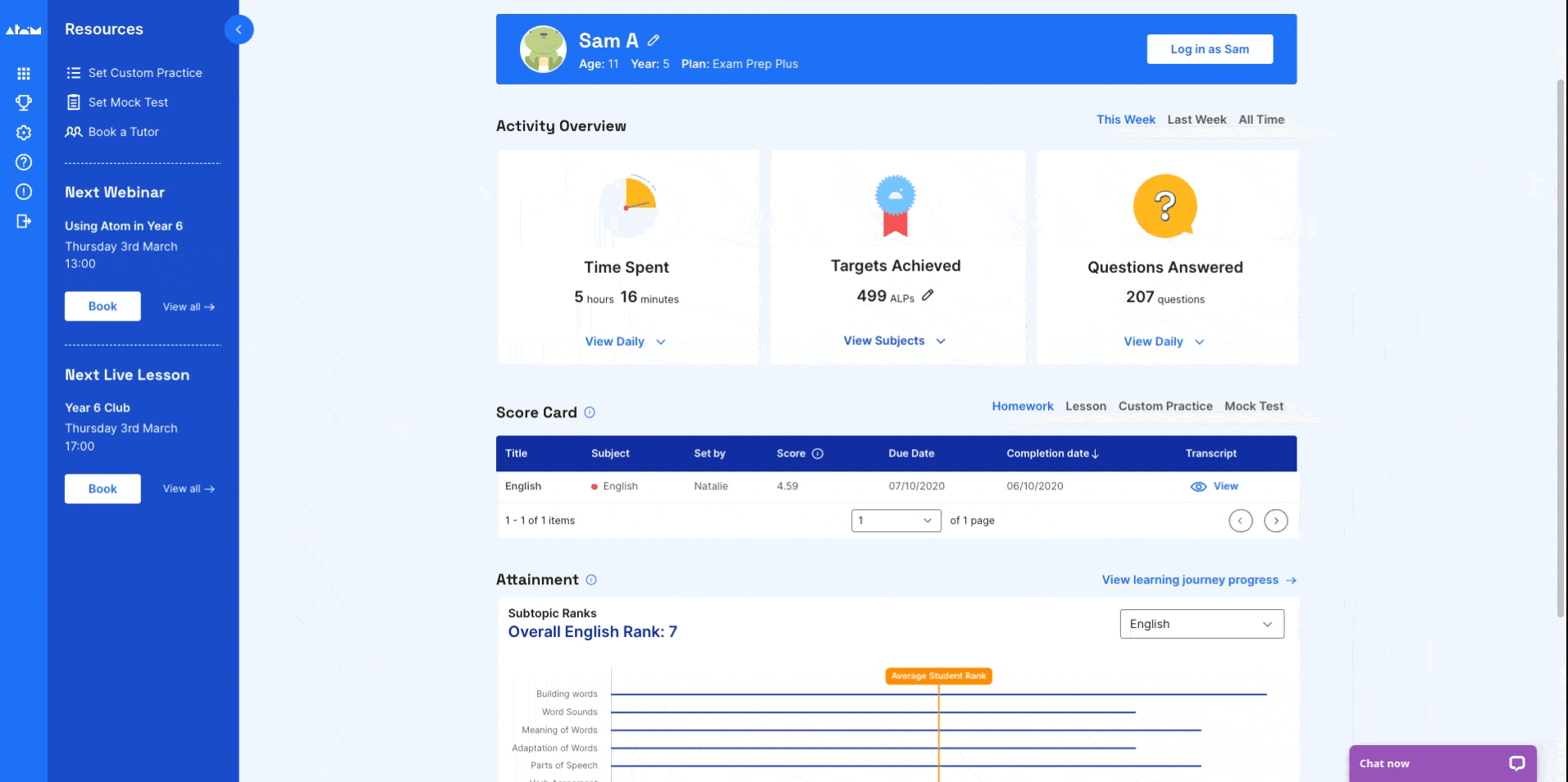 ---
Atom Learning can help
It's our mission to help your child feel prepared and confident on exam day. Begin your free 5-day free trial of Nucleus today to unlock success in the classroom, entrance exams and more.
We know how crucial this time is, so our team is on hand to support you and your family every step of the way. You can book a call with one of our Education Experts to ask any questions you might have about Year 7 entry to Kingston Grammar School:
If you're looking for exclusive tips and resources to help your child master key subjects, excel in exams and build academic confidence, join Atom's email list: