Latymer Upper School is one of London's leading co-educational independent schools. The school was founded in the 17th century by lawyer Edward Latymer, who bestowed his wealth on a grant to educate 'eight poore boys' from Hammersmith. This legacy continues in the 21st century and is evident in the school's ongoing bursary campaign, Inspiring Minds – the aim of which is to raise enough funds to offer one in four children means-tested financial assistance, making Latymer School one of the most socially inclusive in the country.
Pupils at Latymer School study a broad and stimulating curriculum in Years 7 and 8. In addition to the traditional core subjects of English, maths and science (the latter of which is taught as three separate timetabled subjects), pupils have a further 13 subjects on the timetable including Mandarin, computer coding and design. Pupils study 10 GCSE courses in Years 10 and 11, alongside the school's tailor-made World Perspectives course – an interdisciplinary curriculum which draws on geography, politics and economics to give pupils a broader understanding of modern world issues. Exam results are exceptionally high at Latymer School' in 2021, 76 students achieved straight 9-8 (A*) grades at GCSE (and 94% of all GCSE results were 9-7), while 82% of A level results were A*/A.
In 2018, the educational publication TES awarded Latymer Upper School three prestigious awards: Best Independent School, Best Senior School and Best Independent-State Partnership. The school's commitment to philanthropy is evident in its strong and mutually beneficial relationships with organisations, charities and state schools in the local community and beyond. All 200 students in the Lower Sixth regularly participate in service in the community as part of their timetabled curriculum, local Year 6 pupils engage in debating workshops during the autumn and spring terms, and a STEM academy takes place during the spring to inspire local Year 7 and 8 pupils in science, maths and technology.
Key information for Latymer Upper School
Head: Mr David Goodhew

Address: Latymer Upper School, 237 King Street, Hammersmith, London W6 9LR

London Borough: Hammersmith & Fulham

Admissions contact: Laura Cottrell – [email protected], 020 8148 4519

Age range and gender: 7–18, co-educational

Number of pupils: 1,427

Number of places in Year 7: 128 (joining the 40 who move up from Latymer Prep)

Ratio of applicants to places: 10:1

Open day date: Saturday 10th September and Saturday 1st October 2022 – book a place online

Overview of selection procedure: Entrance exam, interview and school reference

Registration opens: Currently open – apply online

Registration closes: Monday 31st October 2022 at midday

Assessment date: Wednesday 7th December 2022

Scholarship assessment date: TBC
Latymer Upper School fees and financial assistance
The school fees are Latymer Upper £7,510 per term. School lunch is not included in this cost and it is an optional additional fee of £235–£345 per term (dependent on the length of the term).
Latymer Upper School has a very generous bursary programme to ensure that talented children from all backgrounds are able to access the school's education and facilities. Means-tested bursaries are available, providing between 25% and 100% discount on school fees, with some additional support where necessary for extras such as school trips and uniform. As a guide, a single parent family with one child and living in rented accommodation may be awarded with a 100% bursary, while a family with three children, where the parents are working with a moderate to high income, with one home that has a significant mortgage, may be awarded a 25% bursary. More details and examples are available on the Latymer Upper School website.
Two types of scholarships are also available for pupils applying for 11 plus entry to Latymer Upper School:
Academic scholarships: normally a one-off payment of £1,000 at the time of entry (although a larger financial element may be awarded at the head's discretion).

Music Scholarships: normally consist of a fee reduction of up to 20%, although one music scholarship of up to 40% is available. Scholars will also receive free tuition on two instruments.
Art, drama and sports scholarships are only offered at 16 plus entry.
Latymer Upper School term dates
The term dates at Latymer Upper School for 2022–23 are:
Autumn term: 7th September – 16th December 2022

Half term: 17th–28th October 2022

Spring term: 11th January – 29th March 2023

Half term: 13th–17th February 2023

Summer term: 18th April – 7th July 2023

Half term: 29th May – 2nd June 2023
Admissions process for Year 7 entry to Latymer Upper School
If you would like to register your child for entry to Latymer Upper School for entry to Year 7 in 2023, you will need to complete the online registration form and pay the non-refundable registration fee of £125. If you are applying for a bursary, it is possible to waive this – contact the admissions team if this applies to you.
All pupils who are registered prior to the stated deadline will then be invited to take Latymer School's entrance exam on Wednesday 7th December 2022. Children who perform well in the exam will be shortlisted for an interview, with interviews taking place on Tuesday 10th January 2023.
All children who have passed Latymer Upper School's entrance exam will automatically be considered for an academic scholarship on the basis of their performance – no separate application is required, and there is no an additional exam or interview.
If your child is interested in applying for an 11 plus music scholarship, Latymer Upper School holds a special open morning specific to music scholars in October of the year prior to entry. To attend this, you will need to contact the music department directly at [email protected].
Candidates for 11 plus music scholarships should be playing to Grade 5 level on their main instrument. Preference will normally be given to instrumentalists, rather than keyboard players or composers. If your child is successful in the main 11 plus entrance exam, they will be invited to attend a scholarship condition which will consist of the following assessments:
Performance of two prepared pieces (contrasting in character) on their main instrument

Read at sight a short piece of appropriate standard on their main instrument

Respond to aural, theory and general music questions appropriate to their standard
Parents will receive the outcome of their child's application by email on Friday 10th February 2023. If your child receives a place and you would like to accept this, you will need to do so before early March 2023 (exact date TBC).
Latymer Upper School entrance exam
Latymer Upper School sets its own entrance exam, with three papers taking place in the following order:
Maths: a one-hour, non-calculator exam split into two sections. Pupils will be assessed on their knowledge and understanding of the Key Stage 2 maths curriculum. Find out more about 11 plus maths here.

Break: 20 minute break.

English comprehension: a 35-minute paper. Pupils will have a passage to read on one sheet of paper, and a multiple-choice answer paper. There will be 25 multiple-choice questions relating to the passage. Find out how to help develop your child's reading comprehension exam skills here.

Creative writing: a 45-minute paper. Pupils will be given a short brief to guide their writing, and they will be assessed on their spelling, punctuation, grammar and vocabulary. Learn how to help your child develop their creative writing skills here.
Sample papers are available on Latymer Upper School's website.
How to help your child prepare for the selection process at Latymer Upper School
Build foundational knowledge
For 11 plus entry to Latymer Upper School, candidates are tested across the Key Stage 2 curriculum with written tests in English and maths.
Atom Nucleus can help your child consolidate everything they need to know for the exam. Your child can access over 90,000 interactive questions, complete with helpsheets and tutorial videos, to build the foundational knowledge necessary for exam success.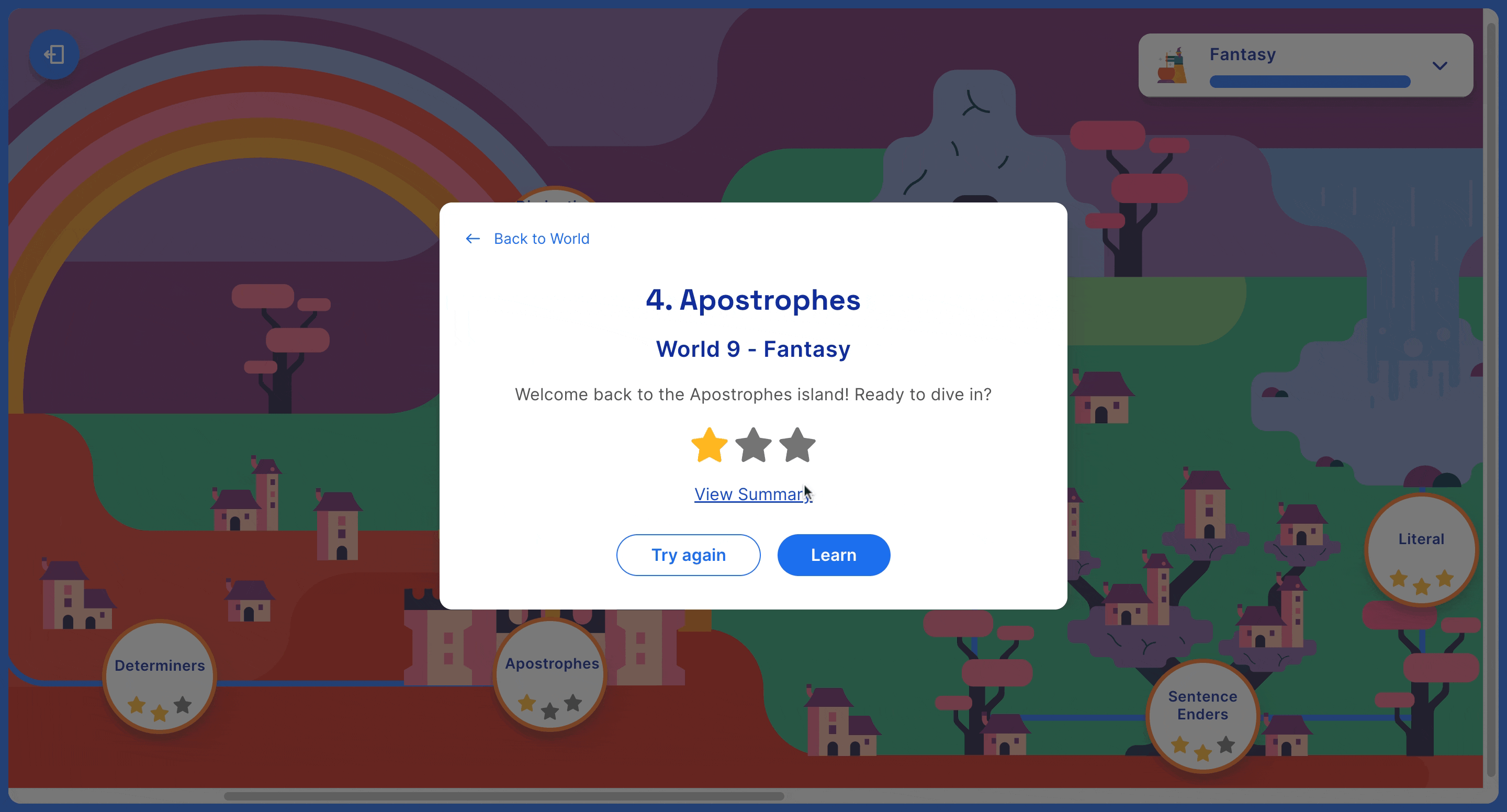 Preparation is key
Familiarisation with the question formats and known styles ahead of the exam is essential to help your child build exam confidence.
An exam preparation subscription with Atom Nucleus enables your child to access quality, unlimited practice material with full score breakdowns to help your child feel confident by the time the exam day comes around. Best of all, your child can take unlimited practice tests that match those set by independent school exams, such as Latymer Upper School, for one monthly subscription.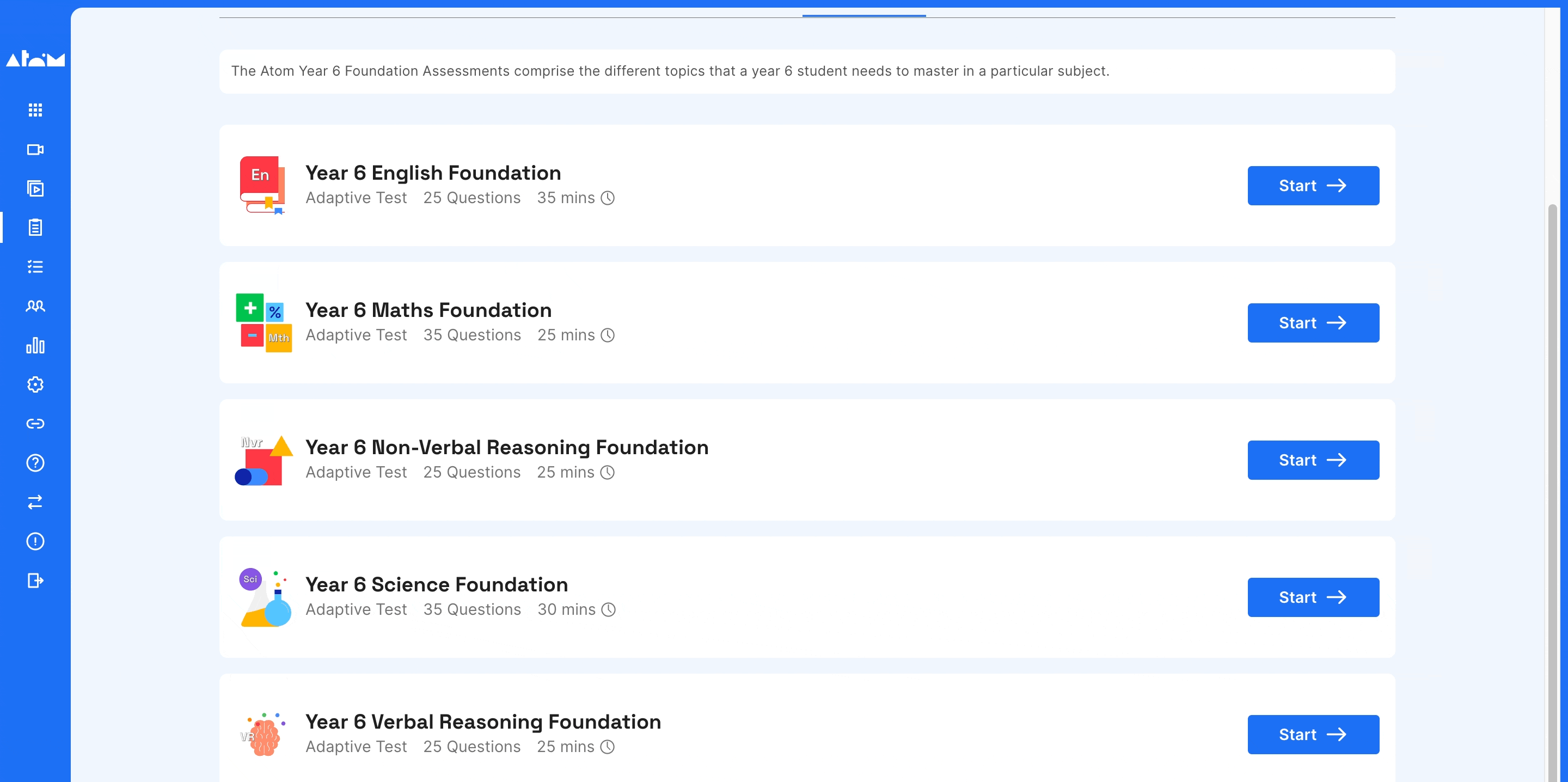 When working through challenging topics, your child will need immediate clarity with any misconceptions so that they feel truly secure in the exam.
Atom Nucleus includes video tutorials, help sheets and examples with every question to help your child build confidence and competence across all the areas assessed.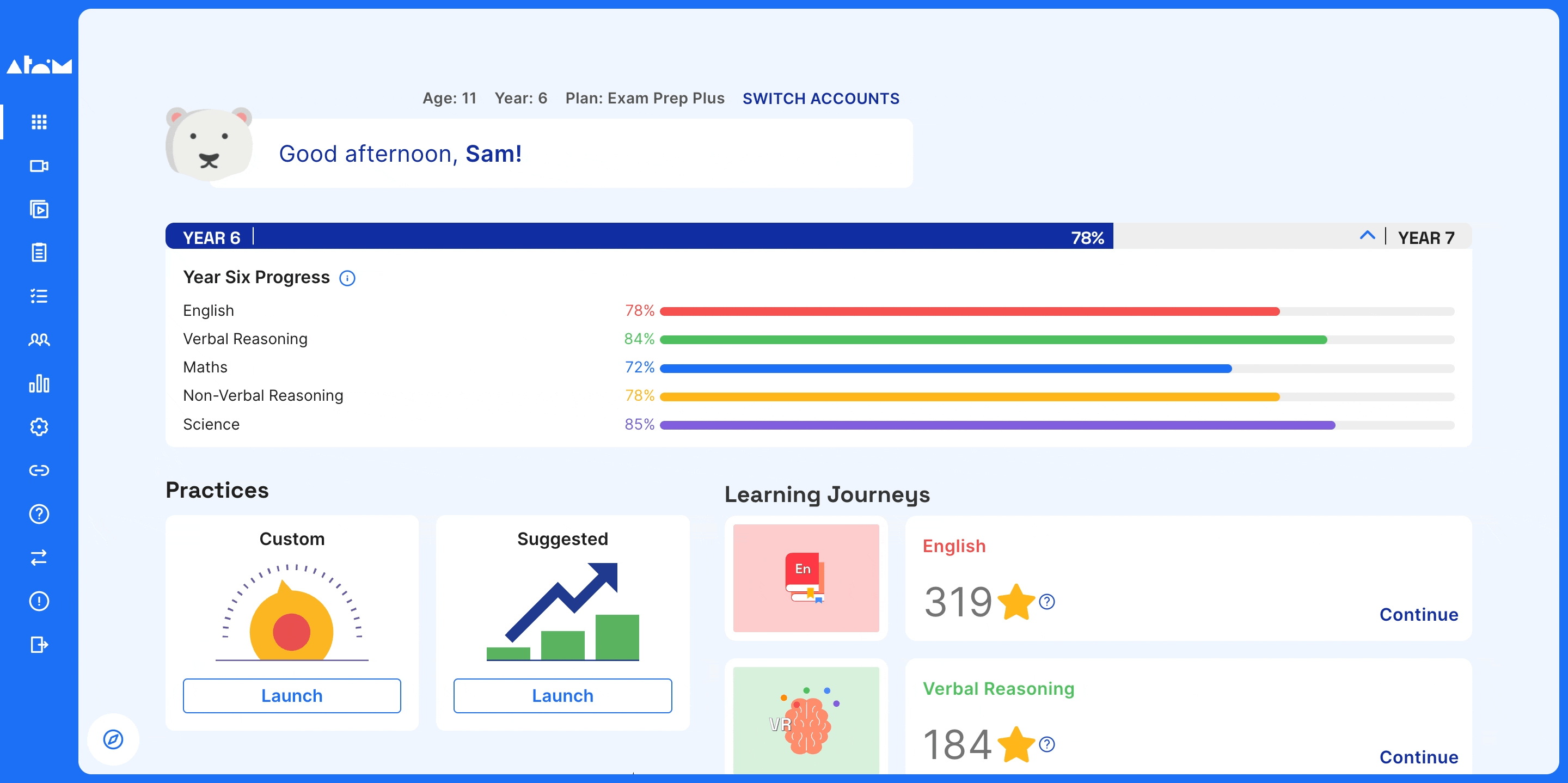 Engage with their progress
Celebrate your child's improvement in areas of challenge together. An accurate and ongoing assessment of their areas of strength and development is helpful.
As an Atom subscriber, you'll have a parent dashboard which offers data-driven insights into your child's progress. You can use this effectively to help your child set targets, see a detailed breakdown of their progress by subtopic and set custom practices to target those they find most challenging.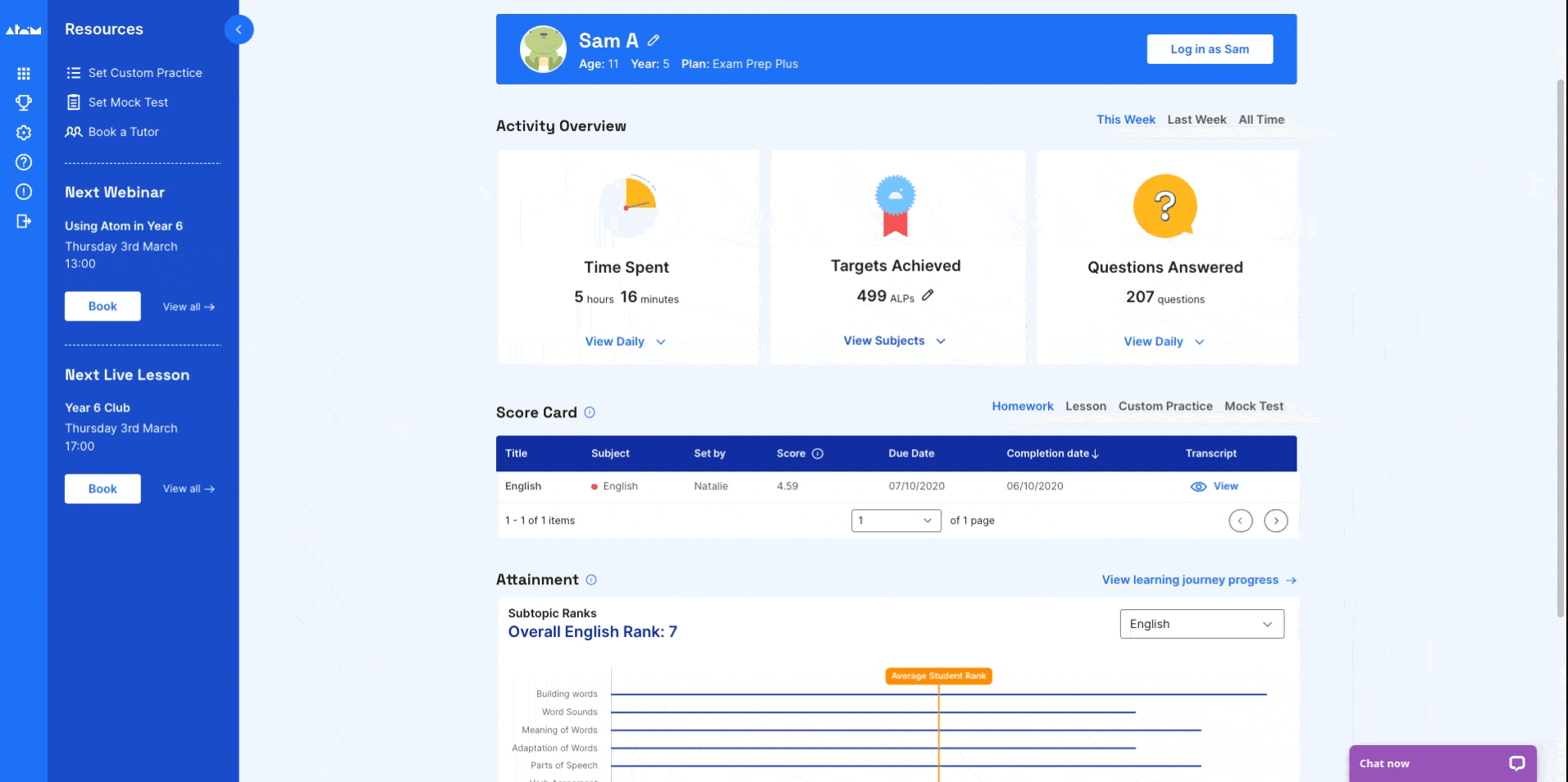 ---
Get started with Atom Learning
It's our mission to help your child feel prepared and confident before the exam day. Begin your free 5-day free trial of Nucleus today to help your child succeed.

We know how crucial this time is, so our team is on hand to support you and your family every step of the way. You can book a call with one of our Education Experts to ask any questions you might have about 11 plus entry to Latymer Upper School:
If you're looking for exclusive tips and resources to help your child master key subjects, excel in exams and build academic confidence, join Atom's email list: