Marymount International School is an independent day and boarding school for girls aged 11 to 18 in Kingston-upon-Thames.
It was founded in 1955 as part of Marymount International London, which is a network of schools directed by the Religious of the Sacred Heart of Mary (RSHM). Pupils at Marymount belong to a diverse community of over 40 different nationalities and enjoy exchanges across the Marymount international network, helping them to develop cross-cultural understanding.
The school is the first all-girls school in the UK to adopt the International Baccalaureate (IB) curriculum. Girls learn in small classes and, alongside their subjects, produce an extended essay, take part in a Theory of Knowledge course and engage in a Creativity, Activity and Science programme to enhance their personal and social development.
In 2021, 100% of Marymount students achieved a 100% pass rate in the IB Diploma (compared with a global pass rate of 79%), with nearly half of the year group scoring 40 points or above. This is higher than four A* grades at A level and is typically only achieved by 5% of students worldwide. As well as Russell Group universities, other higher education destinations in 2021 included top universities in the USA, Canada, Japan and South Korea.
Key information for Marymount International School
Headteacher: Mrs Margaret Giblin

Address: Marymount International School London, George Road, Kingston upon Thames, Surrey KT2 7PE

London Borough: Kingston upon Thames

Admissions contact: Kirsten Crossland – [email protected], 020 8949 0571

Age range and gender: 11–18, girls only

Number of pupils: 258

Number of places in Year 7: undisclosed

Ratio of applicants to places: undisclosed

Open day date: Saturday 24th September 2022 – register online

Overview of selection procedure for Year 7 entry: Assessment day

Registration opens: open throughout the school year – apply here

Registration closes: open throughout the school year

Assessment date for Year 7 entry: rolling dates

Scholarship assessment date: TBC
Marymount International School fees and financial assistance
The 2021-22 tuition fees at Marymount International School were £26,510 in 2021-22. There are additional fees for boarding students, with boarding fees at £16,470 per year for weekly boarders and £18,370 per year for full boarders.
Marymount offers means-tested fee assistance to families whose daughters show potential but who can not otherwise afford to attend. The income threshold for eligibility is not disclosed.
Scholarship information can be obtained directly from the school.
Marymount International School term dates
The term dates for Marymount International School in 2022–23 are:
Semester 1: 5th September – 16th December 2022

Half term: 17th – 28th October 2022

Semester 2: 9th January – 31st March 2023

Half term: 13th – 20th February 2023

Semester 3: 17th April – 22nd June 2023

Half term: No half term – one day of school holiday on 30th May 2023
Admissions process for Marymount International School
Marymount International School works on a rolling admissions basis, with potential pupils encouraged to contact the admissions team to discuss mid-year admissions. However, September entry for Year 7 (known as Grade 6) tends to follow the same process:
Grade 6 application required (along with the £100 application fee)

Grade 6 assessment day: November

Grade 6 first round of offers sent: Mid-December

Grade 6 scholarship application deadline: February

Grade 6 additional assessment day: February

Grade 6 final offers sent: March
Marymount International School entrance exam format
Marymount International School uses a bespoke Assessment Day to determine whether girls are a suitable fit for the school. This is designed to be an enjoyable and enriching experience for applicants and consists of four parts:
Aptitude testing

Student meet and greet

Individual conversations

Group observations
Marymount International School does not disclose details about the aptitude testing. However, you may find the following articles helpful to improve your child's general exam technique in commonly tested areas:
How to help your child prepare for the selection process at Marymount International School
Build foundational knowledge
The aptitude testing at Marymount International School will likely assess your child's knowledge of the Key Stage 2 curriculum (or international equivalent). Atom Nucleus takes your child through personalised learning journeys across English, maths and science, with over 90,000 interactive teacher-created questions.
When working through challenging topics, your child will need immediate clarity with any misconceptions so that they feel truly secure in every topic. Atom gives your child access to video tutorials, help sheets and examples for each question to help build confidence and competence across all areas of the core curriculum.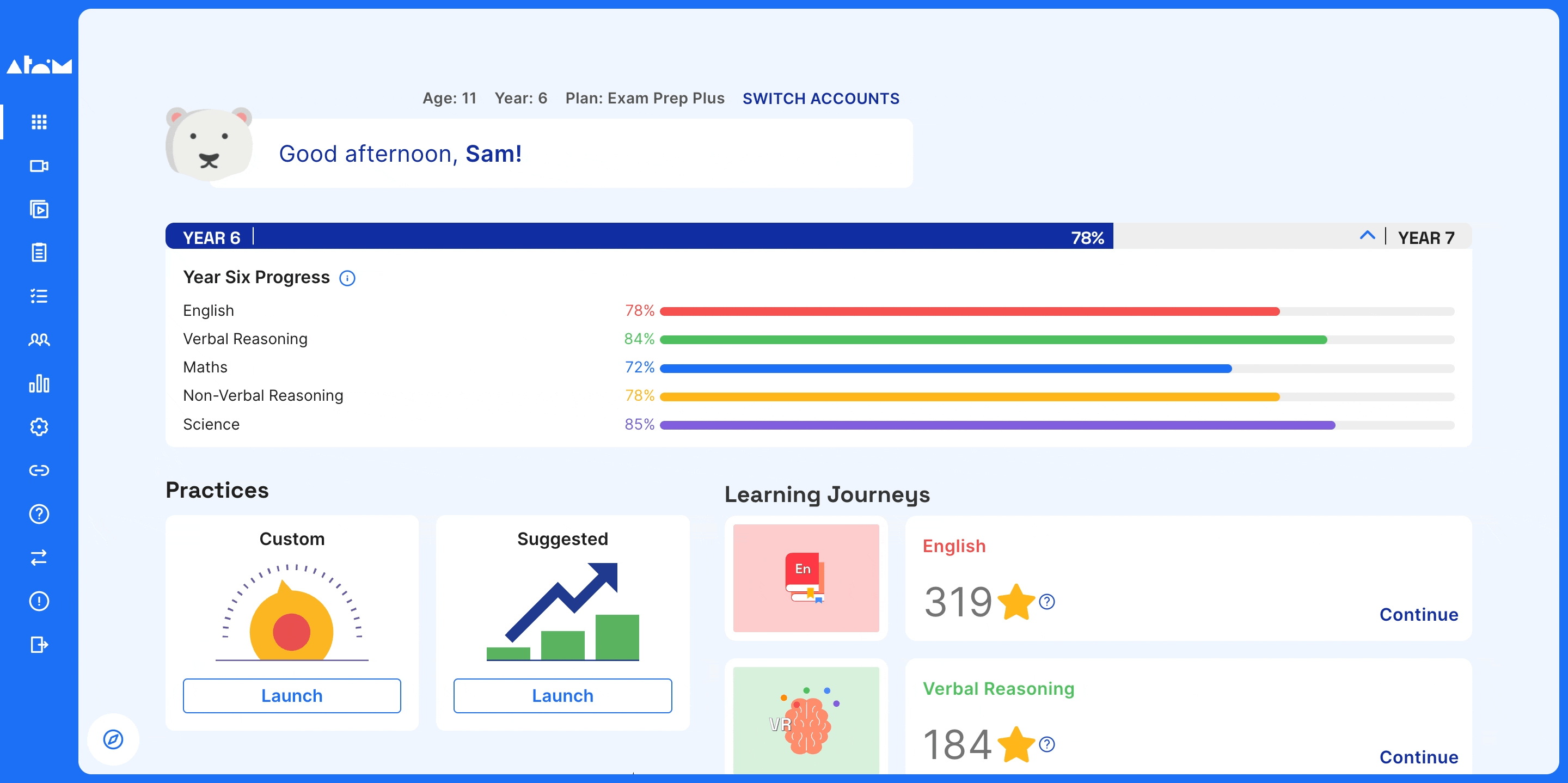 Engage with their progress
Celebrate your child's improvement in areas of challenge together. An accurate and ongoing assessment of their areas of strength and development is helpful. Atom's Parent Portal offers data-driven insights into your child's progress to help you prepare effectively, including targets achieved, a detailed breakdown of progress by subtopic and the ability to set custom practices to target your child's most challenging subtopics.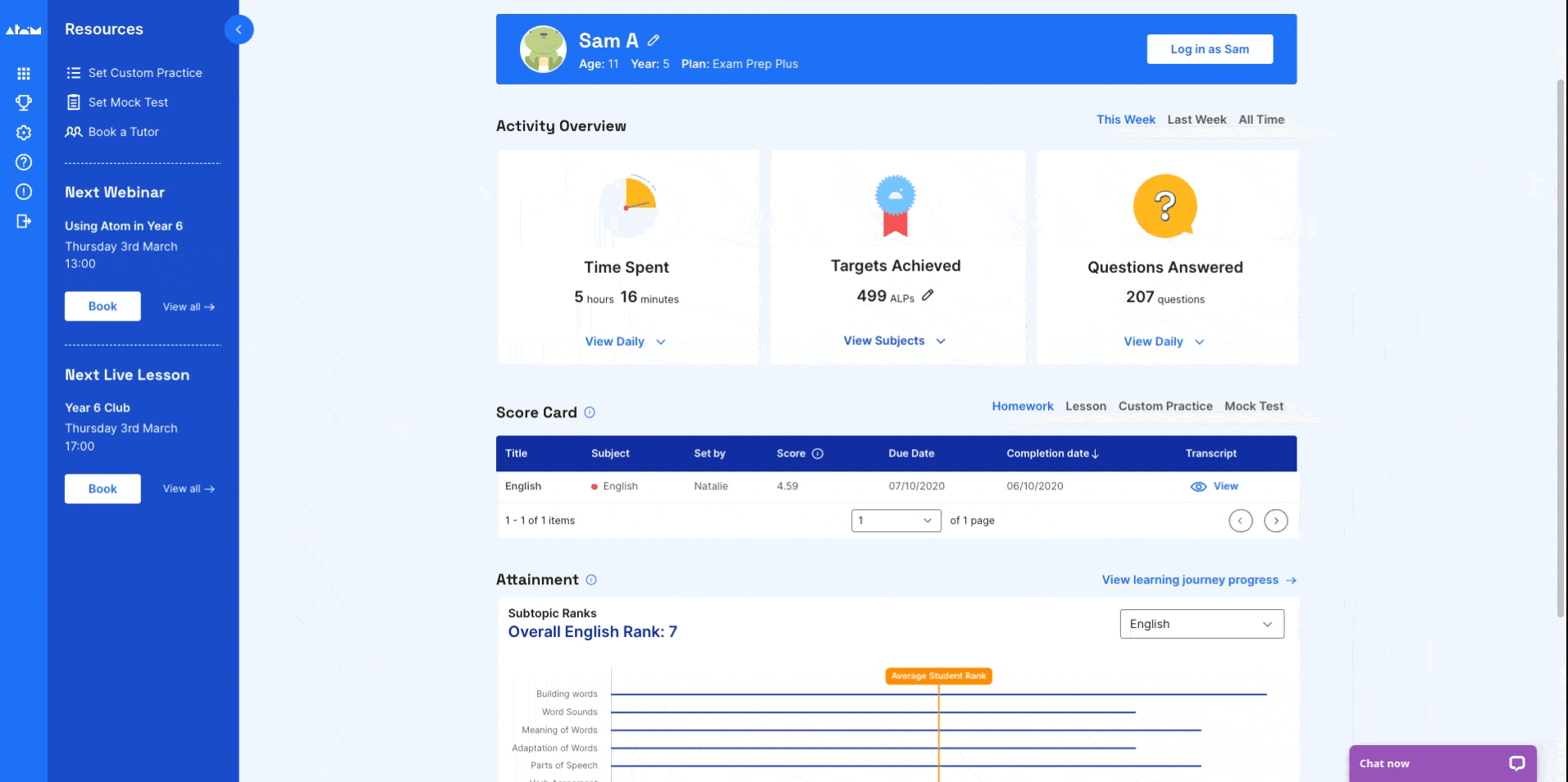 ---
Atom Learning can help
It's our mission to help your child feel prepared and confident on exam day. Begin your free 5-day free trial of Nucleus today to unlock success in the classroom, entrance exams and more.
We know how crucial this time is, so our team is on hand to support you and your family every step of the way. You can book a call with one of our Education Experts to ask any questions you might have about Year 7 entry to Marymount International School:
If you're looking for exclusive tips and resources to help your child master key subjects, excel in exams and build academic confidence, join Atom's email list: