Mount House School is a co-educational independent day school for children aged 11–18. Situated in Monken Hadley in the London Borough of Barnet, it is a small school with an enrolment of only around 300 pupils.
Nestled in the greenbelt conservation area, the school uses the nearby woodland and green spaces for sports and outdoor teaching. Its location on the eastern edge of a War of the Roses battlefield provides an exciting link for pupils to work closely with Barnet Museum on local history projects.
The school cites its small size as critical to creating its unique sense of community and bespoke approach. The emphasis on pastoral care and communication with parents is recognised as a key factor in the school's popularity.
Mount House GCSE and A level results have improved significantly in recent years and are now considered excellent. 71% of pupils achieved grades 7–9 at GCSE in 2021, up from 47% in 2020. At A level, 71% also achieved A* and A grades in 2021, and the majority of pupils go on to study at their first-choice university.
Key information for Mount House School
Headteacher: Sarah Richardson

Address: Camlet Way, Hadley Wood, Hertfordshire EN4 0NJ

London Borough: Barnet

Admission contact: [email protected]@mounthouse.org.uk

Age range and gender: 11–18, co-educational

Number of pupils: 300 (approximate)

Number of places in Year 7: Undisclosed

Ratio of applicants to places: Undisclosed

Open day dates: Saturday 24th September 2022 (9am–12pm) – register here

Overview of selection procedure for Year 7 entry in 2023: School visit, application form, family interview, assessments

Registration opens: Open now – apply online

Registration closes: No closing date given

Interview date for Year 7 entry in 2023: Dates TBC but this will take place before the assessment

Assessment date for Year 7 entry in 2023: Saturday 7th January 2023

Result of application emailed to parents: ASAP after assessment
Mount House School fees and financial assistance
The current tuition fees for Mount House School are £6,185 per term, £18,555 per annum. This includes daily lunches. When accepting a place at the school, a deposit of £900 is payable (or up to one term's fees for students whose normal residence is outside the UK), which is retained and credited towards the final payment of fees when your child leaves the school.
What's not included in the school fees
Mount House School fees do not include:
Optional extras charged in advance include music lessons, certain co-curricular activities, and LAMDA (London Academy of Music and Dramatic Art) lessons.
Mount House offers specific support, at an additional cost, for:
Children for whom English is an additional language

Children who need one-to-one or small group support with SEND (special educational needs and disabilities)
Mount House School bursaries
Mount House School does not offer bursaries.
Mount House School scholarships and awards
Mount House School offers a small number of scholarships each year to students in Years 7, 8 and 9 who demonstrate strong academic ability and those who demonstrate a particular commitment in sport and the creative and performing arts.
Scholarships can either be honorary and come with no monetary value, or they can be worth up to a maximum of 20% of the annual fee. The school asks that applications for monetary scholarships are made between 1st January and 1st March (there is a limited budget available, and applications outside this window can only be considered if there are funds left over).
Children who receive scholarships will meet termly as a group with the headteacher, and also have a one-to-one review each year during the summer term.
Scholarship application process
To be considered for a scholarship, you need to submit a handwritten letter from your child explaining why they believe they could be a Mount House scholar. This should be no more than one side of A4. Applications should be sent to [email protected]
You can only apply for a scholarship during the application process for a school place (i.e. during January–March 2023 if you are applying for Year 7 entry in September 2023).
Music awards
You can apply for a music award in addition to or instead of a scholarship. Music awards are open to pupils in Years 7, 8 and 9 who have already achieved Grade 3 in their instrument. Mount House music awards cover the full cost of weekly lessons in up to two different instruments (or vocals and one instrument).
The application process mirrors that of the academic scholarship: your child must write a handwritten letter explaining their interest and ambitions in music and what they would contribute to Mount House as a music scholar. This should be no more than one side of A4. Applications should be sent to [email protected] between 1st January– 1st March.
Children who receive music awards are expected to take part in the school choir and ensembles as appropriate as well as prepare solo performances for concerts and assemblies. They also meet termly, as a group with the head, and have a one-to-one review each year in the spring term.
Mount House School term dates
The term dates at Mount House School for 2022–23 are:
Michaelmas (autumn) term: 5th September – 14th December 2022

Half term: 17th – 28th October 2022

Lent (spring) term: 4th January – 29th March 2023

Half term: 13th–17th February 2023

Summer term: 17th April – 7th July 2023

Half term: 29th May – 2nd June 2023
Admissions process for Year 7 entry to Mount House School
1. Register
To start the formal application for a place at Mount House School all families will need to complete an online registration form and pay a nonrefundable registration fee of £75. This will entitle your child to take the entrance assessments and prioritise space for you and your child on open events.
Applications are open now. No closing date is given, but we would recommend applying no later than the autumn term while your child is in Year 6.
If you wish to apply for a scholarship or music award, you should submit your child's letter at this stage.
2. Reference
Mount House School will seek a reference from your child's current primary or prep school. If you would prefer for your child's current school not to be contacted at this stage, the latest copy of your child's school report will be accepted.
The school will review your child's educational attainment data. Parents can supplement the application form with details of school activities, hobbies, sports clubs and achievements etc.
3. Visit
Mount House encourages prospective parents and pupils to experience the school during one of their open mornings, or attend a small group coffee morning. Information is available here.
4. Family interview
You will be invited for you and your child to attend an interview with the headteacher or another senior member of staff. As a small school, Mount House aims to ensure that the headteacher has completed the family interviews before the assessment day, so that she knows all children who will attend that day.
5. Assessment
Your child will be invited to sit an assessment test at the school on Saturday 7th January 2023. The day includes a combination of tests and group work, as well as the opportunity for your child to meet staff and pupils and tour the school. This stage is designed to assess children's current academic level and how the school can help them to fulfil their potential.
6. Offers
Mount House School considers each child's performance in the interview and the assessment as equally important to their decision making.
Following the entrance assessments, the school aims to offer places as soon as possible via post and email. If you have applied for a scholarship you will also be informed of the outcome of this decision at this time.
If the school needs to decide between children who meet the admissions requirements, they will consider these factors:
Performance in entrance assessment and interviews

Whether the child has or has had a sibling at the school, or a close relative (parent, grandparent, cousin, uncle/aunt) who is a former student of Mount House School

Whether the child has specific talents, gifts or aptitudes

Whether the applicant and their family have visited the school

The references obtained from the child's current school
How to prepare for Mount House School entrance exam
The Mount House School entrance exam assesses:
English

Maths

Non-verbal reasoning
The exam is unique to the school and they do not publish much information about its contents. It is likely that it will follow a similar style and format as other independent school entrance exams.
English
The English paper may test both reading comprehension and SPAG (spelling, punctuation and grammar). In reading comprehension tests, your child will be asked questions about an extract of text to assess their inference, deduction, and understanding of vocabulary in context.
Learn how to develop your child's reading comprehension exam skills here.
The comprehension passage may be fiction, non-fiction, or a poetry piece, and may be traditional or contemporary, so reading widely across many genres is helpful preparation.
Learn about how to engage your child with reading here.
Free resources:
Maths
The maths paper is likely to assess your child's knowledge and mastery of the following key subtopics:
Number: place value

Number: addition and subtraction

Number: multiplication and division

Number: fractions (including decimals)

Measurement

Geometry: properties of shape

Position and direction

Statistics
Learn how to prepare for maths entrance exams here.
Free resources:
Non-verbal reasoning
Non-verbal reasoning involves analysing visual information and solving problems using shapes, diagrams and pictures. Non-verbal reasoning entrance exams are designed to assess your child's:
Logic and problem-solving

Spatial awareness

Ability to identify patterns and rules

General intelligence
Learn about the different types of non-verbal reasoning questions and how to prepare here: Non-verbal reasoning: top tips for success.
If you're looking for a fun and effective way for your child to prepare for the Mount House School entrance exam, try Atom Nucleus. It's an online learning platform with 90,000+ interactive questions, helpsheets and videos so your child can work independently.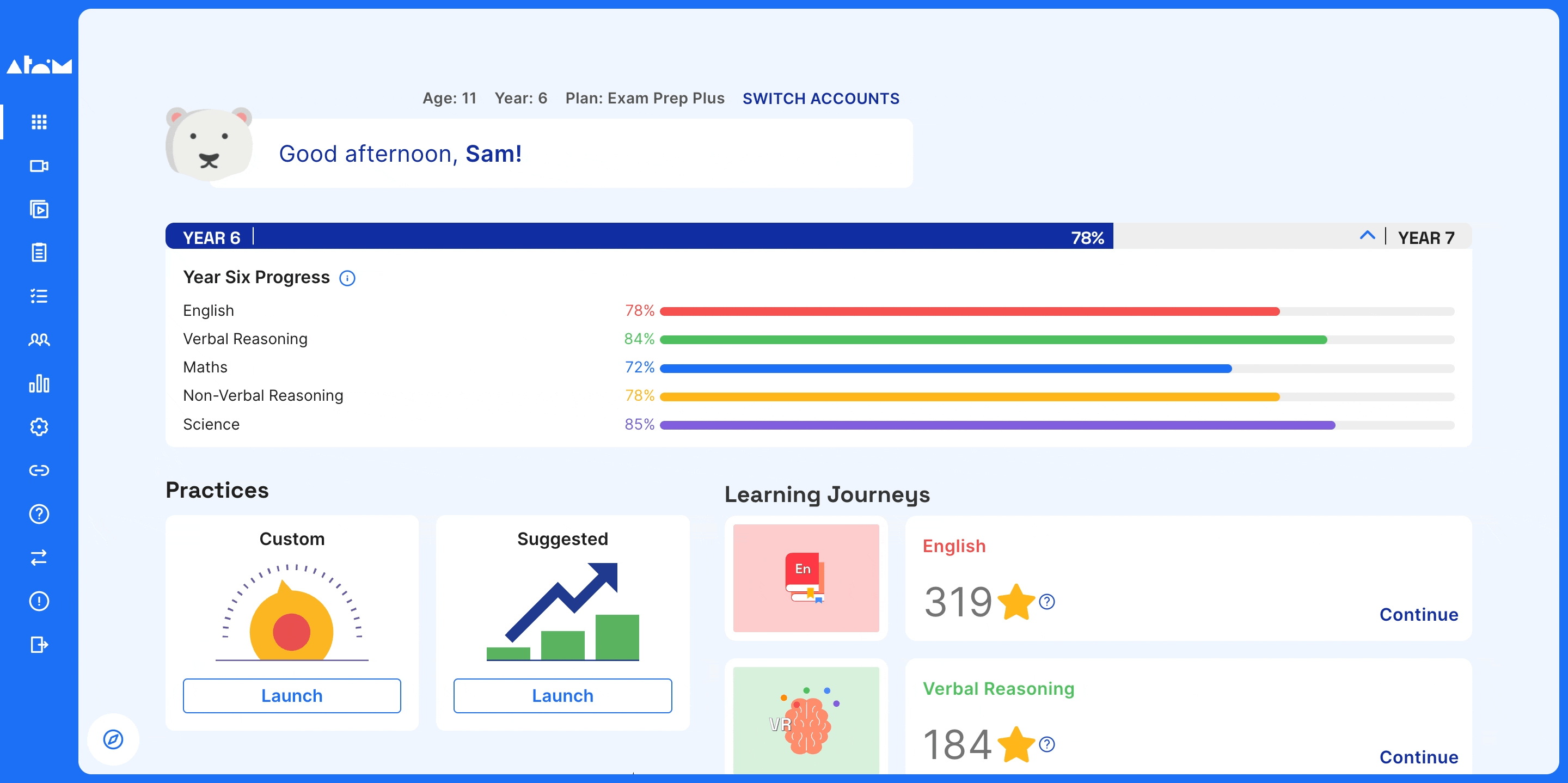 Plus, your Atom Nucleus subscription includes unlimited practice papers.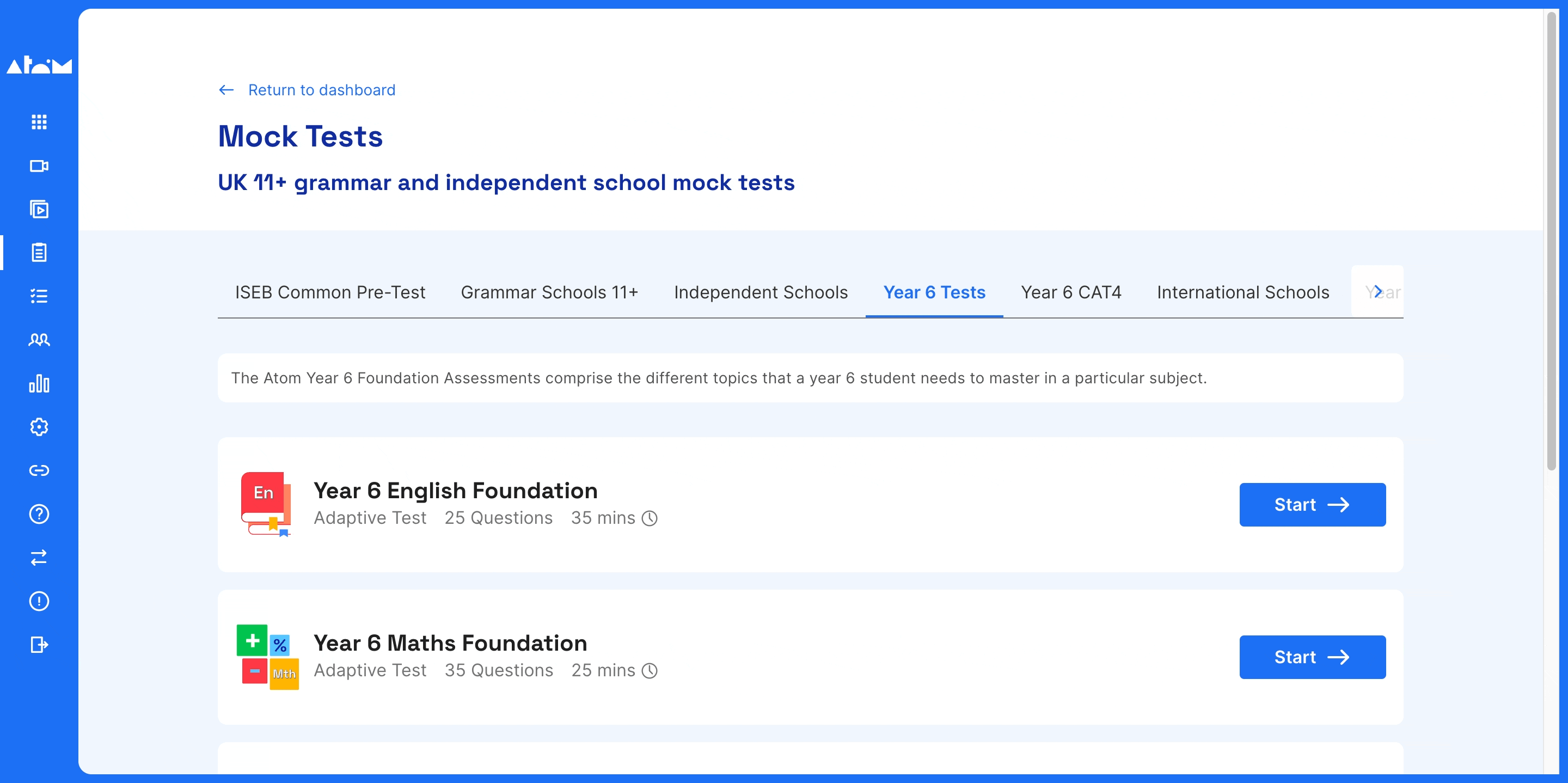 Atom's algorithm adapts to your child, keeping them challenged, motivated and on track to master all the English, maths, and reasoning topics they need for school entrance exams. Check their progress at a glance from your parent dashboard, and see how they're performing against peers.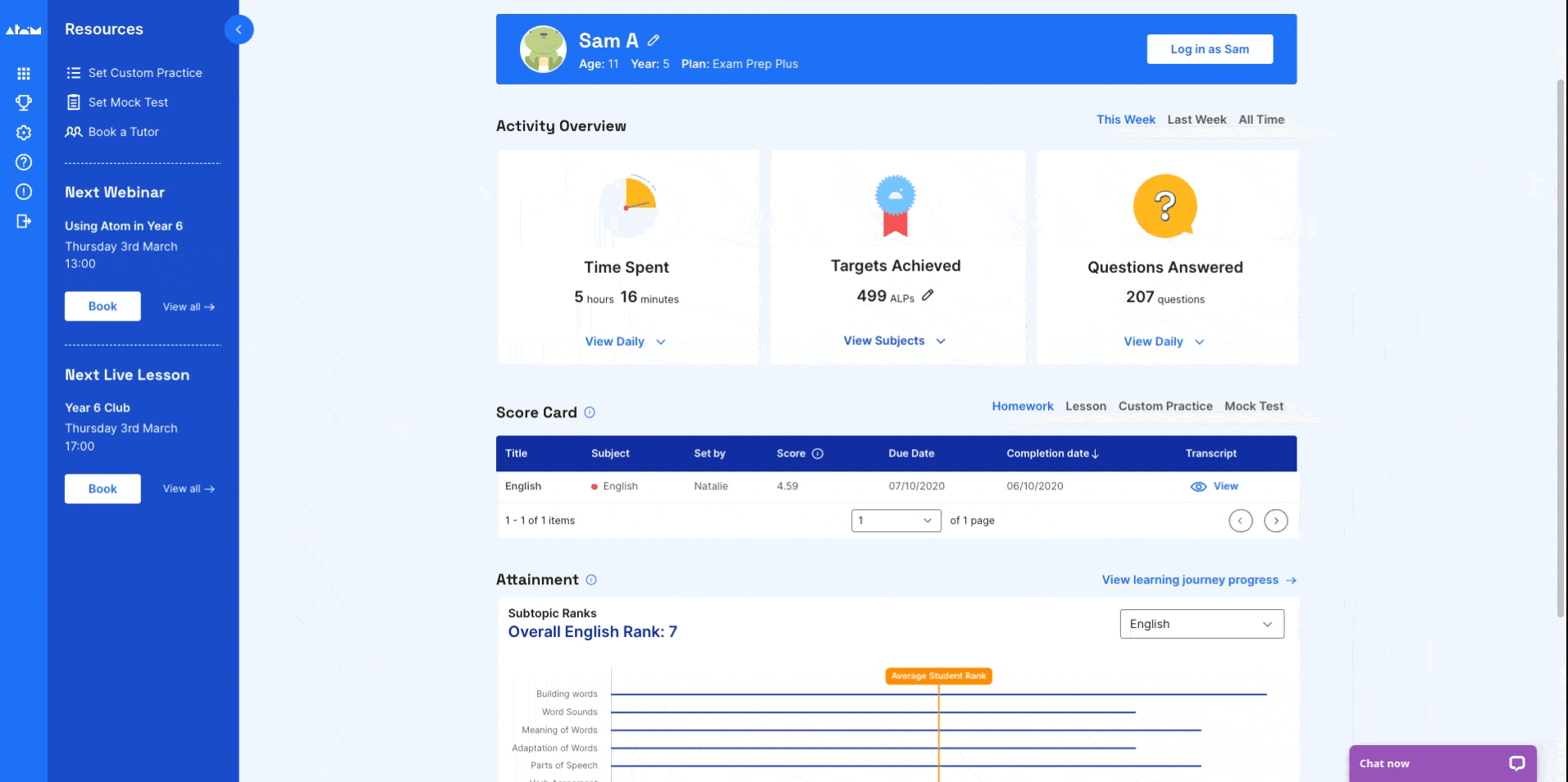 Start your free 5-day free trial of Nucleus today to start your child's journey to success in the Mount House School exam.
---
Our Education Experts are on hand to support you. You can speak with us using the LiveChat icon on the bottom right of your screen, or by calling 020 3973 9226.
If you're looking for exclusive tips and resources to help your child master key subjects, excel in exams and build academic confidence, join Atom's email list: