North London Collegiate School is an independent day school for girls aged 4–18. It was founded in 1850 by Frances Buss – a pioneer in girls' education – as the first girls' school in the UK to offer girls the same educational opportunities as boys.
The school was originally founded in Camden Town but is now set in a Georgian mansion on a 30-acre site in Edgware, North West London. A new site masterplan is in development, which includes an Innovation, Design, Engineering, Art and Science Hub (IDEAS Hub), a new administration building, an extension to the existing Tractor Barn and two additional tennis courts.
North London Collegiate School is one of the most academically successful schools in the country. Girls can choose to take A levels or the International Baccalaureate (IB) from the ages of 16 to 18. In 2021, 91% of A level grades were A* and the average score in the IB was 43.2 points. 31% of girls achieved a 'perfect score' of 45 points – typically achieved by less than 1% of students worldwide each year.
Girls from North London Collegiate School go on to study at some of the world's most prestigious universities. Last year, 23 students accepted places at Oxford and Cambridge and many students received offers from North American universities including Yale, Stanford, Boston, Berkeley and McGill.
Key information for North London Collegiate School
Headmistress: Dr Hazel Bagworth-Mann (Acting Head)

Address: North London Collegiate School, Canons, Canons Drive, Edgware, Middlesex HA8 7RJ

London Borough: Harrow

Admissions contact: Mrs Catherine Lister – [email protected], 020 8952 0912

Age range and gender: 4–18, girls only

Number of pupils: 1,107

Number of places in Year 7: 60 (joining 45 pupils who move up from the junior school)

Ratio of applicants to places: 10:1

Open day date: To be confirmed in the autumn term

Overview of selection procedure: Reference, entrance exam and interview

Registration opens: 6th June 2022 – register online

Registration closes: Tuesday 15th November 2022

Assessment date: Thursday 8th December 2022

Scholarship assessment date: Saturday 28th January 2023
North London Collegiate School fees and financial assistance
The current tuition fees at North London Collegiate School are £7,049 per term. Non-compulsory school lunches cost £970 per year and are billed termly.
The school provides financial support to students who will thrive on a place, but whose families cannot afford the fees. A bursary can cover any proportion of the cost of the fees, including 100% of tuition, lunches, mandatory curriculum equipment, exam fees and compulsory trips. 9% of pupils at North London Collegiate School are currently receiving financial support in the form of a bursary.
As a guide, families whose annual combined income is below £40,000 and who have limited assets are eligible for a 100% bursary plus free school lunch for their daughter. If your family income is above £75,000 it is unlikely that your daughter will receive any fee assistance.
North London Collegiate School awards Music Scholarships (known as Handel Music Scholarships) to girls who demonstrate exceptional musical skill and potential. The annual award is equivalent to the cost of individual music lessons in two instruments (worth approximately £1,590). Music Scholars who are learning just one instrument are offered a financial award equivalent to the cost of lessons in one instrument (approximately £795) alongside free lessons in an additional discipline. Assistance is also provided towards the cost of sheet music and instrumental maintenance.
North London Collegiate School term dates
The term dates at North London Collegiate School for 2022–23 are:
Autumn term: 2nd September – 15th December 2022

Half term: 17th – 28th October 2022

Spring term: 10th January – 31st March 2023

Half term: 13th – 17th February 2023

Summer term: 24th April – 7th July 2023

Half term: 29th May – 2nd June 2023
Admissions process for Year 7 entry to North London Collegiate School
If you would like to register your daughter for Year 7 entry to North London Collegiate School in 2023, you will need to complete the online registration form and pay the registration fee of £150 before Tuesday 15th November 2022 (although this can be waived if you are able to demonstrate that you receive social benefits). This is the same deadline for bursary and Music Scholarship applications.
The school will contact your child's current school to ask for a reference. All candidates will then take an entrance exam at North London Collegiate School on Thursday 8th December 2022. Girls who perform well in this assessment will be invited back for an interview between 16th and 27th January 2023. The interviews are conducted by experienced members of staff and are an opportunity to get to know each child better and to provide each candidate with a chance to ask questions. There will also be questions in English and maths.
Girls who have applied for a Music Scholarship should be at the standard equivalent to ABRSM Grade 5 or above on their first instrument (although applications are welcome from girls playing a lower grade on double bass oboe, bassoon or any brass instrument). Candidates who pass the school's entrance exam will be asked to send a short performance video by early January 2023 and will be invited to a 20-minute audition, where they will need to play two contrasting pieces of two minutes each.
The school will send offers to parents/carers on 11th February 2023. Families who wish to accept a place will need to do so by early March 2023.
North London Collegiate School entrance exam format
All children who have registered for 11 plus entry to North London Collegiate School by the deadline will be invited to the entrance exam on Thursday 8th December 2022. The exam consists of two written papers, which are set independently by the school's heads of department:
English (1 hour 20 minutes): reading comprehension (30 minutes) and writing composition (50 minutes)

Maths (approximately 1 hour): non-calculator questions covering the Key Stage 2 maths curriculum
Sample papers are available on North London Collegiate School's website. Note that the school does not provide answers for these – they are merely designed to give your child an idea of how the test is structured.
How to help your child prepare for the selection process at North London Collegiate School
Build foundational knowledge
The 11 plus at North London Collegiate School will assess your child's knowledge and understanding of Key Stage 2 English and maths.
Ensure your child masters the content of the national curriculum with Atom Nucleus. Your child will have access to over 90,000 teacher-created questions that cover Key Stage 2 English and maths – as well as non-verbal reasoning.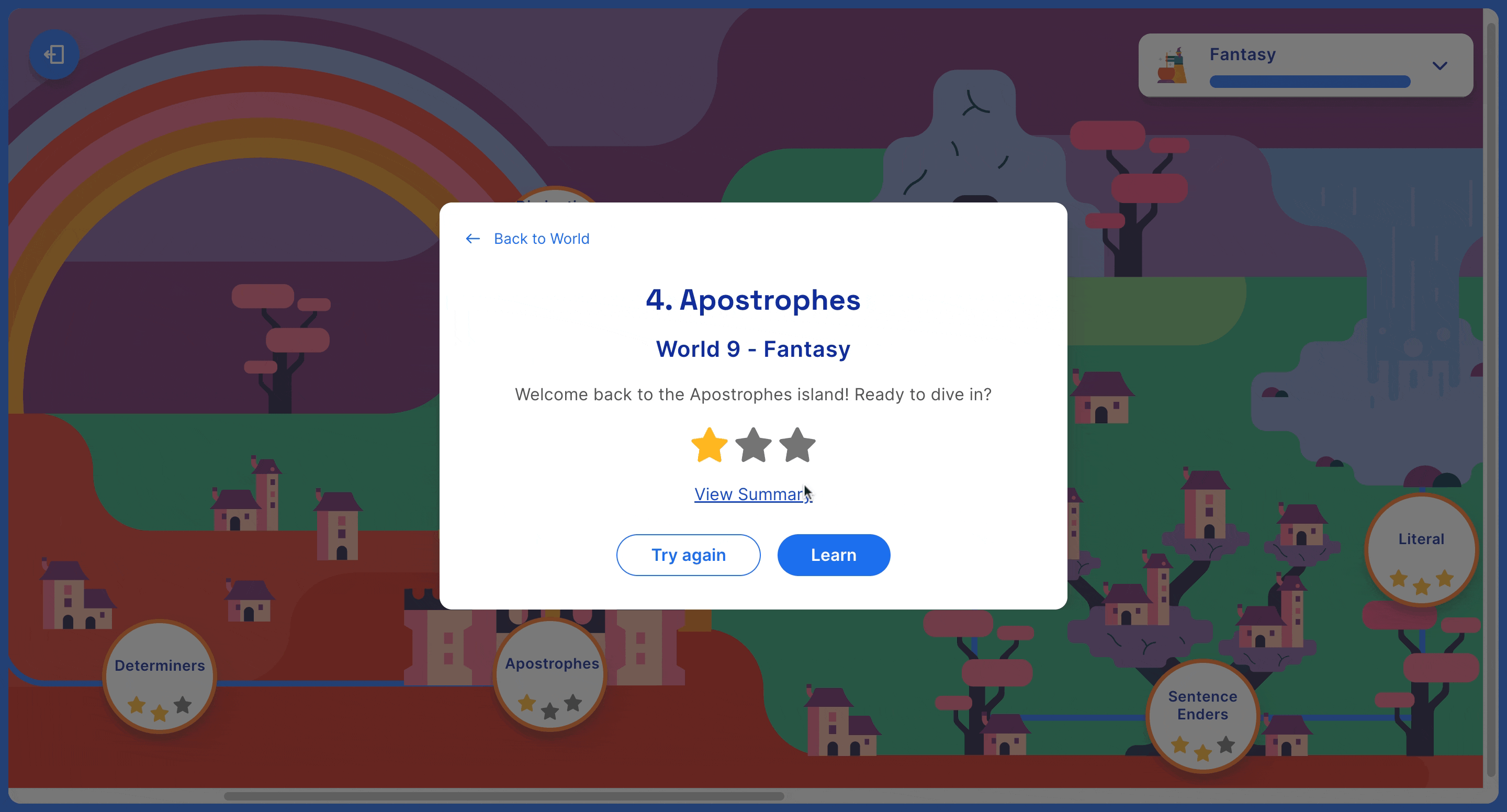 Preparation is key
Familiarisation with the question formats and known styles ahead of the exam is absolutely essential to help your child build exam confidence.
Access to quality, unlimited practice material ensures that your child will feel confident when tackling the test. Atom gives your child access to adaptive mock tests: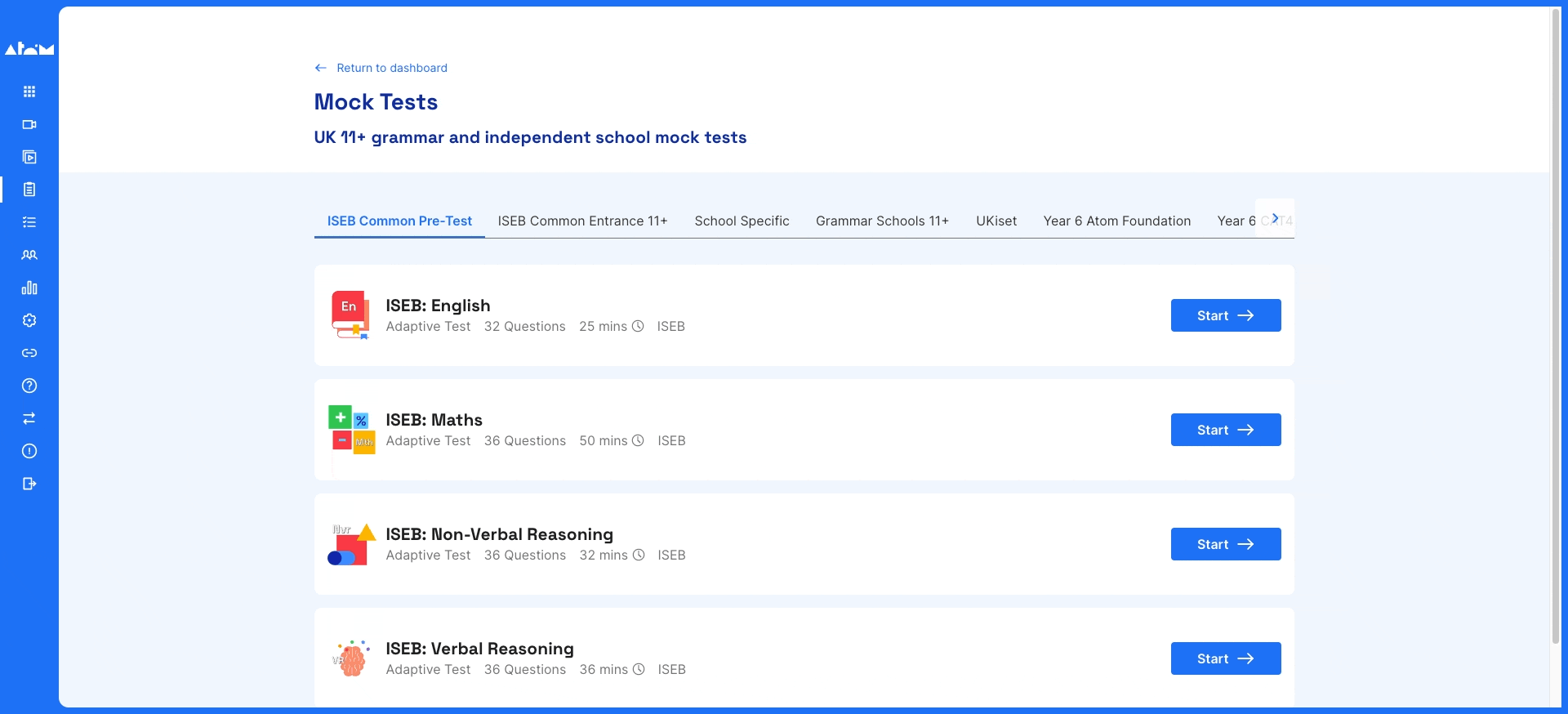 When working through challenging topics, your child will need immediate clarity with any misconceptions so that they feel truly secure in every topic.
Atom gives your child access to video tutorials, help sheets and examples for each question to help build confidence and competence across all areas of the Key Stage 2 core national curriculum.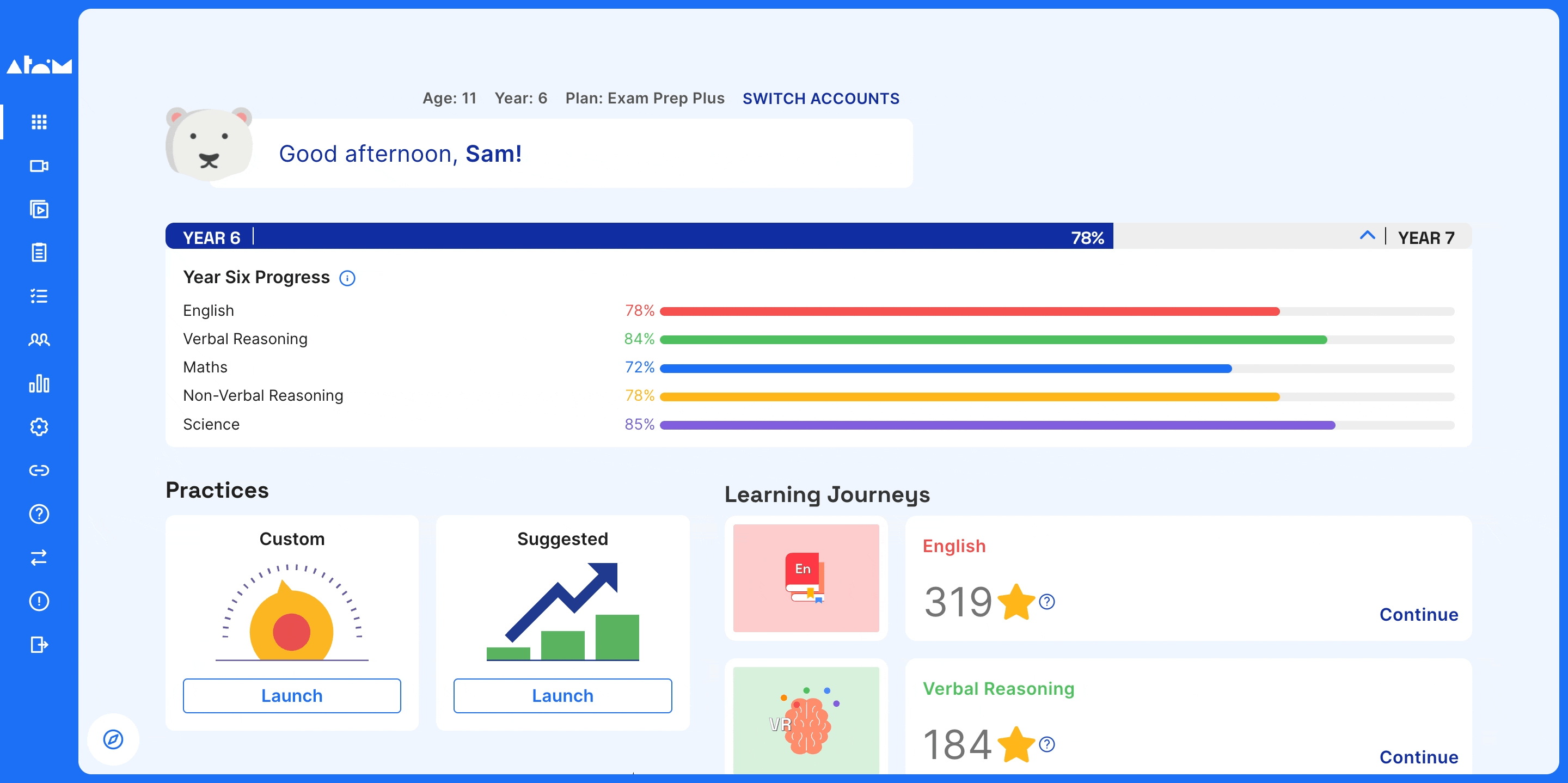 Engage with their progress
Celebrate your child's improvement in areas of challenge together. An accurate and ongoing assessment of their areas of strength and development is helpful.
As an Atom subscriber, you'll have a parent dashboard which offers data-driven insights into your child's progress. You can use this effectively to help your child set targets, see a detailed breakdown of their progress by subtopic and set custom practices to target those they find most challenging.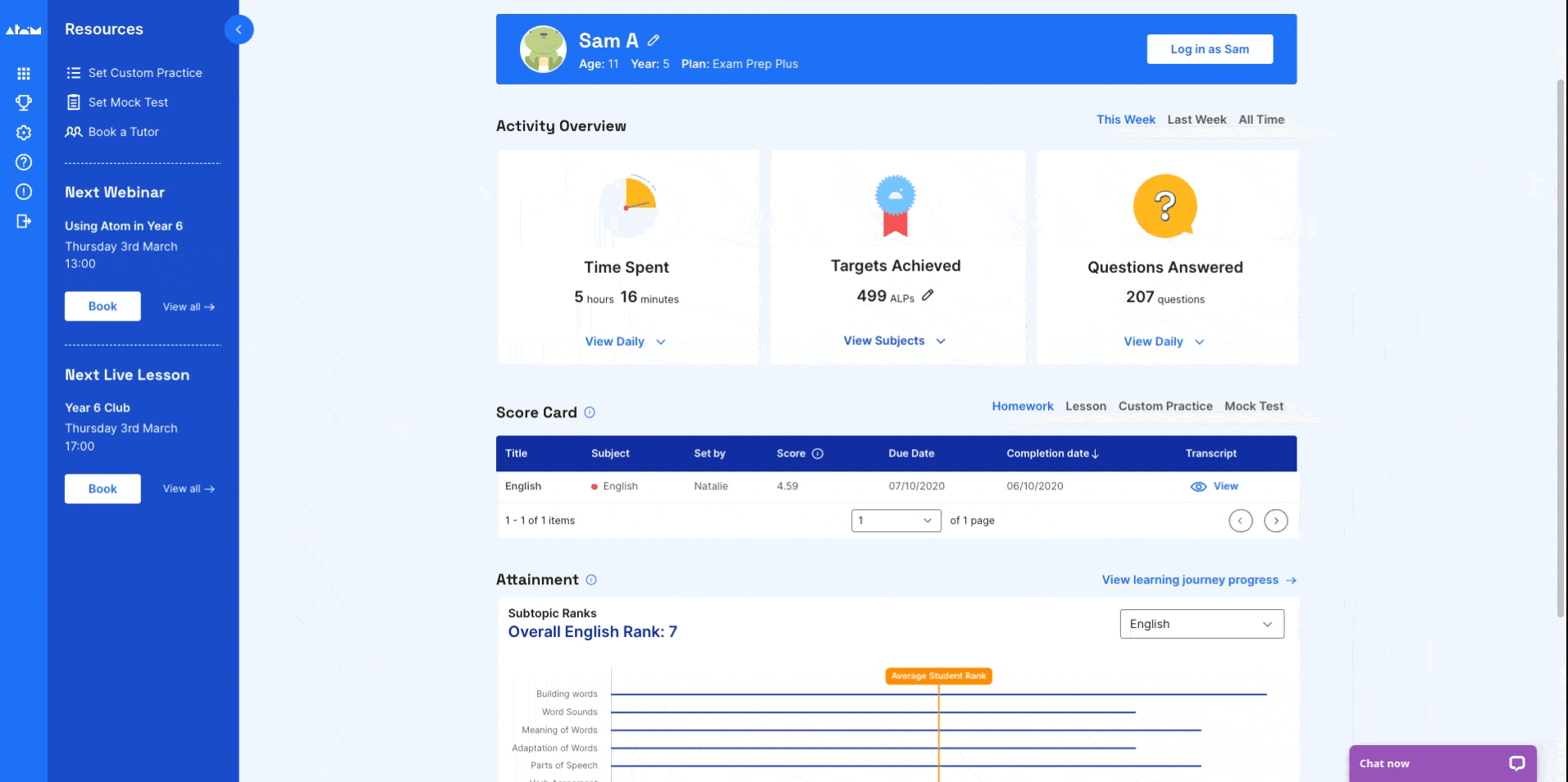 ---
Get started with Atom Learning
It's our mission to help your child feel prepared and confident before the exam day. Begin your free 5-day free trial of Nucleus today to help your child succeed.
We know how crucial this time is, so our team is on hand to support you and your family every step of the way. You can book a call with one of our Education Experts to ask any questions you might have about 11 plus entry to North London Collegiate School:
If you're looking for exclusive tips and resources to help your child master key subjects, excel in exams and build academic confidence, join Atom's email list: