Radnor House is an independent day school for boys and girls aged 9–18 located on the banks of the River Thames in South West London. The medium size of the school (445 pupils) allows teachers to get to know every child personally while offering a large-enough environment for pupils to enjoy a variety of co-curricular opportunities.
The four core values at Radnor House – courage, excellence, perseverance and respect – underpin school life. The school is a member of the Dukes Education Group and supports the motto 'Together We're Extraordinary'.
In 2021, pupils at Radnor House celebrated the school's best ever A level results with 58% of grades at A* or A. The previous year saw the school's best GCSE results to date, with 71% of grades at 9–7 (A*–A equivalent).
In September 2023, the senior school (Years 7 to 13) will be moving from the existing site at Pope's Villa to a new 30-acre estate at Kneller Hall, near Twickenham Stadium. The Grade-II-listed building was previously owned by the Ministry of Defence and is currently being transformed into a state-of-the-art school offering excellent facilities for sport, the arts, science and technology as well as an ecological corridor for pupils to enjoy and appreciate the outdoors.
Key information for Radnor House Twickenham
Principal: Mr Darryl Wideman

Address: Radnor House, Pope's Villa, Cross Deep, Twickenham, TW1 4QG

London Borough: Richmond-upon-Thames

Admissions contact: Enquire through the school website

Age range and gender: 9–18, boys and girls

Number of pupils: 445

Number of places in Year 7: 66

Ratio of applicants to places: Undisclosed, but oversubscribed each year

Open day date: Saturday 8th October 2022 – book online

Overview of selection procedure for Year 7 entry: Entrance exam, group activity, school report and headteacher's reference

Registration opens: Registration is open now and available online.

Registration closes: Friday 4th November 2022

Assessment date for Year 7 entry: 26th and 27th November 2022

Scholarship assessment date: Same as entrance exam (academic scholarship only)
Radnor House Twickenham fees and financial assistance
The school fees at Radnor House Twickenham in 2022–23 will be £7,130 per term for Years 7 and 8 and £7,430 per term for Years 9 to 13. For all new pupils joining Radnor House in 2023, the first term's fee is payable in advance on 1st July 2023 (in addition to the £2,000 deposit which must be paid before the deadline outlined in the offer letter to confirm the place).
Radnor House does not offer bursaries at Year 7 (limited funding may be provided by the Radnor Charitable Trust for sixth form entry only). Scholarships are awarded for academic excellence in Year 7 based on performance in the entrance tests, but these do not offer financial remuneration.
Radnor House Twickenham term dates
The 2022–23 term dates at Radnor House Twickenham are:
Autumn term: 5th September – 9th December 2022

Half term: 17th –28th October 2022

Spring term: 4th January – 31st March 2023

Half term: 13th –17th February 2023

Summer term: 18th April –5th July 2023

Half term: 29th May –2nd June 2023
Admissions process for Radnor House Twickenham
If you would like to register your child for a place in Year 7 at Radnor House Twickenham for September 2023, you will need to complete the online registration form and pay the non-refundable registration fee of £150 before Friday 4th November 2022. You will also need to upload a scan of your child's passport, an electronic copy of their latest school report and a passport-size photograph of your child.
All applicants will attend an assessment day at Radnor House Twickenham on either Saturday 26th or Sunday 27th November 2022. Pupils who are successful in the entrance exam will be shortlisted and invited back to the school for a 'Beyond the classroom activity', which is a group experience, on either Saturday 21st or Sunday 22nd January 2023.
The only scholarships available at Radnor House Twickenham are Academic Scholarships. These are automatically awarded to pupils who excel in the entrance exam.
Parents/carers will receive the outcome of their child's application to the school in early February 2023. Places are subject to the child's school reference and school report and their performance in the exam and group activity.
Radnor House Twickenham entrance exam format
The exam day at Radnor House Twickenham consists of two assessments:
Computer-based numerical, verbal and non-verbal reasoning (1 hour)

Written English & maths (1 hour)
There are no practice papers available for the entrance exam at Radnor House Twickenham. However, you may find the following resources helpful:
How to help your child prepare for the selection process at Radnor House Twickenham
Build foundational knowledge
The 11 plus assesses a huge amount of content! Atom Nucleus takes your child through personalised learning journeys across the entire Key Stage 2 core curriculum, with over 90,000 teacher-created questions.
Preparation is key
Familiarisation with the question formats and known styles ahead of the exam is absolutely essential. Access to quality, unlimited practice material ensures that your child will feel confident when tackling the test. Atom gives your child access to unlimited mock tests that mirror the content, format and structure of online adaptive 11 plus tests: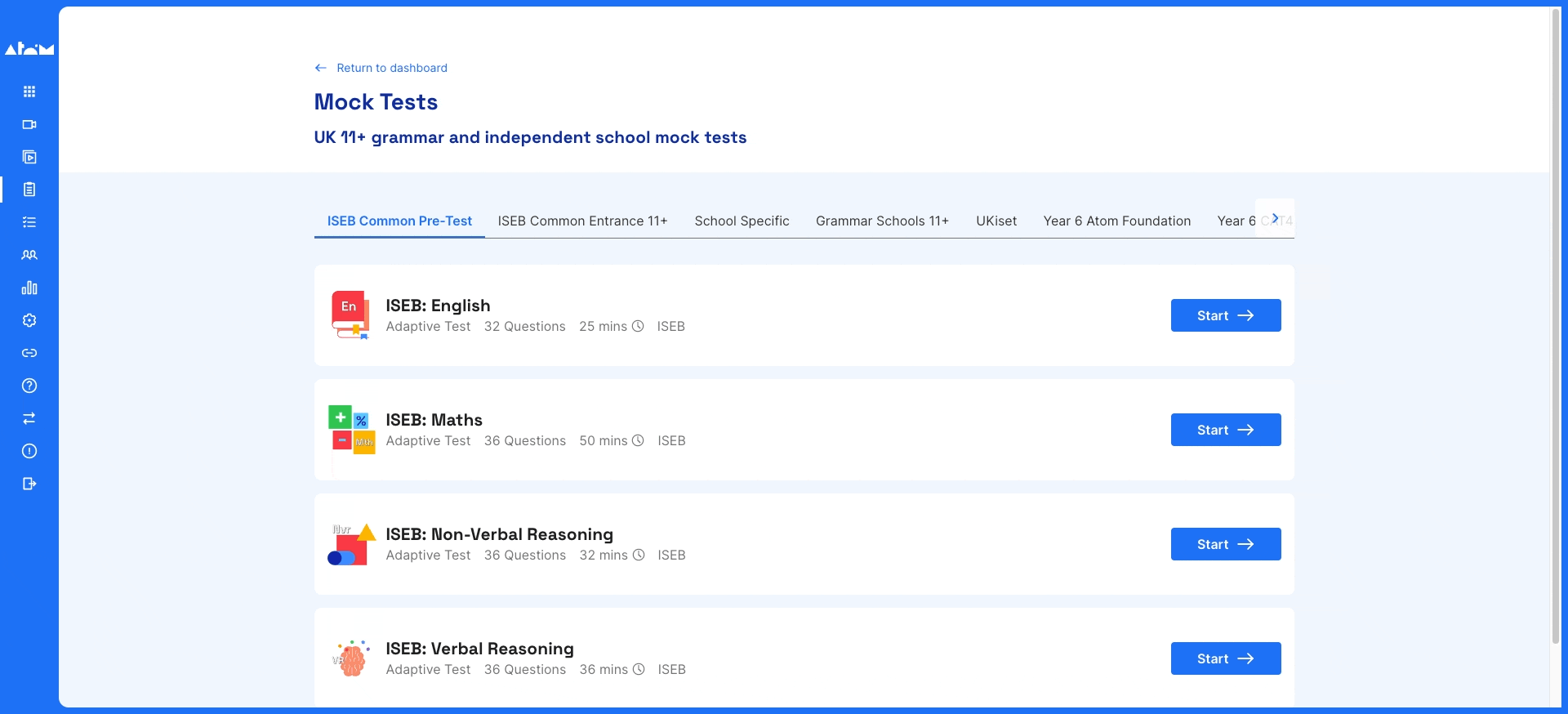 When working through challenging topics, your child will need immediate clarity with any misconceptions so that they feel truly secure in every topic. Atom gives your child access to video tutorials, help sheets and examples for each question to help build confidence and competence across all areas of the Key Stage 2 core national curriculum.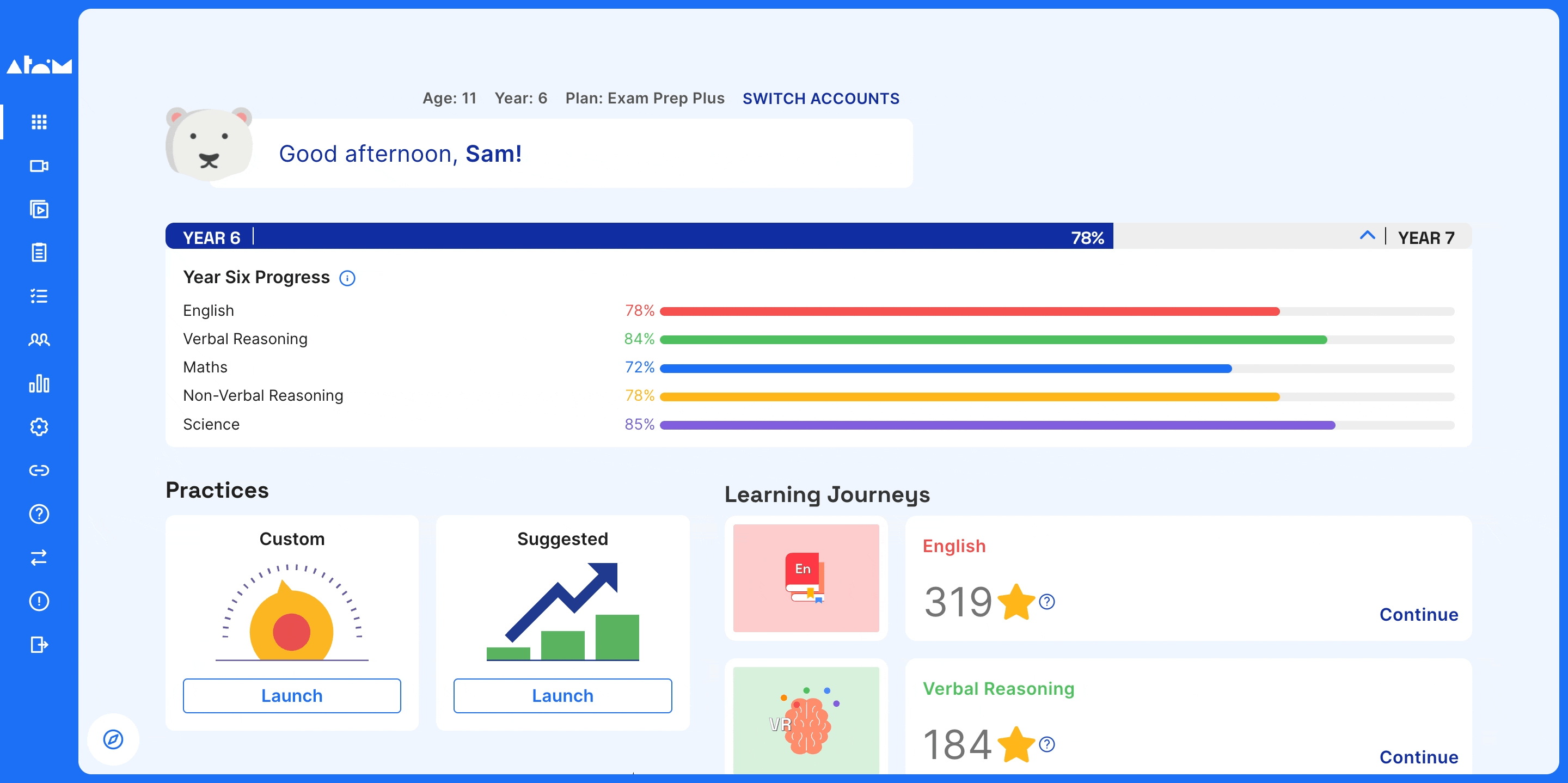 Engage with their progress
Celebrate your child's improvement in areas of challenge together. An accurate and ongoing assessment of their areas of strength and development is helpful. Atom's Parent Portal offers data-driven insights into your child's progress to help you prepare effectively, including targets achieved, a detailed breakdown of progress by subtopic and the ability to set custom practices to target your child's most challenging subtopics.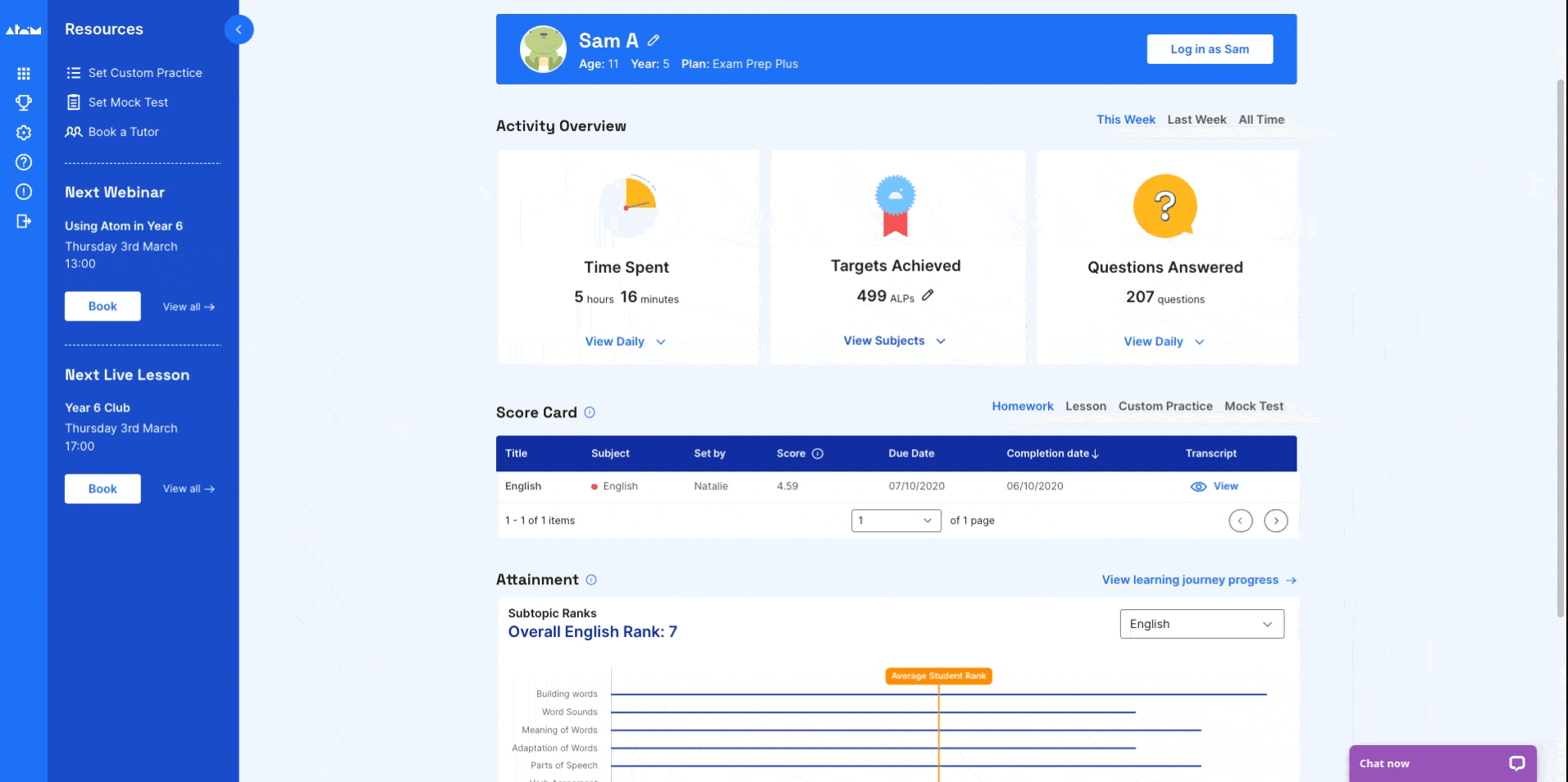 ---
Atom Learning can help
It's our mission to help your child feel prepared and confident on exam day. Begin your free 5-day free trial of Nucleus today to unlock success in the classroom, entrance exams and more.
We know how crucial this time is, so our team is on hand to support you and your family every step of the way. You can book a call with one of our Education Experts to ask any questions you might have about Year 7 entry to Radnor House Twickenham:
If you're looking for exclusive tips and resources to help your child master key subjects, excel in exams and build academic confidence, join Atom's email list: