Silcoates School is a small independent day school for boys and girls from the age of 3 through to 18 near Wakefield, in West Yorkshire. The school warmly welcomes new pupils (11 plus and 16 plus are the main entry points beyond the pre-school and junior school) and ensures that they become valued members of the Silcoates community.
'Academic grit' is valued at Silcoates School and the school aims for every child to reach, or exceed, their academic potential. Exam results are consistently above the national average; in 2022, 70% of A levels were graded A*, A or B, and 56% of GCSE results were A*, A, 9, 8 or 7.
There is a range of activities on offer beyond the classroom at Silcoates School. Sport is integral to school life; the boys' core sports are rugby, hockey and cricket and in 2017, the 1st XV were successful in making it to the semi-final of the NatWest Vase competition. Girls' core sports are hockey and netball, with recent tours including the US and Canada, Italy and South Africa.
Students at Silcoates School take part in a large number of charitable events each year. While the school is broadly grounded in Christian principles, every member of the school community is encouraged to develop a sense of humility and responsibility to others. In 2017, the school received the Yorkshire Society Community Award for raising £58,000 for charities across the course of the year.
Key information for Silcoates School
Head Master: Mr Chris Wainman

Address: Silcoates School, Silcoates Lane, Wrenthorpe, Wakefield, West Yorkshire, WF2 0PD

County: West Yorkshire

Admissions contact: Mrs H Lindenmayer – [email protected], 01924 885245

Age range and gender: 3–18, co-educational

Number of pupils: 499

Open day date: Saturday 1st October 2022

Overview of selection procedure: entrance test and a recent school report

Registration opens: currently open – apply on the Silcoates School website

Registration closes: not disclosed

Assessment date: January 2023
Silcoates School fees and financial assistance
The current tuition fees at Silcoates School are £15,645 per year. Tuition fees include the cost of stationery, textbooks, Chromebooks, learning support, games, and school lunch.
Silcoates School is able to offer a limited number of means-tested bursaries (financial assistance) to eligible families each year. These are usually offered to 11 plus applicants and can be up to 100% of the school fees. The closing date for bursary applications is the 10th January in the year of entry (i.e. 10th January 2023 for September 2023 entry).
The school is also able to offer a limited number of scholarships to pupils who can demonstrate outstanding ability in a particular area. The available scholarships and their associated fee remission are:
Academic scholarships: up to 20%

Art scholarships: up to 10%

Music scholarships: free individual tuition on up to two instruments (totalling up to one hour per week)
Silcoates School term dates
The term dates at Silcoates School for 2022–23 are:
Autumn term: 5th September – 16th December 2022

Half term: 15th–30th October 2022

Spring term: 10th January – 31st March 2023

Half term: 11th–19th February 2023

Summer term: 18th April – 7th July 2023

Half term: 27th May – 4th June 2023
The 2023–24 term dates at Silcoates School are:
Autumn term: 4th September – 15th December 2023

Half term: 21st October – 5th November 2023

Spring term: 9th January – 22nd March 2024

Half term: 10th–18th February 2024

Summer term: 9th April – 5th July 2024

Half term: 25th May – 2nd June 2024
Admissions process for Year 7 entry to Silcoates School
If you would like to register your child for Year 7 entry to Silcoates School, you will need to complete the online registration form and upload any documents to support your child's application.
Registered applicants will be invited to sit the school's own 11 plus entrance exam in January 2023. Silcoates School will also request a school report or reference from your child's current primary or prep school. Children who have shown outstanding academic attainment in the 11 plus entrance tests will be invited to an interview with the headmaster to determine their eligibility for an academic scholarship. If your child is applying for an art or music scholarship, they will have extra steps in the admissions process to determine their suitability for the scholarship:
Art scholarships: children will be assessed based on a portfolio of their work and practical assessments, as devised by the Silcoates School head of art.

Music scholarships: applicants should be at least ABRSM Grade 3–4, or an equivalent standard. The assessment will take the form of a short audition with the director of music, as well as sight reading, aural tests, and an interview.
Silcoates School will write to the parents of candidates in early spring 2023 with the outcome of their child's application.
Silcoates School 11 plus exam
11 plus candidates for Silcoates School will take three written papers in January 2023:
English: children are assessed on their reading comprehension ability and creative writing. They will also be examined on SPaG (spelling, punctuation and grammar), their imagination, creativity, organisation and cohesion.

Maths: children are assessed on their knowledge and application of the Key Stage 2 national curriculum for maths. The paper may include questions on the main topics of number, measurement, geometry, algebra, and statistics.

Verbal reasoning: candidates are tested on their ability to reason and solve problems with written information. This will include marks awarded for logical thinking and their knowledge of English vocabulary. Take a look at our guide to 11 plus verbal reasoning for more information about typical questions included in the exam.
How to help your child prepare for the selection process at Silcoates School
Build foundational knowledge
The 11 plus exam at Silcoates School assesses candidates' knowledge and understanding of the Key Stage 2 national curriculum and beyond, with questions in English, maths and verbal reasoning.
Your child can consolidate everything they know with Atom Nucleus, with over 90,000 teacher-created questions and helpful learning resources that span all the topics your child will need to know and understand in order to succeed in the exam.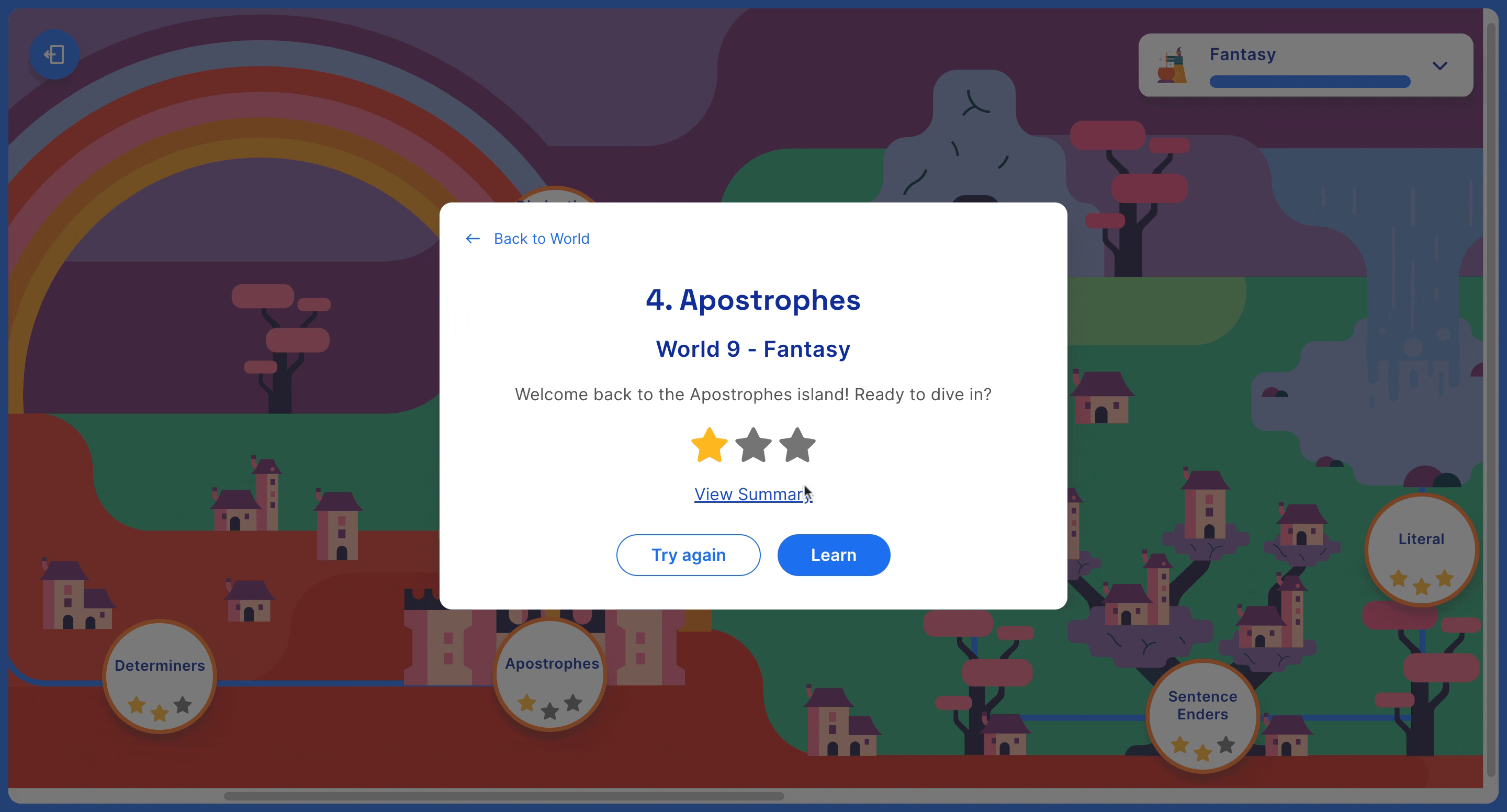 Preparation is key
Familiarisation with the question formats and known styles ahead of the exam is essential to help your child build exam confidence. An exam preparation subscription with Atom Nucleus enables your child to access quality, unlimited practice material with full score breakdowns to help your child feel confident by the time the exam day comes around.
Subscribers have access to unlimited Year 6 foundation tests, where they can have a go at 11 plus mock exams for English, maths and verbal reasoning to develop key time-management skills and get a feel for the types of questions they will encounter on the test day.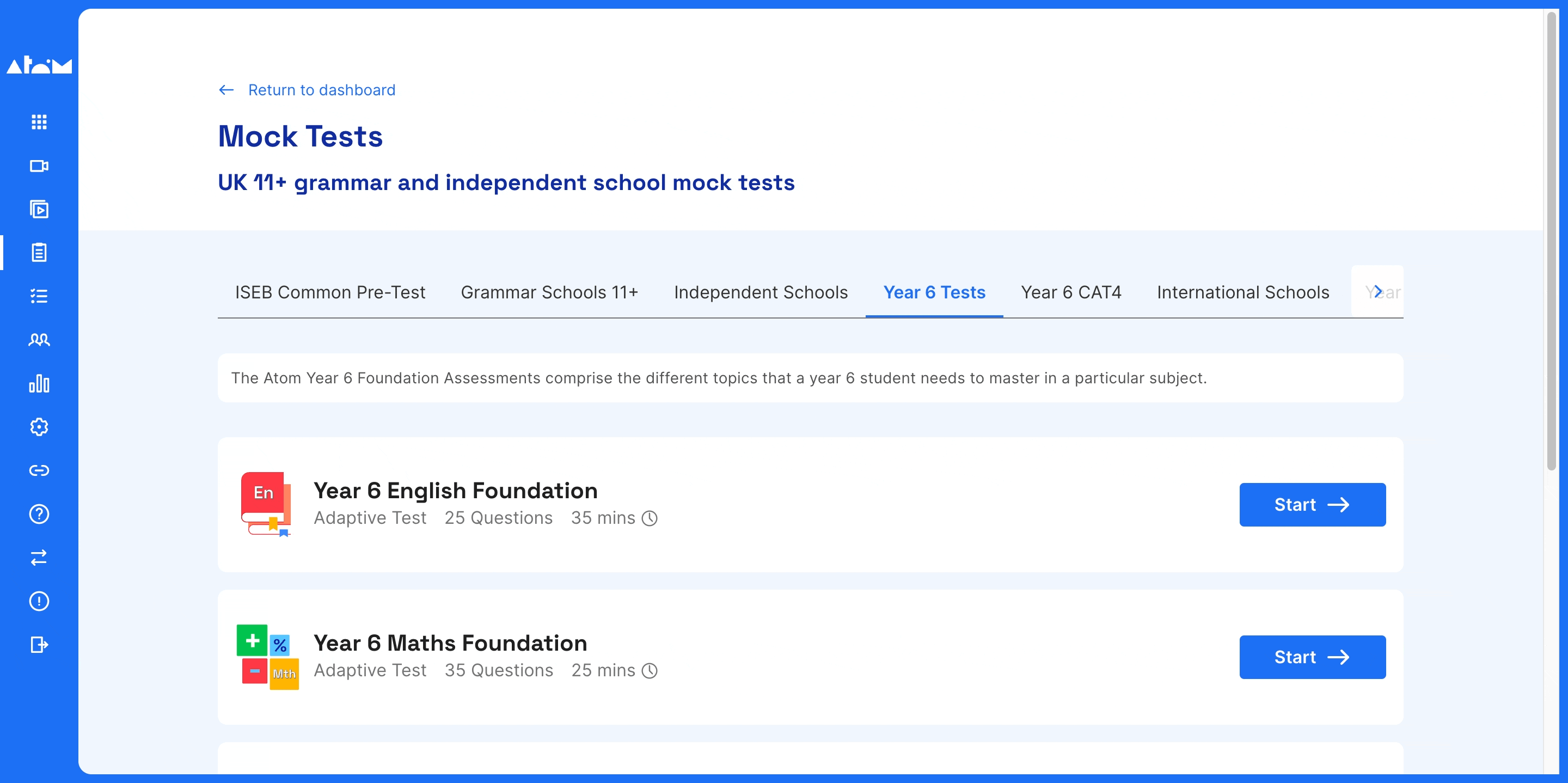 When working through challenging topics, your child will need immediate clarity with any misconceptions so that they feel truly secure in every topic. Atom Nucleus includes video tutorials, help sheets and examples with every question to help your child build confidence and competence across all the areas assessed.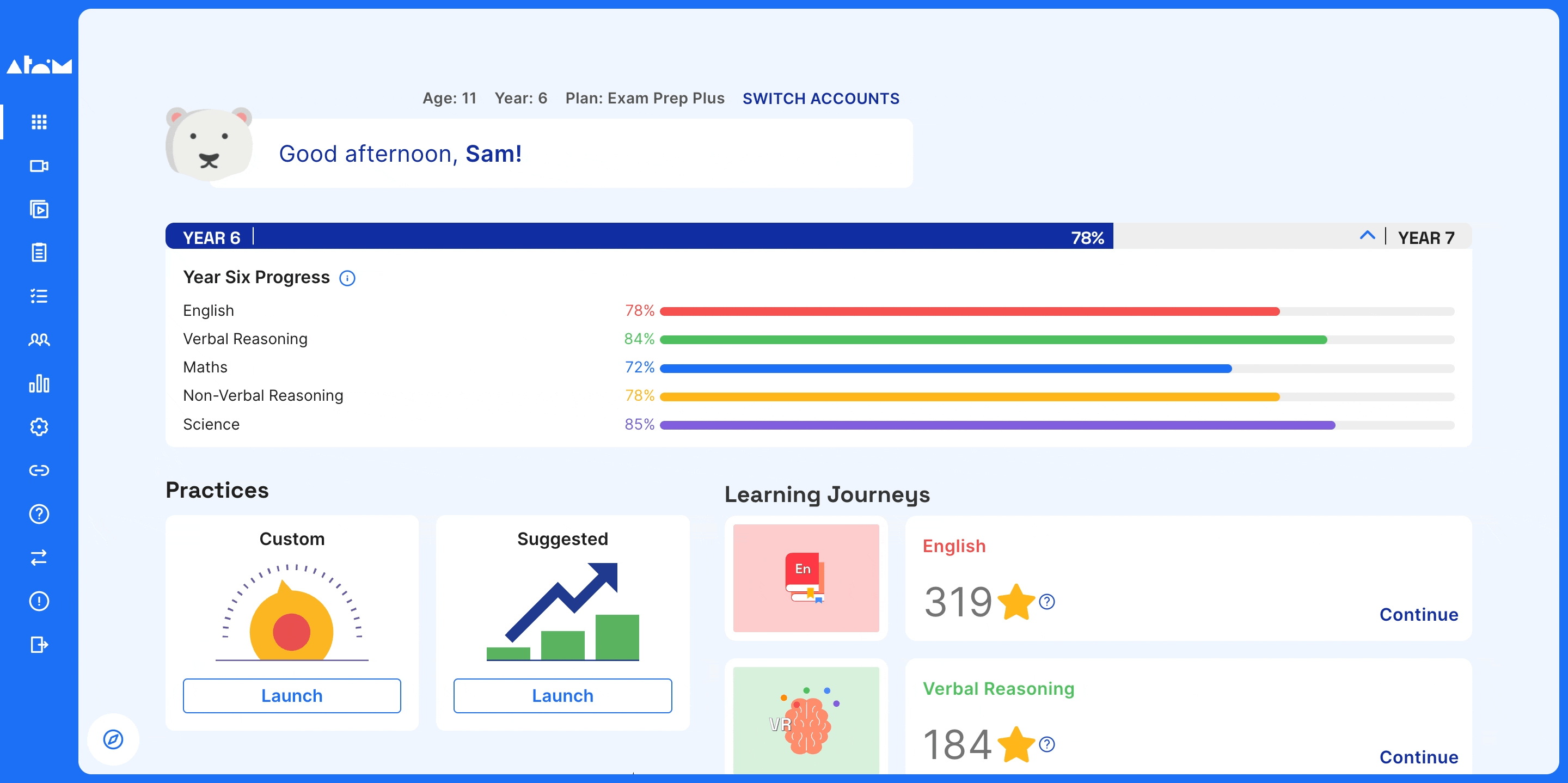 Engage with their progress
Celebrate your child's improvement in areas of challenge together. An accurate and ongoing assessment of their areas of strength and development is helpful.
As an Atom subscriber, you'll have a parent dashboard which offers data-driven insights into your child's progress. You can use this effectively to help your child set targets, see a detailed breakdown of their progress by subtopic and set custom practices to target those they find most challenging.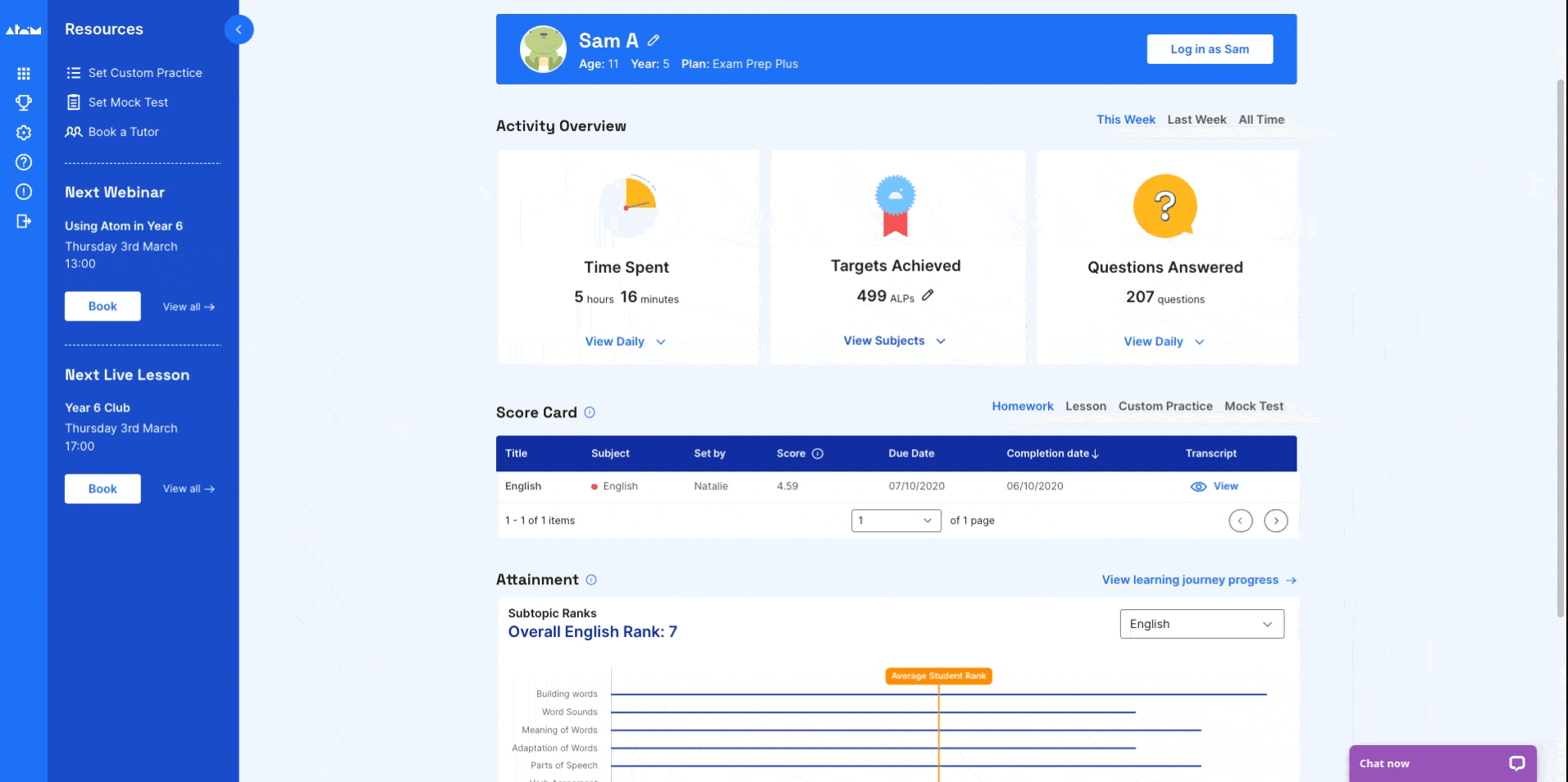 ---
Get started with Atom Learning
It's our mission to help your child feel prepared and confident before the exam day. Begin your free 5-day free trial of Nucleus today to help your child succeed.
We know how crucial this time is, so our team is on hand to support you and your family every step of the way. You can book a call with one of our Education Experts to ask any questions you might have about 11 plus entry to Silcoates School:
If you're looking for exclusive tips and resources to help your child master key subjects, excel in exams and build academic confidence, join Atom's email list:

Parent WhatsApp groups
Preparing for entrance exams in 2023? Why not join our Exam Preparation group on WhatsApp? Get access to free resources and advice, and ask our Education Experts any questions you have about the admissions process and your child's upcoming exams.