South Wilts Grammar School is the only selective school for girls in Wiltshire. Founded in 1927 as the girls' equivalent to Bishops Wordsworth's School (with which South Wilts Grammar School maintains close links), the school was girls-only until 2020, at which point male students were welcomed into the sixth form.
South Wilts Grammar School has specialist status in mathematics and computing and won the International School Award in 2010. Pupils' GCSE results in 2019 placed the school within the top 5% in the country. There is an extensive curriculum at A level, with an offering of 26 subjects including Computer Science, Environmental Science, Psychology and the Extended Project Qualification (EPQ).
The school is located in the medieval cathedral city of Salisbury. Situated in the city's leafy suburbs, pupils enjoy extensive facilities that include a Learning Resources Centre, a theatre and drama studio and an all-weather running track.
11 plus information for South Wilts Grammar School
Address: South Wilts Grammar School, Stratford Road, Salisbury, Wiltshire, SP1 3JJ

County: Wiltshire

Admissions info: [email protected], 01722 323326

School type: girls' grammar (co-ed sixth form)

Number of pupils: 1,100

Number of Year 7 places: 160

Open day: not yet available, but a virtual open day is available on the school website

Registration period: 1st June – 1st September 2022

11 plus exam date: Saturday 24th September 2022

Exam board type: GL Assessments

Results: October

National school offer day: 1st March 2023

Appeals: heard by an independent appeal panel
South Wilts Grammar School term dates
The 2022-23 term dates for South Wilts Grammar School are:
Autumn term: 5th September – 16th December

Half term: 24th – 31st October

Spring term: 4th January – 30th March

Half term: 13th – 17th February

Summer term: 17th April – 21st July

Half term: 29th May – 2nd June
South Wilts Grammar School 11 plus admissions process
To apply for Year 7 entry in 2023 at South Wilts Grammar School, you will need to register your child on the school website once registration opens on 1st June 2022 and before the deadline of 1st September 2022.
You will also need to complete the Local Authority Common or Secondary Application Form (CAF or SAF), which will be available between 1st September and 31st October 2022. Please see your local council's website (Wiltshire, Hampshire or Dorset) for this information.
If a girl has a current statement of education needs, speaks EAL or faces any other barrier to learning (e.g. specific learning difficulties), the school will allow special access arrangements. The completed form and supporting documents must be returned to the school by the registration deadline (1st September 2022).
For the past seven years, the pass mark for South Wilts Grammar School's 11 plus exam has been 71%. Passing the exam is not a guarantee of an offer of a place; if more girls pass the exam than the 160 places available, the following oversubscription criteria will be applied in order of priority:
Looked after children and previously looked after children

Girls who are eligible for the pupil premium and/or the service premium

Girls who live in the school's catchment area

Girls who live beyond the catchment area and who live with a sibling currently at the school (see map below)

Other girls in order of closeness to the school as the crow flies.
A useful illustration of South Wilts Grammar School's 11 plus place allocation is available to view online.
What is the catchment area for South Wilts Grammar School?
South Wilts Grammar School welcomes applications from girls who live within any reasonable travelling distance of the school. However, in the case of oversubscription, successful applicants who live within the catchment area will fall into one of the priority groups.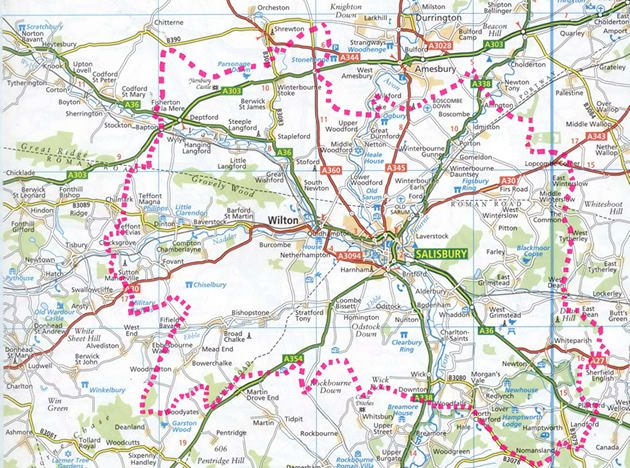 South Wilts Grammar School 11 plus exam format
The 11 plus exam for entry to South Wilts Grammar School is administered by GL Assessments. The exam is a little under three hours total:
Maths: 50 minutes. The test reflects all areas of the KS2 national curriculum, including number, algebra, measures, shape and space and handling data.

English: 45 minutes. The test may contain aspects of reading comprehension, spelling, punctuation and grammar.

Verbal reasoning: 50 minutes.
All papers are in multiple-choice format and are compiled by GL Assessment. South Wilts Grammar School has free practice papers available to download on its website.
Childrens' marks on the three exams will be combined and age-standardised, taking into account the child's age in years and months on the date of the exam.
There will be a practice 11 plus test at South Wilts Grammar School on Saturday 17th September 2022. Find out more on the school website.
How can I help my child prepare for the South Wilts Grammar School 11 plus?
Start early. We suggest beginning the 11 plus preparation journey at the end of Year 4 or beginning of Year 5. Your daughter should feel completely confident with the KS2 curriculum content before beginning targeted exam preparation. Core curriculum programmes are useful to help boost confidence and subject mastery ahead of the exam.
Friendly familiarisation. The 11 plus exam will contain question styles that your child has likely not come across before, including verbal reasoning. With Atom's Exam Preparation Plus package, your daughter will be able to take as many Mock Tests as necessary to feel comfortable with the format and style of South Wilts Grammar School's GL exam.

Read widely. The 11 plus exam – particularly the English test – will require your child to have an excellent understanding of the English language. Reading widely across traditional and contemporary texts will support her exam preparation – find free resources for engaging your child with reading here.
Focus on their needs. Tailor your child's exam practice to their specific needs to help them stay on track. Atom's adaptive learning algorithm personalises your child's optimal learning journey to help them master all the content required to achieve entry to South Wilts Grammar School. Data-driven insights will also give you an in-depth overview of your child's progress.
---
Start your free 5-day trial of Atom Nucleus today to see how adaptive learning can empower your child to excel in South Wilts Grammar School's 11 plus exam.
We know how crucial this time is, so our team is on hand to support you and your family every step of the way. You can book a call with one of our Education Experts to ask any questions you may have about South Wilts Grammar School or the 11 plus GL exam: