St Mary's School Ascot is an independent boarding school for girls aged 11 to 18 and located on a 55-acre site in Ascot, Berkshire – a 45-minute journey west of London. The school is Roman Catholic, and gives preference to girls who are Roman Catholic; all girls are required to attend chapel and worship services and are encouraged in their spiritual relationship with God.
The school is relatively small (less than 400 pupils), allowing for every girl to become known and understood within a compassionate and friendly community. As a full boarding school, St Mary's is able to provide a culture that enables its girls to lead varied and fulfilling lives. The school has a strong partnership with its local community and beyond, including shared societies, talks and events with Eton College – only a short drive away.
Girls at St Mary's are said to work hard and cheerfully. Being a single-sex school allows girls to thrive on their own terms and to learn the value of their own intellectual industry. Academic results are consistently strong; in 2022, 78% of A level grades were A* or A, while 86% of GCSEs were A*/A/9/8 (and 64% of GCSEs were the highest grade of 9 alone). In 2018, St Mary's achieved 1st place in the UK based on that year's GCSE results.
St Mary's School Ascot has an extensive list of notable alumnae. Former pupils educated at the school include Ana Botín (executive chairman of the Santander Group), Dame Philippa Whipple (British high court judge and barrister), Louise Minchin (BBC journalist and news presenter) and several members of the Spanish, Greek, Danish and British royal families, including Lady Louise Mountbatten-Windsor and Lady Amelia Windsor.
Key information for St Mary's School Ascot
Headmistress: Mrs Danuta Staunton

Address: St Mary's School, St Mary's Road, South Ascot, Ascot, Berkshire, SL5 9JF

County: Berkshire

Admissions contact: Mrs Sandra Young – [email protected], 01344 296614

Age range and gender: 11–18, girls only

Number of pupils: 398

Number of places in Year 7: 40

Open day date: Saturday 24th September 2022, Saturday 19th November 2022, Saturday 11th March 2023, and Saturday 13th May 2022. Booking is essential – contact the St Mary's admissions office to reserve a space.

Overview of selection procedure: entrance test, interview, and school report

Registration opens: always open

Registration closes: no set registration deadline, but parents are advised to register their daughter at least two years prior to the entry date

Assessment date: November/December
St Mary's School Ascot fees and financial assistance
The current fees at St Mary's School Ascot are £15,190 per term (including boarding). Only approximately 15 girls are day boarders (weekend activities are compulsory), and these girls live very locally to the school. Day boarding fees are £10,820 per term.
St Mary's School Ascot is able to provide means-tested bursaries to pupils who meet the entrance criteria and whose parents are financially eligible. The deadline for applying for a bursary is 1st October in the year before entry.
Scholarships are also available to 11 plus candidates for St Mary's Ascot:
Academic scholarships: three available, each at 5% of the school fees

Art scholarship: one available, at 5% of the school fees

Music scholarship: one available, at 5% of the school fees and up to three 30-minute music lessons per week

All-rounder scholarship: one available at 5% of the school fees
Note that sports scholarships are only available at 13 plus entry.
St Mary's School Ascot term dates
The term dates at St Mary's School Ascot for 2022–23 are:
Autumn term (Michaelmas): 4th September – 9th December 2022

Half term: 21st–30th October 2022

Spring term (Lent): 8th January – 24th March 2023

Half term: 10th–19th February 2023

Summer term: 16th April – 7th July 2023

Half term: 26th May – 4th June 2023
Admissions process for Year 7 entry to St Mary's School Ascot
If you would like to register your daughter for a place in Year 7 at St Mary's School Ascot, you are advised to do so at least two years before entry. However, the school does accept applications throughout the school year.
There are approximately 40 places available for girls applying for Year 7. Application is through the school's admissions office and a £300 registration fee applies.
Girls who have been registered for 11 plus entry will take the school's entrance exam in November/December in the year of entry. Girls spend a day at the school; as well as the written tests, they also have an interview with the headmistress or one of the two deputy headmistresses, a session in the gym, a break and lunch, and a tour of the school. Candidates are looked after throughout the day by a current Year 7 pupil.
All girls who take the 11 plus tests are automatically considered for one of three general academic scholarships and the one all-rounder scholarship (no separate application is required). For the all-rounder scholarship, candidates are assessed on the basis of their performance in the test as well as their current headteacher's reference. Additional applications and processes are necessary for art and music scholarships:
Art scholarships: application forms are available from the registrar from mid-October (year before entry) and must be submitted by early December. Candidates will need to submit a written statement from their current art teacher and a portfolio of their work, with shortlisted candidates then invited to an interview with the head of art and an exam in either drawing or painting.

Music scholarships: application forms are available from the registrar from mid-October (year before entry) and must be submitted by early December. The application form must be signed by the candidate' current headteacher, and it must include a detailed report from their music teacher. Shortlisted candidates will be invited to an interview and audition with the director of music in January, the year of entry.
Parents are normally notified of the outcome of their daughter's application within three weeks of sitting the exam (early February).
St Mary's School Ascot 11 plus exam
The 11 plus exam at St Mary's School Ascot takes place in November/December in Year 6. Candidates sit three written papers:
English: Pupils are typically assessed on their knowledge and understanding of the Key Stage 2 English curriculum, which may include reading comprehension and creative writing.

Maths: Children will be tested on their knowledge and understanding of the Key Stage 2 maths curriculum. The main topics in this are number, measurement, geometry, and statistics. Atom's guide to 11 plus maths covers these topics, and typical exam questions, in more detail.

General: This could include graded spelling, non-verbal puzzles, and listening skills. Take a look at our top tips for 11 plus non-verbal reasoning to see the types of questions your child may need to answer.
How to help your child prepare for the selection process at St Mary's School Ascot
Build foundational knowledge
The 11 plus exam at St Mary's School Ascot assesses candidates' knowledge and understanding of Key Stage 2 English and maths, with potential questions in non-verbal reasoning in the general paper.
Your daughter can consolidate everything she needs to know with Atom Nucleus, with over 90,000 teacher-created questions and helpful learning resources that span the Key Stage 2 national curriculum and beyond.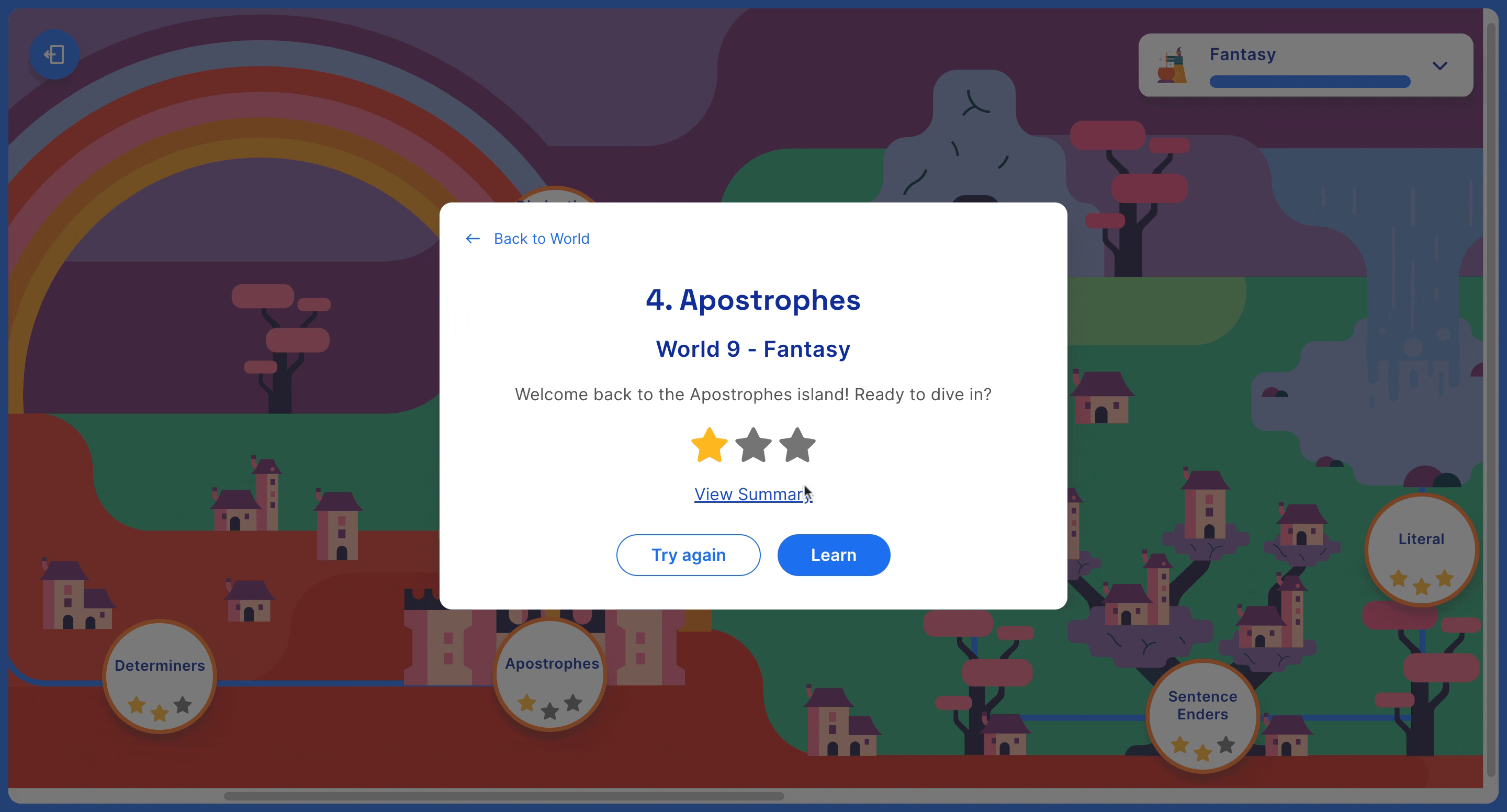 Preparation is key
Familiarisation with the question formats and known styles ahead of the exam is essential to help your child build exam confidence. An exam preparation subscription with Atom Nucleus enables your child to access quality, unlimited practice material with full score breakdowns to help your child feel confident by the time the exam day comes around.
Your daughter can take multiple Year 6 foundation tests in English, maths, and non-verbal reasoning to help her develop key time-management skills and get an understanding of the types of questions she may need to answer in the St Mary's School Ascot 11 plus exam.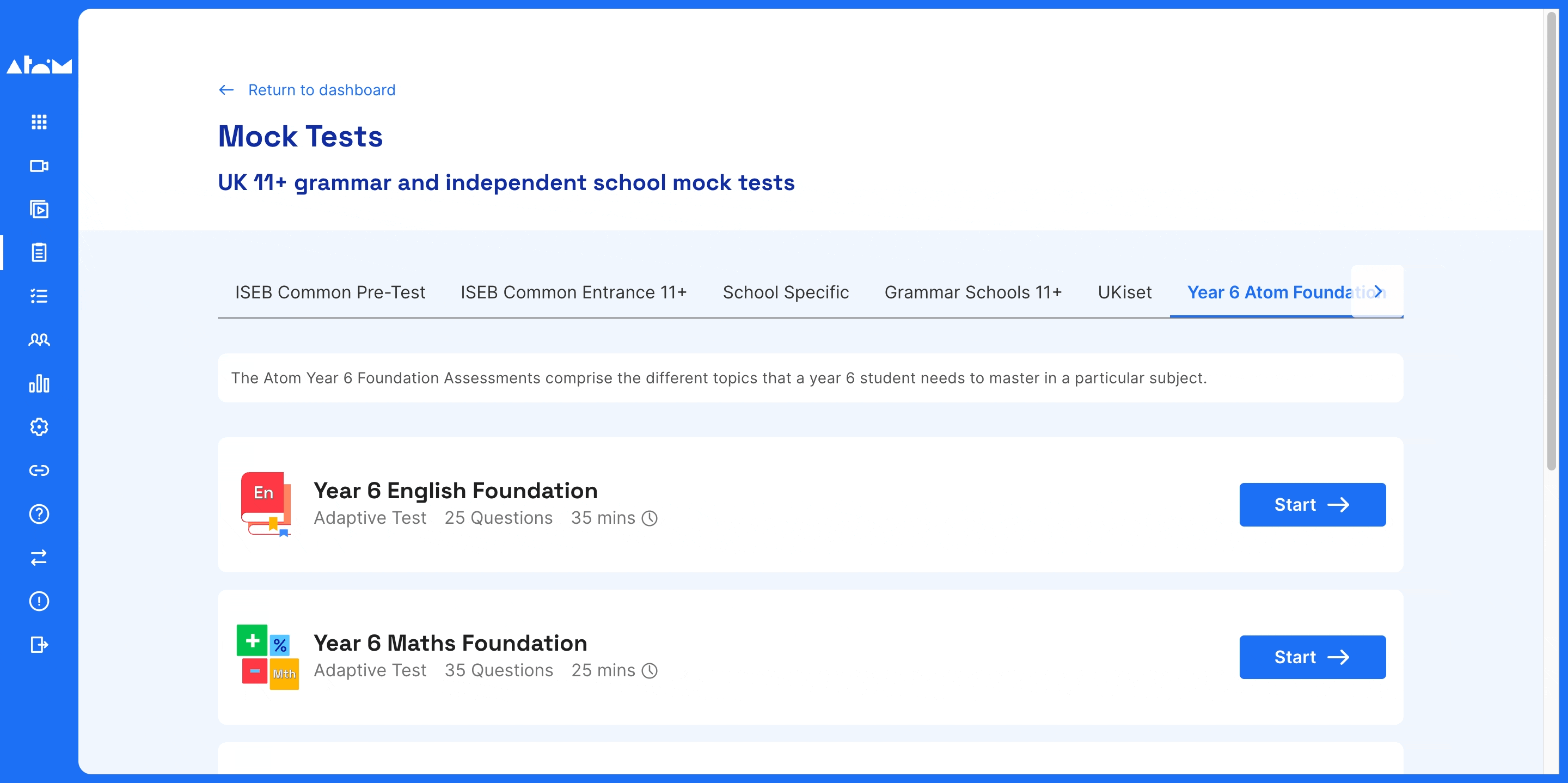 When working through challenging topics, your child will need immediate clarity with any misconceptions so that they feel truly secure in every topic. Atom Nucleus includes video tutorials, help sheets and examples with every question to help your child build confidence and competence across all the areas assessed.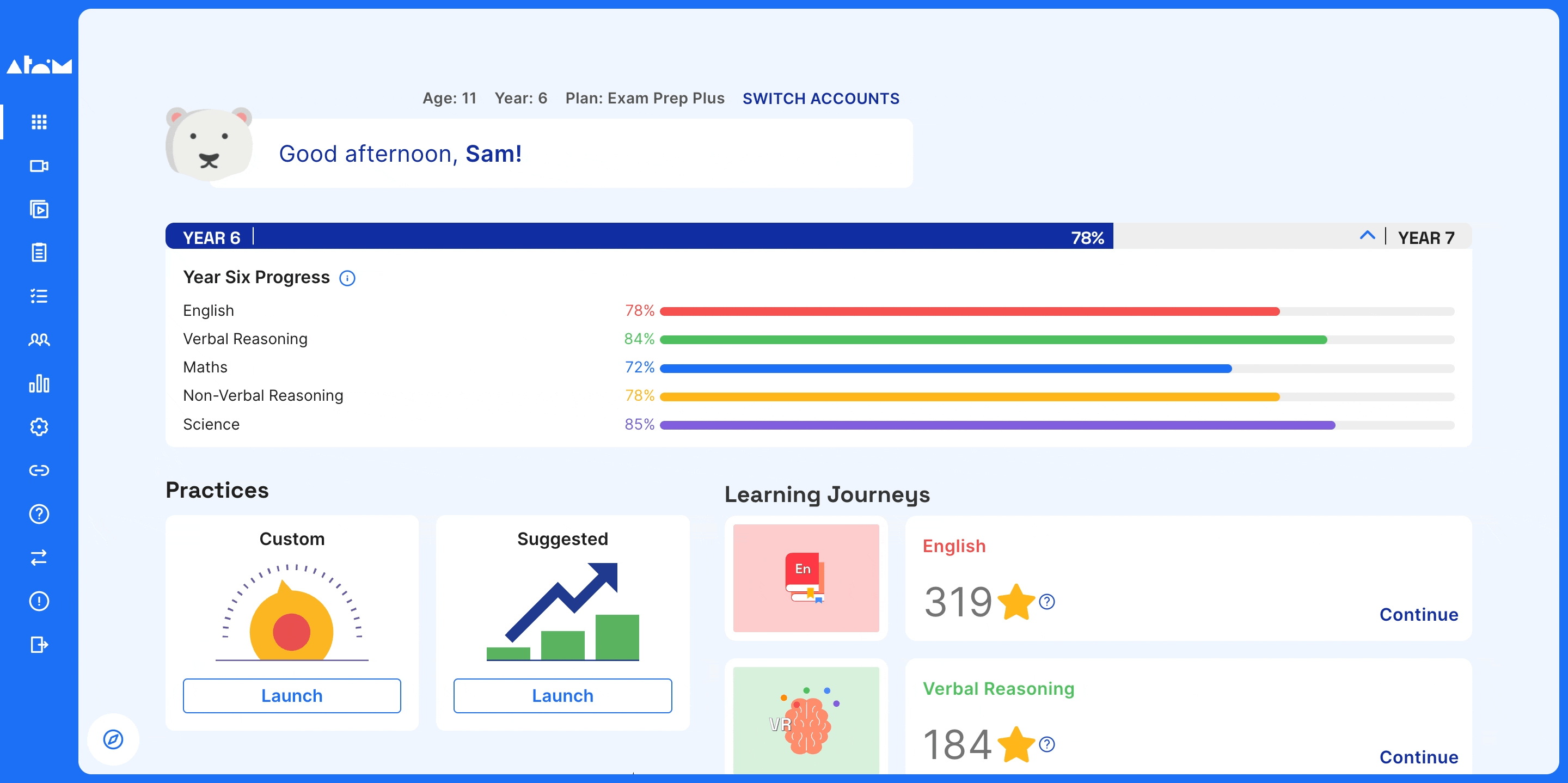 Engage with their progress
Celebrate your child's improvement in areas of challenge together. An accurate and ongoing assessment of their areas of strength and development is helpful.
As an Atom subscriber, you'll have a parent dashboard which offers data-driven insights into your child's progress. You can use this effectively to help your child set targets, see a detailed breakdown of their progress by subtopic and set custom practices to target those they find most challenging.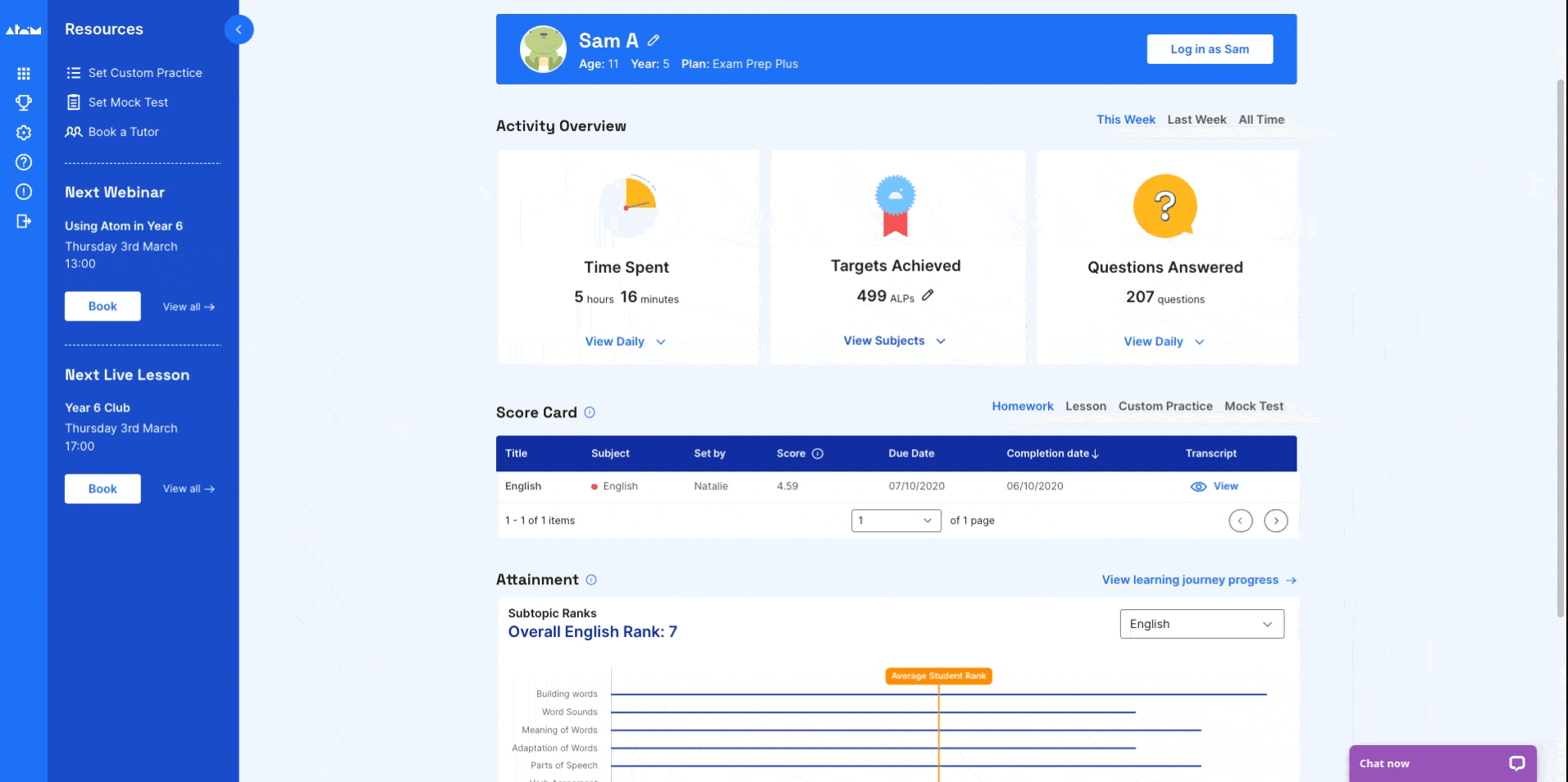 ---
Get started with Atom Learning
It's our mission to help your child feel prepared and confident before the exam day. Begin your free 5-day free trial of Nucleus today to help your child succeed.
We know how crucial this time is, so our team is on hand to support you and your family every step of the way. You can book a call with one of our Education Experts to ask any questions you might have about 11 plus entry to St Mary's School Ascot:
If you're looking for exclusive tips and resources to help your child master key subjects, excel in exams and build academic confidence, join Atom's email list:

Parent WhatsApp groups
Preparing for entrance exams in 2023? Why not join our Exam Preparation group on WhatsApp? Get access to free resources and advice, and ask our Education Experts any questions you have about the admissions process and your child's upcoming exams.