The Cedars School is a small Roman Catholic independent day school for boys aged 11–18 in South London. It was established in 2013 by the PACT Educational Trust – a not-for-profit organisation founded by a group of Catholic parents and educators. The school has recently relocated from Croydon to a new site Upper Norwood, which it shares with its sister school The Laurels, allowing more space for current and future students.
The school focuses on personal growth for each boy, helping him to acquire moral, intellectual and social virtues within the framework of Catholic principles. The development of the four core human virtues of personal responsibility, good judgement, resilience and self-control are pivotal to the school's ethos.
The Cedars School enjoyed success in the 2021 exam results. 40% of GCSE grades were 9 and 8 (equivalent to the old A*) and just under half of A level students received all grades at A* and A.
Key information for The Cedars School
Headteacher: Robert Teague

Address: The Cedars School, 147 Central Hill, Upper Norwood, London SE19 1RS

London Borough: Southwark

Admissions contact: Ms Norman – [email protected], 020 8185 7770

Age range and gender: 11–18 (boys)

Number of pupils: 238

Number of places in Year 7: up to 66 (three forms of 22)

Ratio of applicants to places: Undisclosed

Open day date: Saturday 17th September 2022

Overview of selection procedure for Year 7 entry: Entrance exam, interview (of both child and parent) and school reference

Registration deadline: Friday 18th November 2022

Assessment date for Year 7 entry: Wednesday 30th November 2022

Scholarship assessment date: Wednesday 30th November 2022
The Cedars School fees and financial assistance
The termly fees for The Cedars School in 2022-23 are £5,190 for boys in Years 7–11. The school applies an automatic sibling discount of 25% for families whose third child (and after) attends the school. The Cedars School provides means-tested bursaries at discretion – to find out more and to apply, contact the school directly.
The following scholarships are available at The Cedars School:
Art Scholarships: discretionary discount on school fees

Music Scholarships: discretionary discount on school fees

Music Exhibitioner Award: free instrumental or vocal lessons on one instrument

Sports Scholarships: discretionary discount on school fees
The Cedars School term dates
The 2022-23 term dates for The Cedars School are:
Autumn term (Michaelmas): 5th September – 16th December 2022

Half term: 17th October – 28th October 2022

Spring term (Hilary): 9th January – 31st March

Half term: 13th – 17th February

Summer term (Trinity): 18th April – 7th July

Half term: 29th May – 2nd June
Admissions process for The Cedars School
If you would like to register your son for The Cedars School, you will need to complete the online application form before the deadline of Friday 18th November 2022. If you are applying for a bursary and/or a scholarship, applications will need to submitted by the same date.
All candidates will sit the school's entrance exam (consisting of papers in English and maths) on the morning of Wednesday 30th November 2022 and will have an interview with a senior member of staff during the afternoon. Candidates who are applying for Art, Music or Sports Scholarships will also have separate assessments on the same afternoon:
Art Scholarships: Candidates will need to bring a portfolio of completed work to the assessment day. They will also undergo an art activity to complete in a workshop setting (90 minutes) and will discuss their work and any art exhibitions they have enjoyed in a short interview with the Head of Art.

Music Scholarships: 15-20 minute audition. Children will need to play at least one piece on their principal instrument, demonstrate that they can read at sight and do an ear test as appropriate to their technical standard.

Sport Scholarships: Children will undergo a physical performance assessment, which comprises fitness testing, spatial awareness and ball skills, and a core sports test.
Unusually, parents of boys applying to The Cedars School will have a separate interview in January 2023. The school will post its offers to parents on Friday 10th February 2023, with places needing to be accepted by Monday 6th March 2023.
The Cedars School entrance exam format
All applicants to The Cedars School will sit the school's own papers in English and maths:
English: 1 hour. Consists of a reading comprehension section (35 minutes) and a writing section (25 minutes).

Maths: 1 hour. The questions are aligned to the Key Stage 2 National Curriculum.
Sample papers are available on The Cedars School website. You may also find the following guides helpful:
How to help your child prepare for the selection process at The Cedars School
As the entrance exam for The Cedars School will include Key Stage 2 National Curriculum content in English and maths, make sure that your child is familiar with everything they have covered in these subject areas at school up until the end of Year 5. Atom Nucleus, our online platform for home, covers the entire KS2 core curriculum in an interactive, engaging way: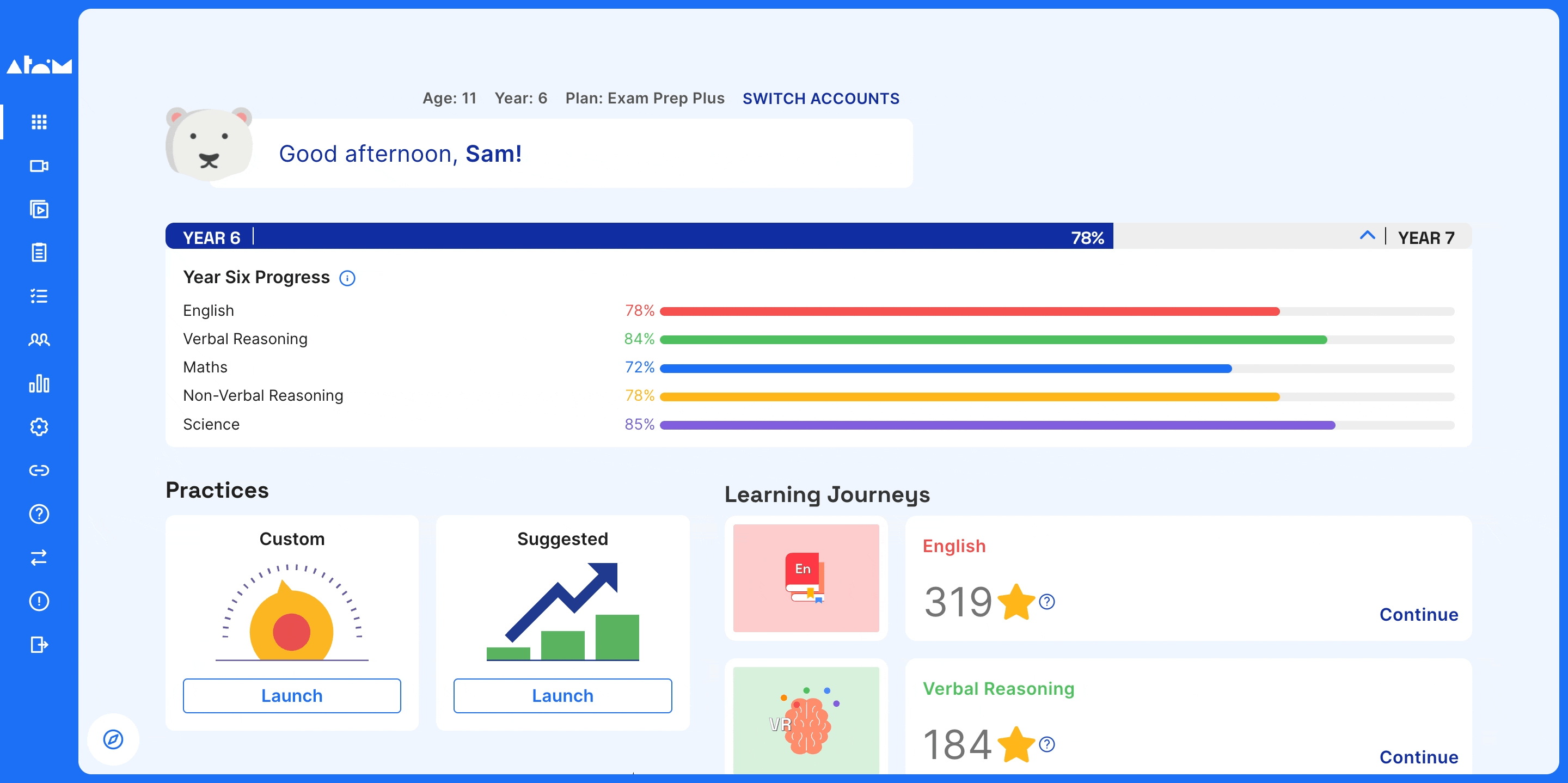 Regular reading time alongside revision will help your child boost their vocabulary and concentration. As the exam day gets closer, we suggest that your child completes online mock tests to help practice time management. Atom Learning has 11 plus practice papers available in English and maths:
Atom Learning can help
We have over 90,000 teacher-written practice questions, video tutorials, help sheets, live exam preparation courses and unlimited mock tests that mirror the format of many 11 plus papers. It's our mission to help your child feel prepared and confident on exam day.
Begin your free 5-day free trial of Nucleus today to unlock success in the classroom, entrance exams and more.
---
We know how crucial this time is, so our team is on hand to support you and your family every step of the way. You can book a call with one of our Education Experts to ask any questions you might have about Year 7 entry to The Cedars School:
If you're looking for exclusive tips and resources to help your child master key subjects, excel in exams and build academic confidence, join Atom's email list: