The John Lyon School is an independent day school for children aged 3 to 18 located in Harrow-on-the-Hill in North West London. Traditionally boys-only, the school became fully co-educational with the introduction of girls in 2021.
The John Lyon School has a clear set of values that are woven into school life and the admissions process. Pupils are encouraged to be ambitious, achieve excellence in their endeavours, innovate, resolve and recover from adversity, take pride in the school's history, look after each other and the local community, develop an enquiring mind and be creative and imaginative.
The school recognises the challenges that pupils face when they leave education and has launched the Dillon Diploma in response. Named after the school's first female teacher, the Dillon Diploma is taught from Year 7 to Year 9 and comprises six key modules: school values, academic studies, computer driving license, PSCHE, reading and leadership.
Pupils at The John Lyon School achieve excellent results in public examinations. Last year, half of all A level students achieved A*–A in their exam results and 62% of GCSE grades were A*/A/9/8/7. Science is strong at the school; half of all GCSE science papers were graded the very top scores of 9 and 8, while sixth form leavers went on to study undergraduate degrees including Chemistry and Oxford and Medicine at Imperial.
Key information for The John Lyon School
Head: Miss Katherine Haynes

Address: The John Lyon School, Middle Road, Harrow-on-the-Hill, Middlesex, HA2 0HN

London Borough: Harrow

Admissions contact: Mrs Rebecca Davies – [email protected], 020 8515 9488

Age range and gender: 3–18 (co-educational)

Number of pupils: 837

Number of places in Year 7: Undisclosed

Ratio of applicants to places: Undisclosed

Open day date: Wednesday 28th September and Wednesday 12th October 2022. Book a place online.

Overview of selection procedure: Entrance exam, school report and group activity and discussion

Registration opens: Currently open – apply online

Registration closes: Friday 11th November 2022

Assessment date: 16th/21st/23rd/28th November 2022

Scholarship assessment date: January 2023
The John Lyon School fees and financial assistance
The current school fees at The John Lyon School are £6,637 per term (£19,911 per year). This includes tuition and school lunches. Other mandatory charges are personal accident insurance cover (£6 per term), Old Lyonian/Alumni subscription (£49 per term) and a school-managed device (approximately £625).
The John Lyon School is committed to widening access for local families who could not otherwise afford the fees to benefit from the school's education. The school provides a small number of means-tested bursaries each year to pupils who demonstrate exceptional talent and potential. There are two types of bursaries available for Year 7 entry:
John Lyon's Charity awards: These are available for pupils who live in the nine boroughs that make up the beneficial area of John Lyon's Charity: Barnet, Brent, Camden, Ealing, Hammersmith & Fulham, Harrow, Kensington & Chelsea, Westminster and the City of London. Awards are made to pupils from families who will need assistance of between 75% and 100% off fees and who have lived within a qualifying borough for three years.

John Lyon School awards: These bursaries are funded by the school and there is no restriction on where the family resides. The value can range from 10% to 100% depending on a family's financial circumstances.
As a guide, a family with a combined disposable income of less than £20,000 may be eligible for an award of up to 100% (families with a combined gross income of more than £100,000 may not qualify for support).
The John Lyon School also awards scholarships to pupils who are exceptionally talented in a particular subject. All scholarships normally provide remission of 5% of the tuition fees per year:
The John Lyon School term dates
The term dates at The John Lyon School for 2022–23 are:
Autumn term: 2nd September – 14th December 2022

Half term: 17th – 28th October 2022

Spring term: 5th January – 24th March 2023

Half term: 13th – 17th February 2023

Summer term: 18th April – 7th July 2023

Half term: 29th May – 2nd June 2023
Admissions process for Year 7 entry to The John Lyon School
If you would like to register your child for Year 7 entry to The John Lyon School for 2023, you will need to complete the online registration form and pay the non-refundable registration fee of £125 before the deadline on Thursday 11th November 2022. This is the same deadline for bursary and scholarship applications.
The John Lyon School will contact your child's current school to request a confidential reference. All registered 11 plus candidates will then be invited to the 11 plus assessment day (consisting of an exam and a group discussion) at The John Lyon School on one of the following dates:
Wednesday 16th November 2022

Monday 21st November 2022

Wednesday 23rd November 2022

Monday 28th November 2022
If your child is applying for a scholarship, there will be additional steps in the admissions process:
Submit the relevant scholarship application form from The John Lyon School's website before Thursday 11th November 2022. Note that all candidates are automatically considered for an Academic Scholarship – no separate application is required.

Shortlisted candidates will be invited to an assessment day, which will take place in January 2023 (the exact date will be communicated to those who have registered).
The John Lyon School 11 plus exam
The John Lyon 11 plus exam consists of three parts:
English exam
Children will take a paper-based English test consisting of comprehension questions based on a written passage (either fiction or non-fiction) and a creative writing task.
The content of the comprehension is aimed at the level of a confident Year 6 pupil. The John Lyon School will assess candidates on their basic spelling and grammar skills, their comprehension ability, their current creativity and their creative potential.
Maths exam
The 11 plus maths exam at The John Lyon School requires knowledge of all topics from the Key Stage 2 maths national curriculum. This will be a non-calculator paper test.
Candidates will be assessed on their current maths level and their problem-solving potential. The best candidates will be able to show clear and concise working to reach their answers.
Group activity and discussion
Children will also take part in a group activity on the same day. These are not academic tests, but an opportunity for The John Lyon School to see how prospective pupils can respond to problems and work through them. Children will be assessed on their 'teachability' and what they will add to the school community.
They will also be asked to discuss an academic topic (potentially based on current affairs) within their group. This is an opportunity for your child to talk about their interest and aspirations and ask questions.
How to help your child prepare for the selection process at The John Lyon School
Build foundational knowledge
The 11 plus exam at The John Lyon School assesses candidates' knowledge and understanding of the Key Stage 2 national curriculum in English and maths. Your child can consolidate everything they know with Atom Nucleus, with over 90,000 teacher-created questions and helpful learning resources that span English and maths from Year 3 to Year 6.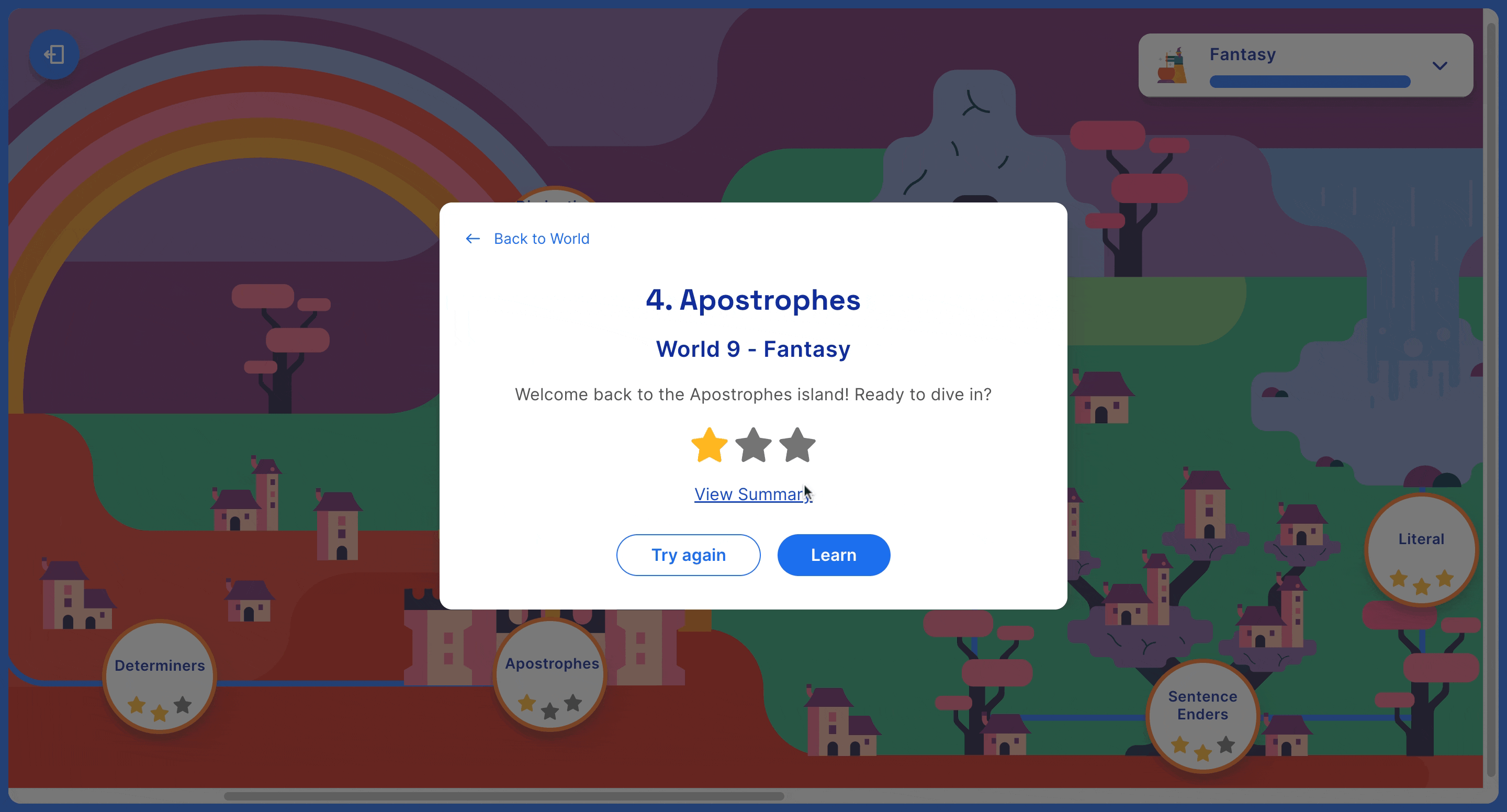 Preparation is key
Familiarisation with the question formats and known styles ahead of the exam is essential to help your child build exam confidence. An exam preparation subscription with Atom Nucleus enables your child to access quality, unlimited practice material with full score breakdowns to help your child feel confident by the time the exam day comes around.
When working through challenging topics, your child will need immediate clarity with any misconceptions so that they feel truly secure in every topic. Atom Nucleus includes video tutorials, help sheets and examples with every question to help your child build confidence and competence across all the areas assessed.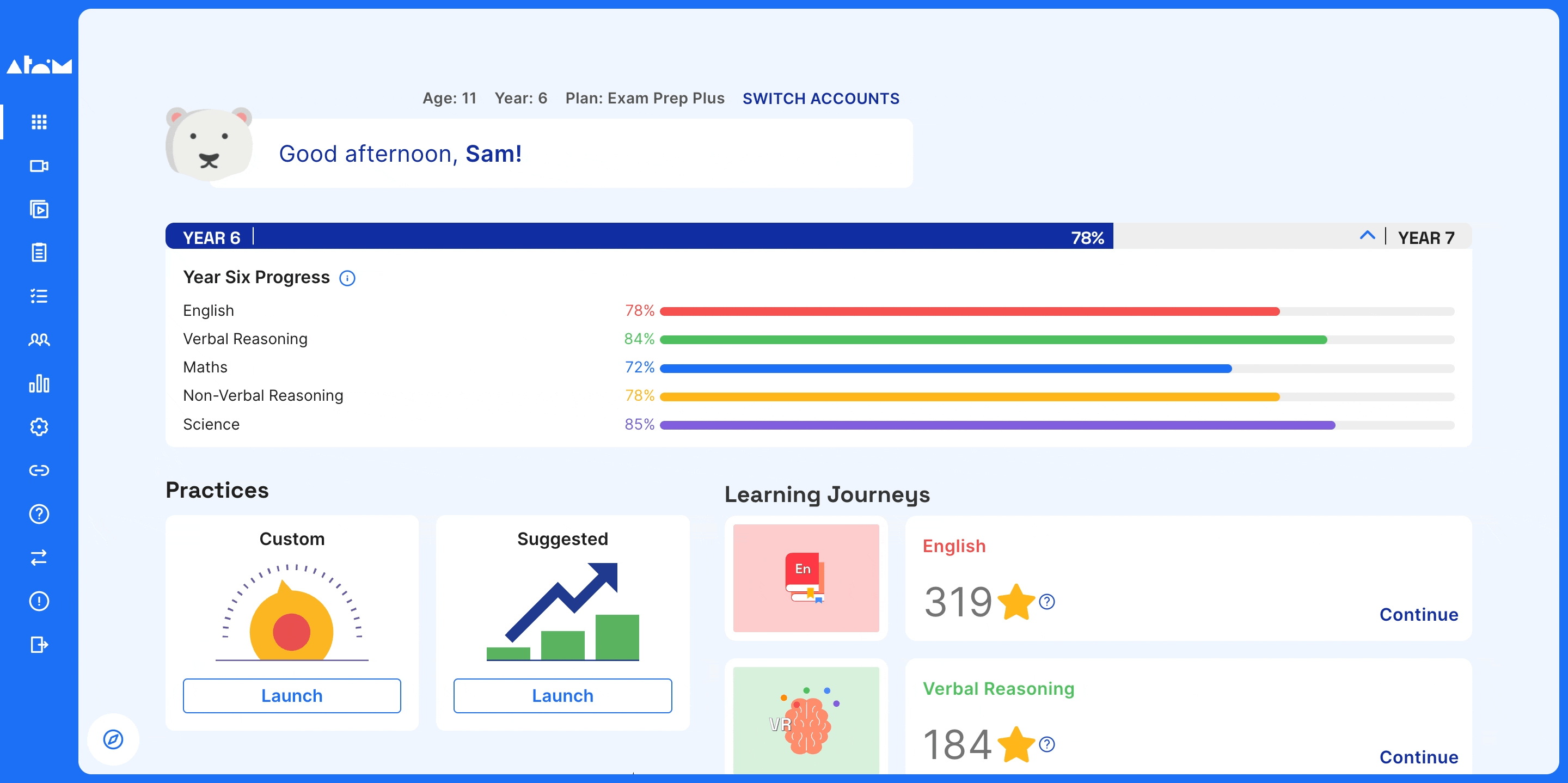 Engage with their progress
Celebrate your child's improvement in areas of challenge together. An accurate and ongoing assessment of their areas of strength and development is helpful.
As an Atom subscriber, you'll have a parent dashboard which offers data-driven insights into your child's progress. You can use this effectively to help your child set targets, see a detailed breakdown of their progress by subtopic and set custom practices to target those they find most challenging.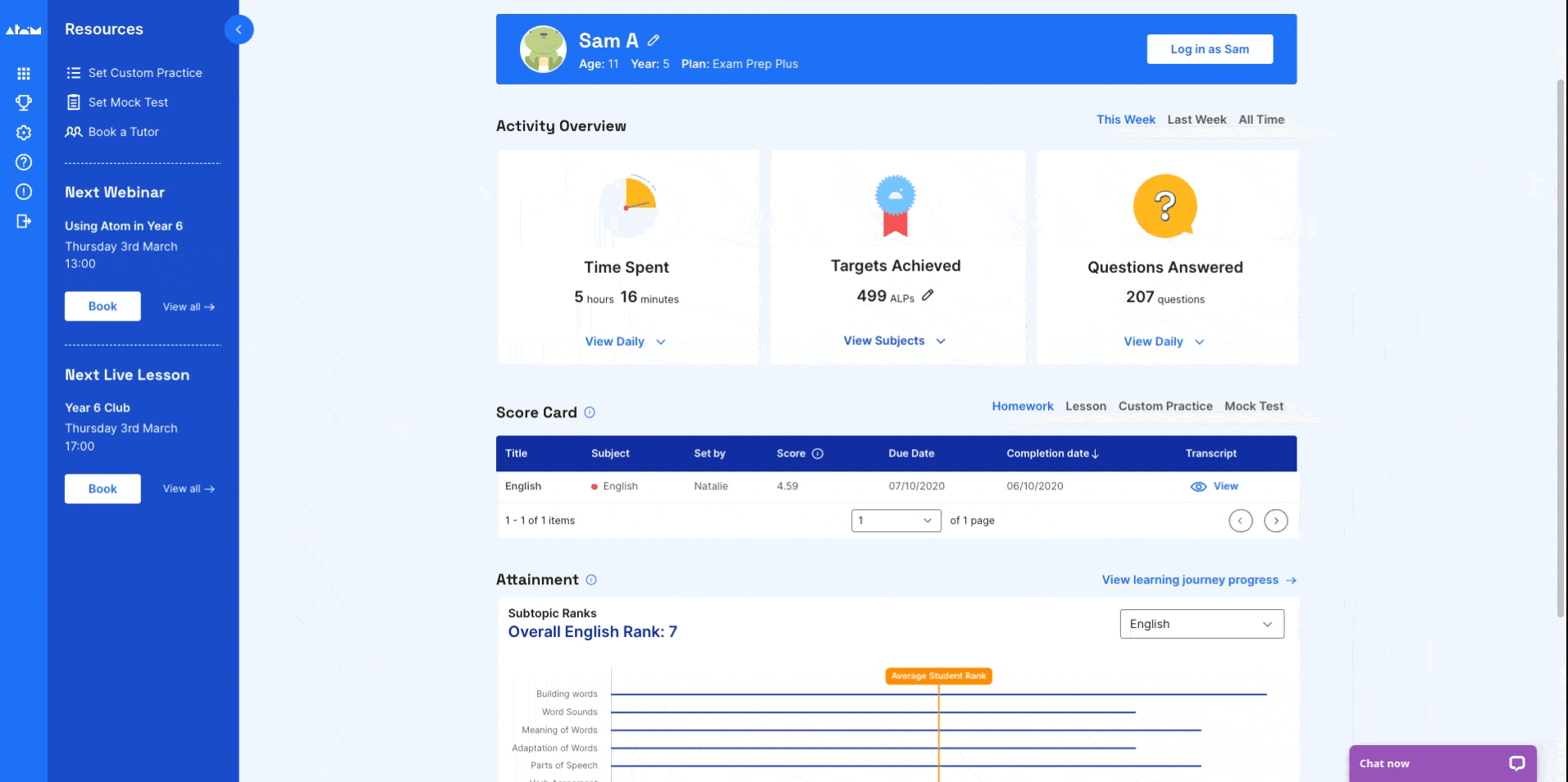 ---
Get started with Atom Learning
It's our mission to help your child feel prepared and confident before the exam day. Begin your free 5-day free trial of Nucleus today to help your child succeed.
We know how crucial this time is, so our team is on hand to support you and your family every step of the way. You can book a call with one of our Education Experts to ask any questions you might have about 11 plus entry to The John Lyon School:
If you're looking for exclusive tips and resources to help your child master key subjects, excel in exams and build academic confidence, join Atom's email list: