The Laurels School is a small Roman Catholic independent day school for girls aged 11–18 in South London. It was originally set up in Croydon as an orphanage in 1857 by an Order of French nuns named The Lady of Fidelity. In 2021, The Laurels School moved to a new site in Upper Norwood along with its brother school, The Cedars School – a fellow member of the PACT Educational Trust.
The Laurels School's main aim is in developing the whole child, while maintaining a close partnership with her parents, through a character programme that is founded on Catholic principles. The Arete Programme can be found in every aspect of school life at The Laurels School – a way of helping pupils achieve happiness through excellence – through the branches of academia, character development, enrichment, service leadership and philosophy.
Girls leave The Laurels School with good academic results. In 2021, 74.9% of A level grades were A*–A and 66.7% of GCSEs were 9–7 (A*–A equivalent).
Key information for The Cedars School
Headteacher: Mrs Linda Sanders

Address: The Laurels School, 1 Our Lady's Close, Upper Norwood, London SE19 3FA

London Borough: Lambeth

Admissions contact: Mrs Helen McKell – [email protected], 020 8674 7229

Age range and gender: 11–18 (girls)

Number of pupils: 104

Number of places in Year 7: Undisclosed (likely no more than 20)

Ratio of applicants to places: Undisclosed

Open day date: Saturday 24th September 2022

Overview of selection procedure for Year 7 entry: Entrance exam, pupil interview, parent interview and references

Registration deadline: November 2022 (date TBC)

Assessment date for Year 7 entry: January 2023 (date TBC)

Scholarship assessment date: Same day as the main exam
The Laurels School fees and financial assistance
The 2022-23 fees at The Laurels School are £5,190 per term (girls in Years 7–11). The Laurels School applies a sibling discount at 25% for third and subsequent children.
The Laurels School offers both bursaries and scholarships to girls entering Year 7. Bursaries are means-tested with the value awarded dependent on household income and the girl's success in the entrance exam. If you would like to apply for a bursary at The Laurels School, you will need to request an application form from the school and submit this to PACT Finance by November 2022 (date TBC).
The Laurels School offers Maths, English, Overall Academic, Art and Music Scholarships. An additional scholarship – The Edith Stein Scholarship – is occasionally awarded to a girl who demonstrates a commitment to excellence and the potential to be a role model for others. All scholarships at The Laurels School are typical in the range of 10% of the school's annual fees – the application deadline will be the same as the main registration.
The Laurels School term dates
The 2022-23 term dates for The Laurels School are:
Autumn term (Michaelmas): 5th September – 16th December 2022

Half term: 17th October – 28th October 2022

Spring term (Hilary): 9th January – 31st March

Half term: 13th – 17th February

Summer term (Trinity): 18th April – 7th July

Half term: 29th May – 2nd June
Admissions process for The Laurels School
You will need to register your daughter for The Laurels School by submitting the online application form before the deadline. There is an application fee of £100 per child.
Following receipt of the application form, The Laurels School will seek a reference from your daughter's current school. They will then be invited for an interview with a member of the school's Senior Management Team (SMT) so that they can find out more about your daughter, and so that your daughter can find out more about the school. Parents will also have a separate interview, which is scheduled at a mutually convenient time, to discuss the family's commitment to the school and its ethos.
All candidates will sit an entrance exam at The Laurels School in January 2023. This is the school's own exam, with papers in English and maths.
The outcome of the application will be sent to parents in mid-February 2023; the offer deadline will be early March.
The Laurels School entrance exam format
All applicants to The Laurels School will sit the school's own papers in English and maths:
English: 1 hour. Consists of a reading comprehension section (35 minutes) and a writing section (25 minutes).

Maths: 1 hour. The questions are aligned to the Key Stage 2 National Curriculum.
Sample papers are available on The Laurels School website. You may also find the following guides helpful:
How to help your child prepare for the selection process at The Laurels School:
As the entrance exam for The Laurels School will include Key Stage 2 National Curriculum content in English and maths, make sure that your child is familiar with everything they have covered in these subject areas at school up until the end of Year 5. Atom Nucleus, our online platform for home, covers the entire KS2 core curriculum in an interactive, engaging way: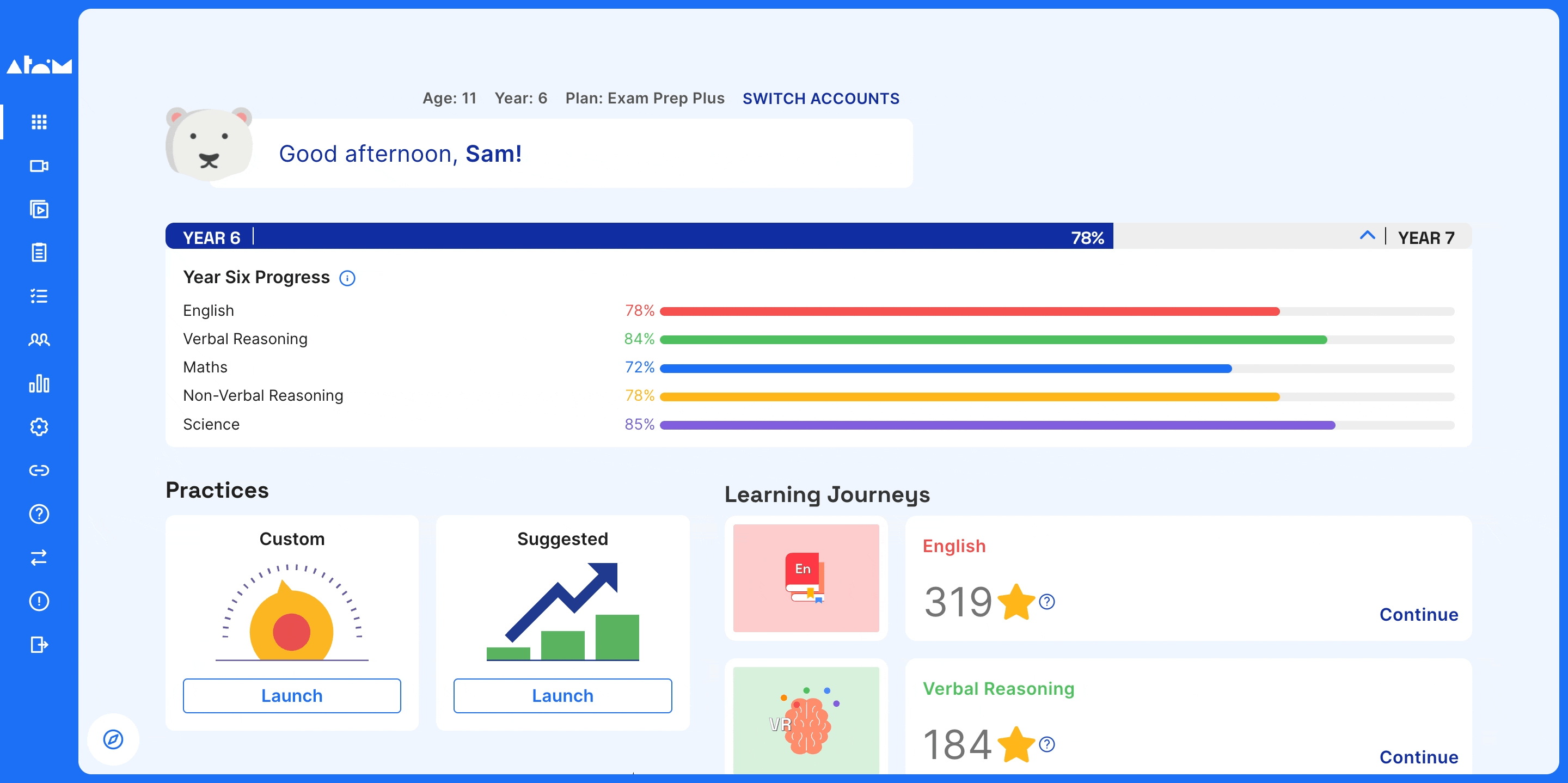 Regular reading time alongside revision will help your child boost their vocabulary and concentration. As the exam day gets closer, we suggest that your child completes online mock tests to help practice time management. Atom Learning has 11 plus practice papers available in English and maths:
Atom Learning can help
We have over 90,000 teacher-written practice questions, video tutorials, help sheets, live exam preparation courses and unlimited mock tests that mirror the format of many 11 plus papers. It's our mission to help your child feel prepared and confident on exam day.
Begin your free 5-day free trial of Nucleus today to unlock success in the classroom, entrance exams and more.
---
We know how crucial this time is, so our team is on hand to support you and your family every step of the way. You can book a call with one of our Education Experts to ask any questions you might have about Year 7 entry to The Laurels School:
If you're looking for exclusive tips and resources to help your child master key subjects, excel in exams and build academic confidence, join Atom's email list: